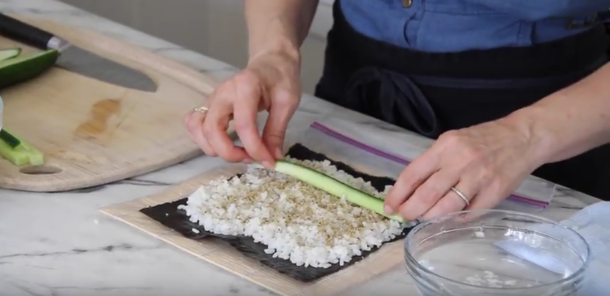 My son absolutely loves veggie sushi and it's really easy to make at home.  You can also buy cooked sushi rice at your local Japanese restaurant and use that instead.  Filling options are endless!  Here's a video to show you how.
How to Make Veggie Sushi
Ingredients
2 cups sushi rice
3 cups water
3 Tablespoons brown rice vinegar*
2 Tablespoons sugar
1 teaspoon fine sea salt
10 half-sheets toasted nori
2 ripe avocados, pitted, peeled and sliced into strips
2 Persian cucumbers, julienned
Toasted sesame seeds
Accompaniments: Wasabi powder, Shoyu or tamari, Pickled ginger
Instructions
Rinse the rice in a few changes of water and drain. Transfer the rice to a medium saucepan and add the water. Bring to a boil and cover the pot with a tight-fitting lid. Lower the heat and simmer for 20 minutes.
While the rice is cooking, combine the vinegar, sugar and sea salt in a small saucepan and heat until the sugar and salt are dissolved. Do not boil.
When the rice is finished, transfer to a shallow glass or wooden container. Pour the vinegar mixture over the rice and combine gently. Allow the seasoned rice to cool to barely warm.
Prepare a small bowl of cold water for moistening your hands while you work. Place one sheet of nori shiny side down on a bamboo sushi rolling mat or dry surface. Measure one half cup of seasoned rice and spread over the nori, leaving a ½ -inch border on the top.
Sprinkle with sesame seeds. Arrange the cucumber and avocado slices in the middle of the rice.
Roll the nori, rice and vegetables tightly away from you. Try and match "rice to rice." Lightly moisten the edge and press closed. Wet a sharp knife and slice in half. Slice each piece in half two more times for 8 pieces. Repeat with the remaining nori sheets.
Make wasabi paste by combining 2 parts wasabi powder to one part cold water (ex. 1 Tablespoon wasabi powder mixed with ½ Tablespoon cold water.)
Notes
*Or use 3-4 Tablespoons seasoned rice vinegar in place of the rice vinegar, agave and salt.