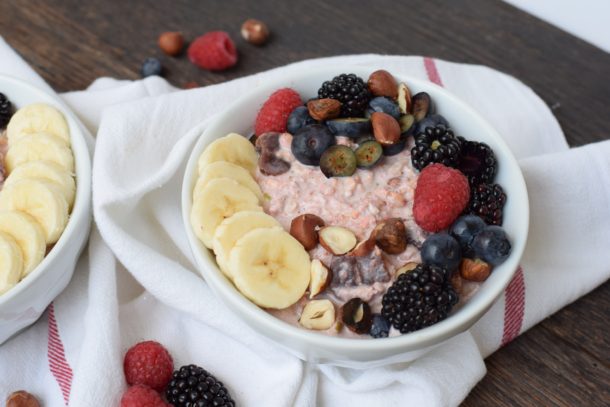 Forgive me, but I'll have to be brief today!  We just finished shooting the cookbook this week and I was focused only on that.  Over the next few short weeks, I have to finish writing the book.  I am really excited to share these recipes with you, as well as all the great tips and tricks I teach in my classes.  The book is titled "Fresh Start" because I feel like everyone has moments when they want to reset with a new beginning.  The good news is that we are always given a fresh start every day.  It's never too late to take control of your health and take care of yourself.  I'll help you learn what you need to know to be the healthiest that you can be and it all starts with what you eat and cooking your own food.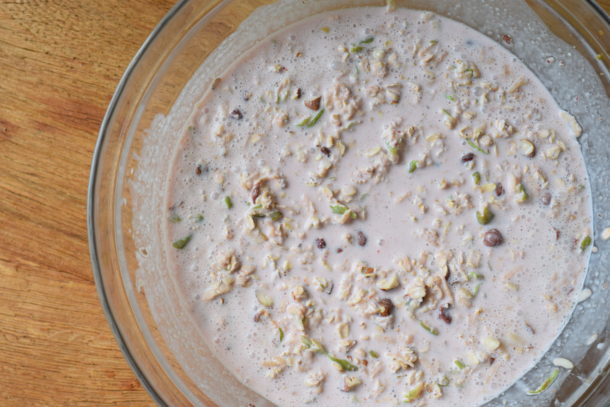 Today's recipe is a version of one of my favorite breakfasts, Bircher Muesli, a very digestible soaked oat and fruit porridge.  The texture is wonderful with soft rolled oats, crunchy nuts and chewy bits of dried fruit.  I am crazy about this strawberry bircher which is even more delicious than the original. I blended fresh strawberries into the yogurt mixture and swapped dried strawberries for the raisins.  It has a bright, berry flavor and is satisfyingly filling.  There's nothing better than waking up in the morning knowing that breakfast is already made and is a good one!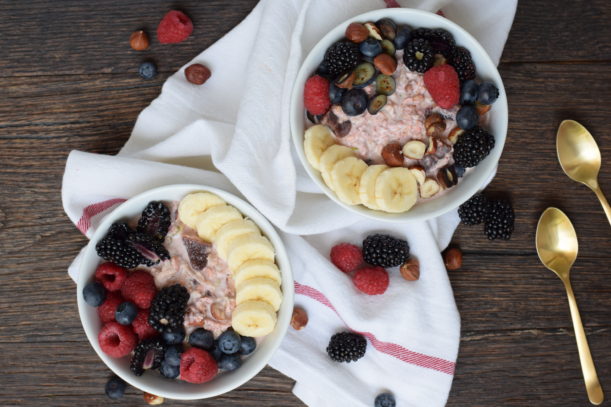 You can eat this right out of the refrigerator or transfer some into a jar and take it to work and eat it at room temp.  In the winter, you can even heat the bircher over the stove for a warm version.  I went a little crazy on the toppings in these images, but that's how I like to eat it, especially since berries are so amazing right now and they are antioxidant bombs!  The beginning of every day is your chance to wake up to a clean slate.  And this recipe is the perfect place to start!

Berry Bircher Muesli Recipe
Ingredients
2 cups old fashioned rolled oats
2 apples, unpeeled, grated (I like using green apples)
½ cup unsulfured dried strawberries, cut in half or in quarters if very large
⅔ cup chopped hazelnuts (almonds or walnuts are nice, too)
juice of half a small lemon
1 cup strawberries, hulled
1⅔ -1¾ cups unsweetened almond milk
1⅔ -1¾ cups unsweetened kefir or yogurt
Toppings: fresh berries or sliced bananas, extra chopped nuts, raw honey or maple syrup
Instructions
The night before: In a large bowl, mix the oats, apples, dried strawberries and hazelnuts. Place the lemon juice, strawberries, almond milk and yogurt in a blender and process until smooth. Add the mixture to the oats and apples and stir to combine. Cover and refrigerate overnight.
The next morning: add sweetener to taste, if necessary. Divide the muesli among four bowls and top with favorite nuts or fruits.
Notes
Keeps for several days covered in the refrigerator.
If you can't find dried strawberries, golden raisins or dried cherries would be great.