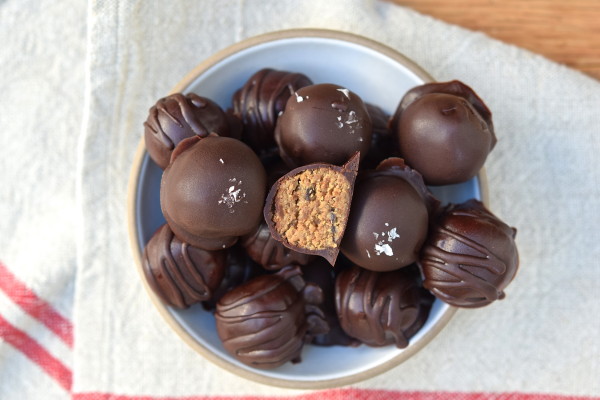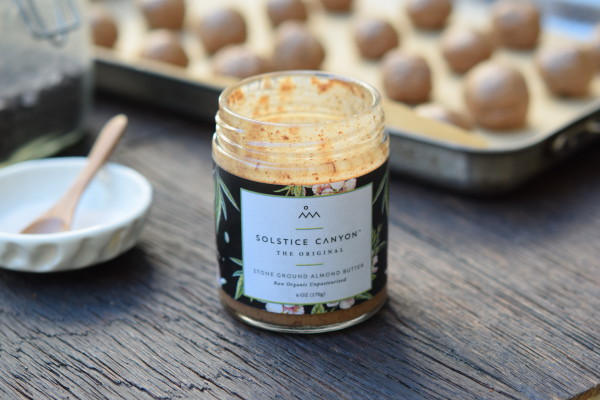 Is there anyone out there that doesn't love raw cookie dough?  Not even the potential threat of salmonella from raw eggs in the dough deters people from eating it straight out of the bowl before it turns into actual cookies.  Guilty!  But normal cookie dough recipes have loads of processed sugar and white flour which I really try to avoid as much as possible.  I was in the kitchen with Jessie from Solstice Canyon nut butters the other day and we concocted these little truffle-like balls with no intentions at all.  As soon as we both bit into them, we looked at each other and shouted, "these taste like raw cookie dough!"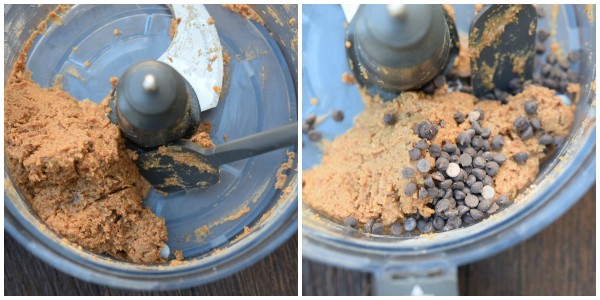 If you put a traditional chocolate chip cookie dough side by side next to these, I'm sure you could figure out which was which.  But that is not what I'm all about.  I'm not the sneaky imposter.  I'm not trying to fool anyone.  I think these cookie dough bites are darn good on their own and they happen to taste a little like cookie dough.  And you know what I realized?  When you toss a bunch of delicious ingredients together, chances are you'll get something delicious.  The best part is that these are full of good for you ingredients, too!  The base is almond butter and dates plus vanilla extract, lucuma powder and sea salt.  I realize lucuma powder is not an every day pantry item, but it is something I do stock all the time because I LOVE it in smoothies.  I has a light, sweet, almost caramel-y flavor.  If you don't have it, these bites will still taste great without.  If you want to learn more about lucuma powder, read here.  If you'd like to buy it, Whole Foods has it, as does thrivemarket.com and amazon.com.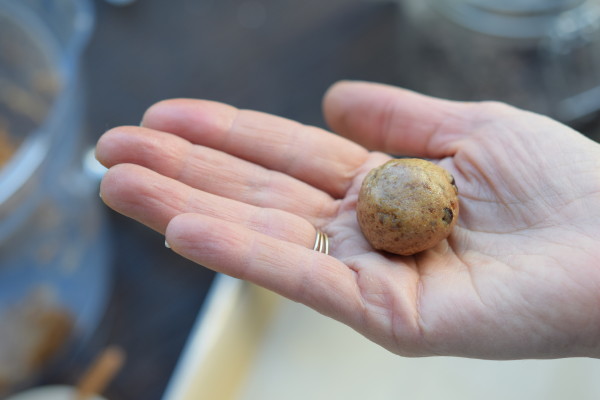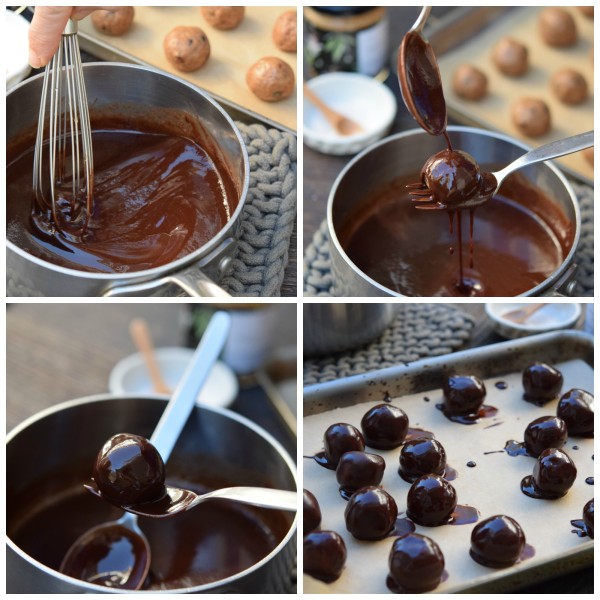 In the name of research (wink, wink), I tried a few versions of these and what I discovered is that this is a really easy recipe to adjust according to your taste.  My daughter freaked out for them.  My son, the notorious Mr. Picky, thought they were "good, but needed to be sweeter."  If I agreed with him, I would have just added another date to the mixture.  I also made them with Solstice Canyon Aztec Chocolate almond butter which has cayenne in it — delicious!  But knowing that not everyone has a jar of Solstice Canyon nut butter in his/her cupboard, I tried the recipe with standard almond butter.  The difference is that Solstice Canyon has coconut sugar, coconut oil and sea salt added to the almond butter.  But don't worry — see the recipe below and I've got you covered.  However you make these, I think these "cookie dough" bites are a delicious, guilt-free treat which would be fun for Valentine's Day to share with your sweeties!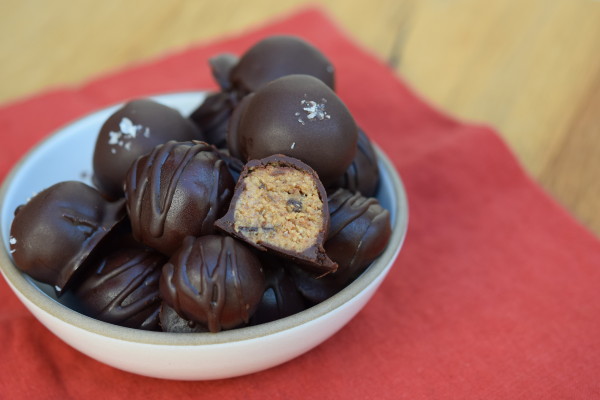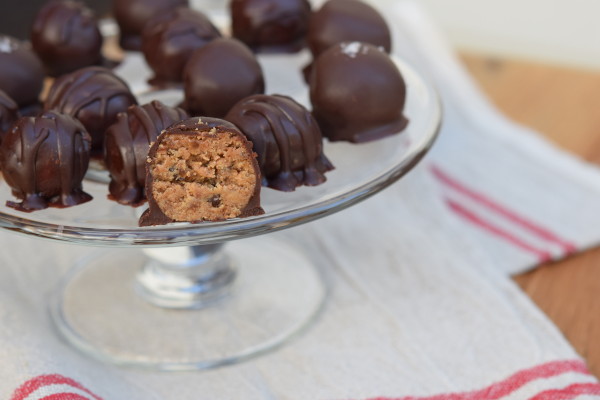 Chocolate Covered Raw Chocolate Chip Cookie Dough Bites (refined sugar-free)
Ingredients
1 6 ounce jar Solstice Canyon original almond butter
3 pitted Medjool dates
2 teaspoons lucuma powder
pinch of sea salt
2 Tablespoons mini chocolate chips or raw cacao chips
OR if you can't get your hands on Solstice Canyon nut butter:
¾ cup creamy, raw unsweetened and unsalted almond butter
4 pitted Medjool dates plus more to taste if you want these sweeter
⅛ teaspoon vanilla extract
2 teaspoons lucuma powder
2 teaspoons coconut butter or unrefined virgin coconut oil
⅛ teaspoon sea salt
2 Tablespoons mini chocolate chips or raw cacao chips
IF you want to dip in chocolate, here are 2 options:
¼ cup melted unrefined virgin coconut oil
¼ cup raw cacao powder
2 Tablespoons pure maple syrup, preferably Grade A for less maple flavor, but Grade B is fine, too
¼ teaspoon pure vanilla extract
pinch sea salt
OR
½ cup good quality chocolate chips, whatever you prefer
½ Tablespoon unrefined virgin coconut oil or unsalted butter
Instructions
Put all cookie dough ingredients except mini chocolate chips into the bowl of a food processor fitted with a steel blade and blend until a stiff paste forms. Taste and adjust seasoning accordingly. Add more dates for additional sweetness or more salt (as I prefer.) Add chocolate chips and press into the dough with your fingers.
Line a baking sheet or plate with parchment or wax paper.
Scoop small amounts of "dough" and roll into little balls. I like to use a mini ice cream scooper for this.
Freeze until firm, at least 30 minutes.
Prepare chocolate coating: In a small bowl, whisk together coconut oil, cacao powder, vanilla and sea salt.
Remove dough balls from freezer and one at a time, place on the tines of a fork over the bowl of melted chocolate and spoon chocolate over the ball until completely coated. Allow excess to drip back into bowl. Return to baking sheet and repeat with all the balls.
Repeat for a double layer of chocolate or drizzle more on for a decorative finish. Refrigerate until firm and store in refrigerator.
If you want a thicker coating of chocolate and you'd prefer to use chocolate chips, do this:
In a double boiler, or in a heat-proof bowl set atop a pot of simmering water, melt the chocolate and coconut oil, stirring frequently until smooth.
Follow directions above for coating dough balls.
Notes
You can see there are different directions you can take this recipe -- using Solstice Canyon nut butter or regular almond butter. And two ways that you can coat the dough balls. Some people prefer to use maple syrup and raw cacao rather than chocolate chips, which are sweetened with sugar. But chocolate chips are likely more convenient. Delicious however you choose!