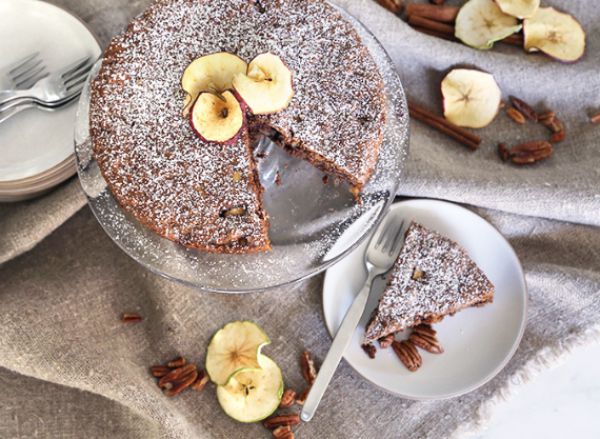 One of the first desserts I made my boyfriend-now-husband was the Chunky Apple Walnut Cake from The Silver Palate Cookbook.  Do you remember that book?  Even though it's from 1982, I still have it on the shelf in my kitchen with more current titles.  It was probably the second cookbook I ever bought and still one of my all-time favorites.  That Chicken Marbella is legendary!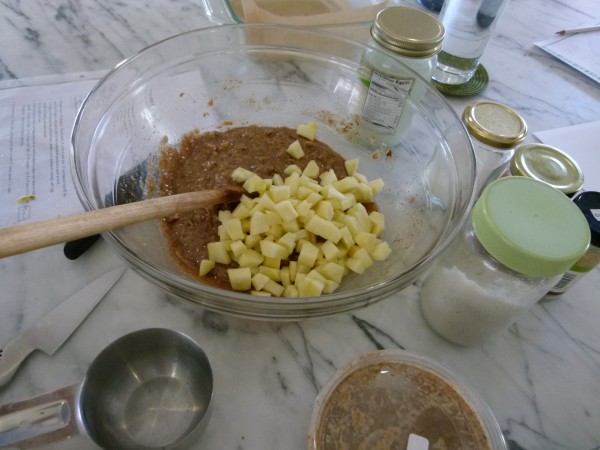 But I might have won my husband's heart with that apple walnut cake.  It was dense, sweet and chock full of apples and walnut pieces.  I actually healthified it many years ago with whole wheat flour, coconut oil and sucanat, with delicious, but still decadent results.  But lately I've been trying to limit the gluten and indulge in it when it counts (e.g. crusty bread, pizza).  After the wildly successful grain-free chocolate zucchini cake (if you haven't made that, you must!), I decided to do a twist on that and make a cinnamon apple version.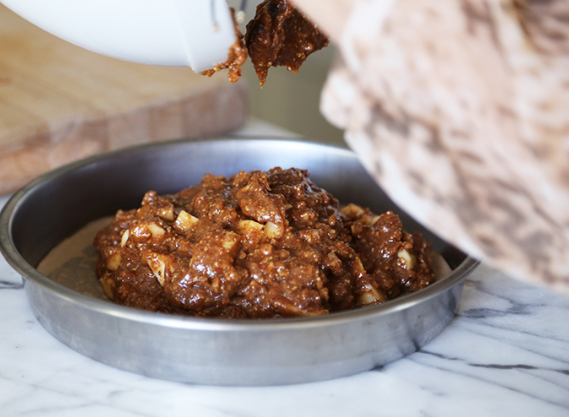 This apple cake is very different from the Silver Palate one, but my husband has also come around to a lighter, more healthful way of eating, especially since we hit 40. When he and the kids went crazy for this grain-free cake, I knew I had to teach it in my classes.  It was a big hit there, too.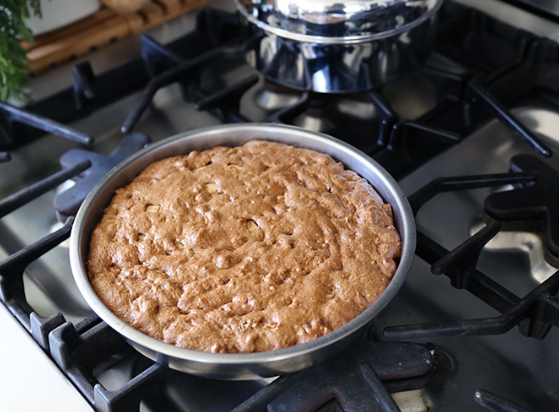 When September rolls around, it's not only back to school, but apple season and the Jewish new year, too.  This was the perfect week to post this recipe since this Sunday is the first night of Rosh Hashana.  Even if you don't celebrate the Jewish holidays this cake is a delicious treat in a lunch box or after dinner with a dusting of powdered sugar to make it look a little fancier.  My husband loves pieces of walnuts or pecans in here, but my son preferred a version I tested with raisins.  Either way, this is a more wholesome, clean cake than most out there and who can resist tender chunks of apple enveloped in a sweet and cinnamon-y cake?   And you won't know this is flour-free or grain-free.  It tastes as good as "normal" cake no matter how you slice it.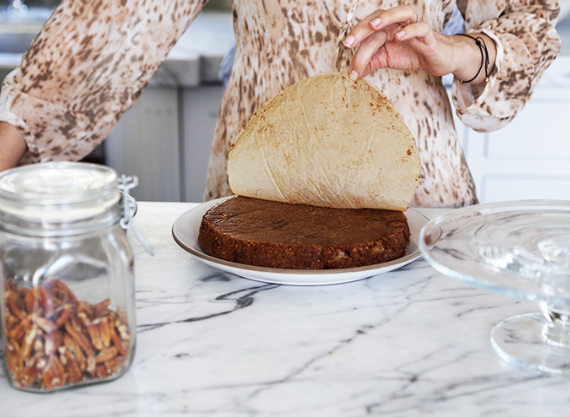 It freezes beautifully and I found out that it even tastes great frozen after I tried to tuck some away so that I wouldn't be tempted to eat it.  Can someone please explain "self control" to me?  Who eats frozen cake???  I am planning on making at least one of these for my Rosh Hashana luncheon next Monday and I know I won't have to worry about leftovers.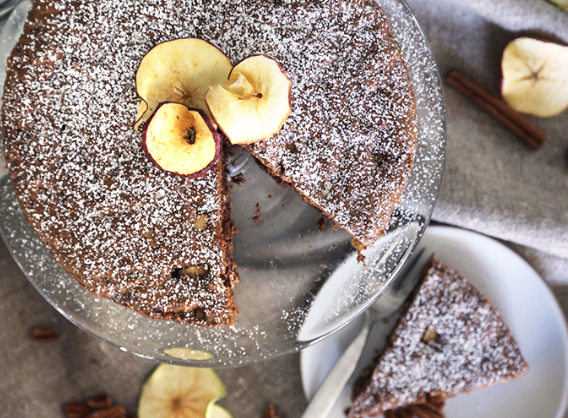 Grain-free Cinnamon Apple Cake Recipe
Ingredients
unrefined coconut oil or unsalted butter for greasing pan
1 cup creamy, unsweetened, unsalted almond butter, raw or roasted (or use unsweetened sunflower butter for a nut-free cake)
⅓ cup pure Grade A maple syrup or raw honey
1 teaspoon ground cinnamon
¼ teaspoon ground nutmeg
¼ teaspoon fine ground sea salt
1 teaspoon baking soda
1 large egg
1 teaspoon pure vanilla extract
1 large apple, peeled, cored, and cut into ¼" cubes (about 1 ½ cups)*
1 cup chopped pecans or walnuts (or you could use raisins)
Instructions
Preheat oven to 350 degrees. Grease an 8 x 8 or 9 x 9-inch pan or an 8- or 9-inch round pan. If you want to remove the cake from the pan in one piece, line it with unbleached parchment paper as well. You do not have to grease the parchment paper.
In a large bowl combine the almond butter, maple syrup, cinnamon, nutmeg, salt, egg, vanilla, and baking soda until smooth.
Stir in apple pieces and nuts or raisins.
Pour into prepared pan and bake until just set and a toothpick comes out clean or with dry crumbs. Do not overbake. A 9 x 9 pan will take 35-45 minutes. An 8 x 8 pan will take 40-50 minutes. Allow to cool before serving.
Notes
I like the chunks of apple in the cake, but you can also use 1½ cups of shredded, peeled apples (about 2-3 medium apples.)