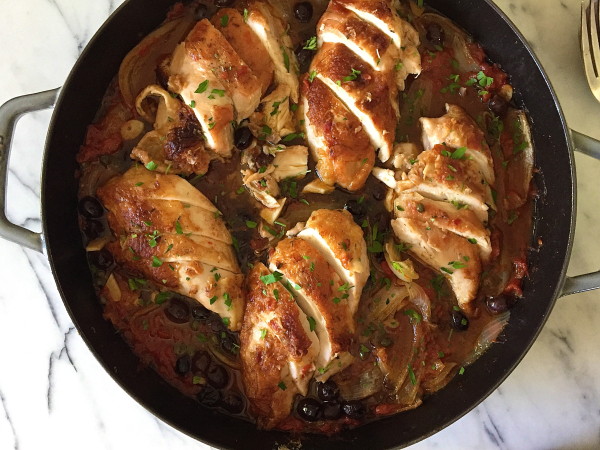 I just finished teaching this recipe in my March classes and it was a huge hit!  I don't even like chicken and I seemed to always be looking for a bite at the end of class.  I had so many requests to post this recipe that I had to oblige, even though the images aren't totally the best.  I think this would be perfectly appropriate to prepare for Passover, with one minor adjustment.  And it's a great recipe to adapt as cherry tomatoes and beefsteak tomatoes become available.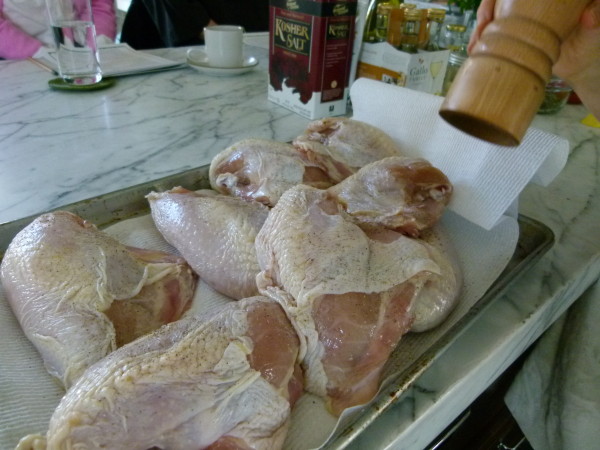 The recipe is basically a braise, but the chicken is cooked uncovered for most of the time, which is why I call it Baked Chicken, versus Braised Chicken.  But the formula is still very much the same — browning the meat first to create flavor and color, sauteing onions, deglazing, putting meat back in and baking in the oven until cooked through.  Once you understand the steps, you can start making up your own recipe or adapting recipes like this one with other ingredients or flavors.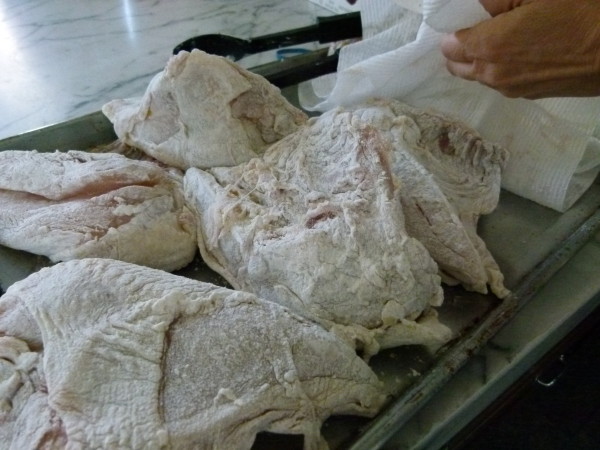 I personally like using bone-in, skin-on pieces of chicken since I think they taste better and stay a little moister, especially breast pieces.  Unfortunately, cooking with bone-in, skin-on pieces takes longer than boneless, skinless and may not be a great option for those of you needing a really fast recipe for after work.  Fortunately, this recipe can be adapted for cutlets and even a slow cooker, so look for those options in the instructions.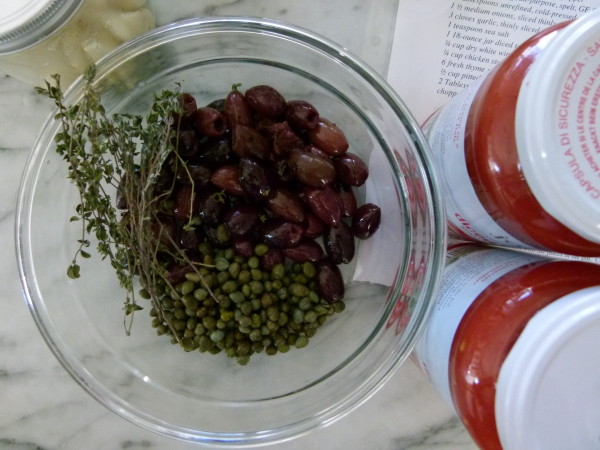 This dish produces very tender, flavorful chicken, as well as the accompanying onions and sauce.  In the ingredient list it offers the option of draining the juice from the jar of tomatoes or keeping it.  Here's my thought process on that one:  if you will be serving the chicken with noodles or pasta, polenta, mashed potatoes or something that would welcome a lot of sauce, then you should keep the juice.  Otherwise, drain the juice and just use the tomato pieces.  I also love this dish during cherry tomato season, when I will use 1 1/2 pounds of  halved sweet cherry tomatoes in place of the jarred, and basil leaves instead of the thyme.  Large vine-ripened tomatoes that have been blanched and chopped are also great.  Both of these options create a much lighter, fresher dish.  But every variation is very delicious.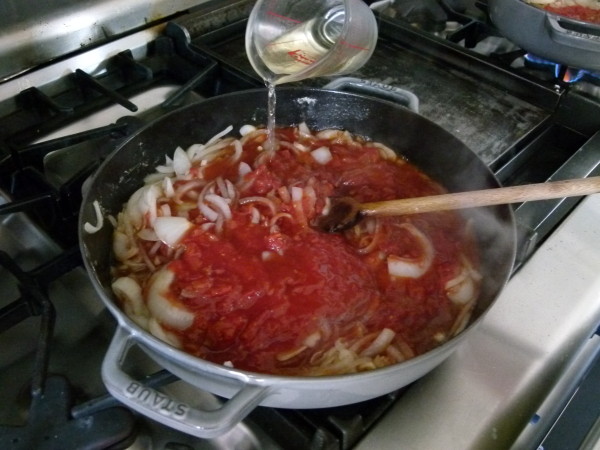 Other adaptations I discussed in class:
subbing fennel for half the onion
omitting the olives and adding chopped mushrooms with the onions
adding a healthy pinch of crushed red pepper flakes with the garlic
in the summer, subbing sliced sweet bell pepper for some of the onion
searing cauliflower steaks and using those in place of the chicken for a vegetarian/vegan option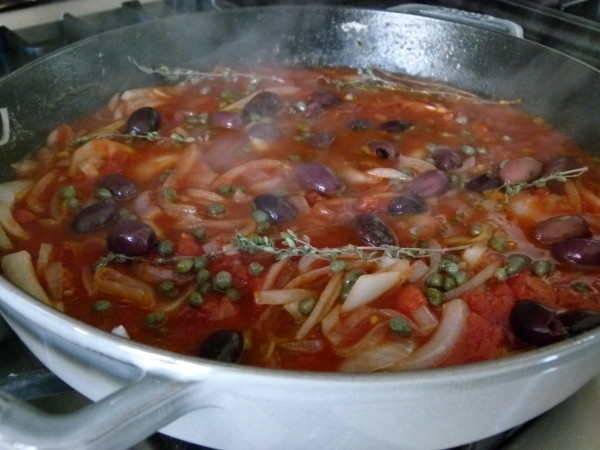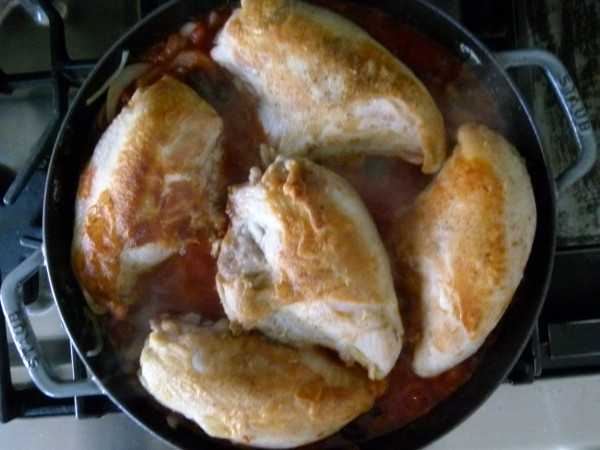 I always use breasts when I teach because most of my students prefer white meat, and therefore it's just easier for me to buy all breasts.  You can certainly use any part of the chicken you want.  In fact, it's more economical to buy a whole chicken and have the butcher cut it into pieces for you.  But I highly recommend not buying 1 breast per person.  It's too much meat to eat in one sitting, unless you are an Olympian or a body builder!  I have never actually seen anyone at my house or at a dinner party eat an entire breast.  I have seen people cut them in half and push one piece off to the side and just each one half.  What I love to do is prepare the breasts, allowing for 1/2 per person, and removing the bones after the chicken is cooked and has rested a bit.  Then I slice the meat on an angle.  It's much more manageable to eat it this way, as well as more elegant and attractive to serve.  See this post on the gloves I use to get down and dirty when I carve chicken!
Let me know if you have specific questions about timing or with what sides to serve this.  Hope your holiday planning is going well!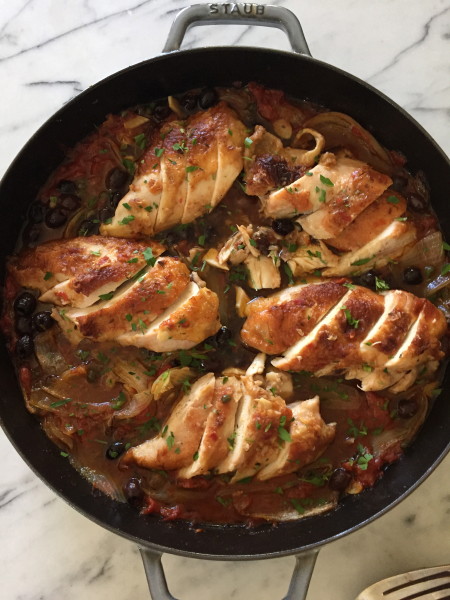 View this post on Instagram

 

 
Baked Chicken with Tomatoes, Olives and Capers
Ingredients
3 ½ pounds bone-in, skin-on chicken pieces, sprinkled with 2 teaspoons kosher salt when you get home from the market unless you are using kosher chicken which you should not salt (read this post on how and why to season your chicken in advance)
¼ teaspoon freshly ground black pepper
Flour for dredging (all-purpose, spelt, GF flour, etc.) -- use matzoh cake meal for Passover
2 Tablespoons unrefined, cold-pressed, extra-virgin olive oil, divided
1 ½ medium onions, cut through the root into sixths or eighths (or sliced thinly, but I like wedges better in this recipe)
3 cloves garlic, thinly sliced
1 teaspoon sea salt
1 18-ounce jar diced tomatoes with the juice (or drain juice for less sauce) (I like Jovial in glass jars. Read this post why.)
¼ cup dry white wine
¼ cup chicken stock, vegetable stock or more white wine
6 fresh thyme sprigs or large basil leaves in the summer/fall
½ cup pitted olives, such as kalamata or Bella di Cerignola
2 Tablespoons capers, drained
chopped parsley for garnish, if desired
Instructions
Preheat the oven to 400 degrees. Pat the chicken dry and season with black pepper. Dredge in flour, shaking off any excess.
In a 12-inch ovenproof skillet or Dutch oven, heat 1 Tablespoon of the olive oil over medium heat. Add the chicken pieces in one layer and brown on both sides. Transfer to a plate and reserve.
If the pan looks dry, add a little oil. If it looks like there's more than 2 Tablespoons oil, drain a bit off. Add the onions, cook over medium heat, stirring occasionally, until softened and lightly browned. Add the garlic and sea salt and cook until fragrant, about 1 minute.
Add the tomatoes, white wine, stock and cook, scraping any brown bits on bottom of the pan.
Arrange the thyme, olives and capers over the onion mixture. Place the browned chicken pieces side by side on top. Bring the mixture to a simmer. Cover and place in the oven.
After 15 minutes, baste the chicken with the juices in the pot. Continue cooking, uncovered, for an additional 30-40 minutes (depending on thickness), basting every 10 minutes if you have time. Sprinkle with parsley and serve. (You can also cook covered on the stove over low heat for 30 minutes.)
Notes
For a boneless, skinless version, check out my recipe for Lemon –Thyme Chicken Cutlets and follow the same directions.

For a slow cooker version, use skinless chicken and  3 Tablespoons each of stock and wine instead of 4.  Follow same directions, but after deglazing, pour everything into the slow cooker and cook for 4-5 hours on HIGH or 6-8 on LOW.