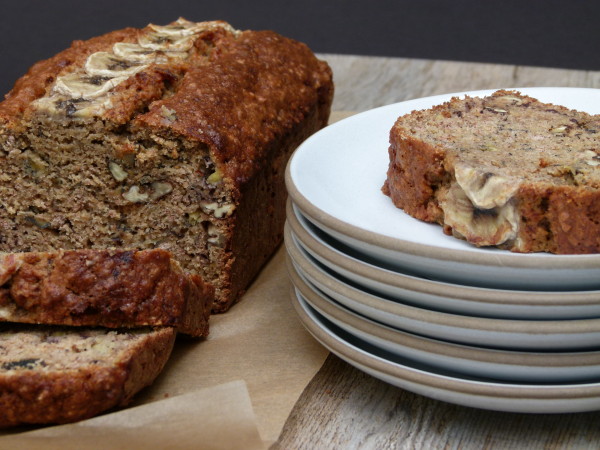 Something I really hate to do is to waste food.  One of the reasons I plan out a week of meals is that I can shop accordingly and only buy what I know I will use.  But what about that leftover almond pulp?  Despite my best efforts to use up the almond byproduct that results every time I make almond milk, it just doesn't always happen.  And raw almonds are so expensive that it actually pains me to throw the pulp in the trash.  It's perfectly good food, especially since the almonds were previously soaked, making them much more digestible and nutritious!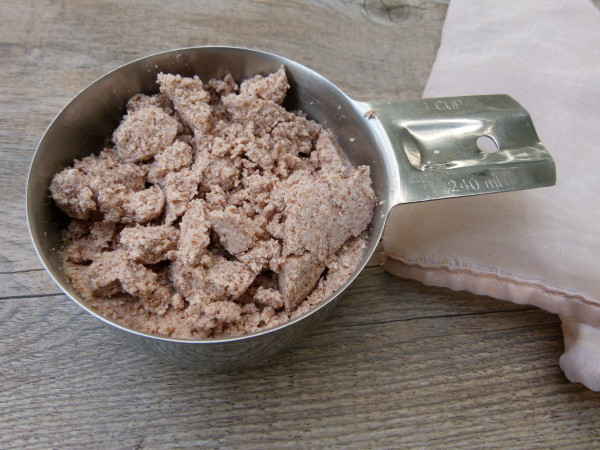 So what do I do with it?  Of course, there's the obvious — add it to anyone's smoothie or stir it into a warm porridge or muesli.  And almond pulp freezes well, so I can save it for another time.  But I am just way too lazy to get out my dehydrator and dry out the pulp to use as almond meal.  And then I thought to myself, what if I just tried the almond pulp in a quick bread in place of some of the wheat flour?  Well, guess what?  It worked!  Although apparently, a million other people already knew this and I am extremely late to the almond pulp party!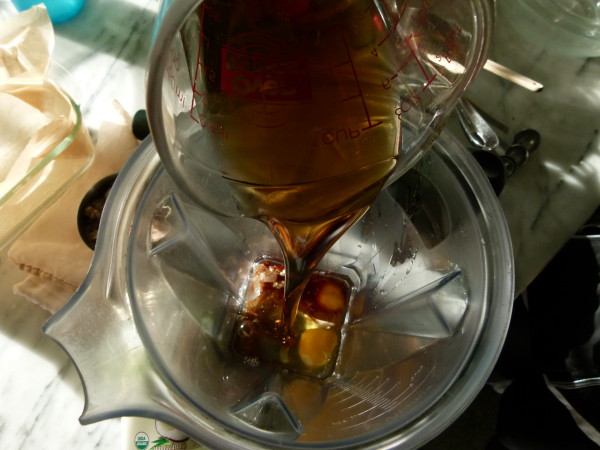 I decided to take one of my banana bread recipes and tweak it a bit with almond pulp that was leftover from 1 cup of whole, soaked raw almonds.  Remember, almonds have a lot more fat than grain flours, so we can cut back on some of the added fat.  But almonds have no gluten, so I was reluctant to make an all-almond pulp bread this first time.  I know this will be neither Paleo nor gluten-free (although I am confident you can swap the gluten flour for a good GF all purpose mix + a little xanthan gum), but I think we can fix that with a few more tweaks.  Using half whole wheat flour and half almond pulp, this bread came out to be ABSOLUTELY PERFECT!  Moist but hearty, not crumbly, and not too sweet.  It's perfect banana bread, in my book.  My life changed instantly!!  Let's all imagine the possibilities of subbing some almond pulp for flour in different recipes!  Is this exciting or what??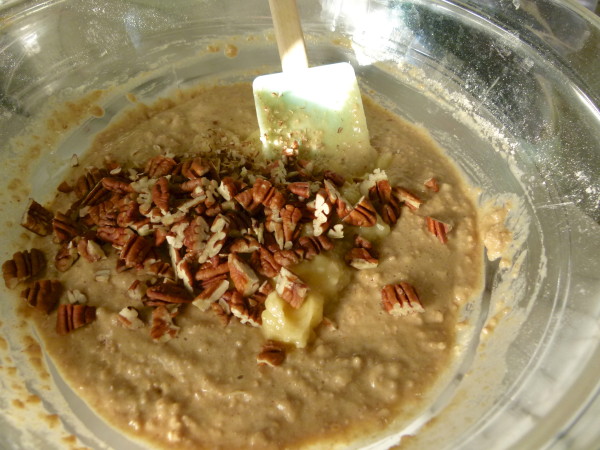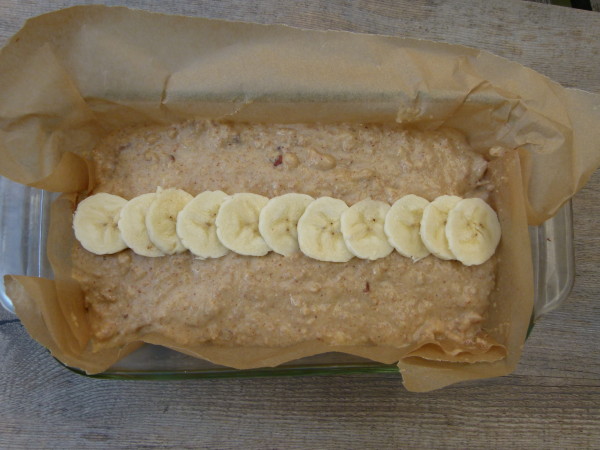 Most of the recipes on my site have been made in my cooking classes and at home about 20 times, but this one I just did once so I haven't tested all the permutations, e.g. all almond pulp, no bananas, butter for coconut oil, and so on.  But you can bet I will!  I am planning on making my Millet Blondies today with almond pulp.  Check my Instagram for updates!  And please share your experiences with subbing in almond pulp in any recipes — I'll try anything!
One last favor — I love Saveur Magazine and they're conducting their annual food blog awards right now. If you like my blog, would you kindly take 15 seconds out of your busy day and nominate me for a Saveur Food Blog Award?  I think the category of Best Special Interest Blog (healthy cooking) would be great.  Thank you so much!  Here's the link (and I promise it takes 15 seconds!) http://www.saveur.com/article/contests/blog-awards-2015-nominate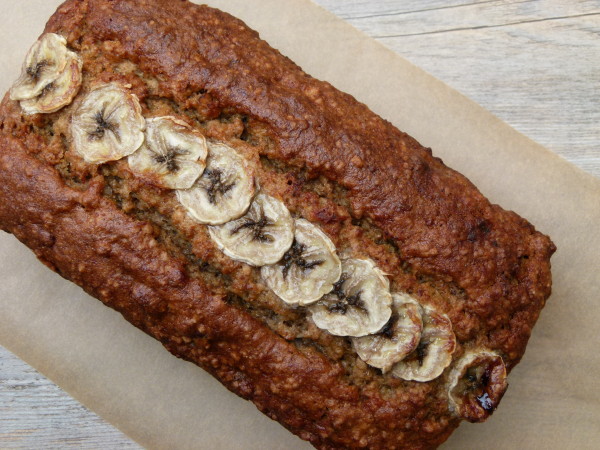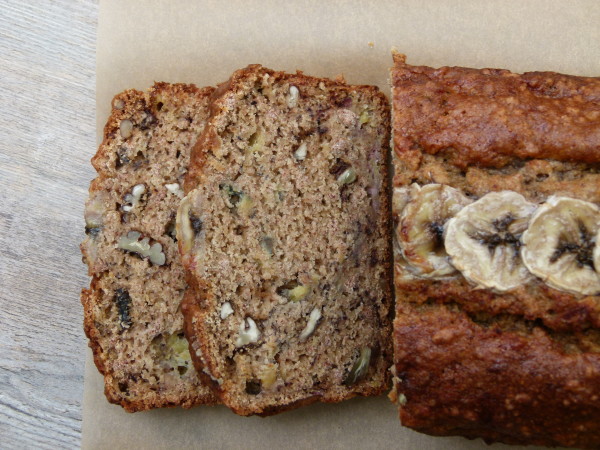 Whole Grain Banana Bread with Almond Pulp
Serves:
makes one 8½ x 4½ -inch loaf
Ingredients
1¼ cups whole wheat pastry flour, whole spelt or sprouted spelt flour
1 teaspoon baking soda
½ teaspoon aluminum-free baking powder
½ teaspoon sea salt
¾ cup packed almond pulp (leftover from 1 cup of almonds to make almond milk)
½ cup pure maple syrup
4 Tablespoons unsalted butter or unrefined coconut oil, melted
2 large eggs
1 Tablespoon pure vanilla extract
2-3 very ripe bananas, mashed (2 large or 3 small-medium)
½ cup pecans or walnuts, chopped
Instructions
Preheat oven to 375 degrees. Grease the bottom and sides of a 8 ½ x 4 ½ loaf pan with butter or coconut oil and line with unbleached parchment paper, if desired.
In a large bowl whisk together the flour, baking soda, baking powder and salt. Set aside.
Place the almond pulp, maple syrup, melted butter or coconut oil, eggs and vanilla in a blender and process until combined. Or whisk well in a medium bowl.
Add the wet ingredients to the dry ingredients and combine until just blended. Fold in the mashed bananas and nuts.
Pour into the prepared pan and bake for 50-60 minutes, or until a toothpick inserted in the center comes out clean. Cool in the pan 10 minutes and then remove the bread and transfer to a rack.