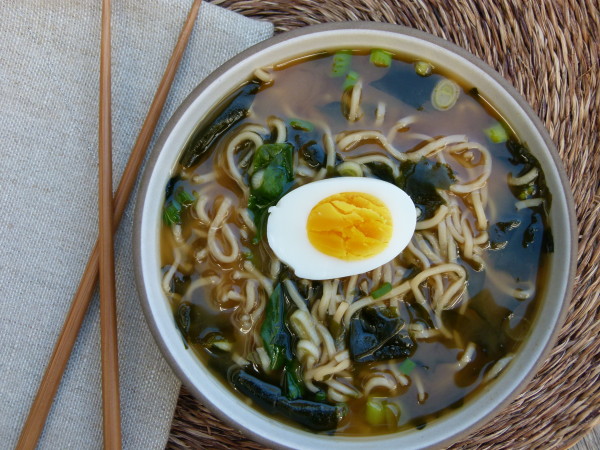 Since my oldest child started college this past fall, it's been hard not to compare everything at her school to what I had when I was in college.  I do my best not to sound like, "When I was in college, we had to use quarters in the washing machines and we had to wait for our laundry to be finished.  No text alerts back then!"  Although now that I think about it, I met my future husband in the laundry room while we were both waiting for our laundry to finish!  Ha!  Of course, I am so food-centric, I pay close attention to dining hall options and food choices in the area around my daughter's campus.  And let me tell me you, back when I was in college, there was no juice and smoothie bar in the dining hall for breakfast.  There was, however, an all-you-can-eat supply of Quaker granola, sugar cereals and hydrogenated peanut butter!  It's no wonder I gained about 20 pounds in college.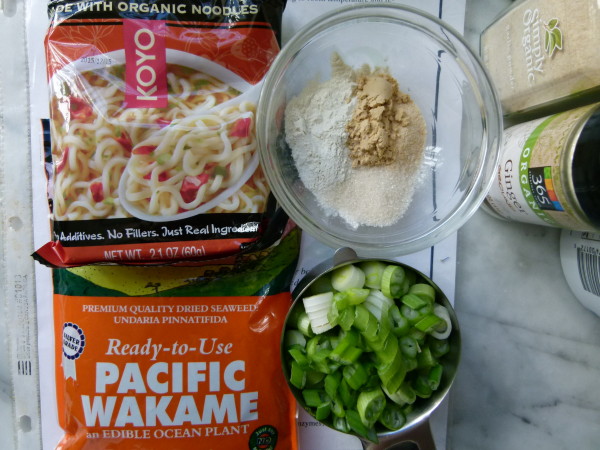 My roommate freshman year blew my mind with this instant noodle soup concoction that she made in our room every day.  I could not believe, especially coming from an Italian home where we ate fresh pasta multiple times each week, how she could just pour hot water into a cup and it would turn into a tasty noodle soup.  She called it ramen noodle soup, to be exact.  Many years later I discovered that this instant meal was probably one of the worst things anyone could eat.  (I really should check up on this girl to make sure she's still ok!)  Between the myriad of MSG and MSG-derivatives, the seasonings in the mixture also contain preservatives, chemicals, food coloring and other inexplicables.  To make things worse, I just found out recently that instant ramen noodles are deep fried and dehydrated.  Deep fried foods are also among the worst things you can eat.  Therefore, you don't need to be a rocket scientist to deduce that instant ramen noodle soup is a DISASTER.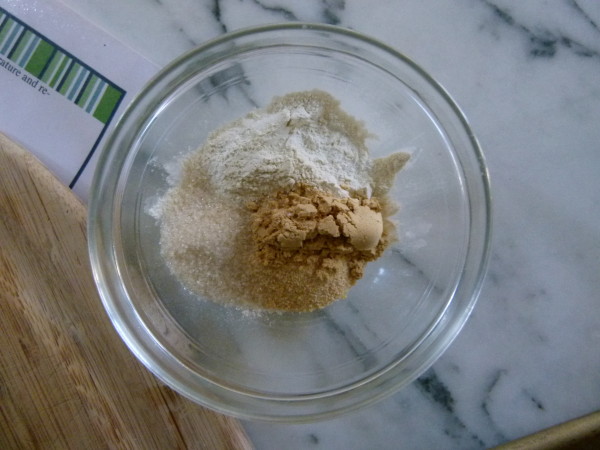 So, since I have a lot of college kids following my blog and Instagram now, I thought I should share my version of a quick ramen noodle soup recipe.  I looked at some seasoning packets from "healthier" soup packets and saw a few ingredients that showed up regularly — onion powder, garlic powder, miso powder, shoyu powder, and ground ginger.  I could do that!  So I played around with a few proportions and came up with the recipe here.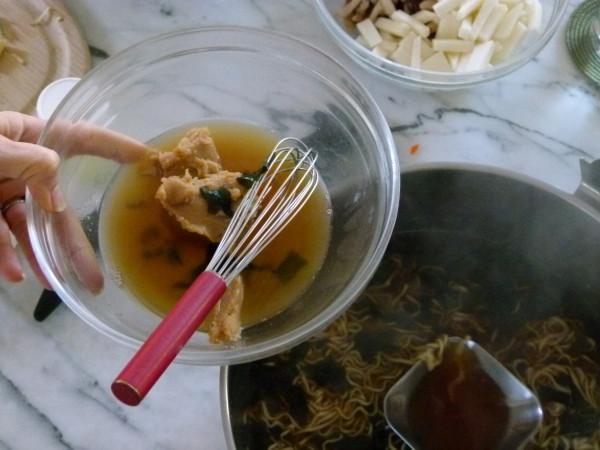 I also did a little research into authentic ramen noodle soups (like the kind that use fresh, homemade noodles), and learned that most of the broths are pork, veggie or a seaweed and bonito (fish)-base.  But I think if you want to use chicken stock, you should!  When I taught the soup in my classes, I used homemade vegetable stock.  I found a great ramen noodle called Koyo that is baked, not fried.  But feel free to use any noodle you want.  Lotus Foods makes a gluten-free noodle which is good.  I also kept it simple with toppings, but really the sky's the limit.  You can add cooked chicken, pork or shrimp.  I love adding a halved hard or soft boiled eggs.  Veggies that are great include bean sprouts, spinach, green onions, shredded carrots, bok choy or whatever you have on hand recently.  You can really make this into a meal!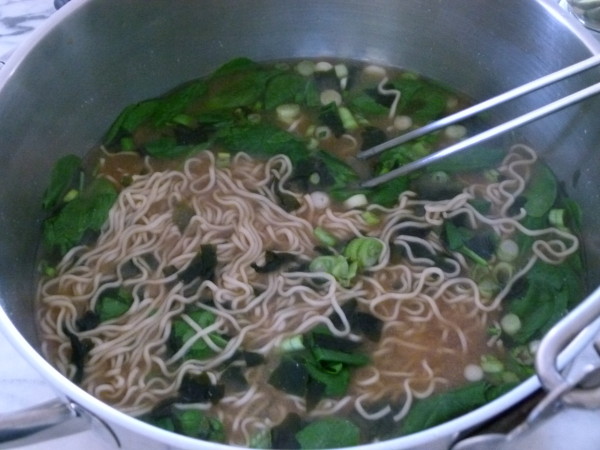 I think what many of my students found appealing though, was how fast this came together and that it is quite kid-friendly.  I know so many of you are struggling with rather cold temperatures and I think this would be the perfect thing to whip up for lunch or dinner to warm up!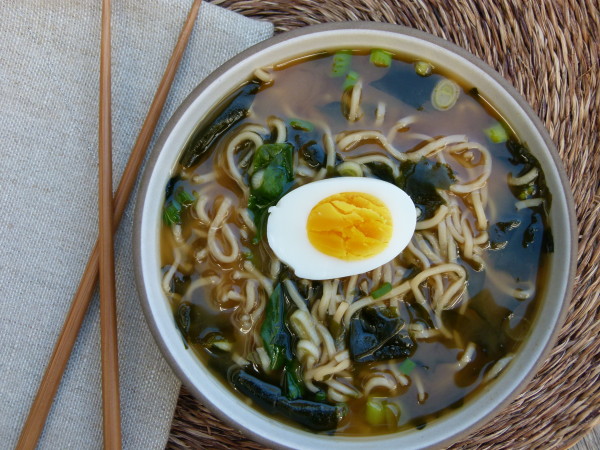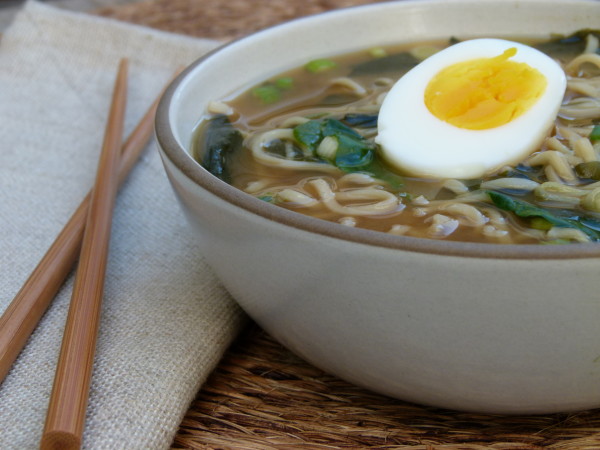 homemade ramen noodle soup recipe
Ingredients
5 cups (1 quart + 1 cup) vegetable or chicken stock, preferably homemade
2 ramen noodle cakes* (see note above)
3 Tablespoons shoyu or gluten-free tamari (I like Ohsawa brand)
pinch sugar
¾ teaspoon onion powder
¼ teaspoon + a pinch garlic powder
¼ teaspoon + a pinch ground ginger
2 Tablespoons dry wakame flakes
2 Tablespoons white or yellow miso
handful of baby spinach leaves
¼ cup scallions, green and white parts, sliced
other suggestions: thinly sliced mushrooms or bok choy (add to pot with noodles), bean sprouts, halved hard boiled egg, cooked shredded chicken or pork, cooked shrimp (add to the soup bowl), chili garlic sauce
Instructions
Place the vegetable stock in a large pot and bring to a boil.
Add the noodles, shoyu, sugar, onion powder, garlic powder, ground ginger, and wakame flakes and cook for 3-4 minutes or until the ramen noodles are soft.
Pour a ladle-full of stock into a bowl and add the miso*, whisk until smooth and then pour back into the stockpot.
Stir in a few handfuls of baby spinach leaves until wilted.
Ladle into bowls and garnish with scallions. Serve as is or with additional accompaniments as suggested above.
Notes
Feel free to adjust measurements based on your taste. I originally taught the soup with more seaweed because I really like it, but I don't think everyone liked it as much as I do, so I reduced the amount. Of course you can leave it out altogether if you wish! Also, some noodles are starchier than others, which means they will thicken up the soup a bit. If you want to avoid that, cook the noodles separately and dived them up between the bowls and pour the soup on top.

Miso is a live food.  In order to preserve its beneficial enzymes, do not boil it.

*Try to buy a brand where the noodles are baked, not fried, like Koyo or Ka-me.  If you use gluten-free noodles, boil them in a separate pot since they'll make the soup too starchy.