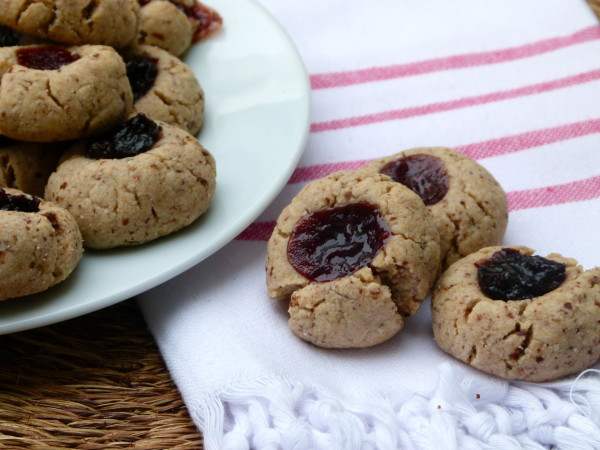 I think I might be the only person who owns Gwyneth Paltrow's book, My Father's Daughter, to finally be making the recipe called "Lalo's Cookies."  The book was published a few years ago and I am just getting around to this recipe.   I was at my friend Alex's house a few weeks ago and she said to me, "you know what recipe my kids love?"  I was all ears.  "Lalo's Cookies from Gwyneth's book."
"Why have I never tried those?"
"I don't know, but they're so easy my kids can make them!"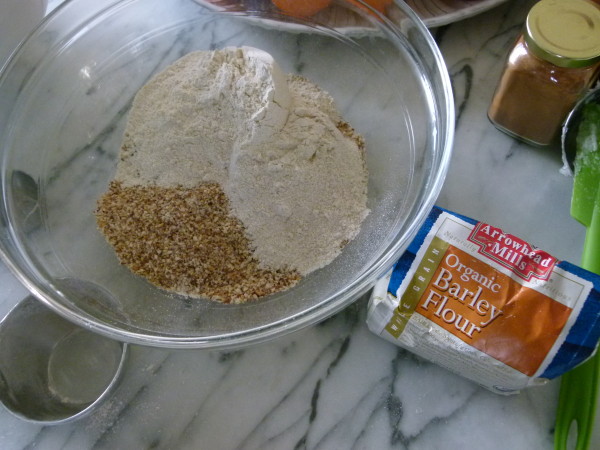 What I should have done that day was go straight home and do laundry, pay some bills, respond to my emails, work on my book proposal, prep dinner and take the dog for a walk.  Instead, I went straight to Whole Foods to buy barley flour (an ingredient in the recipe) and then went home to make the aforementioned cookies.  I was obsessed and nothing else seemed to matter.  Mr. Picky would just have to wear his soccer jersey a second time, emails would wait until tomorrow and we could eat cookies for dinner!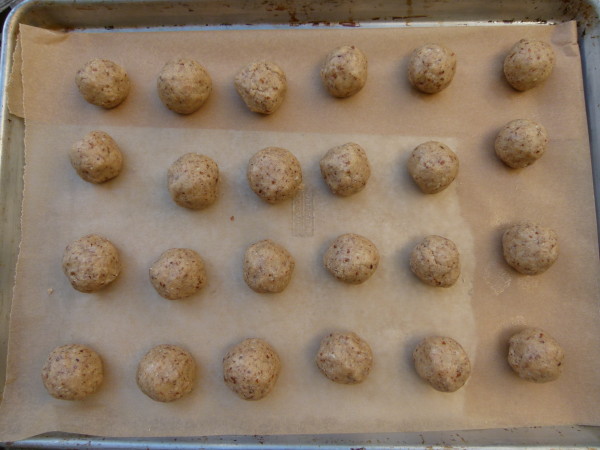 Alex was right — the cookies were delicious and super easy (ONE BOWL!!)  Because they're egg-less, they have a shortbread-like quality to them and the perfect subtle, nutty sweetness.  They are slightly crumbly, without falling apart and I really loved the texture.  I love the look of a thumbprint cookie, too.  There's something so homey and old- fashioned about them.  I used some no sugar-added jam in some, and a Hershey's kiss in others since Valentine's Day is just around the corner.  So cute, don't you think???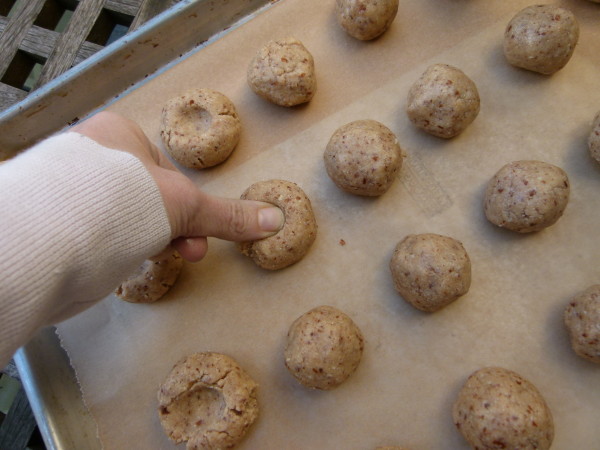 I think this is among the more healthful cookie recipes I have seen, but I couldn't help but make a few tweaks which, please don't tell Gwyneth, I have to say made the cookies even better, both taste-wise and nutrition-wise.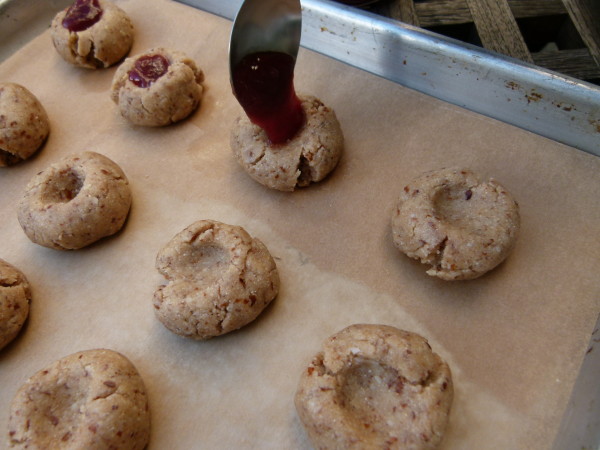 Gwyneth's recipe uses barley flour, like I mentioned.  But who in the heck has barley flour laying around?  Random ingredients is one of the biggest pet peeves of my cooking class students.  Not that there's anything wrong with barley flour — it's actually amazing and really high in fiber and protein, but it's just not an ingredient I have ever seen in anyone's pantry.  Except Alex's, of course.  I used whole wheat pastry flour instead.  I also subbed unrefined, virgin coconut oil for the canola oil, which is a big no in my book since it's always refined and almost always GMO (i.e. it's a big bottle of free radicals and inflammation.)  I love coconut oil in baked goods.  I think it enhances the sweetness and I really can't detect any coconut taste.  Then I decided to use almond meal instead of using the food processor to grind almonds, only because I thought it would easier not to break out the food processor.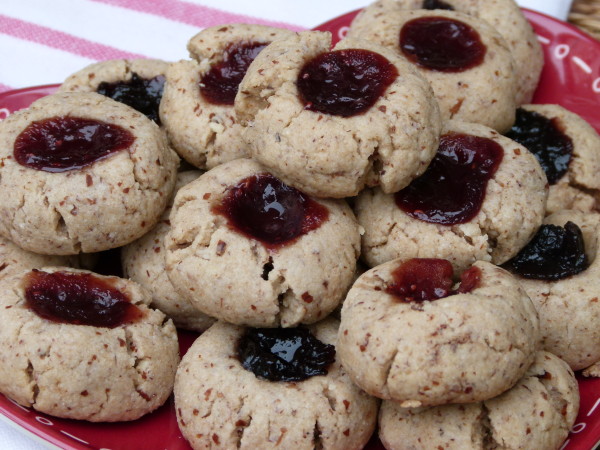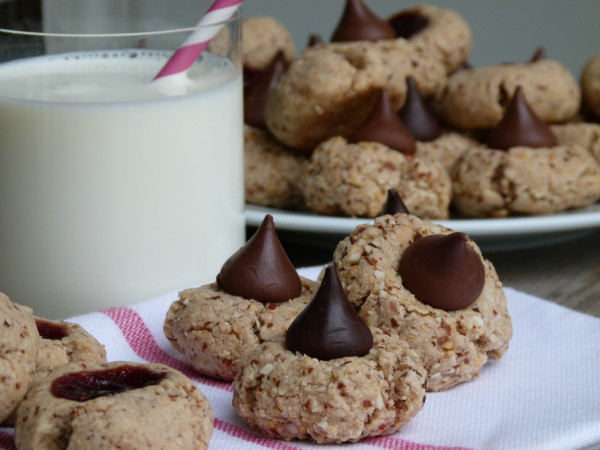 The difference in the two batches seen here is barley flour and ground almonds with Hershey kisses vs. whole wheat pastry and almond meal with jam.  My family and I preferred the cookie that had the whole wheat pastry flour-almond meal, but loved the chocolate kiss element of the other.  I know there are a lot of nut-free schools, so I think you could probably make these with ground sunflower seeds, but I can't be 100% sure.  To make these GF, I would try a good GF flour blend like King Arthur Multipurpose GF Flour and add a pinch of xanthan gum.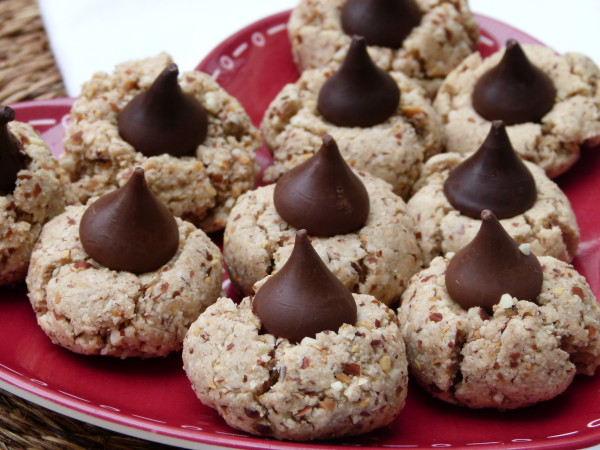 All I can say is that these would be perfecto to make with your kiddos on Valentine's Day!  Spread some cookie love!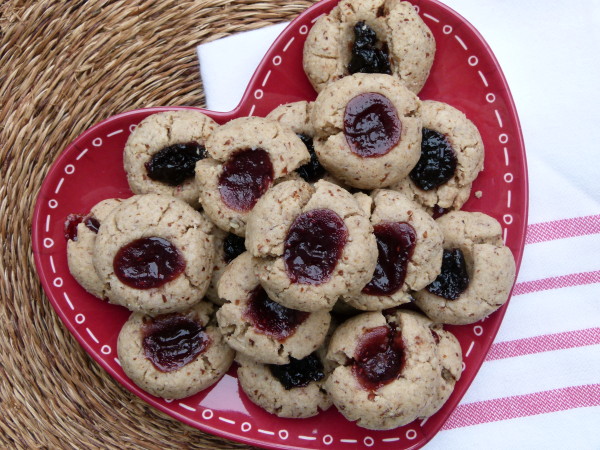 Whole Wheat-Almond Thumbprint Cookies
Author:
Pamela, adapted from "My Father's Daughter" by Gwyneth Paltrow
Serves:
makes about 25 cookies
Ingredients
2 cups whole wheat pastry flour or barley flour
1 ½ cups whole raw almonds crushed in a food processor or 1 ½ cups almond meal or flour
½ teaspoon fine sea salt
½ teaspoon ground cinnamon
½ cup unrefined coconut oil, melted
½ cup pure maple syrup, Grade A or Grade B
No sugar-added jam, such as raspberry, strawberry or blueberry or 25 unwrapped Hershey's kisses
Instructions
Preheat the oven to 350 degrees.  Line a baking sheet with unbleached parchment paper or a Silpat mat.
Combine all ingredients except for the jam/kisses in a large bowl with a spoon.
Take a tablespoon of the dough and shape into a ball.  Place on the prepared baking sheet.  Repeat with the remaining dough.
Using your finger, make a dent in the center of each cookie.  Fill with a small bit of jam.  If you want to use Hershey's kisses, do not add to cookie until after baking.
Bake until the cookies are lightly browned, about 20 minutes.  If you want to use the chocolate kisses, when the cookies come out of the oven, place the piece of chocolate in the indentation and allow to cool.