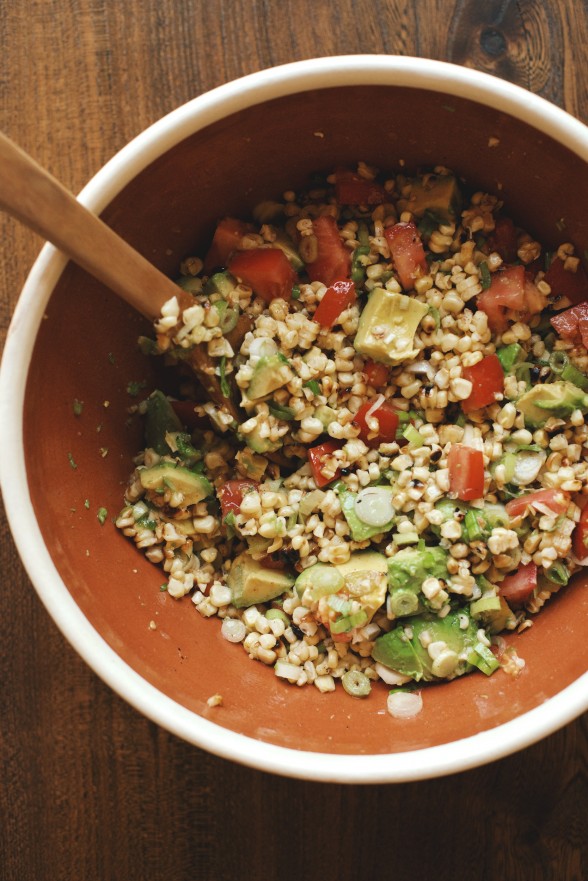 I am at the end of my summer visit with my family on Long Island and I am starting to pout.  "I don't wanna go home!"  Believe me, home, which is Manhattan Beach, California, is not so shabby.  But it's not getting out of bed at 7:30 am (instead of 5:30.)  It's not wine at lunch AND dinner.  It's not lingering at the table outside without a sweater for hours.  It's not falling asleep to crickets at night.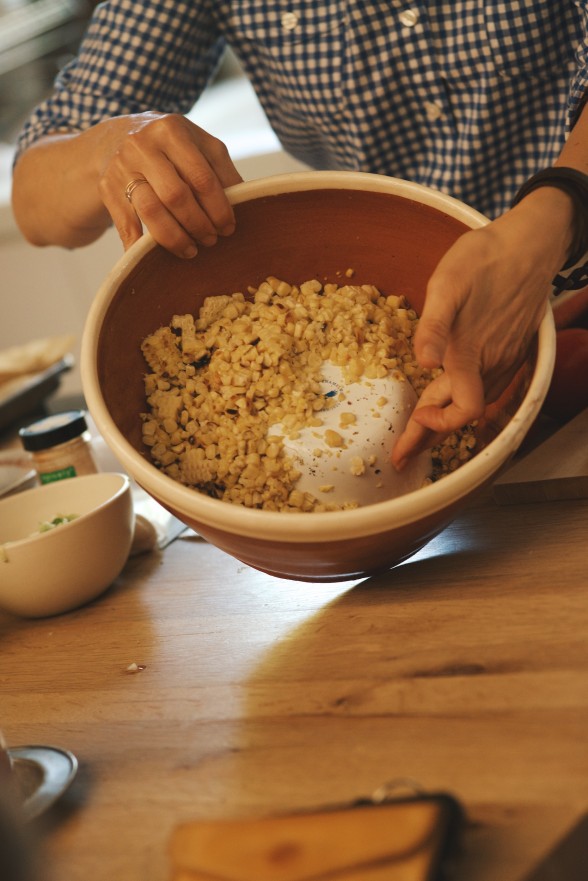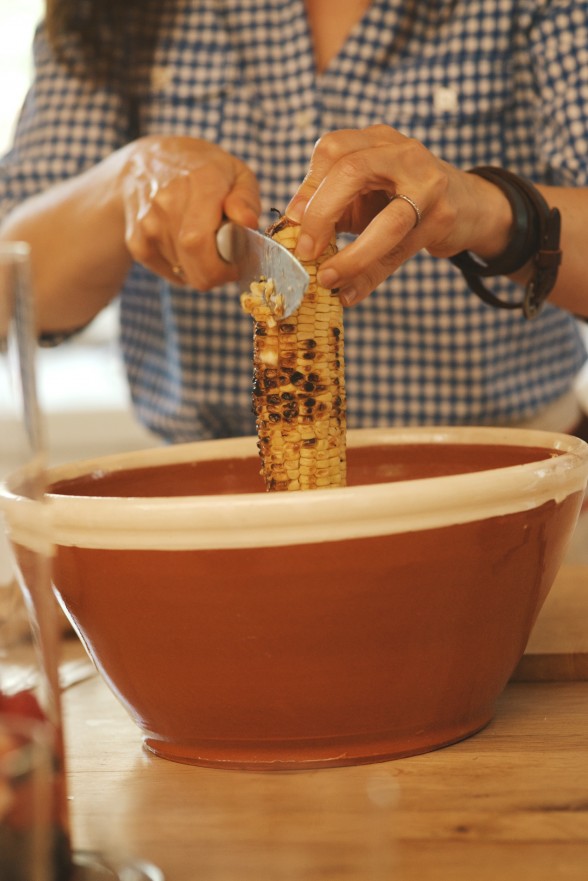 I love summer and I love it more on the East Coast.  It's the way I think we should all be living regularly – present, in the moment, grateful for what we have.  I associate summer produce with this emotion, too.  Strange, but true.  When I think of tomatoes and corn, I always think summer.  And therefore I think of freedom and happiness and relaxation and good times.  That's what comes to mind when I see real, seasonal, local tomatoes and corn.  They make me HAPPY!  When summer rolls around, I am jumping for joy every week when I come back from the farmers market.  "Guess whaaaaat, kids?!  Corn is baaaack!"  They are a little over it.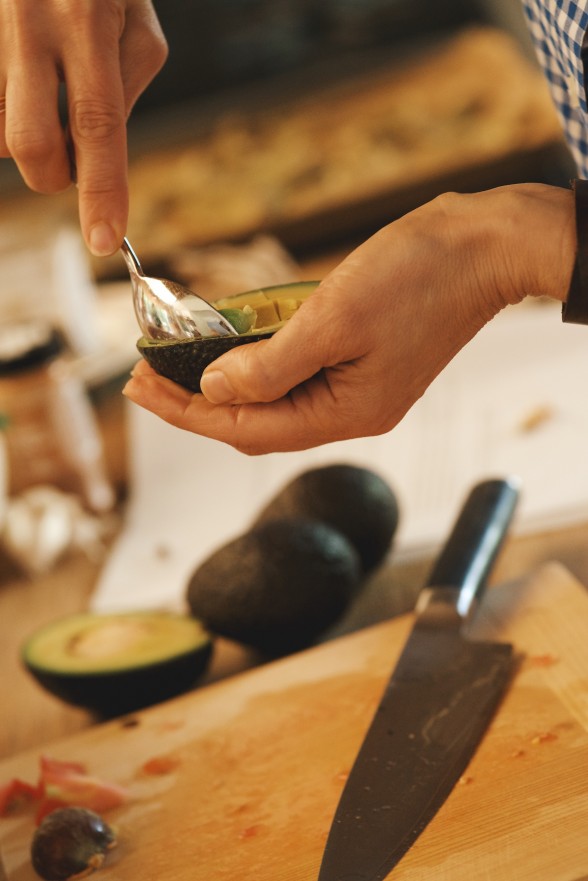 What I know for sure is that this corn salad is a winner.  It's simple and nutritious and darn delicious and it screams "Hey there, summer!"  You can do most of it ahead of time which is the way I like to operate.  I personally love corn with a little char on it.  It's a bit smoky and goes really well with the touch of smoked paprika or ground chipotle in the recipe.  But, if you are lucky enough to get just picked (as in, a few minutes ago) corn, go ahead and cut it raw.  Such a treat!  I know corn is controversial because most of it is genetically modified, but if you can find certified non-GMO or organic, I say go for it!  Add a little protein, like a veggie burger or some grilled shrimp and you have the perfect summer meal.  Hope you have a safe and fun July 4th!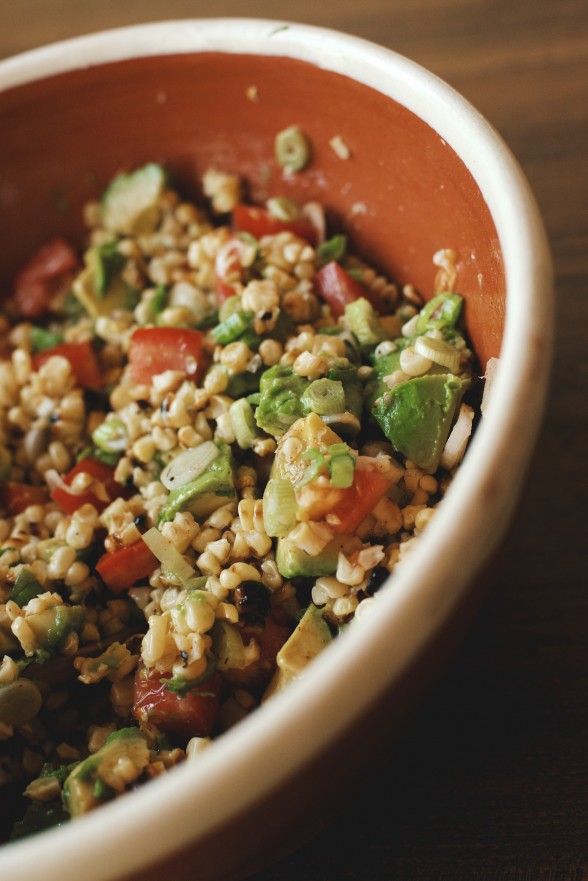 Charred Corn Salad with Tomatoes and Avocado
Ingredients
4 ears of corn, husked
2 green onions, sliced (thinly sliced red onion can be substituted)
1 large tomato, chopped
1 avocado, cubed
2 ½ Tablespoons freshly squeezed lime juice
2 Tablespoons unrefined, cold pressed, extra virgin olive oil
1 teaspoon sea salt
¼ teaspoon ground chipotle chili powder or a few dashes of your favorite hot sauce
Freshly ground black pepper, to taste
Instructions
Heat your grill to medium-high. Grill the corn directly on the grill, turning frequently, until the corn has nice char marks on all sides, about 10 minutes. Remove from grill. When cool enough to handle, cut kernels from cobs and transfer to a large serving bowl.
Add remaining ingredients to corn. Season to taste with more salt and pepper, if necessary and more lime juice, if desired.
Notes
The corn can be made 3 hours ahead of time and kept at room temperature.
The salad can be assembled 1 hour ahead of time and kept at room temperature.