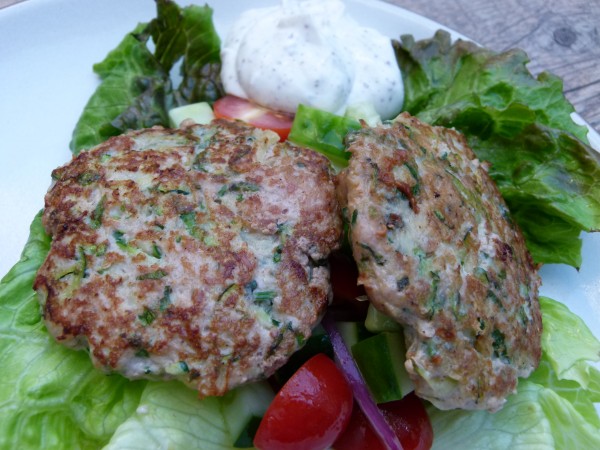 I'm a happy mama since I picked up Mr. Picky from sleepaway camp on Saturday.  13 days is just too long for me to be apart from that guy.  I have been enjoying all the stories, hanging on every word as if he traveled around the world.  Bless his heart, Mr. Picky "snuck" some food from camp to bring to my husband and me.  Thankfully, it was from breakfast the morning he left and not from last week.  From his backpack he pulled out a paper cup with a few pieces of melon for me and a cup with mini cinnamon buns mixed with tater tots for my husband.  What does that tell you?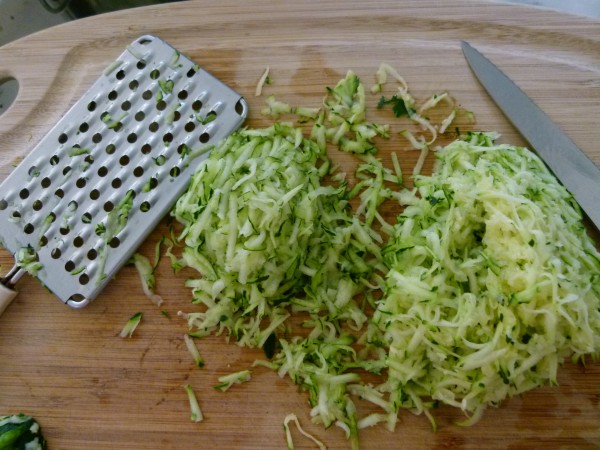 While Mr. Picky can't stop talking about his counselors, his bunk mates and all the competitions in which he participated, I had to find out about the food.  What was your favorite dinner?  Did you eat any vegetables?  What did you drink?  Blah, blah, blah.  I'm so predictable, but I have no self control.  I have to give the camp props that soda is not served.  I don't know if I could handle that.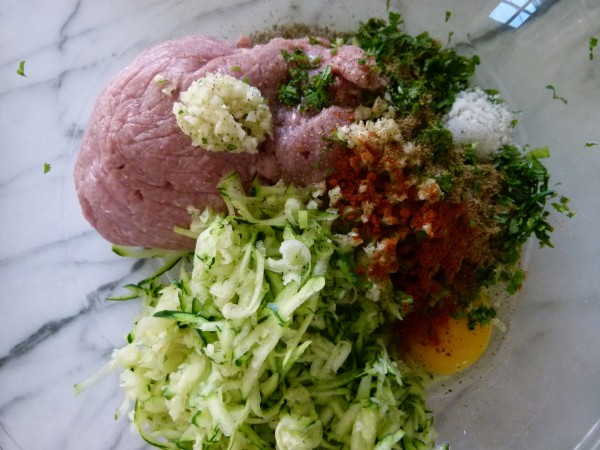 So what I have gathered is that Mr. Picky didn't eat any protein at breakfast ever since, go figure, the camp doesn't serve Organic Pastures Raw Organic Milk, and Mr. Picky still doesn't eat eggs or cheese.  And it also sounds like the only vegetable he ate was cucumber.  So we have some catching up to do!  One thing that my son loves is any type of burger, even veggie burgers.  I made these turkey burgers the week before he left and he loved them so they're going on the dinner menu again this week.  It's another winner recipe from Yotam Ottolenghi's "Jerusalem" cookbook.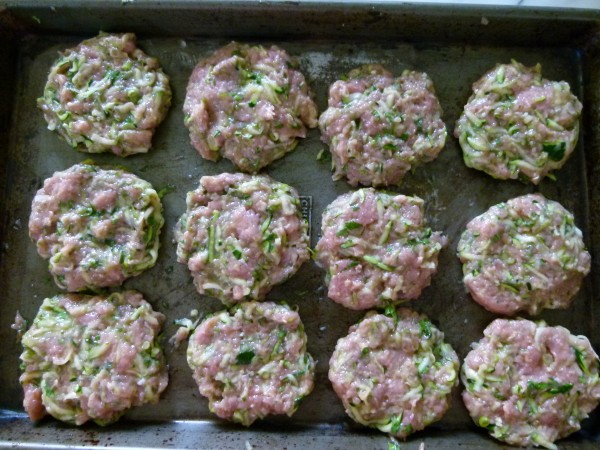 If you're bored with plain burgers, these are so different and delicious.  And a great way to make a (small) dent in your zucchini crop.  They are moist, herby and they've got a great kick to them.  If spicy isn't your thing, you may want to cut back to a pinch of cayenne.  Although if you make the sumac sauce, which is delicious, it really cuts the heat from the burgers.  But I'm not really doing dairy these days and Mr. Picky didn't want any sauce, so I only made half the recipe for the sauce and I thought it was the perfect amount.  I also didn't use traditional buns when I made these.  Bread will just detract from the tastiness of these burgers!  Instead we ate them on lettuce leaves with some chopped cucumbers and tomatoes, right up my alley.  Of course if you want a more traditional burger, you can probably get 6 "standard" size patties and pile them onto buns with all your favorite fixings.  Delish!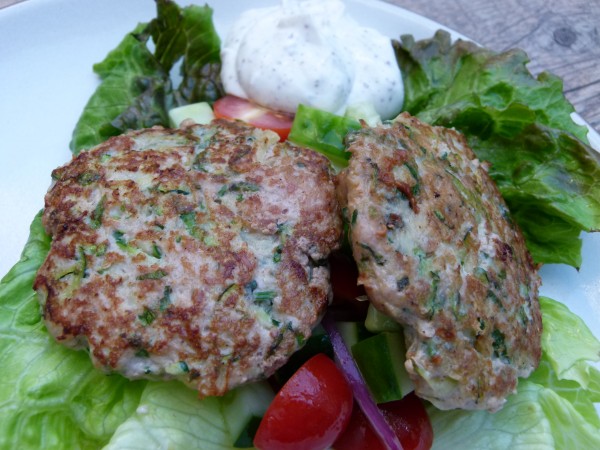 View this post on Instagram

 

 
Mediterranean turkey and zucchini burgers recipe
Author:
Pamela, adapted from "Jerusalem" by Yotam Ottolenghi and Sami Tammy
Serves:
4-6 (Makes about 18 1½ ounce burgers or 12 2½ ounce burgers)
Ingredients
1 pound ground turkey (I like dark meat)
1 large zucchini, coarsely grated (scant 2 cups)
3 scallions, white and green parts, thinly sliced
1 large egg
2 Tablespoons chopped mint
2 Tablespoons chopped cilantro
2 cloves garlic, grated or minced
1 teaspoon ground cumin
1 teaspoon sea salt
½ teaspoon freshly ground black pepper
¼ teaspoon cayenne pepper (perfect for us, but the original recipe called for ½ teaspoon; you can use even less if you don't want them spicy)
unrefined olive oil, coconut oil or ghee for searing


For the Sour Cream & Sumac Sauce:
Scant ⅓ cup full-fat Greek yogurt
Scant ¼ cup sour cream (or use all Greek yogurt)
½ teaspoon grated lemon zest
½ Tablespoon freshly squeezed lemon juice
½ small clove garlic, grated or minced
2 ¼ teaspoons unrefined, cold pressed, extra virgin olive oil
1 ½ teaspoons sumac
¼ teaspoon sea salt
a few grinds of freshly ground black pepper
Instructions
Make the sour cream and sumac sauce by placing all the ingredients in a small bowl. Stir well and set aside or chill until needed.
In a large bowl, combine all the ingredients for the patties except the olive oil. Mix gently with your hands and then shape into about 18 burgers, each weighing about 1 ½ ounces or 12 burgers, each weighing about 2 ½ ounces.
Pour enough oil into a large frying pan to form a layer about 1/16 inch thick on the pan bottom. Heat over medium heat until hot, then sear the patties in batches on both sides. Cook each batch for about 5-7 minutes on each side, adding oil as needed, until golden brown and cooked through.
Serve warm or at room temperature, with the sauce spooned over or on the side.