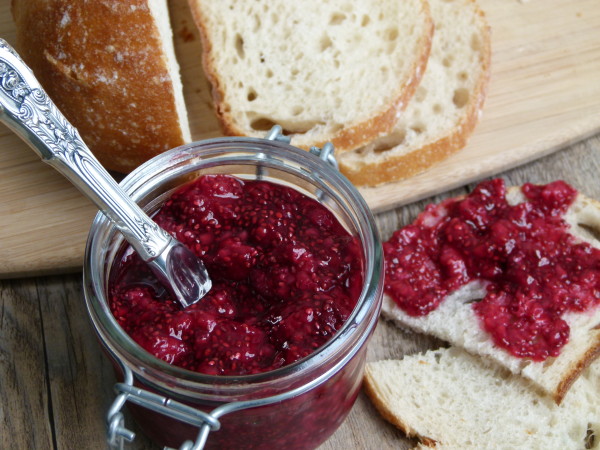 Poor Mr. Picky was crying a little when I put him to bed last Sunday night.  I thought it was because his baseball team got walloped in their playoff game which then ended their season.  That wasn't it.  I thought it might be because his pitching was lousy and he felt bad it.  Nope, apparently he had forgotten about his performance already.  Oh, wait.  It's because I forgot to pick him up from religious school.   "No, Mom!  And who cares?  I only had to wait like 20 minutes."  Bless his heart.  Then what's the matter?  "The weekends are too shoooooort," he sobbed and buried his face in his pillow.  Ahhhhh, you are quite right, Mr. Picky.  Quite right indeed.  That made me a little bummed out since I don't think I felt time fly until I was much older than his 9 years.  Is life more fast-paced now than it used to be or does my family have too much going on?  I don't know.  But I have good news, Mr. Picky — it's a 3-day weekend!  Hooray!  And not only do we get an extra day of leisure, there are no practices or tournaments or stuff like that.  We're on easy street.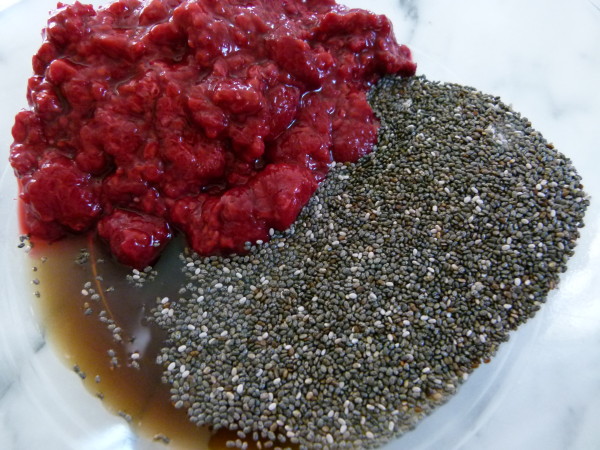 I remember when I was a stay-at-home mom, I used to think, "Oy, the weekend!"  Weekends were so much more work for me to coordinate the kids and naps and birthday parties and soccer games.  I loved Mondays!  Mama got some quiet time.  But now, it's a different life and even though I love my work, I also love a little break from a 5:30 am alarm clock and not having to face LA traffic in the morning, which has anyone noticed gets WORSE every year?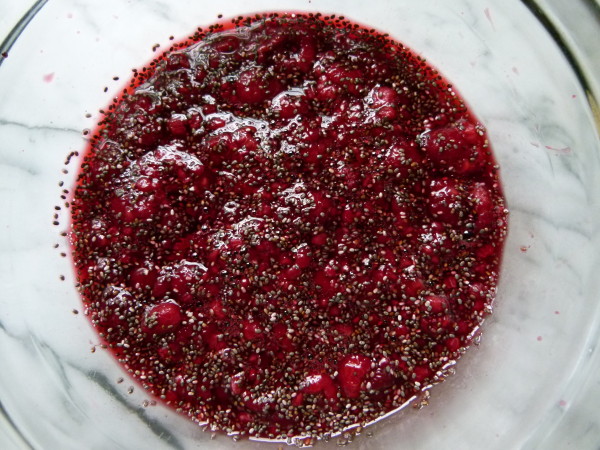 I've mentioned before that I so look forward to leisurely breakfasts on the weekends and vacations.  I just made a double batch of this raspberry chia "jam" and I can't stop day dreaming about all the ways I'm going to enjoy it this weekend!  I have never made "real" jam in my life because it just seems like a bit too much work and sugar.  But this is a raw jam that requires nothing more than a quick stir and some patience as it needs to sit a bit to thicken.  And it's so much better for you than the cooked sugary kind!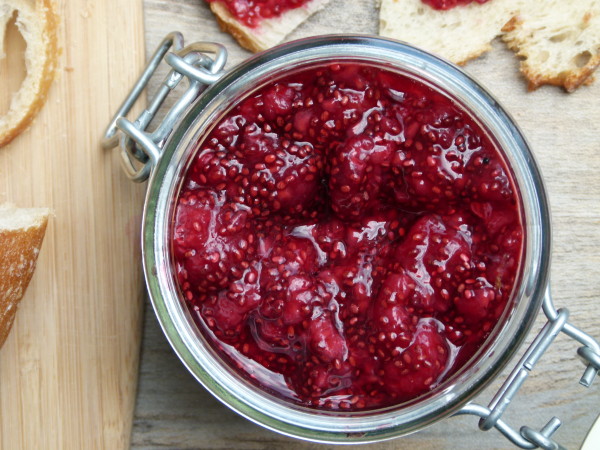 The secret ingredient here is chia seed, which is such a little miracle food.  They're naturally rich in Omega-3 fatty acids, which are super anti-inflammatory, as well as chock full of fiber and calcium.  When chia seeds come into contact with liquid, they become very gelatinous and thick.  So they make an awesome "pudding" when mixed with almond milk and help thicken up your morning smoothie.  They have no taste at all which makes them very easy to use.  They key is just knowing the right ratios of chia to liquid so your pudding or smoothie doesn't get too thick or too thin and giving the chia seeds a little time to work their magic.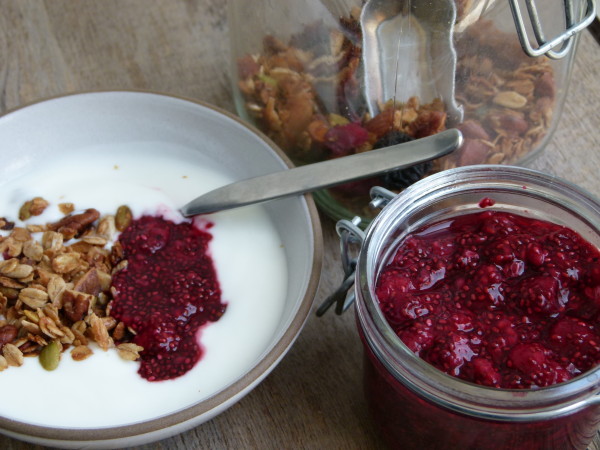 All you do here is defrost some frozen raspberries, which are good and mushy and already a little seedy, and mix with the chia seeds and a little maple syrup to sweeten.  Feel free to use a couple drops of stevia if you prefer.  After at least 6 hours in the fridge, you have a lovely, spreadable jam which is perfect for nut butter sandwiches (excuse the not-whole-grain bread here), pancakes or stirred into yogurt.  You could even do a yogurt-granola parfait with a layer of this raspberry -chia jam.  It's always a nice idea to start your day off with a healthful breakfast during a holiday weekend, especially if you're going to a BBQ later and you want to indulge a little.  Here's hoping your Memorial weekend is a restful and restorative one!

Raspberry Chia Seed Jam
Author:
Pamela, adapted from eatgood4life.com
Serves:
makes about 1 cup
Ingredients
2 Tablespoons + 2 teaspoons chia seeds
10 ounce package frozen organic raspberries, thawed (drain the raspberries if you want a very thick jam)
2 Tablespoons pure maple syrup or more to taste
Instructions
Place all the ingredients in a medium bowl. Stir to mix, making sure all the chia seeds have been moistened with the juice from the berries.
Cover and allow jam to thicken in the refrigerator for at least 6 hours. Lasts for 2-3 weeks in the refrigerator.