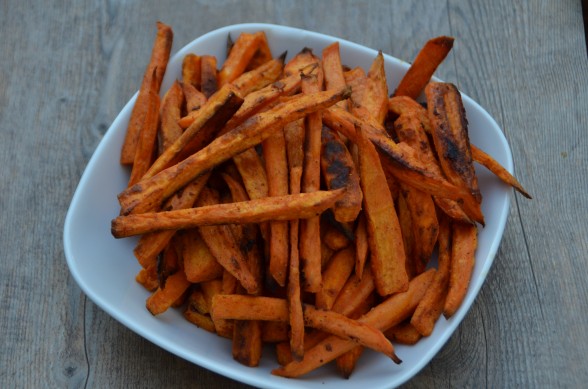 Sweet potato fries have been quite popular in the last few years, usually being touted as a more healthful alternative to regular fries.  I can see why that is believable.  After all, sweet potatoes are much more nutrient-dense than white potatoes, especially if the white potatoes are peeled and have the majority of their vitamins removed.  But once you fry anything, even if it's organically grown kale from your composted garden, it is no longer a healthful food.  This is especially true about food fried in restaurants, which use the cheapest oils, heated over and over and over again until they're just big vats of free radicals and trans fats.  Yuck.   Dr. Mercola makes the bold statement that eating one French fry is the equivalent of smoking one cigarette.  I'll be the first to say that Mercola can be a bit of an alarmist, but I do agree that commercially fried foods are among the worst things you can consume, even the beloved sweet potato.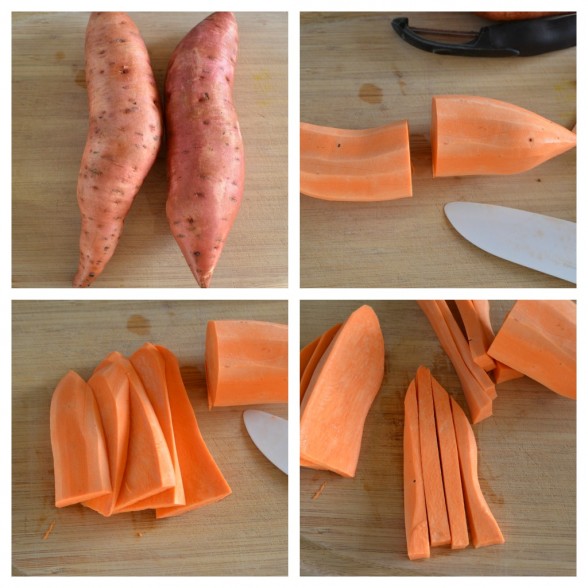 My daughters and I are pretty obsessed with sweet potatoes, and not just because they are incredibly rich in beta-carotene (which your body converts to Vitamin A), as well as Vitamin C, manganese and fiber.  We just think they are super delish!   We are perfectly happy with a simply roasted sweet potato eaten out of hand like a cookie, instead of a cookie!  I've even eaten them the next day for breakfast with some yogurt and cinnamon.  But I just can't bring myself to eat restaurant sweet potato fries.  Sad face.  An even bigger bummer is that I have attempted to duplicate sweet potato fries at home and I could never create the crispy crunchy texture of a real fry without actually deep frying them.  I have tried soaking them in ice water, salting them, parboiling, dipping them in an egg white wash (eeek!) all to no avail.  I hear tossing them in a little cornstarch works well, but I prefer to keep them a little more natural.  I have concluded that a home cook cannot achieve the same results in the oven.  However, you can still make very delicious, dare I say addictive, baked sweet potato "fries" that may even be classified as "healthful."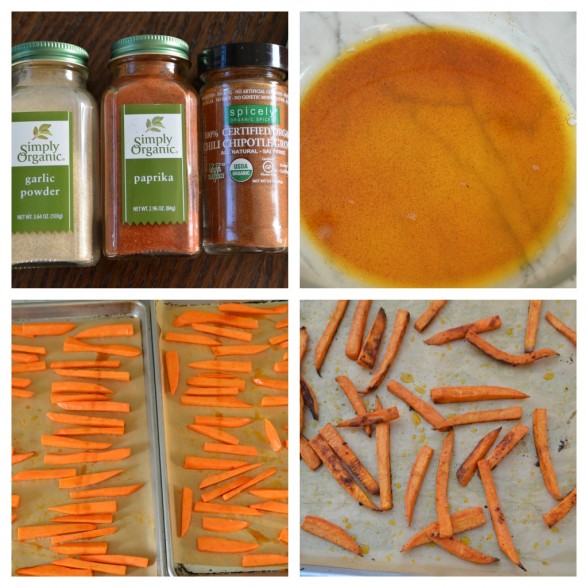 This recipe here has some spices added for extra flavor, in fact I encourage you to lick your fingers after tossing the spices and coconut oil with the sweet potatoes and tell me it doesn't taste like barbequed Lays potato chips!  After dozens of attempts of making baked sweet potato fries, I offer you a few tips:
cut the sweet potatoes into thin sticks, about 1/4 inch;
bake them in one layer and not on top of each other;
don't allow all the sweet potato sticks to touch each other otherwise they'll steam each other;
if you're two pans don't fit in the oven side by side, rotate them halfway during baking.
Even following these tips won't result in fries like your local fast food restaurant, but they also won't be soggy or limp.  Do any of you have some great tips for making baked sweet potato fries?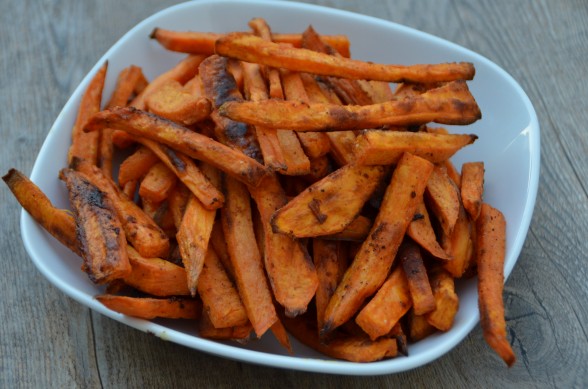 Baked Chipotle Sweet Potato Fries
Author:
Pamela, inspired by several sources, including Joy the Baker and Skinny Taste
Serves:
4-6 (or just me if I'm lacking self-control)
Ingredients
1 ½ pounds sweet potatoes (sometimes labeled as "yams"), Garnet or Jewel, scrubbed (peeled if desired)
4 Tablespoons unrefined coconut oil, melted
½ teaspoon ground chipotle chili pepper (or less to make it less spicy)*
½ teaspoon garlic powder
½ teaspoon natural cane sugar
½ teaspoon sea salt + extra to sprinkle
¼ teaspoon paprika
Instructions
Preheat oven to 450 degrees (or 425 degrees if your oven runs hot.) If you can't fit two sheet pans side-by-side in the oven, place one rack in the lower third of the oven and another rack in the upper third of the oven. Line two rimmed baking sheets with parchment paper.
Cut sweet potatoes like French fries, about about ¼-inch by ¼-inch by 3 inches long.
In a large bowl, combine oil and seasonings. Add sweet potato sticks and toss to coat well. Arrange sweet potatoes on prepared baking sheets in a single layer, evenly spaced. Sprinkle with another pinch of sea salt.
Bake 15 minutes and flip potatoes over. Continue to bake until lightly browned at the edges and slightly crisp, but still tender, about 10-15 minutes. If you'd like them to be a little more crisp, put the pan under the broiler for 30-60 seconds. Allow to cool slightly before serving.
Notes
*These are probably a 5 or 6 out of 10 on the heat scale. Cut the chipotle in half to make it less spicy or substitute smoked paprika to cut out all spiciness.