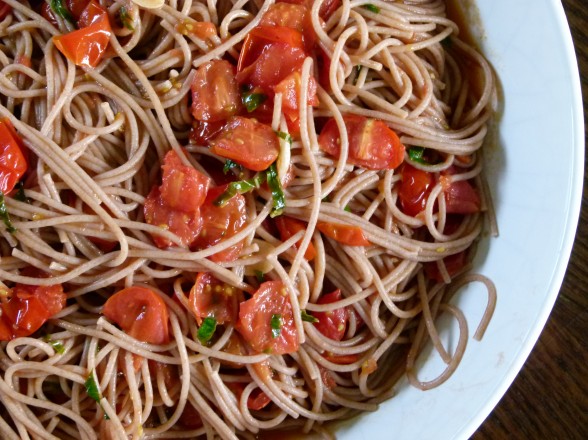 Mr. Picky and I had the most glorious week on Long Island visiting my parents.  My sisters and their kids came to be with us too, so it was quite a full house.   It kind of felt like summer camp with lots of old fashioned fun outdoors from morning til dusk except for the brief break to watch a few games of Euro Cup soccer.  Even though the kids were always playing ball, swimming or taking turns on the hammock, I felt as though we were always eating.  Italians tend to linger at the table for quite a bit, so breakfast morphed into lunch, and lunch lasted for hours, although I surmise that was due to the daily wine.  I finally realize why my parents drink so much espresso.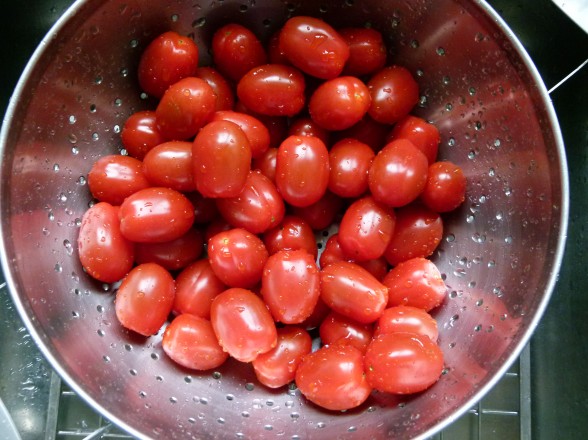 Whenever I come into town, I am in charge of organizing and cooking all meals, which I don't mind one bit.  The deal for the week is that whoever cooks, doesn't have to clean up, so I think I have the better job.  It isn't difficult to cook for my family.  They are so appreciative, easy going and I'm the only one with a child named "Picky."  My sisters' kids are the most fantastic eaters and they are all younger than mine!  I still kept it simple, making frittatas, tacos and salads for lunch and grilled chicken, roasted salmon and more vegetables for dinner.  My father's garden is loaded with a variety of berries, herbs and greens right now, which was such a pleasure for me.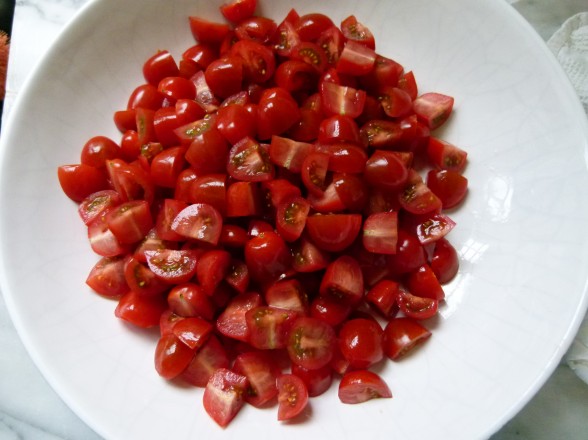 Besides cooking for the family, one of my other favorite things to do when I go visit is to check out the local natural foods stores.  Yep, that's a fun outing for me.  I love to see what the Long Island stores carry that mine don't.  This time around I was pleased to see many new sprouted grain products on the shelves.  I was able to buy Shiloh Farms sprouted spelt flour for pancakes and a sprouted wheat pasta for one night's dinner.  There's only so much quinoa and millet my father will eat.  Soaking and sprouting grains, nuts and seeds helps to neutralize phytic acid, which binds with certain minerals and prevents them from being absorbed by the body.  Soaking and sprouting helps to make the grains more digestible and the nutrients more absorbable.  It's a much more healthful food that way.  I promise to do a post on this soon!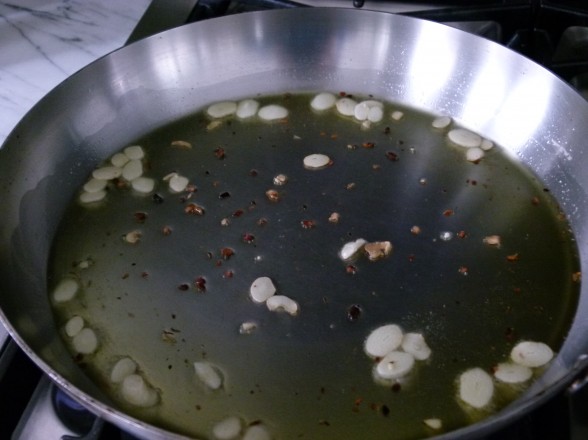 Even though I was happy to cook this week, I didn't want to spend too much time in the kitchen when I could have been on the hammock with a book or chatting with my sisters.  So I thought spaghetti with 5-minute cherry tomato sauce would be perfect and it happens to be my favorite pasta dish too, and not just because it's a quickie.  Sweet cherry tomatoes, basil, garlic and olive oil — how can you go wrong?  I even like it better than pasta all checca, which is essentially the same thing, but raw.  I love the silkiness of the barely cooked tomatoes and how it coats the pasta.  You get a little more depth of flavor when you cook the garlic and tomatoes even just a little.  The key is to halve the cherry tomatoes or you can use peeled and seeded beefsteaks, so that you get a nice juicy sauce.  I never simmer the tomatoes too much, though.  You don't want it all to evaporate on you.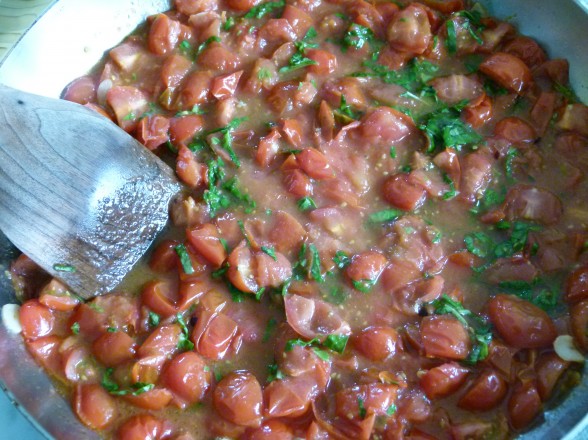 If your garden or market has some new summer tomatoes that you're anxious to use, do try this recipe.  All the kids slurped it up and asked for seconds.  It's such a classic, as well as fresh and easy.  In fact, after you make it once, you'll see how this sauce can be the basis for many other dishes including chicken and fish as well as beans with vegetables for a summer vegetable ragu.  The tomato season is just getting started and so are my recipes with my favorite summer vegetable (fruit, if you must), so look out for more of those.  If there are any gardeners out there, please share what's coming up in your backyard!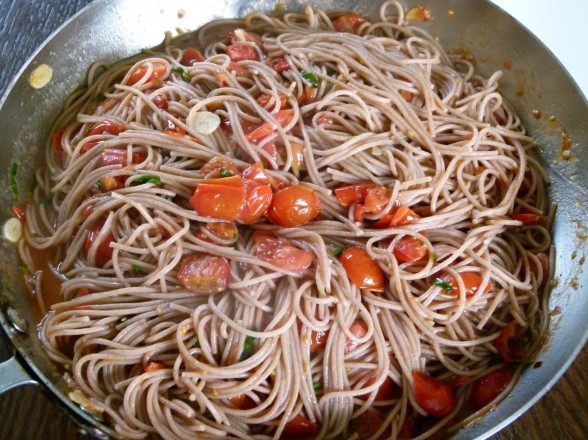 Pasta with 5-minute Cherry Tomato Sauce
Ingredients
¼ cup cold-pressed extra-virgin olive oil
4 cloves of garlic, thinly sliced
pinch of crushed red pepper flakes (optional)
2 pounds cherry tomatoes (about 2 ½ -3 pints), stemmed and halved
Sea salt and freshly ground black pepper to taste
½ cup basil leaves
Kosher salt for pasta water
1 pound whole grain pasta, such as whole wheat or spelt
Grated parmesan or pecorino-romano cheese (optional)
Instructions
Heat the oil in a large sauté pan over medium low heat. Add the sliced garlic and red pepper flakes and swirl over medium until fragrant. When the garlic just starts to turn golden around the edges, increase the heat to medium and add tomatoes and 2 big pinches of salt plus pepper to taste. Cook tomatoes, stirring, until they start to lose their shape, about 5 minutes. Check seasoning and remove from heat. Tear or slice basil leaves and stir into tomato mixture.
Bring a pot of water to a boil and add a tablespoon of kosher salt. Cook pasta until al dente. The time will vary depending on the type of pasta you use. Remove a ladleful of pasta water and reserve.
Drain pasta and transfer to the skillet with tomato mixture and toss gently to combine. Add a little reserved pasta water if mixture seems too dry. Serve with cheese, if desired.