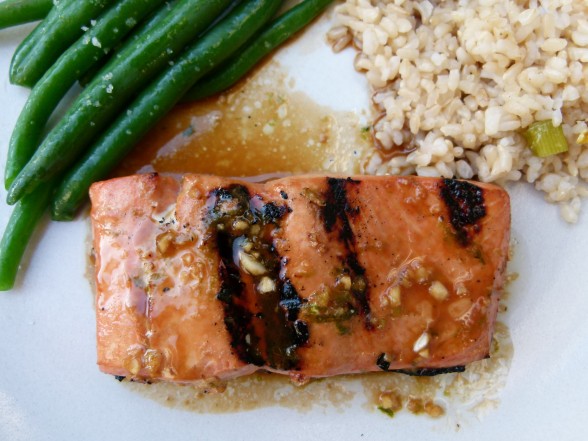 Do you live in a house where everybody agrees on what should be served for dinner?  Where your favorites are his favorites are their favorites?  Are you that lucky?  No?  Consider your household normal, as is mine and the house I grew up in.  I remember as a child I was already not fond of meat.  Sometimes I could tolerate it if it didn't seem like meat, such as a meatball or if it were cut into tiny pieces in a sauce or stew.  But if bones and skin were attached, I was out.  On the other hand, my youngest sister's favorite food group was animal protein.  She would gnaw on a steak or lamb bone until it was dry.  I get nauseous thinking about it.  Of course my mother wanted to make everyone happy, so planning meals for our family was a balancing act of accommodating all of our likes and dislikes, except my father, who bless his heart, eats everything.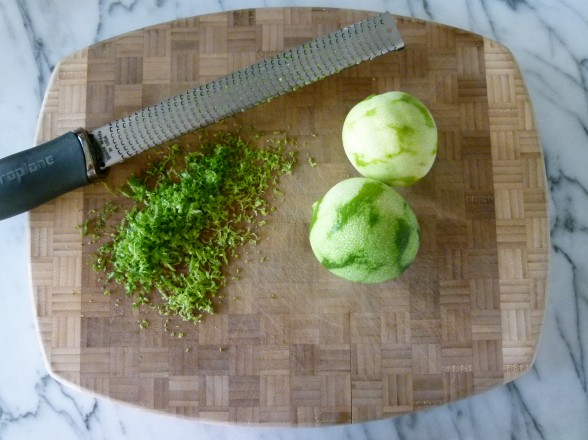 When I sit down to come up with our weekly meal plan, I think about the same thing.  I make sure there's at least one item that Mr. Picky will eat each night, one Italian night for my husband, and one fish dinner to make me happy.  I've always liked fish, even as a child, and I still prefer it over chicken or beef.  The type of fish I eat has evolved over the years based on my maturity, but more importantly, based on what I have learned about the sustainability and safety of the fish that's available.  My absolute favorite fish used to be swordfish.  It is meaty, mild and so versatile.  Unfortunately, it is also full of mercury and no longer a healthful option, according to my sources such as the Monterey Bay Aquarium's Seafood Watch Guide.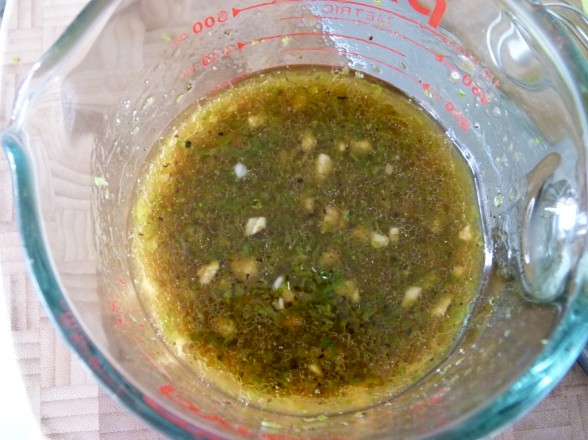 This recipe today is inspired from the first cookbook I ever bought (in 1987!), The Loaves and Fishes Cookbook, and it called for swordfish.  It's an absolutely delicious, tart and savory marinade which I have tweaked a bit over the years.  Funny enough, when I first started making this dish, I was probably 19 years old and not a very experienced cook.  The recipe called for lime zest which sounded like more trouble than it was worth, so I left it out for many years.  One day I came to my senses and took the time (all 3 minutes) to zest a lime, and it was a hundred times better with this one ingredient.  An ah-ha! moment for me for sure.  Sometimes laziness doesn't pay off.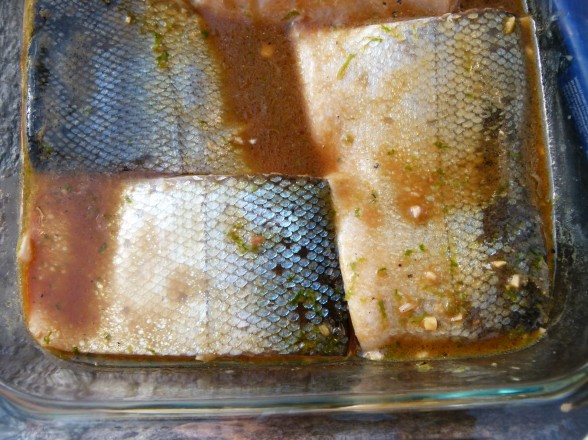 I am still making this recipe with minor modifications, such as the addition of a little maple syrup to sweeten it a tad, and using fish that aren't red-flagged.  I typically make wild Alaskan salmon once per week, but other fish in the rotation include wild Alaskan halibut, mahi-mahi, and shrimp when my husband isn't home for dinner.  What I love about this recipe, besides that fact that is has stood the test of time, is that this marinade is just as delicious on many other fish as it was on swordfish. I've shown it in these photographs with wild salmon above and halibut below, but mahi-mahi is great, too.  It's also really simple to put together and quick to cook, making this a perfect weeknight dish.  I wanted to post this recipe this week in case you were looking for something to balance out the burgers on Father's Day.  Dad can still "man" the grill and everyone's happy!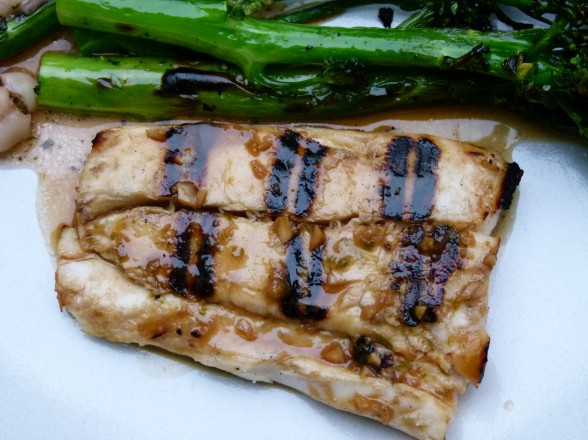 Lime-Soy Grilled Fish
Author:
Pamela, adapted from The Loaves and Fishes Cookbook
Ingredients
2 Tablespoons Dijon mustard
¼ cup shoyu or gluten-free tamari
Zest and juice of 2 limes (zest them before juicing)
¼ cup unrefined olive oil or melted coconut oil + extra for brushing the grill
1 Tablespoon 100% pure maple syrup
2 small cloves garlic, minced
a few grinds of black pepper
6 pieces of wild salmon, halibut or mahi-mahi, about 4-6 ounces each (keep the skin on, if possible)
Instructions
To make the marinade, combine all ingredients except fish in a small bowl.
Arrange the fish in a glass or non-reactive dish just large enough to hold the fish and the marinade. Pour HALF the marinade over the fish and allow to sit at room temperature for 10-45 minutes (depending on how much time you have.)
Preheat the grill or broiler until hot. If using the grill, place some oil in a small bowl and use it to grease the grill. Place fish skin-side down and grill about 3-5 minutes on each side, depending on thickness. Discard marinade that the fish was sitting in. Cook fish until it starts to flake, but is still rare inside.
Transfer to a serving platter and pour the reserved marinade over each piece of fish and cover with a piece of foil for 5 minutes.