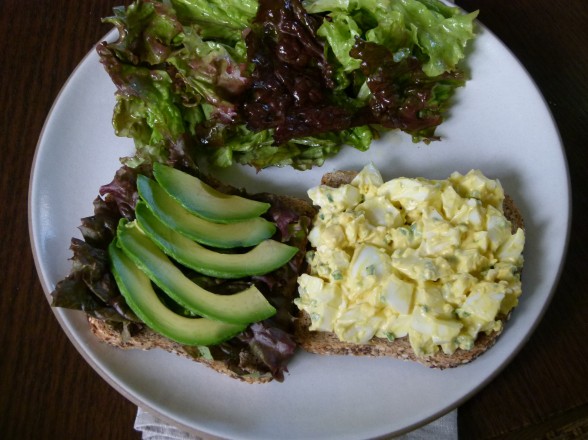 I'm thrilled to have my mother and my 4-year-old niece visiting me this week from New York.  We're having a great time catching up on magazines, tivo'd shows and of course, cooking.  After she read my post the other day about hard boiled eggs, she said, "so I used to overcook my eggs?"  I speak the truth on this blog and I asked my mother if she remembered the telltale green ring around her yolks.  She remembered.  We reminisced about always eating egg salad sandwiches for lunch the day after Easter, and for old times' sake I thought it would be fun to make them with my mom again.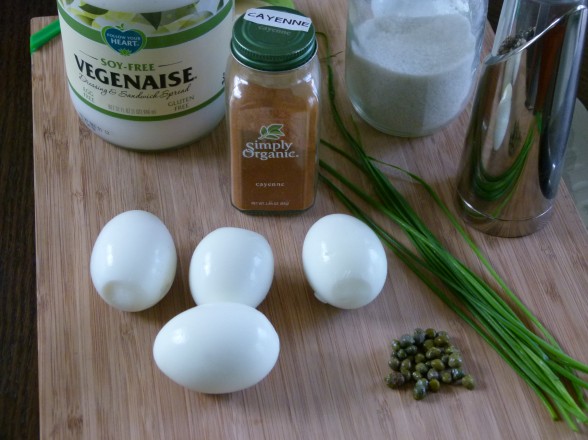 The two of us had a little egg salad cook-off with my mom making the version I grew up with, which is no more than chopped up hard boiled eggs combined with mayonnaise, relish and a pinch of salt.  Always delicious and that little bit of sweetness from the relish makes this egg salad kid friendly, unless you're Mr. Picky who thinks egg salad is one of the "scariest" foods out there.  2 plain hard boiled eggs for Mr. Picky, please!  I whipped up my favorite version of egg salad which is loosely based on a recipe from my heroine, Alice Waters and her fabulous book, The Art of Simple Food.  My more grown-up egg salad may taste more sophisticated than the old version, but I assure you it is just as simple, absolutely delicious, and still kid-friendly (for kids that would actually eat egg salad.)  And look, Mom, no green ring!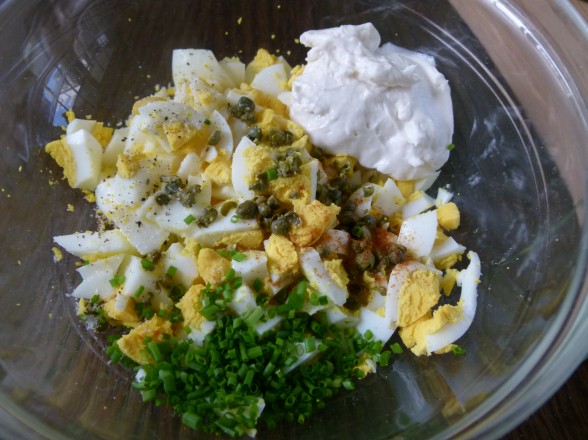 Hard boiled eggs are rather bland and the texture is soft, so I like balancing all that out with a little salty bite from some capers, some mild onion flavor from either fresh chives, shallots or green onions, and the smallest dash of cayenne for some kick.  I don't see how people can eat egg salad on squishy, bland white bread, and not just because white bread is tasteless and devoid of nutrients (maybe I should tell you how I really feel.)  Egg salad just pairs so well with some texture and flavor, like from a nice hearty sprouted seed bread or other earthy, flavorful bread — always toasted.  After enjoying this tasty sandwich with my mom the other day, I asked myself why I never make egg salad.  It was such a simple and satisfying lunch with a side green salad.  Daughter #1 gave the egg salad a try and became a convert, although with mouth half-full announced she liked it just fine, but wouldn't be taking any egg salad too school for lunch — "I don't want egg aroma in my backpack all day, thanks."  Whatever.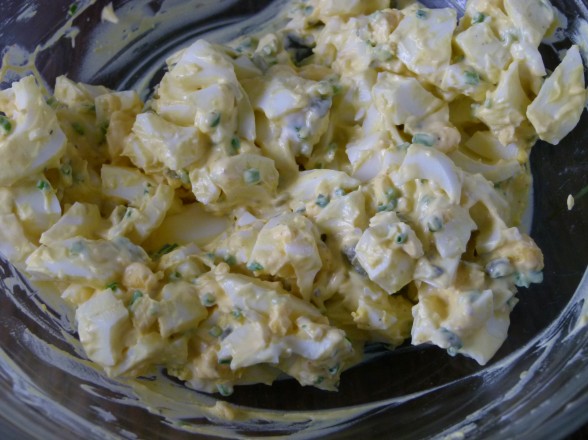 If you are in Mr. Picky's camp and think egg salad is too scary or if you went all out, decorated a bazillion eggs and need something more than just an egg salad recipe, here are some other yummy ideas:
Sliced on top of toast with smoked salmon or sliced avocado.
Deviled eggs — I think this recipe for Caesar Salad Deviled Eggs at Smitten Kitchen looks interesting.
Nicoise Salad — a composed salad of potatoes, green beans, tomatoes, tuna and hard boiled eggs.
Cobb Salad — here's a more healthful version by Ellie Krieger.
In a filling for empanadas.  I love my recipe which uses mixed greens, to which you can add a chopped hard boiled egg or two.
Pan Bagnat — a sandwich with sliced hard boiled eggs, tuna, tomatoes, onions.  Check out Alton Brown's recipe here.
Chopped over steamed or roasted asparagus.  Then drizzle with one of my favorite everyday salad dressings.
Do you have any great ways to eat hard boiled eggs?  I'd love to know!

Egg Salad
Author:
Pamela, adapted from The Art of Simple Food
Serves:
makes enough for 2-3 sandwiches
Ingredients
4 hard boiled eggs, peeled
3-4 Tablespoons mayonnaise (I like soy-free Vegenaise)
1 heaping teaspoon of capers, drained and chopped
1 Tablespoon chopped chives (my favorite), scallions or shallots
tiny pinch of sea salt or to taste
a few grinds of freshly ground pepper
a dash or two of cayenne pepper (doesn't make it spicy, just better)
Instructions
Coarsely chop the eggs and place in a bowl. Add remaining ingredients and combine well. Taste for seasoning.
Serve on toasted whole grain bread with greens like watercress or your favorite lettuce. I always love a little avocado, too!
Notes
Other delicious additions to the egg salad: diced celery, Dijon mustard, fresh parsley

My Mom's Egg Salad

4 hard boiled eggs, chopped

3-4 Tablespoons mayonnaise

2 Tablespoons sweet relish

pinch of salt



Mix everything to combine well.