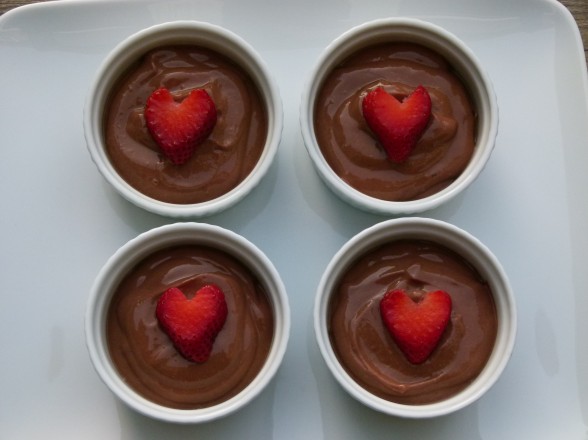 We used to celebrate Valentine's Day a little differently than we do now.  It was also the one holiday of the year where I was off the hook.  My husband took care of the dinner reservation and the flowers, and all I had to do was wash my hair and get dressed up.  But it's not as easy for both of us to get out of the house on a weeknight now that we have kids ranging in age from 8 to 15.  The book reports, sports practices, and a pre-6:00 am alarm the next morning just aren't conducive to a relaxing evening out.  So these days I am happier making a cozy Valentine's dinner at home for my family.  But what can make this feel like it's not just any old night is… dessert!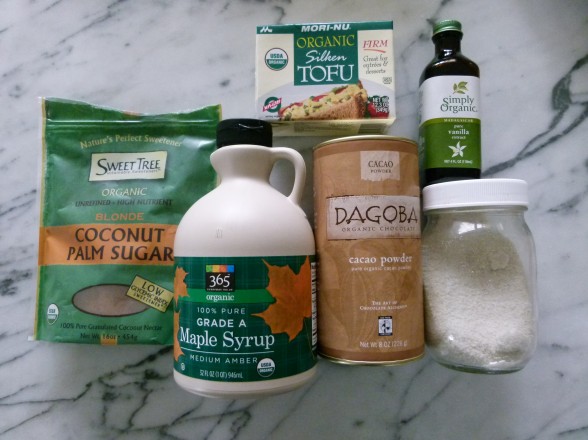 Before you think I've lost my marbles, let me just tell you chocolate pudding made from tofu is nothing new.  Dairy-free and egg-free people, as well as vegans have been making it for years.  And you know what?  It's delicious and uber-simple to make!  I was skeptical the first time I heard about using tofu in a dessert, but I also didn't realize there were two different kinds of tofu.  There's one kind that stays firm when you stir fry it or bake it, and there's silken tofu which is rather gelatinous and very soft.  Silken tofu is used quite effectively to add creaminess in dairy-free desserts or salad dressings in place of cream cheese, sour cream and egg yolks, for example.  I'm still on the fence about tofu since I much prefer to consume soy in its more healthful, fermented form, which tofu is not.  But I also don't promote a lot of pasteurized cow dairy (not easy for most people to digest.)  I'm guessing a little tofu every now and then won't harm you.  However since tofu is made from soy and soy is one of the top four genetically-modified foods in this country (along with corn, canola and cottonseed), I do make a point of choosing organic or non-GMO tofu.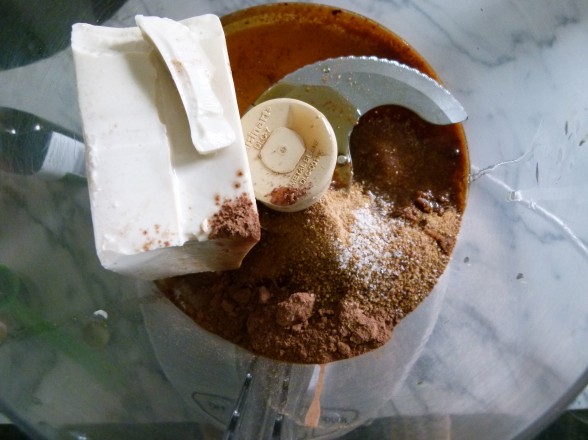 In my area I can't find fresh tofu, which I hear is great, so normally my preferred brand is Wildwood Organics "Sprouted Tofu."  The soybeans have been soaked and sprouted before being turned into tofu, resulting in a more digestible food.  But I did a side-by-side taste test in my free time and the Mori-Nu tofu that you see pictured here tasted more neutral than Wildwood so that's the one I would recommend for this recipe.  And even though this is as "instant" as pudding gets, I do think it tastes better if it sits in the fridge for at least an hour, if you can wait that long.  I promised my kids that I would include their opinion in my post and let you know that they think the serving size is too small.  I disagree, but if you would like a more substantial serving, you can double the recipe to serve 6.  Instead, I prefer to keep the serving size as is and bring out some fun toppings (always a fan of the topping bar!) like fresh berries, finely chopped or sliced nuts, raw cacao nibs, finely shredded coconut or freshly whipped cream.  Dessert should be for special occasions and what's more special than Valentine's dinner with the ones you love?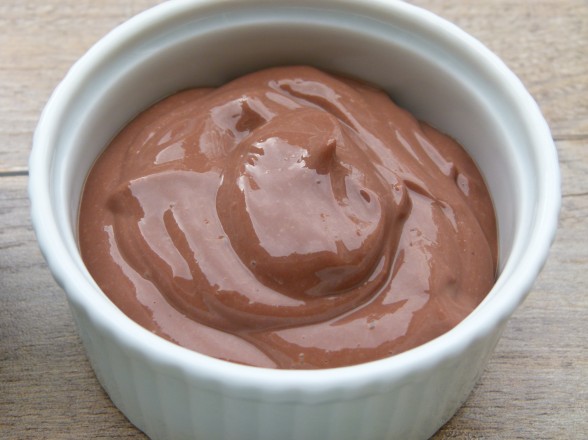 More ideas for Valentine's dinner and dessert coming soon!
Easy-Peasy Chocolate Tofu Pudding
Ingredients
12 ounces organic silken tofu, such as Mori-Nu
¼ cup unsweetened cocoa powder
¼ cup coconut palm sugar or natural cane sugar
3 Tablespoons 100% pure maple syrup
1 teaspoon pure vanilla extract
pinch of sea salt
Instructions
Blend all ingredients in a food processor until smooth and creamy. Transfer to individual ramekins or small bowls. Refrigerate for at least two hours for best flavor.