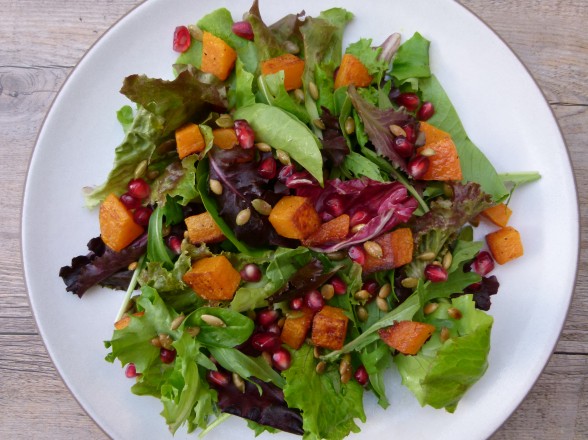 Although I love planning and cooking the whole Thanksgiving meal, a few years ago I decided I was just plain bored with the same old same old.  The problem was that no one else was.  My family and regular Thanksgiving guests wanted no deviation from tradition.  I hinted at the notion that maybe, perhaps I would replace the standard stuffing with a fabulous grain-based recipe I had been testing.  A rebellion!!!  Oh, come on people.  Like you need more bread?  Fine, the stuffing stays.  But that didn't prevent me from trying to show everyone how overly starchy Thanksgiving is.  So I asked, "Can we do away with the mashed potatoes or make them more interesting with some roasted garlic or cauliflower puree?"  I'm sure you can guess how that went.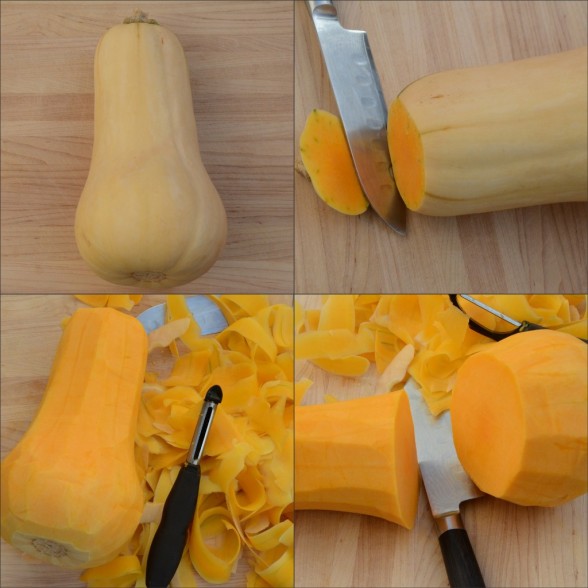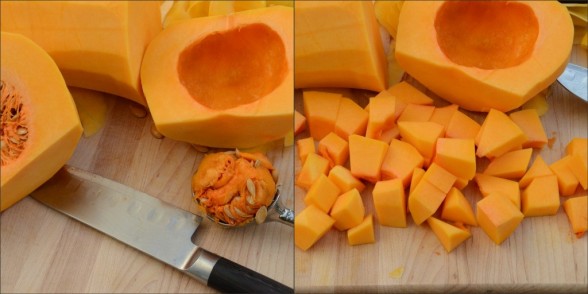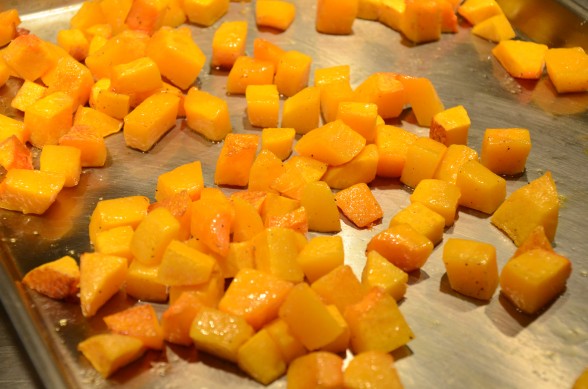 Someone asked me the other day what is my favorite part of the Thanksgiving meal.  I'll give you three seconds to guess.  Okay, time's up.  The vegetables!  Too obvious, I know.  Actually, it's really the salad that is the highlight of the meal for me because I can change it up every year and it's the only way I get to have any fun at all.  The beautiful colors of the vegetables do a lot to balance out all that beige, not to mention balance out all the carbs.  I also love eating something raw with all that cooked food.  But from a logistical perspective, salads can be made without the use of a stove or oven, which is a saving grace on Thanksgiving.  And, as if it couldn't get any better, salads, for the most part, can be prepped in advance.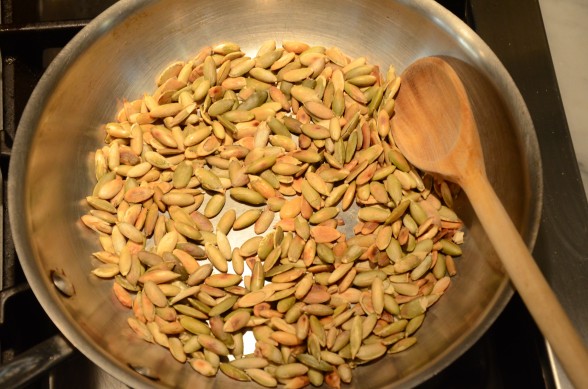 This butternut squash salad is something I made for Thanksgiving a few years ago and I still make it often for entertaining or for potlucks during the fall.  It's beautiful, healthful, delicious and showcases the season's great produce.  I have a theory that fruits and vegetables that grow during the same season usually complement each other very well.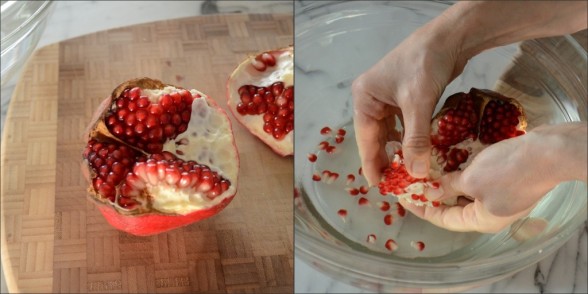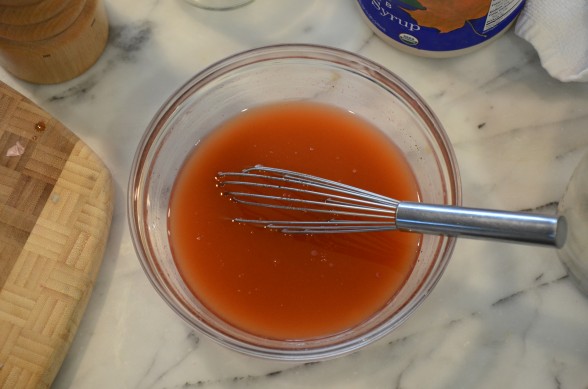 On that note, there aren't too many fall salads that wouldn't be more fabulous with the addition of a handful of pomegranate seeds.  In fact, I think every Thanksgiving salad I've made in the last 8 years has had pomegranate seeds scattered throughout.  My kids and I are obsessed with them.  It was a happy day in our house the day I came home from the farmer's market with the first pomegranates of the season.  I've even taught my kids how to seed them — Mr. Picky, who is a Virgo, is rather meticulous about getting every last seed out.  We open the pomegranates under water and gently push the seeds away from the peel.  It's actually quite therapeutic, but more importantly, it keeps me from making a trip to the dry cleaner.  Also, people tell me that the already seeded pomegranates always seem a bit soggy.  They're certainly much more expensive and why would you pay your grocery store a premium when you've got kids to do the job?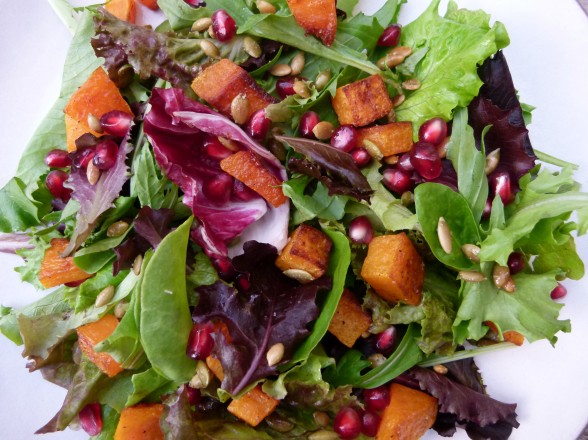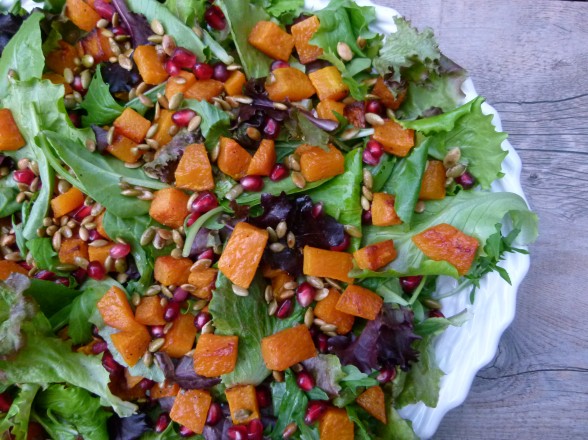 Butternut Squash Salad with Pomegranates and Toasted Pumpkin Seeds
Ingredients
⅓ cup raw hulled pumpkin seeds (pepitas) or chopped pecans
3 Tablespoons unrefined, cold-pressed extra-virgin olive oil or unrefined melted coconut oil + 1 teaspoon olive oil for the pumpkin seeds
1 3-pound butternut squash, peeled, seeded and cut into ¾ -inch dice
1 Tablespoon fresh thyme leaves or 2 teaspoons chopped fresh rosemary (I accidentally left it out in this picture.)
1 ½ teaspoons sea salt
freshly ground black pepper to taste
8 ounces mixed baby greens
½ cup fresh pomegranate seeds
Dressing:
2 Tablespoons fresh lemon juice
2 Tablespoons fresh pomegranate juice (or orange juice)
½ teaspoon sea salt
A few twists of freshly ground black pepper
2 teaspoons minced shallot
2 teaspoons maple syrup or raw honey
6-7 Tablespoons cup unrefined, cold-pressed extra-virgin olive oil
Instructions
Preheat oven to 400 degrees.
Place the pumpkin seeds in a skillet and toast over low heat until lightly browned. Drizzle with 1 teaspoon olive oil and a pinch of sea salt. Remove from heat and set aside. Try not to eat them all while you're cooking everything else.
Toss the squash with thyme and olive oil or coconut oil and place on 2 baking sheets. Season with sea salt and pepper. Roast for 35-40 minutes, turning once until tender and caramelized.
For the dressing: in a small bowl combine lemon juice, pomegranate juice, shallot, maple syrup, sea salt and pepper. Whisk in olive oil until emulsified.
Place salad greens on a platter and toss with enough dressing to coat lightly. Separately drizzle the butternut squash with some dressing and add to the greens. Sprinkle with the pomegranate seeds and pumpkin seeds. Taste for salt and pepper.
Notes
Dressing can be made a few days ahead and kept refrigerated.

Pumpkin seeds can be toasted the day before.

Salad greens can be washed and dried a few days in advance and rolled up in a damp kitchen towel or plastic bag and kept in the refrigerator.

Butternut squash can be cut up the day before and kept refrigerated.

Pomegranate can be seeded several days in advance and kept refrigerated.