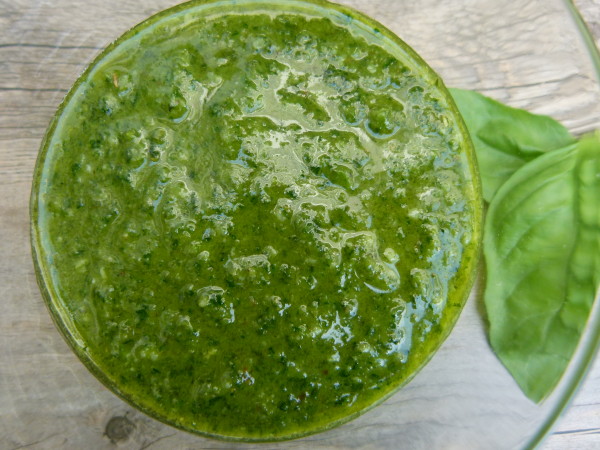 I am willing to bet that I have eaten more pesto in my life than all of you.  Let me give you a little background.  My father has an expert green thumb and has maintained amazing gardens throughout my life.  Every year, he plants one large plot with a wide variety of beautiful vegetables, including tomatoes, eggplant, zucchini, green beans, cucumbers, arugula, kale, and so on.  And he also plants one plot of basil.  Just basil.  And every year he has so many basil plants that he has to give them away.  Same story this year.  "Pamela.  I have enough basil plants for all of New York."  I know what you're thinking.  Why does your father overplant basil every year?  Trust me, don't ask.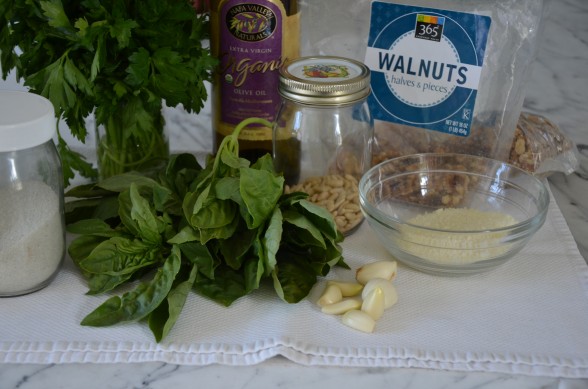 Well, it's a good thing we all liked basil growing up!  Because as you might imagine, we were putting it on everything, from our morning eggs to tomato salads to sauteed green beans to macerated strawberries.  But using a few handfuls of green leaves everyday was not putting a dent into our basil farm.  My father would rant and rave (in Italian).  "Do we not eat basil in this house?  I planted so much beautiful basil and no one eats it.  Mah!"  I can still picture the kitchen sink most summer mornings with freshly cut bushes of basil.  "Pamela, if we don't pick it now, it will turn to seed and then the plant will die."  Really?  Well I heard you can die from a basil overdose.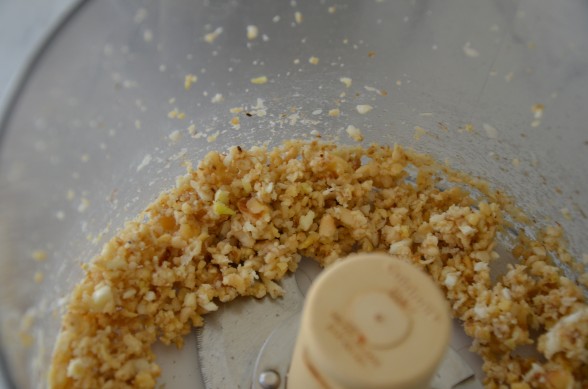 My mother had no choice but to turn to pesto.  What better way to use an overabundance of the herb?  Mom pulled out the blender and ground up pine nuts and fresh garlic.  She packed down as much basil as would fit, sprinkled it with salt and with the motor running, slowly poured in the olive oil.  That distinctive aroma would fill the house and still today reminds me of the summers of my youth.  Next came the grated parmesan cheese and we had glorious pesto.  I say glorious, because my sisters and I loved it.  I think my mother probably would have started drinking hard liquor if we didn't.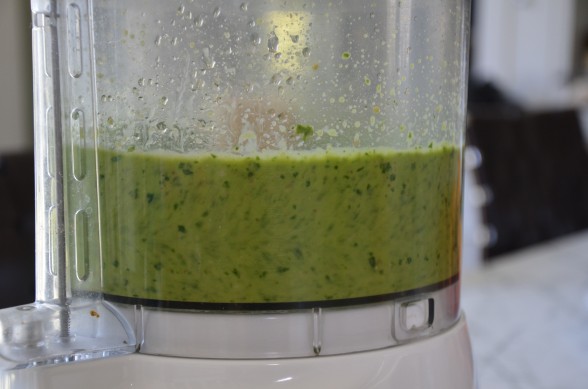 Lucky for me that I married someone who loves pesto and gave birth to kids who do, too.  We put it on lots of things — pasta, sandwiches, grilled vegetables, ho-hum chicken or fish, minestrone soup, scrambled eggs, boiled potatoes, pizza and so on.  But I make it my own way with a combination of pine nuts and walnuts; pecorino-romano, which is made from sheep's milk cheese and a little easier for some to digest than cow's milk; and dare I say, with half basil and half parsley.  I am obsessed with parsley, which I consider a superfood.  It is loaded with chloropyhll and incredibly rich in nutrients from iron to calcium to Vitamin C.  But parsley also contains some interesting volatile oil compounds that are considered to be "chemoprotective," which means they can help neutralize certain carcinogens.  The flavor of a basil-parsley pesto is still dominated by basil, but somehow a little lighter.  I actually prefer it to an all-basil pesto.  Of course, the real reason I even started to do half and half is because I always manage to plant way too much parsley.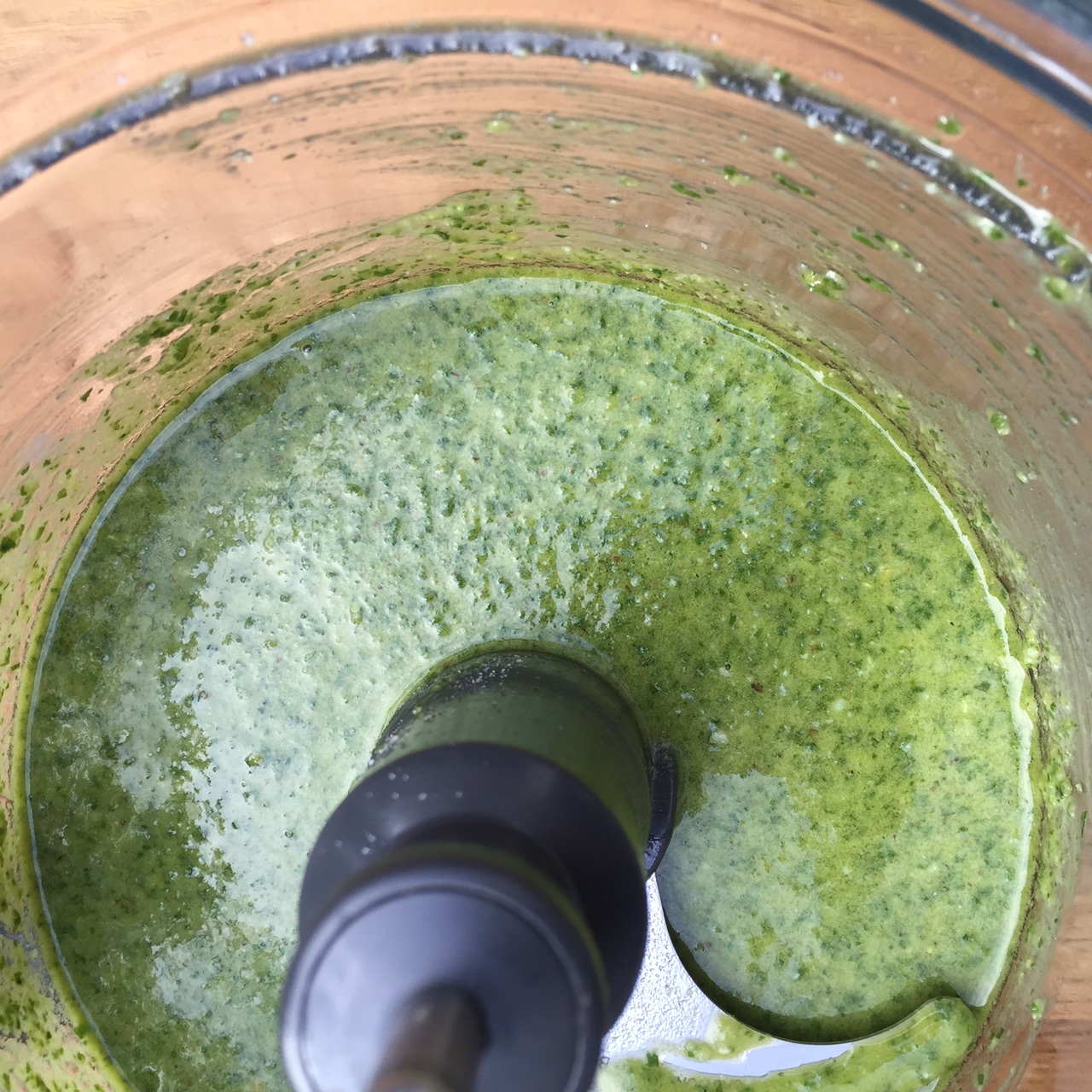 Basil-Parsley Pesto
Ingredients
makes 2 cups
¼ cup raw walnuts
¼ cup raw pine nuts
1 ½ - 2 Tablespoons chopped garlic
2 ½ cups basil leaves, lightly packed
2 ½ cups flat-leaf parsley leaves, lightly packed
¾ teaspoon sea salt
couple of grinds of black pepper
1 cup unrefined, cold-pressed extra virgin olive oil
½ cup grated pecorino-romano or parmesan cheese**
Instructions
Place the walnuts, pine nuts, and garlic in the bowl of a food processor fitted with a steel blade. Process until finely chopped.
Add the basil and parsley leaves, salt and pepper. Start the food processor and slowly pour the olive oil into the bowl through the feed tube and process until the pesto is finely pureed. Add the parmesan cheese and puree until well blended. Pesto freezes beautifully.
Notes
**To make a dairy-free/vegan version, eliminate the salt and cheese and substitute ¼ cup brown rice miso or other hearty miso. Taste for salt.