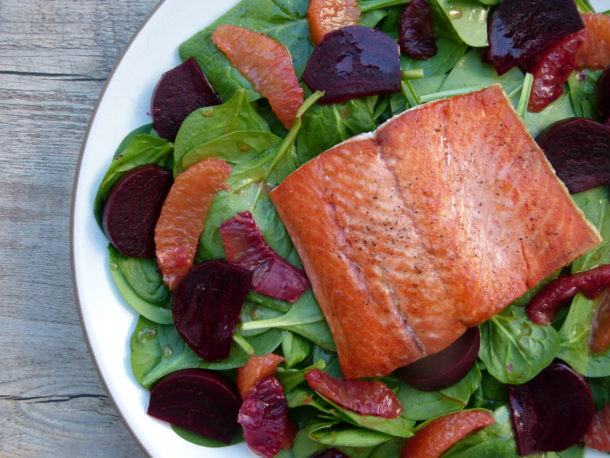 Don't let the fancy name fool you.  This recipe is as easy as it is beautiful and it's absolutely delicious.  All of this is in season right now — from the wild salmon and spinach to the blood oranges and beets — and it comes just in time for the last Friday of Lent.

This dish reminds me of a nutrition lesson I taught to some elementary school students one year about "eating the colors of the rainbow."  Nature provides us with a beautiful spectrum of colors from which to choose and those colors represent different phytonutrients — compounds found in plant foods which help protect the plants from viruses and bacteria, but also support our health, as well.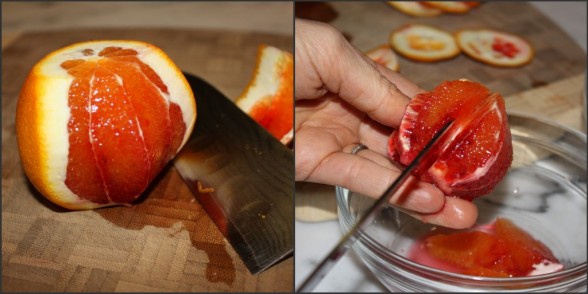 There are thousands of phytonutrients which are classified by family.  But teaching the classification of phytonutrients to fifth graders (or adults) is overwhelming and confusing. All we really need to know is that each color (including white) represents an important set of different health benefits.  In order to maximize our exposure to all these health benefits, we need to eat  a wide variety of fresh fruits and vegetables everyday in as many colors as possible…..like the colors of the rainbow.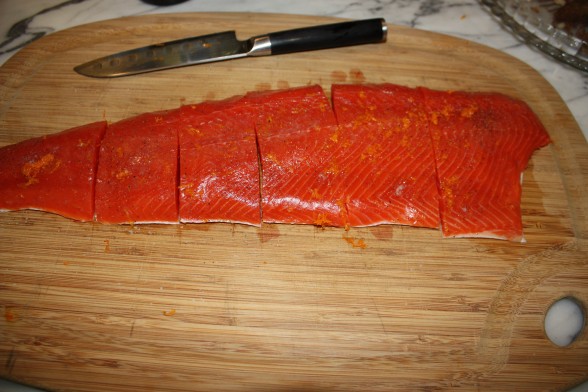 This salad may not cover every color, but it sure gives you a solid start.  One colorful addition to the salad which does not contain phytonutrients, but is loaded with anti-oxidants and anti-inflammatory Omega-3 fatty acids is wild salmon.  If you don't eat fish, the salad is fantastic without it, but if you do eat fish I strongly encourage you to find a good source for wild salmon which is one of the richest sources of Omega-3s that you can find.  Unfortunately the typical American is both lacking in Omega-3s and out of balance in the Omega 3 – Omega 6 ratio, resulting in a highly inflammatory diet.  I bought this lovely piece of sockeye from Vital Choice because I need a consistent source of high quality fish for my classes, but occasionally I can find what I'm looking for in my local markets, including the farmer's market.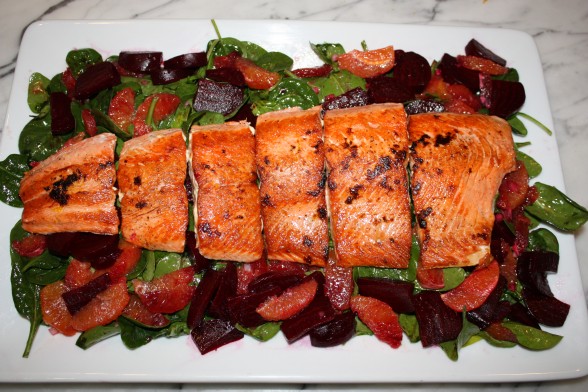 Although I don't get too worked up about the presentation of my food (I'm much more concerned with how it tastes and its nutritional benefits), it is always nice to eat something that looks as beautiful as it tastes.
To all my students and readers who celebrate Easter, have a lovely holiday!
Seared Wild Salmon with Beet, Blood Orange and Spinach Salad
Ingredients
1 bunch medium beets
5 medium blood oranges (or regular oranges)
2 Tablespoons finely diced shallot
1 ½ Tablespoons fresh lemon juice or white wine vinegar
2 teaspoons raw honey
Sea salt
Freshly ground pepper
½ cup cold-pressed, extra-virgin olive oil
8 ounces baby spinach leaves or arugula, washed and dried
6 filets wild Alaskan salmon, 5 to 6 ounces each
zest of one blood orange (optional)
Sea salt and freshly ground black pepper to season the fish
4 Tablespoons cold-pressed, extra-virgin olive oil or coconut oil
Instructions
Preheat the oven to 400 degrees.
Cut the greens off the beets, leaving about ½ inch of the stems still attached. Save the greens for another time. Wash the beets well and place them in a roasting pan with a ½-inch layer of water on the bottom. Cover tightly with foil (if the foil touches the beets, cover first with parchment, then with foil.) Roast about 50 minutes (or longer for larger beets). When the beets are done, carefully remove the foil. Allow them to cool, and then peel them by slipping off the skins with your fingers. Cut them into ½-inch wedges.
Slice the stem and bottom ends from the blood oranges. Stand the oranges on one end and, following the contour of the fruit with a very sharp knife, remove the peel and white pith. Work from top to bottom, rotating the fruit as you go. Then hold each orange over a bowl and carefully slice between the membranes and the fruit to release the segments in between. Squeeze any juice left in the remaining membrane into a measuring cup. Add any juice from the bowl of blood orange segments to the measuring cup. (Or if you're pressed for time, just slice the oranges into rounds.)
Combine the diced shallot, lemon juice, ¼ cup blood orange juice (if you didn't reserve enough, you can add regular freshly squeezed orange juice), honey and ¾ teaspoon salt in a small bowl. Whisk in the olive oil slowly. Add black pepper and additional sea salt to taste.
Remove the salmon from the refrigerator 30 minutes before cooking to bring it to room temperature. Season the salmon with the zest, sea salt, and ground pepper.
Heat a large sauté pan over medium heat for about 1 minute. Add the oil to the pan and allow to heat up for 1 minute, until very warm, but not smoking. Lay the fish in the pan, seasoned side down, and cook 3 to 4 minutes, until it is lightly browned. Turn the fish over, lower the heat to medium-low, and cook a few minutes more, until it is almost cooked through. Do your best not to overcook the salmon. When it is done, the fish will begin to flake and separate a little, and the center will be slightly rare. The salmon will continue to cook a bit more while it sits.
Place the spinach in a bowl and toss lightly with some dressing. Transfer to a serving platter. Place the salmon on top of the spinach.
Place the beets and blood oranges in the bowl and toss lightly with some dressing. Arrange the beets and blood oranges around the perimeter of the platter. Drizzle the salmon with additional dressing, if desired.
Notes
Blood oranges are little more tart than regular oranges, so if you are not using blood orange juice in the dressing, you can balance the acidity with a little extra lemon juice or some rice vinegar.

Do-ahead suggestions: You can prepare your beets, oranges, greens and dressing up to 2 days before.