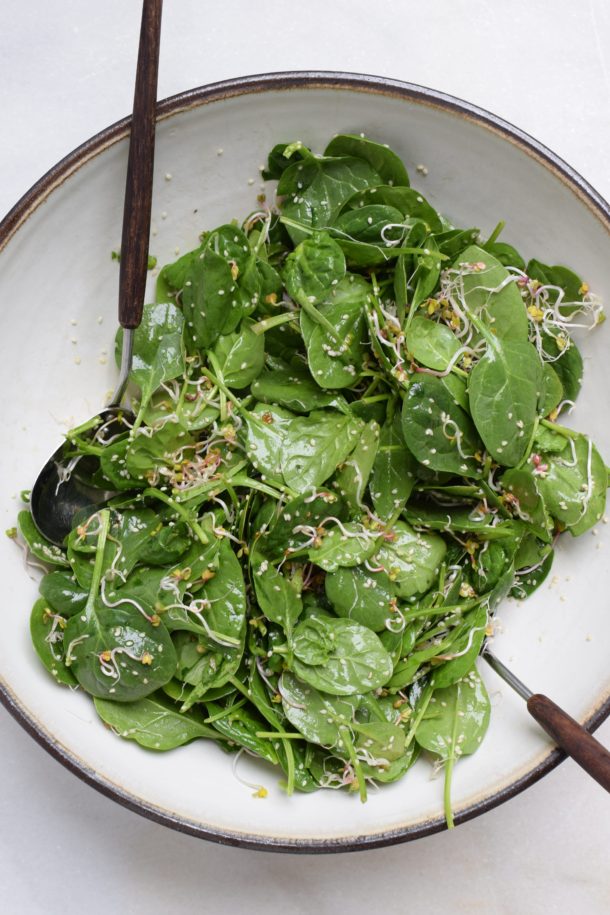 Did you miss the January 1st detox craze?  While your friends downed maple syrup and cayenne pepper smoothies, were you cozying up to a bowl of chicken and vegetable stew?  How smart you are!  The winter is not the ideal time to detox.  Granted, if you were overindulging on alcohol, sweets and late night snacks during the holidays, going back to a more normal diet would have been a good idea.  But winter is our time to keep warm and insulated by eating warming foods and hunkered down at home to replenish our energy reserves.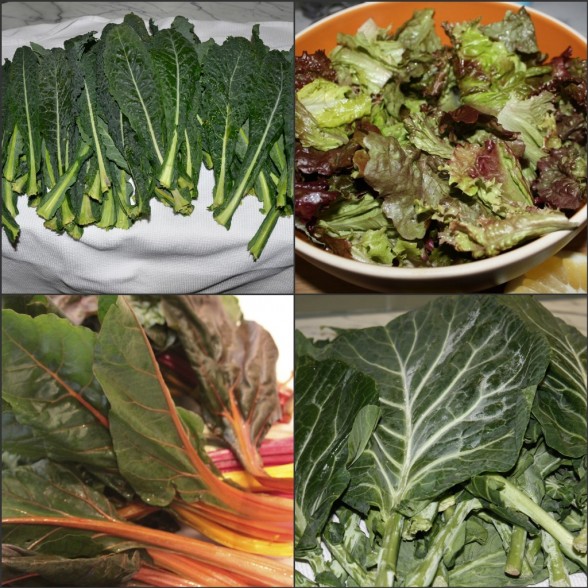 The good news is that the time to start fresh is Springtime.  The energy is ascending from the ground and coming alive.  Now would be a good time to do a little physical spring cleaning, but you don't necessarily need to go on a liquid diet to do that.  How timely that what is bountiful in the garden right now are nature's natural detoxifiers — greens!  I always say that if you can eat seasonally and locally grown food, you don't even need to know why it's good for you.  Nature gives us just what we need at just the right time.  Dark green leafy vegetables are loaded with chlorophyll which helps to protect the liver and eliminate toxins from the body.  Leafy greens, especially watercress and arugula, can be slightly diuretic and help the liver flush out those toxins, but build strength in the blood with their high mineral content.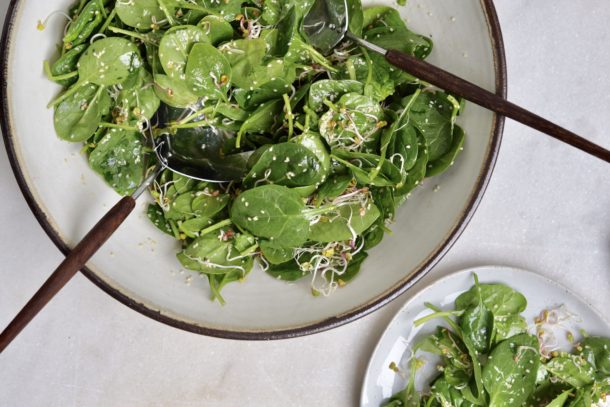 It's always important to keep dark green vegetables in regular rotation in the diet whether in juices, salads, lightly sauteed or in soups and stews.  At the moment, I am juicing kale and parsley with carrots, apple, lemon, ginger and celery.  Delish!   You can try adding greens to soups — try my Mushroom-Barley Soup with Kale or Vegetable Chili with Swiss Chard or lightly cooked, such the Braised Collards and Cannellinis.  Salads are an easy and familiar way to eat greens.  The Raw Kale Salad with Citrus Vinaigrette is always a winner, especially with the lemon juice in the dressing which helps convert toxins into their water-soluble form so they are easily flushed from the system.  Or try my favorite everyday salad dressing with lemon juice.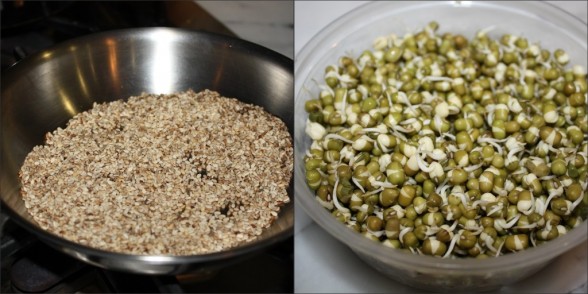 Today I'll offer a new recipe for Sesame Spinach Salad which is one of the most delicious and easy salads you will ever love.  My farmer's market sells pre-washed baby spinach so you really have no excuse not to make this.  Today I made it plain and simple with a couple handfuls of mung beans sprouts I found at the farmer's market, but really you can add a zillion different things that would be great — grated carrots, thinly sliced red pepper, blanched broccoli florets, rehydrated seaweed, poached chicken, you get my drift?  A zillion things.   Make the dressing days in advance if you want.  No excuses.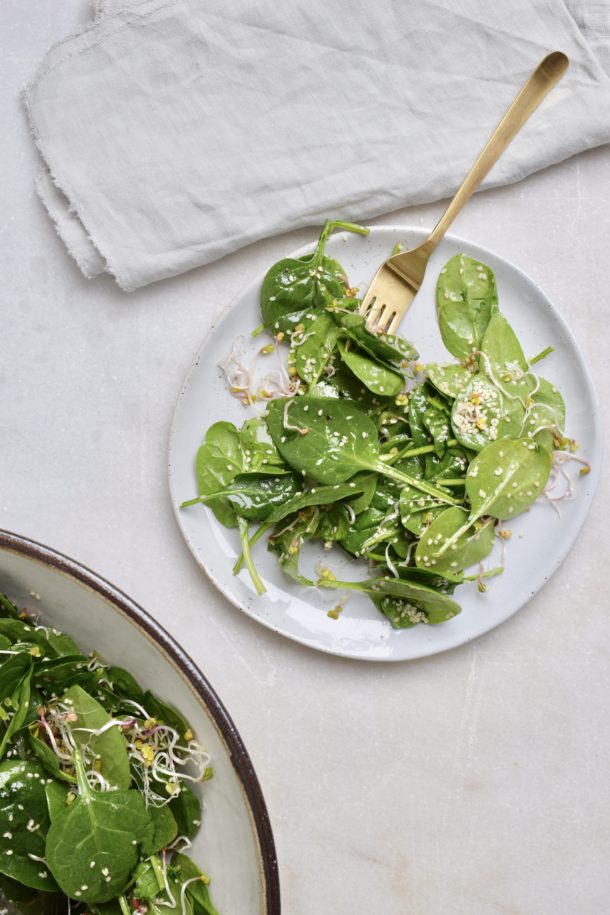 Sesame Spinach Salad
Ingredients
3 Tablespoons sesame seeds, toasted
½ pound fresh baby spinach leaves, washed and dried
2 handfuls bean sprouts (such as mung bean sprouts)
DRESSING:
3 Tablespoons unrefined extra virgin olive oil (can substitute up to half flax seed oil)
1 Tablespoon unrefined toasted sesame oil (dark)
1 Tablespoon unseasoned rice vinegar
¼ - ½ teaspoon of fine grain sea salt
a couple grinds of black pepper
Instructions
Place the spinach leaves, toasted sesame seeds and the bean sprouts in a large salad bowl or serving platter.
Place all the dressing ingredients in a small bowl and whisk until emulsified or place them in a screw-top jar and shake vigorously.
Dress the salad to coat lightly. Taste for seasoning.
Notes
This is a basic recipe that can be adapted in terms of what is added to the salad. Feel free to add julienned carrots, sweet bell pepper, grilled shrimp, blanched broccoli, cooked soybeans etc. Depending on how much you add, you may need to increase the amount of dressing you make.