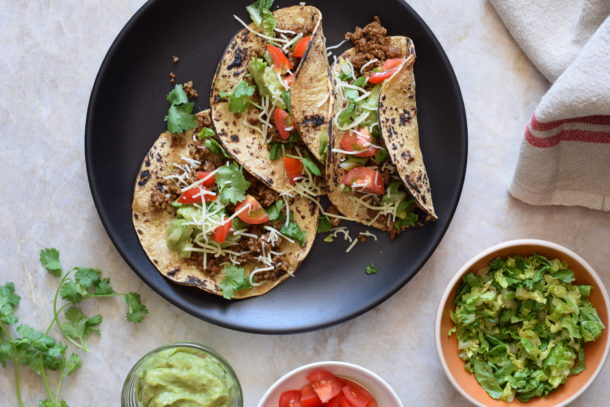 In light of the recent discovery that Taco Bell's meat for its beef tacos is mostly, um, NOT beef, I thought it was necessary to get a high quality taco recipe out there.  One of the things I find so interesting about this news is how surprised everyone is to find out that there are incredibly low quality ingredients being used by a national fast food chain.  Hell-oooooooo?  People, they are charging $.99 per taco AND making a profit.  Do you really think this is a high quality food?  Rhetorical question.  Answer is no.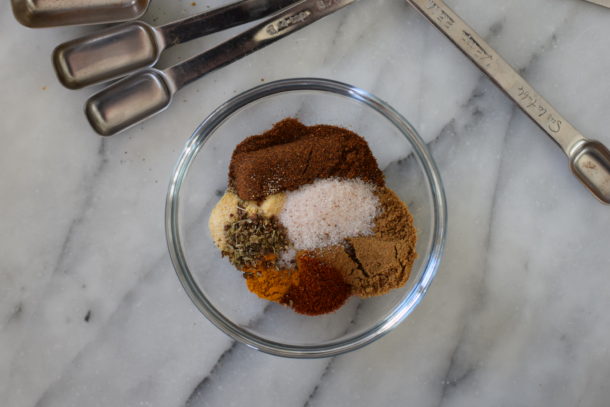 I have been making my own taco seasoning mix for years and years ever since it occurred to me to actually read the label on the taco seasoning packet I was using.  Scary!  Is it really necessary to use food coloring and MSG and stabilizers just to season some ground meat?  Another rhetorical question.  So I copied down the actual spices from the ingredient list and left out the chemicals that could only be made with a centrifuge in a lab, and after a few tries, I had a taco seasoning that was just right, meaning my kids still thought I was using the store-bought packet.  Success!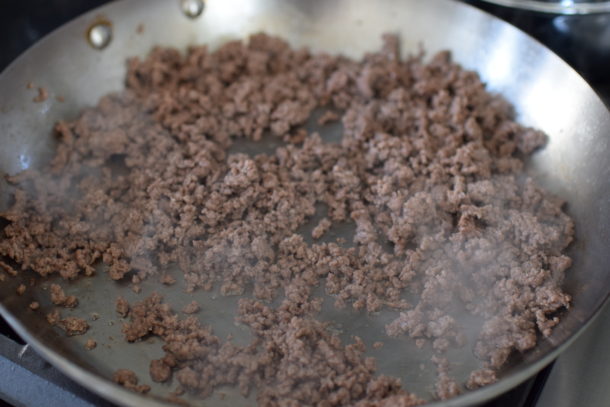 Because we are limiting our beef consumption, I will very often make tacos using ground turkey meat, preferably half dark meat for flavor and half white.  Of course you can use grass-fed ground beef or bison, too.  If you are a vegetarian, just finely crumble the same amount of your favorite tempeh and saute it in some olive oil until just browned and use the seasoning mixture in the same way.  (Next two photos are of tempeh.)  I like tempeh tacos just as much as the ones made from meat!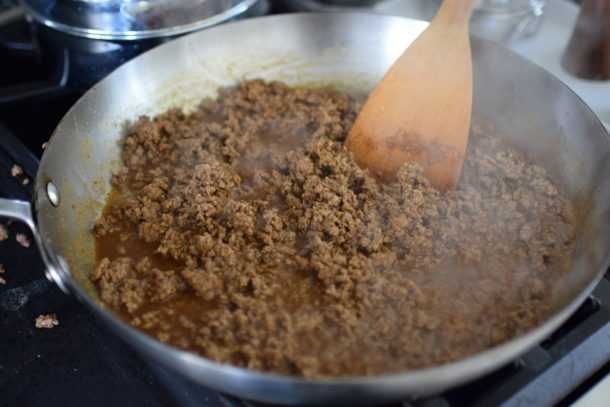 A student reminded me a few days ago that Little League season is right around the corner and would I please add some post-game dinner recipes to the website.  Since I have a child in Little League, I know that she is looking for meal that can be prepared as quickly as possible when she walks in the door at 6:15 for starving children, and preferably a warm meal since everyone's been freezing outside for several hours on metal bleachers.  This is a 10- minute dinner if you have all the toppings prepared ahead of time.  I like to use soft corn tortillas and set out bowls of guacamole, pico de gallo (fresh tomato salsa) if it's tomato season, finely shredded lettuce and some shredded raw cheese, if I have it.  The topping bar is one of my favorite techniques to make everyone feel as though he or she is getting the meal of his or her choice — and no additional work for me.  Serve with a large salad with homemade vinaigrette which you can prepare days in advance and dinner is done!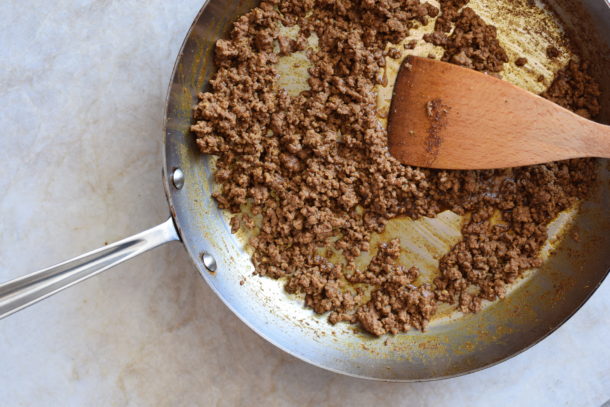 Since I have a feeling this may become a regular dinner item for you, why not triple or quadruple the recipe for the spices and keep the mix in the pantry so that's one less thing you need to worry about.
And you thought you couldn't make tacos without maltodextrin!  Hmph.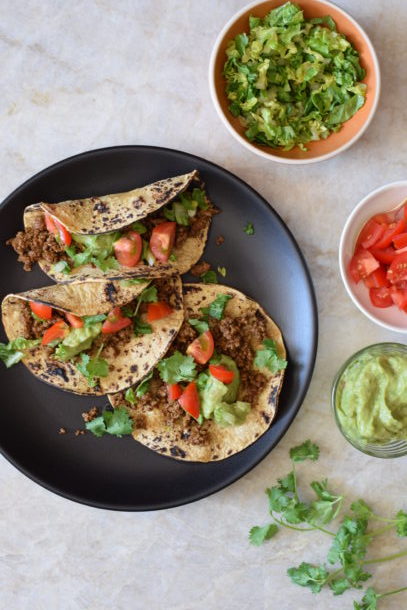 Turkey (or Beef or Tempeh) Tacos
Serves:
4 (just multiply everything by 1½ to serve 6
Ingredients
1 pound ground turkey meat, preferably dark meat; or grass-fed ground beef; or crumbled tempeh
1 Tablespoon chili powder*
2 teaspoons cumin
½ teaspoon paprika
¼ teaspoon turmeric (ok, not in store-bought packets, but really good for you!)
¼ teaspoon garlic powder
¼ teaspoon onion powder
¼ teaspoon oregano
¾- 1 teaspoon fine sea salt
1 teaspoon arrowroot powder
¾ cup water (about 1 cup if you make tempeh)
Accompaniments: corn tortillas, guacamole, pico de gallo, shredded cheese, refried black beans, cilantro-lime slaw, shredded lettuce
Instructions
Mix all spices and salt together until well blended. If you're using corn tortillas, you can begin warming them until pliable on a dry griddle or skillet or over a low flame on the stovetop. I like to keep all of them warm in a clean kitchen towel.
Heat a large skillet over medium heat. Add the ground turkey to the skillet and cook, breaking up turkey into small pieces (I like to do this by pressing against the meat with a slotted spoon), just until cooked through. If there is any liquid in the pan, drain before proceeding.
Dissolve the arrowroot in ¾ cup cold water. Add the spice mixture to the meat and cook over medium heat for a minute. Pour the water and dissolved arrowroot over the turkey and cook until thickened, stirring occasionally.
Notes
*Not all chili powders are created equally. The one I use is by Simply Organic which has good depth of flavor with a little kick. If you don't care for any heat at all, you can cut back on the chili powder. If you like things spicy, feel free to add a few dashes of cayenne.

**The dry spice mixture can be made very far in advance, if desired. The mixture can be multiplied and kept in a glass container for several months. The ratio is approximately scant 3 Tablespoons of spice mixture to 1 pound of meat.