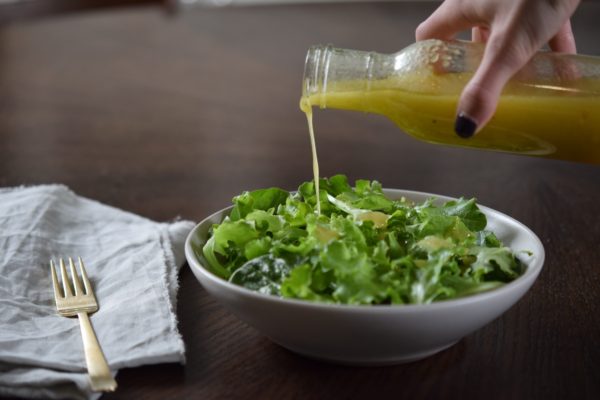 If you're just starting to tinker with the idea of eating more healthfully, but don't know where to begin, may I nudge you toward making your own salad dressings?  Why?  First of all, salad dressings or vinaigrettes are something you probably use regularly.  Second, they are simple to make.  And last but not least, I have never found a bottled salad dressing that uses the kind of high-quality oils and ingredients I prefer to use.  In fact, most bottled dressings not only contain refined oils, but also sugar or high-fructose corn syrup, preservatives, stabilizers and lots of other mysterious things I can't even pronounce — never a good sign.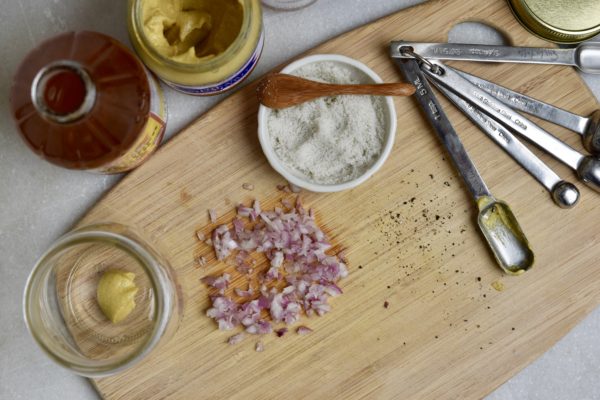 Truthfully, when I was growing up, we ate loads of fresh salads and we never made vinaigrettes.  It was my job to dress the salad and all I did was drizzle the olive oil over the greens about three or four times around the salad bowl and the vinegar over once.  I would sprinkle it with a little salt and voila!  Sometimes I still do that if I'm in a rush and I don't have dressing already made in the fridge.  But more often than not, in the beginning of the week I will combine a few simple ingredients in a clean jar with a lid (love reusing nut butter jars for this) and shake, shake, shake!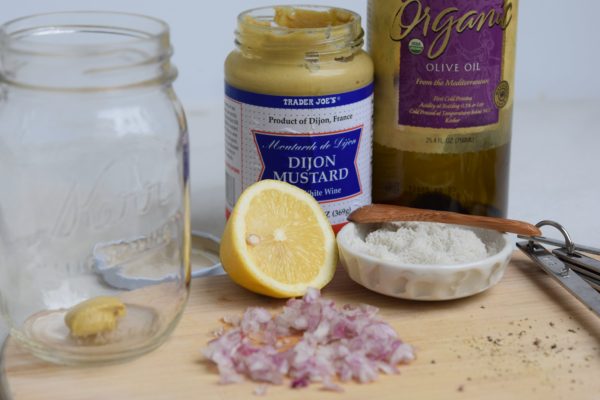 I have lots of dressings I use for different salads, but there are two that are my standbys for a bowl of simple mixed greens.  Both have a base of unrefined extra-virgin olive oil which is very rich in oleic acid, a very stable monounsaturated fatty acid, as well as Vitamin E and loads of antioxidants.  All bets are off when you use refined olive oil where all the nutrients have been stripped away and you're basically left with a bottle of free radicals.  The olive oil I buy is in a dark glass bottle and after the word "Ingredients" it says in the tiniest print that I can barely read since I turned 40, "unrefined extra-virgin organic olive oil."    Forget low-fat or non-fat salad dressings.  Most of those contain MSG or MSG-derivatives with tricky names like "hydrolyzed vegetable protein" or "autolyzed yeast extract."  We need fat on our salad to help us assimilate all the fabulous fat-soluble vitamins in the vegetables!  What a waste to eat Vitamins A, D, E and K without the presence of fat to help our intestines absorb those nutrients.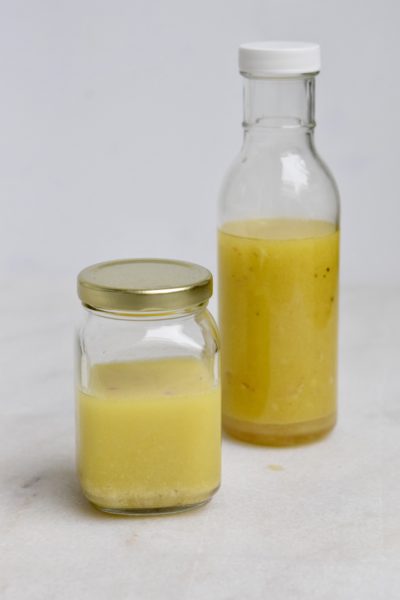 Lemon juice is super alkalizing to our bodies and raw, unpasteurized apple cider vinegar is so enzyme-rich — both are my favorite acids for dressings.  I personally love the lemon juice dressing, but I came up with the apple cider vinegar/brown rice vinegar dressing when I was at my mother-in-law's house and she asked me to whip up a salad dressing that she would like.  I was thrilled to make her something delicious so that she would stop using a packaged brand that rhymes with Shmood Shmeasons.  Alas a convert!  It has become a very popular dressing in my house and hers.
The basic rule of thumb with a vinaigrette is to mix 1 part acid (lemon juice, vinegar) with 3-4 parts oil.  Adjust the ratios to suit your taste and build from there with salt and pepper, garlic or shallots, mustard or fresh herbs, if you have them.  Once you get into the habit of making salad dressings regularly, you won't even have to measure your ingredients anymore.  So long Shmishbone!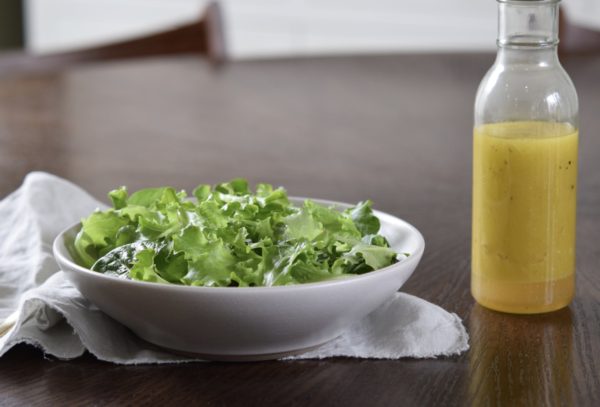 My Favorite Everyday Salad Dressings
Ingredients
everyday salad dressing #1 (with lemon juice)
1 medium garlic clove, minced or 1 small shallot, finely diced
¾ teaspoon fine grain sea salt
a few turns of freshly ground black pepper
1 teaspoon Dijon mustard
2½ - 3 Tablespoons freshly squeezed lemon juice
½ cup unrefined, cold-pressed extra-virgin olive oil
_______________________________________________
everyday salad dressing #2 (with cider or red wine vinegar)
1 small shallot, minced (about 2 teaspoons)
¾ -1 teaspoon fine grain sea salt
freshly ground black pepper to taste
1 teaspoon Dijon mustard
2 teaspoons raw honey or 100% pure maple syrup
2 Tablespoons unpasteurized apple cider vinegar or red wine vinegar
2 Tablespoons unseasoned rice vinegar
¾ cup unrefined, cold-pressed extra-virgin olive oil
Instructions
Either whisk together in a small bowl or place all the ingredients in a glass jar with a lid and shake until emulsified.
Both dressings can be made ahead and kept in a glass jar in the refrigerator for 5-7 days. Because olive oil solidifies when chilled, you will need to remove it from the refrigerator well before you want to use it in order for it to become pourable. Or you can leave the dressing at room temperature in a cool, dark place for a few days.