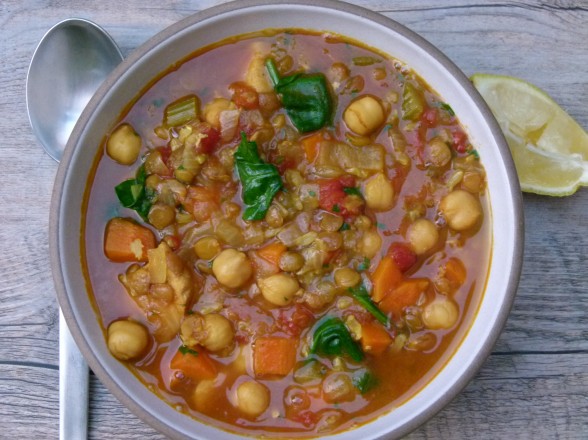 Harira is a Moroccan stew that is traditionally served during Ramadan to break the daily fast.  In my house it is a nourishing one-pot meal that is perfect for a chilly winter evening.  I have seen many versions of recipes for Harira.  Typical ingredients include lentils, chickpeas, rice or vermicelli pasta, tomatoes, onions, fresh herbs, spices and a small amount of meat, such as lamb or beef.  I have come up with my own version that is heavier on the grains and legumes with a few handfuls of greens thrown in at the end.  This is my kind of food!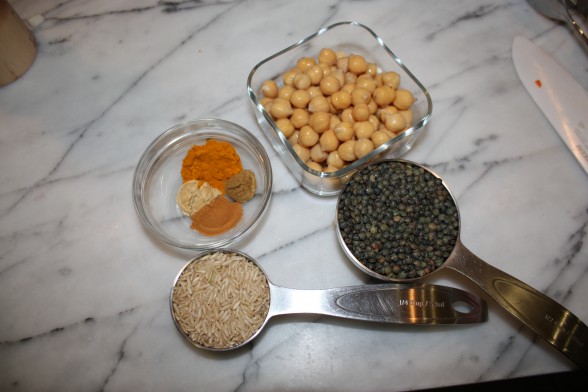 One thing I love about Harira is that it's rich in health-supportive spices.  In our country, we tend to shy away from spices like turmeric and ginger which is such a shame, because not only are they delicious, they are incredibly healing, too.  These spices and the others used in this Harira are full of phytonutrients, as well as anti-inflammatory  and cancer-preventative compounds.  Turmeric, in particular, has been hailed as the rock-star spice of late.  You may have eaten turmeric before if you've had curry.  It is what gives curry powder its yellow color.  Turmeric is a very powerful liver detoxifier, it improves circulation, is anti-bacterial and to repeat myself — one of the most potent anti-inflammatory substances out there.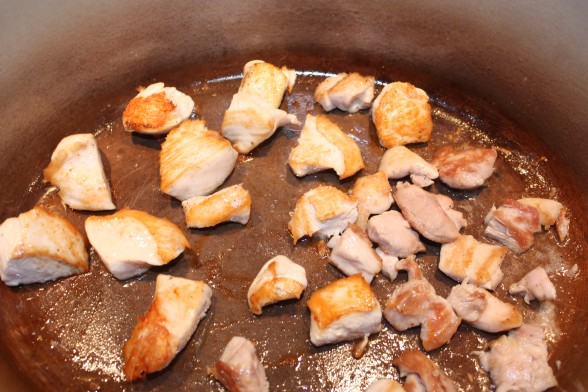 I have heard from some parents that they are reluctant to try new flavors at the dinner table, for fear that their kids won't like them.  The best way I have found to introduce new spices is gradually, by adding a little here and there to foods that are already in their comfort zone, such as pasta sauce or stew.   You will be giving your family such a gift by opening them up to a whole other world of flavors and healthful foods.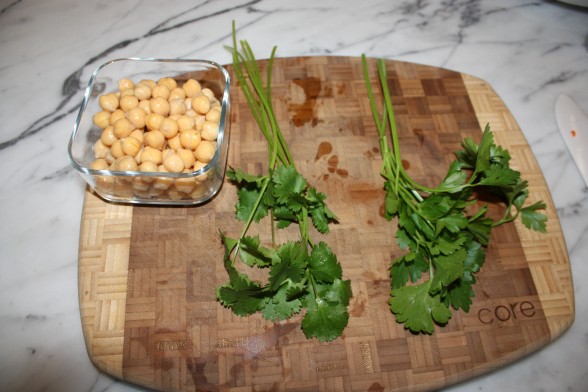 For the vegetarians and vegans out there, don't pass this recipe by.  Just use water or vegetable stock for the chicken stock and double the chickpeas.  It's already gluten-free, in case you were wondering.  This recipe makes enough for the 5 of us for dinner, but I double it quite often to get a lunch for the girls the next day.  Whatever doesn't get eaten will freeze beautifully.  That wedge of lemon is recommended per person to squeeze on top, and before you think it's something you can do without, think again!  The lemon really brightens the dish and adds the perfect complement to all the earthy flavors.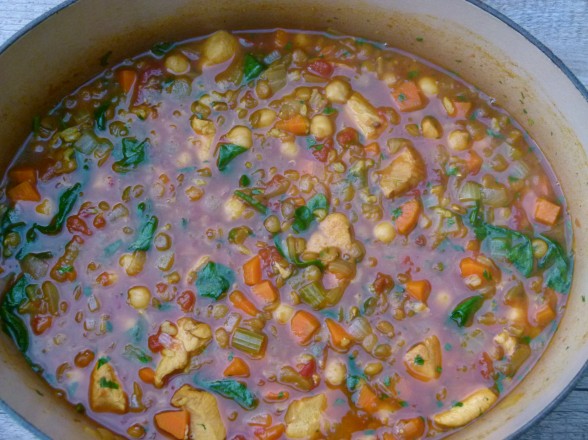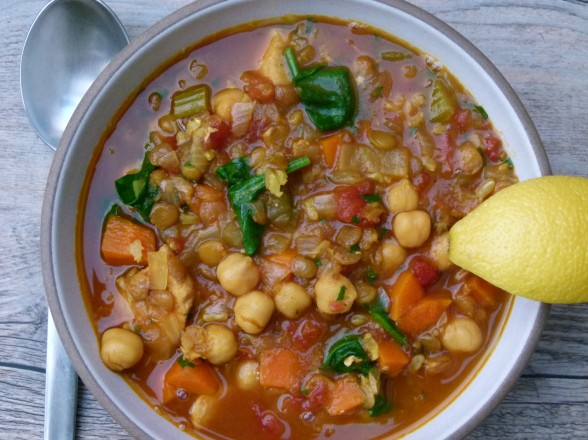 Harira
Ingredients
2 Tablespoons unrefined coconut or olive oil (I use coconut)
1 pound boneless, skinless chicken breast or thighs (or a combination of both), cut into 1-inch pieces
1 onion, chopped
1 stalk celery, chopped
1 carrot, chopped
1 teaspoon ground turmeric
½ teaspoon ground cinnamon
½ teaspoon ground ginger
¼ teaspoon ground cumin
4-5 grinds of black pepper
1 pound fresh tomatoes, peeled, seeded and chopped OR 1 14.5 ounce can of diced tomatoes with the juice (I used ½ box of Pomi since I'm not a fan of canned tomatoes)
1½ teaspoons sea salt
1 cup cooked chickpeas
3 cups chicken stock or vegetable stock, preferably homemade
½ cup dried lentils
¼ cup long-grain brown rice
¼ cup chopped fresh cilantro leaves
¼ cup chopped fresh parsley
A couple handfuls of fresh baby spinach leaves (optional, but leafy greens are your friend)
1 lemon, cut into wedges
Instructions
Season the chicken with sea salt and pepper as early as possible.
Heat the oil in a large saucepan over medium heat. Add the chicken pieces in 2 batches and brown on both sides. Remove the chicken from the pot and set aside.
Add the onion, celery and carrot and cook until softened. Add all the spices and cook for 1 minute, stirring constantly to prevent scorching. Add the tomatoes with their juice, chickpeas and 1½ teaspoons of sea salt. Cook until fragrant.
Return the chicken to the pot with any accumulated juices. Add the stock, lentils and brown rice and bring to a boil. Reduce heat to low and simmer, covered for 50 minutes.
Add cilantro and parsley and cook uncovered for 5 minutes or until the chickpeas are heated through. Stir in the spinach leaves, if using. Ladle into individual bowls and serve with a wedge of lemon.