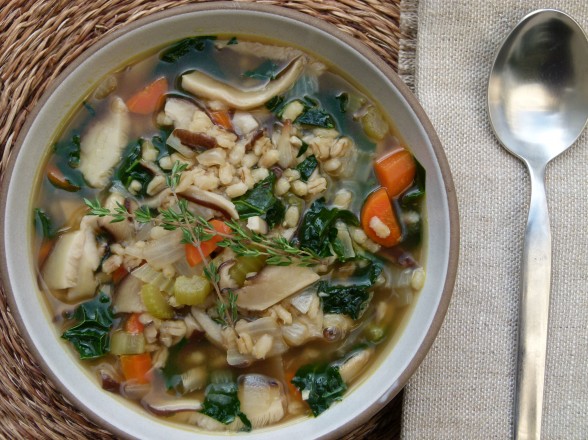 I was craving a hearty, meal-in-a-bowl soup for dinner last night.  Something I could pull together before the kids returned home from school and that I could pack in their thermoses for lunch the next day.  Mushroom-barley soup came to mind in an instant.  I taught this soup in a class back in October and I still haven't tired of it.  It is filling, tasty and oh-so-good for you.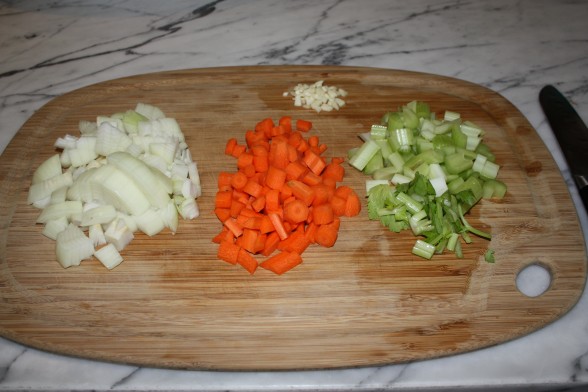 The recipe is an adaptation of my mother's beef and barley soup, which was great, but these days we're limiting our beef consumption and upping the veggies.  To make up for the meat, I use lots of shiitake mushrooms and finish off the soup with a bit of shoyu, a naturally fermented soy sauce which is way  better for you than chemically treated, flash-processed soy sauce.  Of course you can use any mix of mushrooms you like, but I am crazy about shiitakes, not only because they have a lower water content and deeper flavor than button mushrooms, but also because they are tops in immune-boosting compounds.  There's no better time than flu season to boost your immunity!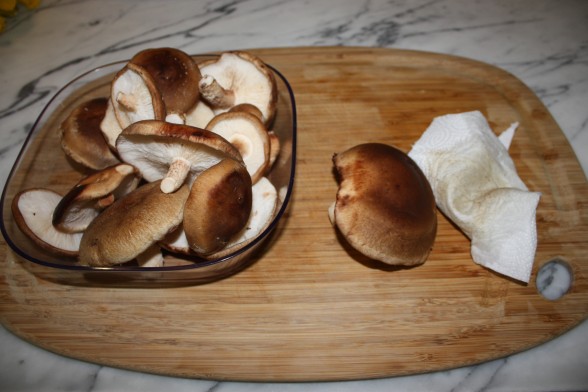 This soup is a breeze to put together and easily adaptable to different intolerances.  For the gluten-free folks, I substitute Lundberg's wild rice blend for the barley and wheat-free tamari for the shoyu.  It's obviously a different soup, but just as tasty.  Vegetarians and vegans can use vegetable stock or water in place of the chicken or turkey stock.  If you are making your own vegetable stock, add a bunch of mushrooms to it to give the soup more depth.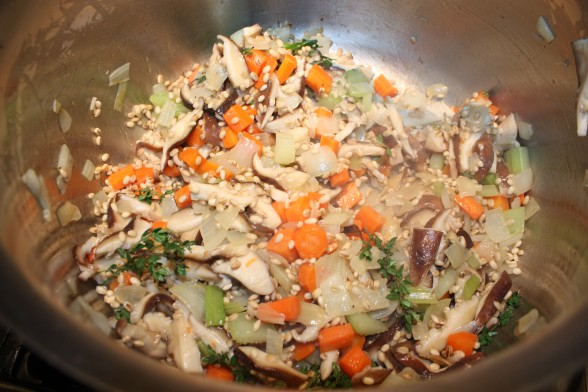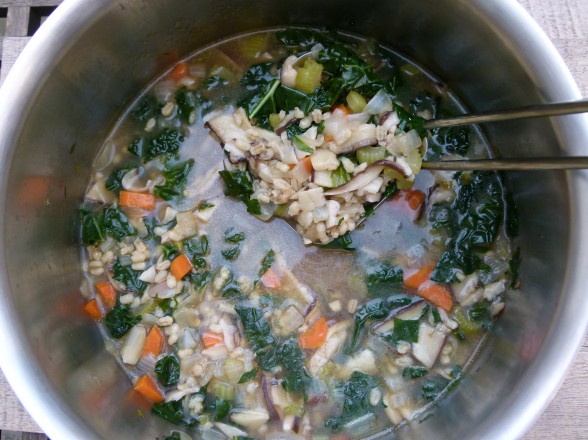 This soup is a hit every time, even with Mr. Picky who last night did what he does best — pick out the stuff he doesn't want.  This time it was only the mushrooms.  We're making progress!

Mushroom-Barley Soup with Kale
Ingredients
1 Tablespoon unsalted butter
1 Tablespoon unrefined, cold pressed olive oil
1 onion, chopped
2 carrots, roughly chopped
2 stalks celery, chopped
1 large garlic clove, finely chopped
¾ pound shiitake mushrooms, stems removed and caps wiped clean with a damp paper towel and slice thinly
2 sprigs fresh thyme
1 cup barley (or wild rice blend) -- I use Bob's Red Mill Barley. It says "Pearled," but it's really only semi-pearled.
8 cups (2 quarts) chicken, turkey or vegetable stock
1 teaspoon sea salt
4 cups stemmed, chopped kale
3 Tablespoons shoyu or wheat-free tamari
Instructions
Melt butter and olive oil in a large stock pot over medium heat. Add onion, carrots, celery to pot and saute until softened, about 5 minutes. Add garlic and cook 1 minute.
Place mushrooms in the pot and saute until softened, about 8 minutes.
Add thyme and barley. Stir to coat. Add stock and salt and bring to a boil. Cover and simmer over low heat for 30 minutes until the barley is tender (if you're using the wild rice blend, you will need to simmer it for 50 minutes.)
Add the kale and shoyu and cook until the kale is wilted, but still bright green, about 8 minutes. Pull out the thyme stems and taste for salt and pepper.