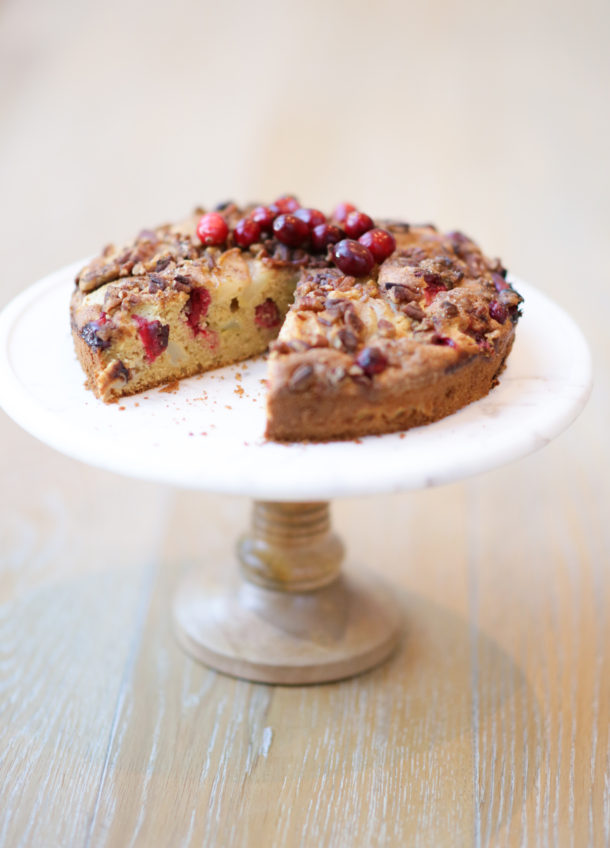 Holidays to me are more special than ever since I have two children in college and only one at home.  Whether it is Thanksgiving or Christmas, I know that the five of us will be together and I couldn't ask for anything more.  Unless it was on my wish list, in which case if my husband is reading this, feel free to ignore the previous sentence. 😉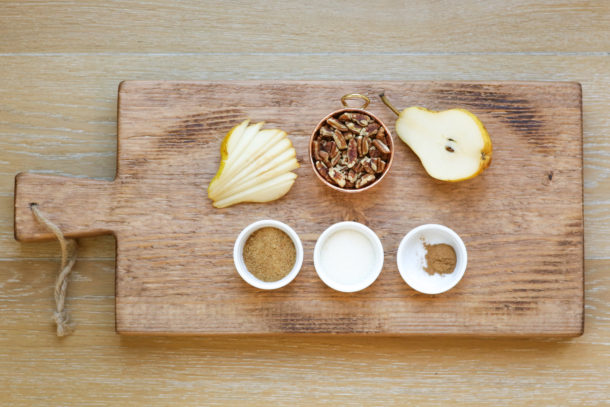 I just finished my last holiday cooking class this week and I am trying to get my act together to go away for a little vacay.  We will spend some quality time just the five of us for about a week before heading out to New York to spend some time at my parents' house with my sisters and their families.  I usually have a meal plan organized for that week since there are usually about 16 of us at every meal with kids ranging in age from 20 to 3, including a few "active" boys, which means going out to a restaurant is not the relaxing experience it should be. Sooooo, we cook.  And cooking for 16 people for breakfast, lunch and dinner means you can't wing it.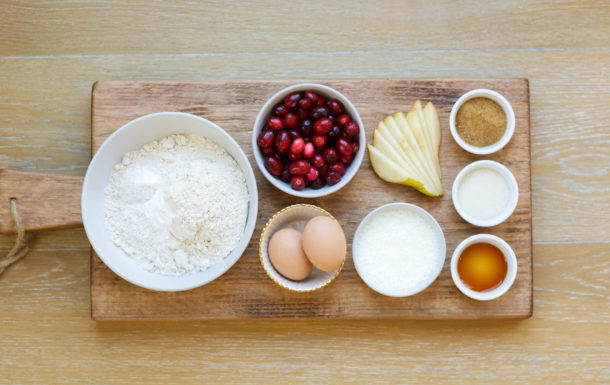 Thankfully, my sisters' kids are great eaters.  I still have Mr. Picky, but don't we all need to have a Mr. Picky in our lives?  Keeps us on our toes, right?  One new recipe I am going to share with everyone either on Christmas morning or another day is this pear and cranberry buckle.  I went over to my friend Molly Sims' house a few weeks ago and cooked up a storm with her.  Her kids absolutely loved this buckle, so I know it's going to be a hit with your families, too. I have another whole grain buckle on my site with berries, but this one is so perfect for winter with chunks of seasonal pears and cranberries.  Every year I always seem to stick a few leftover cranberries in the freezer after Thanksgiving.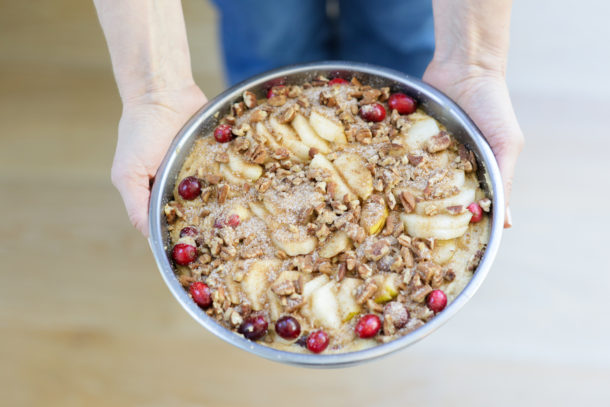 A buckle is kind of like a lighter coffeecake with fruit.  Some people compare a buckle to a cobbler, but besides the fact that they both contain fruit, they are pretty different. Cobblers are fruit cooked with a biscuit topping and buckles are like what you see here, more of a cake.  This buckle has a moist, tender crumb and loaded with sweet pears and tart cranberries.  I have added some texture to the top with chopped nuts and a little extra sweet, but you can omit that if you want.  This, like all buckles, is best eaten on the same day it is made. But don't let that discourage you since they're really easy to pull together.
I think this could double as part of a breakfast/brunch buffet or a simple after dinner dessert.  Of course it would be equally lovely with a cup of tea and a 1000 piece puzzle next to the fire, which is my plan. 🙂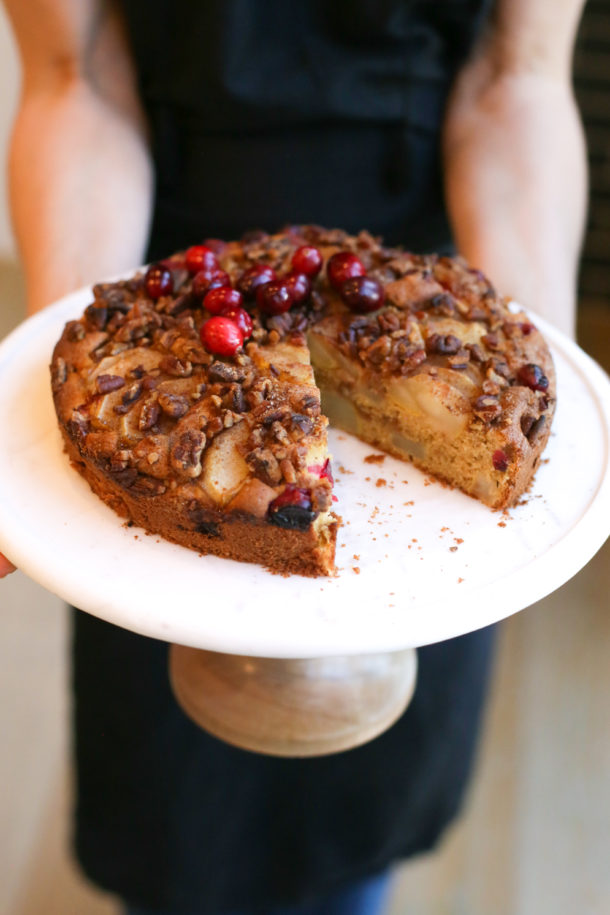 Whole Grain Pear-Cranberry Buckle Recipe
Ingredients
For Topping:
½ cup chopped pecans
1 Tablespoon granulated cane sugar (don't use all coconut sugar – it doesn't work well)
1 Tablespoon coconut sugar, muscovado or brown sugar
½ teaspoon cinnamon
Coconut oil or butter for greasing pan
2 large (or 3 small) ripe, but firm pears, divided
1 ½ cup whole spelt flour or whole wheat pastry flour*
1 teaspoon aluminum-free baking powder
¼ teaspoon baking soda
½ teaspoon sea salt
6 Tablespoons butter or unrefined coconut oil, at room temperature
¼ cup coconut sugar or muscovado sugar
¼ cup granulated cane sugar (or use all coconut sugar)
2 large eggs, at room temperature
1 teaspoon pure vanilla extract
½ cup buttermilk (sub kefir or half yogurt, half milk), at room temperature**
1 cup fresh cranberries, divided
Instructions
Preheat oven to 350 degrees. Grease an 8x8 square or 9 inch round pan with coconut oil or butter. You can also line the pan with unbleached parchment paper to ensure the buckle comes out perfectly.
To make topping, combine pecans, sugars, and cinnamon in a small bowl. Set aside.
Prepare the pears: core and chop 1 pear and set aside. Core, quarter and slice the other pear in ¼-inch slices, but keep the slices together. Set aside.
Whisk together the flour, baking powder, baking soda, and salt.
Using a stand mixer with the paddle attachment, cream the sugars and butter until fluffy, 3-5 minutes. Add in the vanilla and then beat in the eggs one at a time. Scrape down the sides of the bowl.
Add the flour mixture ⅓ at a time, pouring in ½ of the buttermilk in between each time, ending with the flour mixture.
Stir until just combined, scraping down the sides if necessary. Remove bowl from mixer and fold in the chopped pear and ½ cup of cranberries.
Pour batter into dish and spread evenly. Distribute remaining cranberries on top and push them down into the batter slightly to sink in. Arrange pear slices on top of batter. Sprinkle with topping and bake for 50-60 minutes until batter is set. Time will depend on size of baking dish and types of berries used.
Notes
*Gluten-free: sub ¾ c. GF oat flour + ¾ c. King Arthur GF flour + ½ t. xanthan gum
**Dairy-free: sub ⅓ cup coconut milk + enough water to make ½ cup total + ½ Tbs. white vinegar