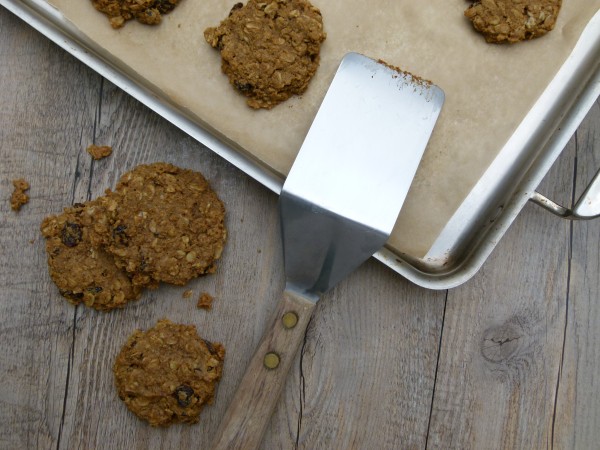 Have you made my vegan oatmeal chocolate chip cookies?   If you're new here, do not hesitate.  They are fantastic!  They're a staple around here and definitely one of the more healthful (less bad for you?) cookies I've tried.  I love that recipe so much I decided to tinker with it and make a fall version with pumpkin puree and delicious spices like cinnamon, ginger, cloves and nutmeg.  Amazing!  It's like pumpkin pie meets an oatmeal cookie.  And as much I love these cookies fresh out of the oven, they are just as delicious raw.  That's right, as in cookie dough.  And I'm not the only one who thinks so.  After I posted my secret pumpkin oatmeal cookie dough addiction on Instagram, my students started stealing the bowl out from under my nose during class and having a taste themselves!  The benefits of a vegan dough.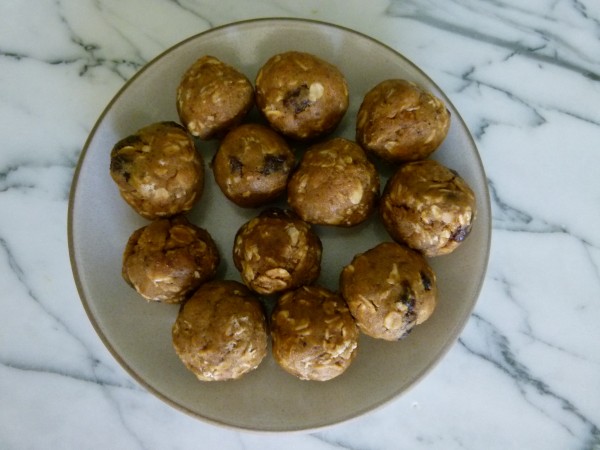 I thought I would sneak this recipe in today before you start baking treats for Halloween.  Of course, these are perfect during the entire season of fall and beyond.  They're a snap to make and like many cookie recipes, you can prepare the dough in advance and bake as many or as few cookies as you need.  I like these best the day they're made and even the next day.  Because there's pumpkin in them, they get a little soft after a day.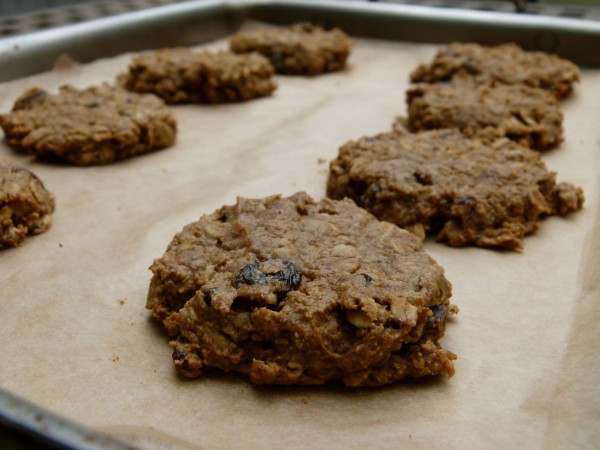 This recipe ended up being more flexible than I imagined.  I had to try it with a nut other than walnuts one day for a student with a walnut allergy and pecans worked great.  I haven't tried this recipe with sunflower seeds, but I think it would work if you need to go nut-free.  The sunflower seeds just might react with the baking soda, however, and cause the cookies to have a green-ish color to the them.  Might be kind of cool for Halloween!  I know many of you will want to sub chocolate chips for the raisins and I say go for it!  Pumpkin + chocolate + spices isn't my thing, but that doesn't mean you won't love it.  I was serving these in my classes plain and simple, but I found a recipe for a fun sweet potato-cream cheese frosting that was delicious as a filling if you wanted to make a sort of oatmeal cookie whoopie pie.  Just for kicks.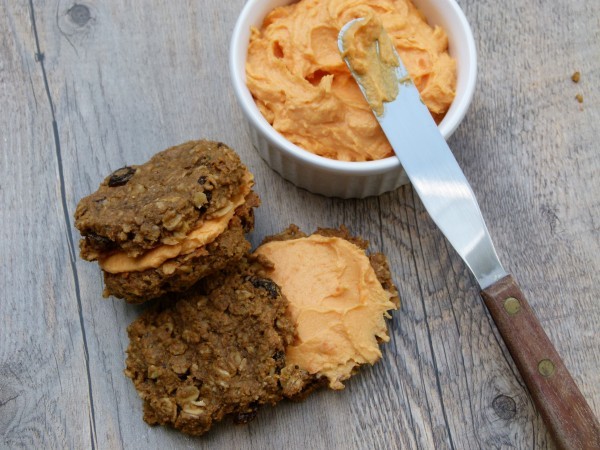 However, like I always say, just because these cookies are higher quality and not made with junk and chemicals doesn't mean you can eat them all day long.  Concentrated sweeteners can still raise your blood sugar and will still feed yeast and fungus in your system and will keep you addicted to sugar.  So with the beginning of the season of sweets, which I say starts on Halloween and ends on New Years Day, I try to be conscientious about not going crazy when I am offered candy and treats galore.  But before we start thinking about 2014, we've got lots of fun in store.  Thanksgiving is indeed four weeks from Halloween which means you and I are going into planning mode pronto.  See you all back here on Thursday!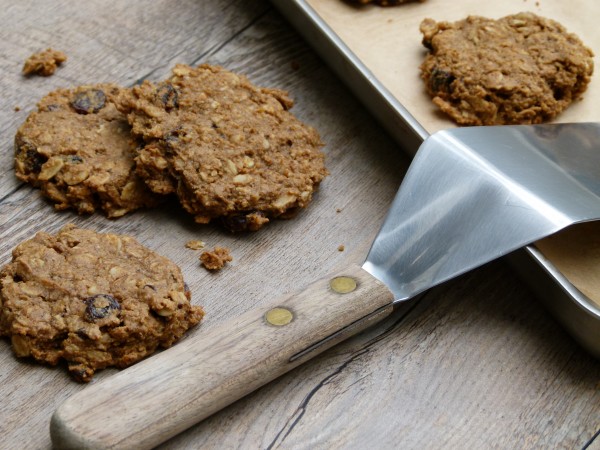 Vegan Pumpkin Oatmeal Spice Cookies
Serves:
makes 20 2½-inch cookies
Ingredients
1 ½ cups oat flour (see Step #2) (use certified gluten-free oat flour if you are gluten-free)
1 teaspoon baking soda
¾ teaspoon fine grain sea salt
¾ teaspoon ground cinnamon
½ teaspoon ground ginger
¼ teaspoon ground cloves
Pinch ground nutmeg
1 ¾ cups raw walnuts or pecans
6 Tablespoons unrefined coconut oil (it doesn't need to be melted)
¼ cup 100% pure maple syrup (grade A or B)
10 Tablespoons (½ cup + 2 Tbs.) coconut sugar or brown sugar
1 cup pumpkin puree (not pumpkin pie filling) (anywhere between ½ -1 cup works)
2 cups old fashioned rolled oats (use certified gluten-free rolled oats if you are gluten-free)
1 cup unsulphured raisins or chocolate chips
Instructions
Preheat oven to 350 degrees. Line 2 baking sheets with parchment paper.
If you need to make oat flour, place 1 ¾ cups rolled oats in a food processor and process until powdery.
Place oat flour, baking soda, salt cinnamon, ginger, cloves, and nutmeg in a large mixing bowl and whisk together.
Place walnuts in a food processor and blend into a fine meal. Add oil, maple syrup, coconut sugar and pumpkin and process until mixture has the consistency of natural nut butter.
Stir walnut mixture into flour mixture. Fold in 2 cups rolled oats and the raisins.
Use a 1 ¾ -inch ice cream scooper to form dough into balls, and place on baking sheets. You can fit 12 on a sheet. Flatten cookies slightly with a damp hand. Bake 13-15 minutes or until cookies begin to brown and tops look dry.
Cool a few minutes and then transfer to wire rack to cool completely.
Notes
SWEET POTATO-CREAM CHEESE FROSTING:
(adapted from "Feeding the Whole Family")

1 cup mashed baked sweet potatoes
¼ cup softened cream cheese or soft tofu (2 ounces)
1 Tablespoon melted unsalted butter
2 Tablespoons pure maple syrup
1 teaspoon fresh lemon or orange juice

Cream together all ingredients in the bowl of a food processor or with a mixer until smooth and spreadable.