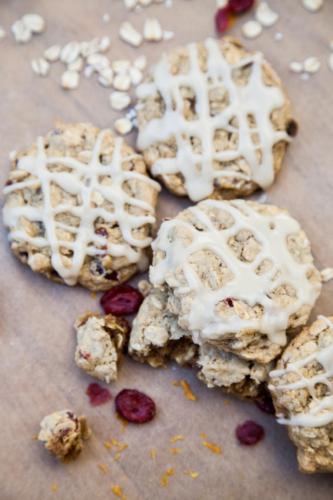 I have made these cookies many times, but I have only taught this recipe once.  They are a tweak of one of my most popular recipes ever, Vegan Oatmeal Chocolate Chip Cookies.  There's a funny story behind this version of the recipe.  Several years ago, I arrived to teach a class at a private home in Santa Monica. As I approached the front door, I could smell wood burning.  The home owners frantically ushered me into the house and revealed that the power was out in the whole neighborhood and there's was no knowing when it would be restored.  Yikes!  How does one teach a cooking class without an oven or appliances???  Since they had seen me make pizzas in my parents' wood burning pizza oven, they figured they would get theirs up and running so that I could cook the class recipes in it.  Well, that would have been fine except a wood burning oven doesn't fit that much stuff.  I was able to figure out how to cook most of the menu, but these cookies were not going to get baked.  The good news was that the cookies were vegan so the dough was edible raw!  We all channeled our inner child and ate the delicious dough out of the bowl!
It was a December class.  Oranges and cranberries are magic together and always remind me of the holidays.  I used to make cranberry-orange quick bread all the time when I was a kid.  Sweet and tart could be my middle name, right after sweet and spicy, and sweet and salty, of course. 😉  Hubs is a big cranberry-orange fan and he's still mostly WFPB (whole food plant based), so I made a half batch of these the other day and he just swooned.  You'd never know these cookies are vegan, or gluten-free for that matter.  They're soft on the inside and crispy on the edges, with that awesome oat texture.  BTW, if you're looking to buy clean oats, I prefer One Degree Organics which are organic, sprouted and gluten-free or 365 Organic oats.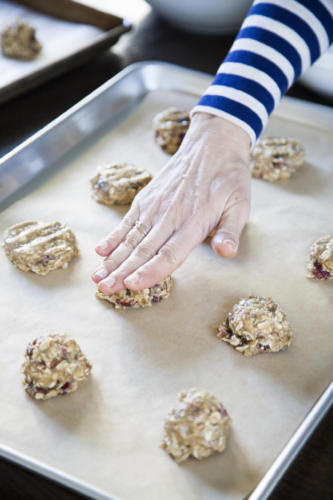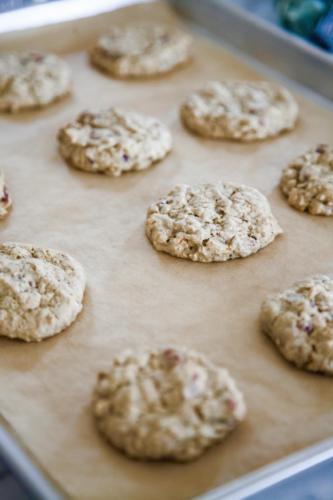 I don't usually try to make "healthy" desserts for the holidays, but if it happens, I'm not going to fight it.  I am going to a few cookie swaps this season and these will surely make the cut.  I could also see doing a version with dates instead of cranberries or both.  I could also see adding some ground cloves to give these an extra kick or cardamom for a subtle spice.  For fun, I drizzled these with a little glaze, but they're perfectly delicious and sweet without.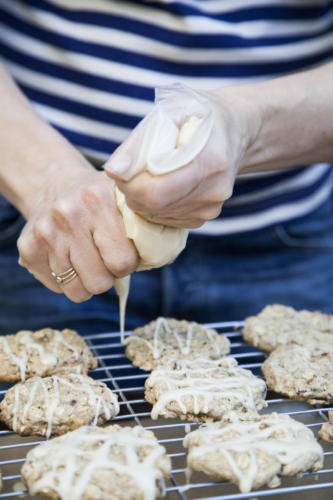 You can make these a couple days in advance, or make the dough and freeze raw balls of dough.  Once fully frozen, transfer the dough to a resealable bag or a container and bake for an extra couple of minutes from a frozen state.  You can even create a log and slice and bake as you wish.  I used to do this all the time when I had all the kids at home.  I would keep cookie dough in the fridge or freezer and bake off a few at a time in the toaster oven.  Of course, most of the time, certain people would eat the cookie dough from the fridge before it made it onto the baking sheets.  Some things never change 🙂
If you make any of my recipes, please tag me @pamelasalzman #pamelasalzman so I can see your creations.  It gives me such joy to see what you all come up with in the kitchen.  Let's keep cooking from scratch and spreading the message of the importance of nourishing ourselves and our loved ones with clean, healthy food!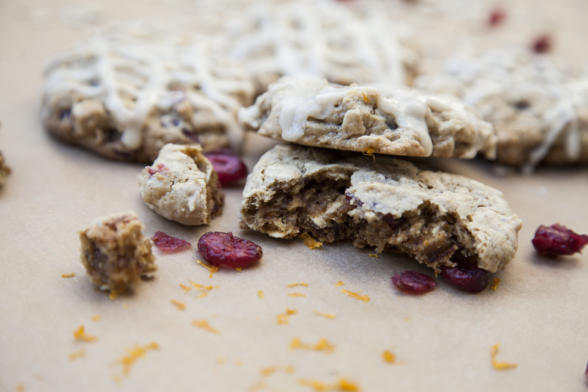 Shop the tools for this recipe by clicking on the images below:

Vegan Cranberry-Orange Oatmeal Cookies
Ingredients
1 ½ cups oat flour (see Step #2), use GF if necessary
1 teaspoon baking soda
1 teaspoon fine grain sea salt
¼ teaspoon ground cinnamon
2 cups raw walnuts
3 Tablespoons melted coconut oil
1 cup pure maple syrup
2 teaspoons pure vanilla extract
2 cups old fashioned rolled oats, look for GF if necessary
1 ½ cups dried unsulphured cranberries
1 teaspoon orange zest
Instructions
Preheat oven to 350 degrees. Line 2 baking sheets with parchment paper.
If you need to make oat flour, place 1 ¾ cups rolled oats in a food processor and process until powdery.
Place oat flour, baking soda, salt and cinnamon in a mixing bowl and whisk together.
Place walnuts in a food processor and blend into a fine meal. Add oil, maple syrup and vanilla and process until mixture has the consistency of natural nut butter.
Stir walnut mixture into flour mixture. Fold in 2 cups rolled oats, cranberries, and orange zest.
Use a 1 ¾ -inch ice cream scooper to form dough into balls, and place on baking sheets. You can fit 12 on a sheet. Flatten cookies slightly with a damp hand. Bake 13-15 minutes or until cookies begin to brown and tops look dry.
Cool a few minutes and then transfer to wire rack to cool completely.
Notes
These don't need a glaze, but if you want one: Whisk together 1 cup powdered sugar (sifted), 1 Tablespoon melted unsalted butter or coconut butter, a pinch of salt and 1-2 Tablespoons water or plant milk until completely smooth. I transferred the glaze to a ziploc bag and snipped a very tiny bit off one corner and squeezed the glaze through.