I'm all set for Super Bowl Sunday, so I am skipping ahead to Valentine's Day.  I really want to pull together a special dinner for my family.  I may take out some items to support our local restaurants which have just reopened in my area, after months of a total closure.  And then make a special meal at home.  A little of both sounds like the plan.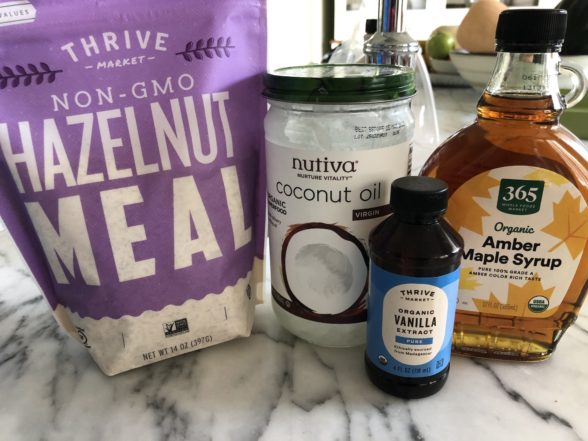 I will be making these vegan hazelnut cookies for sure because:
chocolate;
Hubs and Mr. Picky are very plant-based right now (no eggs or dairy);
my daughter Anna has an almond allergy, but hazelnuts work well;
I can make the batter several days ahead and bake fresh on Valentine's Day = warm cookies;
and …chocolate!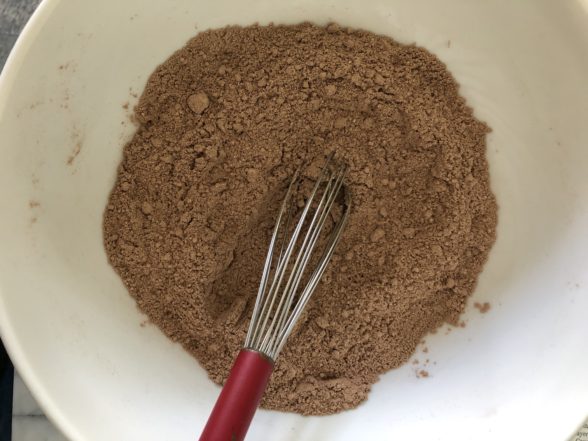 Hazelnuts and chocolate are a classic combo that will never go out of style.  Nutella was my first  hazelnut-chocolate experience as a little girl and I cold not believe something so delicious existed.  I still think Nutella is beyond tasty, but I can't justify all the ultra-processed ingredients when I can get that same flavor combo in other, higher quality ways.  No judgment if you eat Nutella.  We all have our favorite fun foods, but I don't feel awesome after I eat it, so I'll put chocolate and hazelnuts together on my own.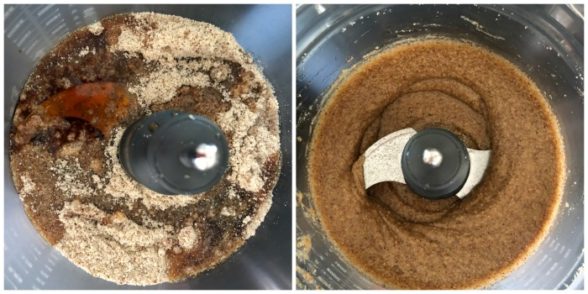 This recipe is a tweak on my very famous vegan oatmeal chocolate chip cookie recipe. I've done a few iterations of that recipe and they all feel like completely unique cookies.  My favorite might be the vegan peanut butter oatmeal chocolate chip cookies in my cookbook, Quicker Than Quick.  I eat the batter!  Which means you can eat this batter, too!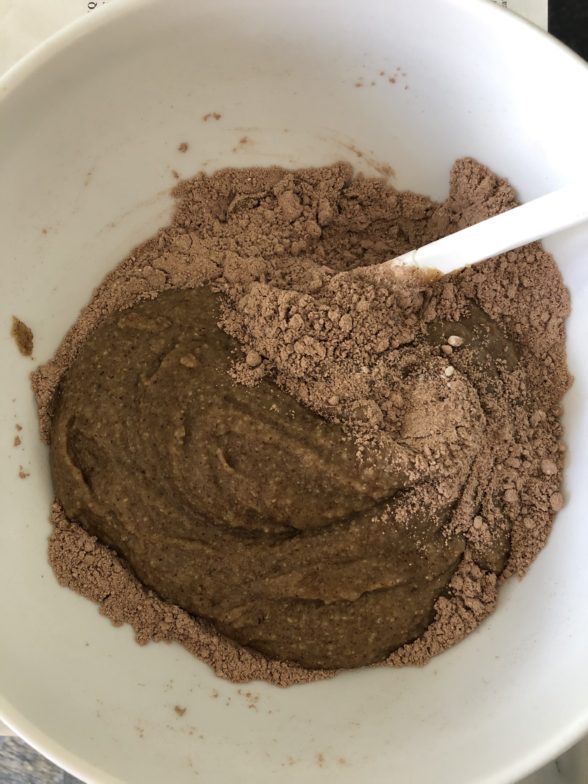 I want give you my honest opinion about the hazelnut component of this recipe though.  I have found that hazelnuts can go rancid quickly.  How do you know if your hazelnuts are rancid?  They don't taste good.  They have an off smell.  I store mine in the freezer as soon as I bring them home from the market.  And I also prefer whole hazelnuts to pre-ground meal.  I know, I know.  I am showing a bag of Thrive Market hazelnut meal here.  I was taking the easy way out, but whole hazelnuts have a fresher flavor.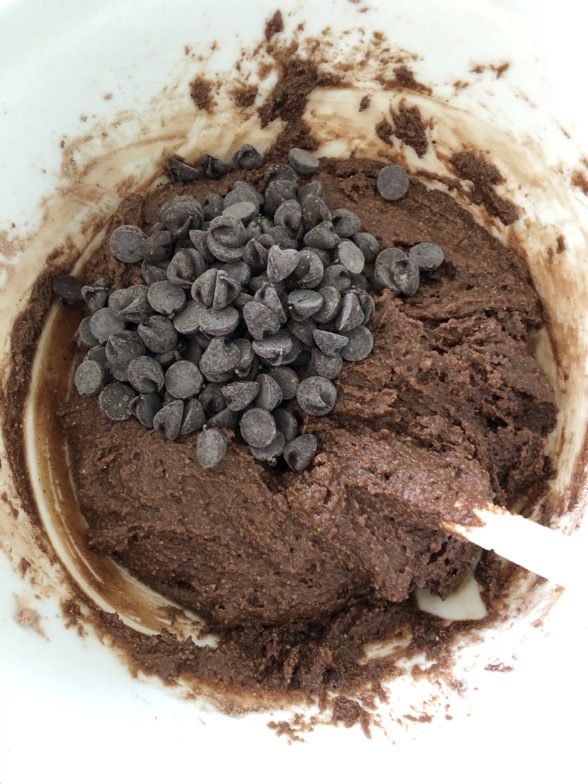 I think what could make these cookies even better than how I made them is with big, flat chocolate pieces or chunks to create pools of melty, soft chocolate.  I had chips, and pandemic living has trained me to use what I have and not think twice about it.  I still ate the uncooked batter, and it was still delicious.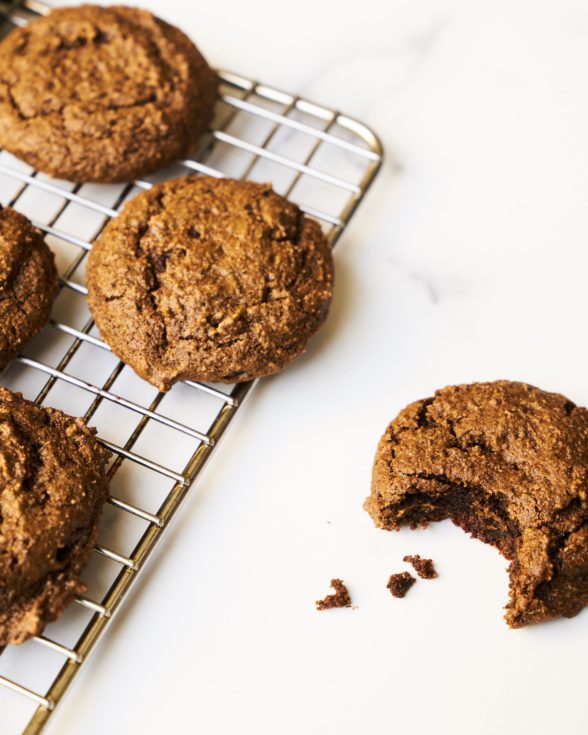 If hazelnuts aren't your thing, or you don't have them, use another nut.  I recently discovered a company called Nature's Eats (not sponsored) on walmart.com and they have several different nut flours such as cashew, pecan and walnut.  They all seem very fresh and I am storing them in my garage fridge.  You could also take candy-coated chocolate like Unreal Candy (also not sponsored) and pick out the pink and purple ones in place of the chocolate chips.  That could be really cute for Valentine's Day! You could also drizzle these with melted chocolate afterwards. Can you tell I am fond of chocolate?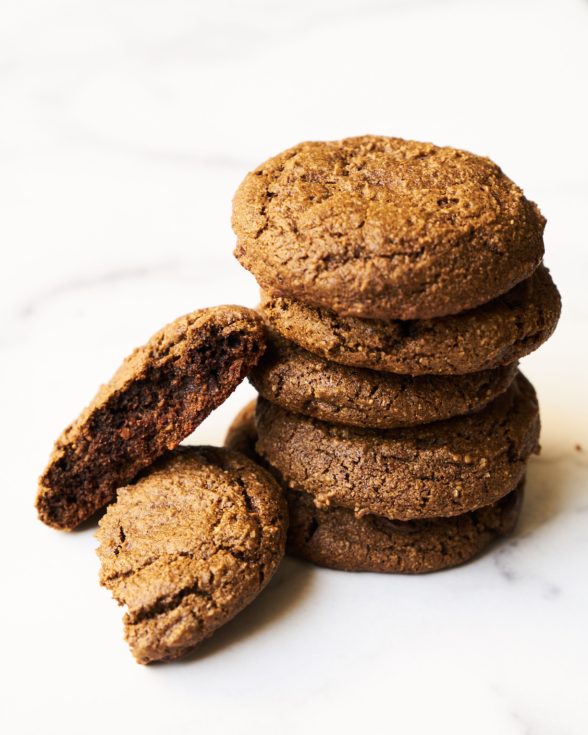 Let me know if you make these!  They were a huge hit in my classes last February, the last full month I taught in-person classes.  Sigh.  Just tag me @pamelasalzman #pamelasalzman and I'll repost the ones I see!  XOXO
You can shop the tools I used for this recipe by clicking on the images below:

Vegan Chocolate Hazelnut Cookies
Serves:
20 2½-inch cookies
Ingredients
1 cup + 2 Tablespoons oat flour (see Step #2)
6 Tablespoons unsweetened cocoa powder or raw cacao powder
1 teaspoon baking soda
1 teaspoon flaky sea salt or fine grain sea salt
2 cups roasted and skinned hazelnuts (preferably unsalted) or 2 ½ cups hazelnut meal*
3 Tablespoons melted unrefined coconut oil
1 cup pure maple syrup
2 teaspoons pure vanilla extract or hazelnut liquor such as Frangelico
½ cup dark or semisweet chocolate chips or chunks
Instructions
Line 2 baking sheets with unbleached parchment paper.
If you need to make oat flour, place 1 ½ cups rolled oats in a food processor and process until powdery.
Place oat flour, cocoa powder, baking soda, and salt in a mixing bowl and whisk together.
Place hazelnuts in a food processor and blend into a fine meal. Add oil, maple syrup and vanilla and process until mixture has the consistency of natural nut butter.
Stir hazelnut mixture into flour mixture. Fold in chocolate chips. CHILL BATTER FOR AT LEAST 30 MINUTES.
Preheat oven to 350 degrees.
Use a 1 ¾ -inch ice cream scooper to form dough into balls, and place on baking sheets. Do not place cookies too close to each other since they will spread when they bake. You can fit 10 on a sheet. Bake 13-15 minutes or until cookies begin to crisp around the edges and tops look dry.
Cool a few minutes and then transfer to wire rack to cool completely
Notes
*I find these cookies taste better with whole hazelnuts that you grind at home as opposed to using the hazelnut meal.