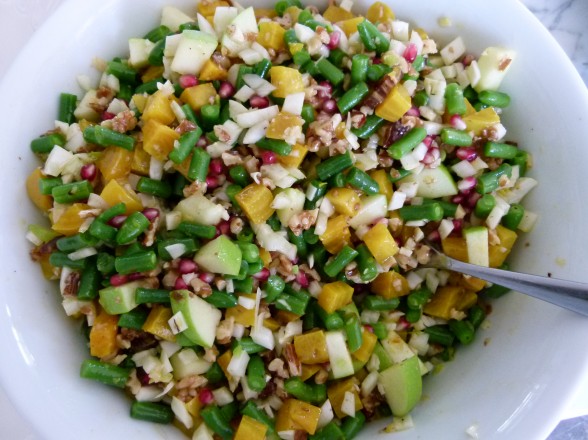 Halloween is tomorrow, but to tell you the truth, I don't make much of an effort to show my "spirit" with cupcakes that look like spiders or swamp slime green Jell-o.     Do my kids really need marshmallow ghosts on top of the candy  I have not forbidden them to inhale as they trick-or-treat?  Silly question!  Actually, my only food strategy on Halloween is to make a very hearty , filling dinner, like vegetable chili with brown rice, so the kids aren't starving while they carry around a sack o'chocolate.  Works for me!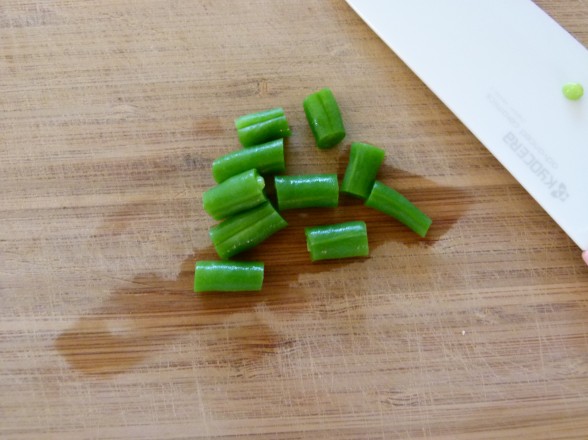 If you checked out my post last Thursday, you probably guessed I have bypassed Halloween and gone straight into Thanksgiving mode.   Not only have I already taught two Thanksgiving classes, but I am starting to check tasks off my list.   Invites — out.  Menu — planned.  Turkeys — ordered.  So if you're like me and you're daydreaming about maple-glazed root vegetables instead of witch cakes,  let's get down to business!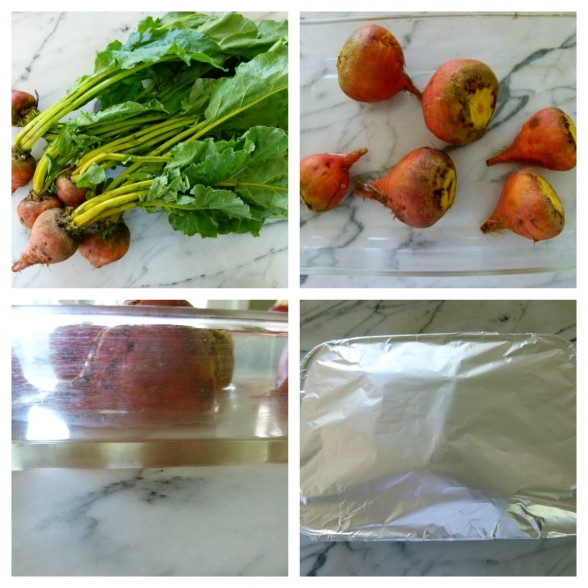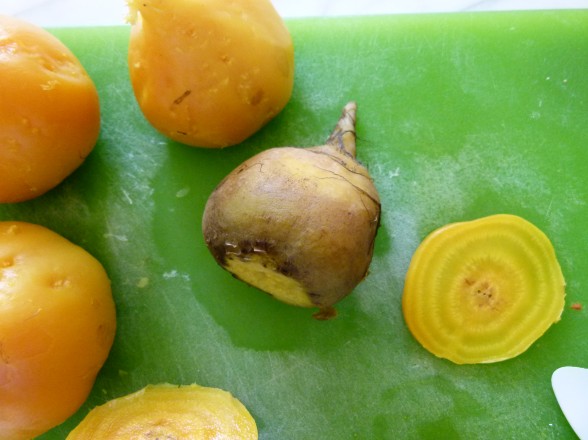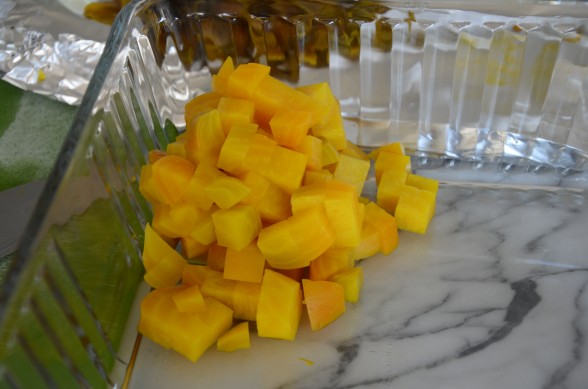 The vegetables are really the only part of the menu that I get to have any fun at all.  My family and guests would have a rebellion if I didn't make roasted turkey, mashed potatoes, stuffing and sweet potato casserole.  So every year I try some new salads and vegetables just to mix it up a bit.   This salad is one of my absolute favorites and not just for Thanksgiving.  I have made this for other holiday dinners and for friends, and I always save a little extra for me for the next day's lunch.  This salad is the perfect complement to a Thanksgiving meal consisting of lots of cooked food,  much of it soft and beige.  Not only will all of these colors brighten up your holiday buffet table like little jewels, but you'll be happy to have something juicy, crunchy and (is this a crime?) healthful to eat.  Even though there are apples, pomegranates and dates in the salad, it doesn't feel too sweet.  It's more like a tart-sweet, a perfect complement to roast turkey.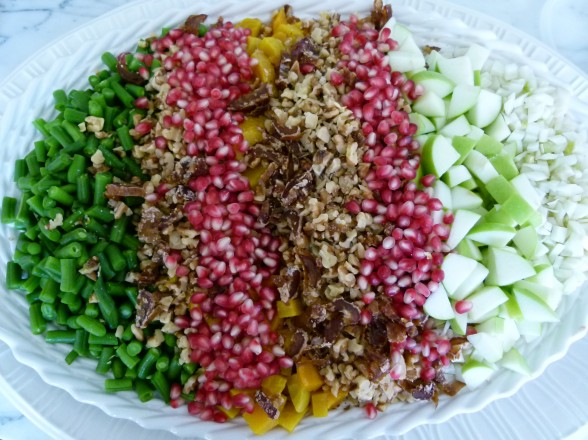 This salad is also ideal for Thanksgiving since you can prep almost all of it the day before.  Oh yeah!   No need to squeeze anything into your already monopolized oven or dirty any measuring spoons the day of.  You can blanche the beans the day before, roast the beets two days before, chop fennel the day before and cover with a damp paper towel, seed the pomegranate several days before, chop walnuts whenever you want, and make the salad dressing several days in advance.  The only last minute item is the apples which you can dice a few hours in advance and keep in ice water in the refrigerator.  Just drain and pat dry before adding to the salad.  How's that for a plan!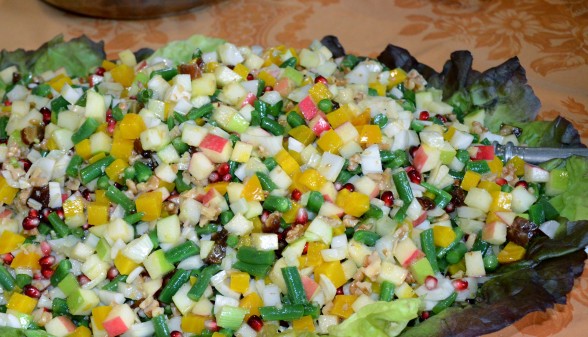 Harvest Chopped Salad
Ingredients
6 ounces green beans, trimmed
3 stalks celery or 1 bulb fennel, diced (I prefer fennel.)
1 cup pomegranate seeds (about 1 medium pomegranate)
1 large crisp apple (e.g. Fuji or Granny Smith), diced (peeled or unpeeled)
1 cup walnuts, chopped
3 dates, pitted and diced (easier to cut when they're cold)
1 cup diced roasted golden beets (can be done the day before)*
Vinaigrette: (can be prepared several days in advance)
2 Tablespoons fresh lemon juice
2 Tablespoons fresh orange juice
½ teaspoon fine sea salt
a few grinds of black pepper
2 teaspoons minced shallot
2 teaspoons 100% pure maple syrup
3 Tablespoons unrefined, cold-pressed extra virgin olive oil
3 Tablespoons walnut oil (or use all olive oil)
Instructions
Prepare a large bowl with ice water. Blanche green beans for 2 minutes in boiling, salted water. Drain and submerge into ice water. Drain, pat dry and slice on the diagonal into bite sized pieces. (Can be done the day before.)
In a large bowl combine beans, chopped celery, pomegranate, apple, walnuts, dates and beets.
Prepare the vinaigrette: whisk all the ingredients in a small bowl. Pour enough vinaigrette over vegetables to coat lightly. Taste for salt and pepper.
Notes
*To roast 1-2 beets, wrap each one in parchment and then foil. Or follow the photos above to roast a pan of several beets. Roast in a 400 degree oven until tender when pierced with the tip of a knife. Large ones can take about 60 minutes. Allow to cool and then peel off the skins.