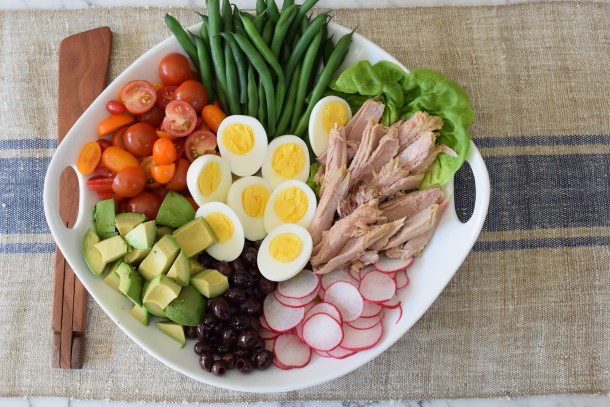 I just arrived in New York for my annual summer vacay with my parents, my sisters and their families.  We've descended upon my parents' house in Long Island for a week of old fashioned backyard fun with a few trips to the beach and the ice cream parlor.  It also involves some serious menu planning for 12-16 people at any given meal.  If such persons were all adults, this task would be less challenging than if half of them were children ages 1-19.  But I love a challenge!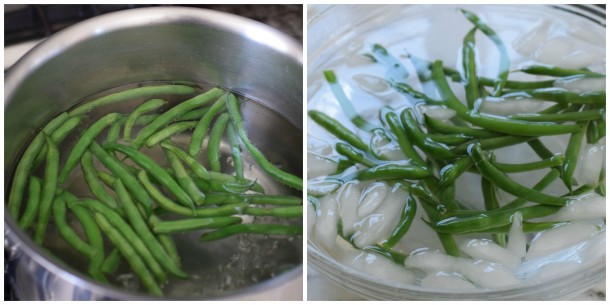 Sometimes for lunch we'll make a giant composed salad where each component has its own space and I serve the dressing in a small pitcher on the side.  I notice the kids (and picky adults, in general) eat much more of a composed salad than a tossed one.  My son, Mr. Picky, can always find something to choose from a composed salad versus one that is tossed, especially if there's one ingredient that's offensive and touching everything else.  Touching ingredients is a deal breaker!! This version of a classic Nicoise salad is always a winner, plus it's one of my favorite salads of all time.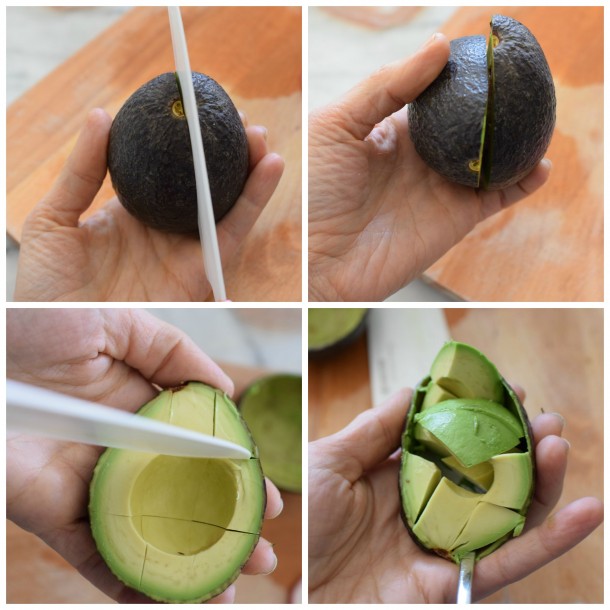 The classic typically contains oil-packed tuna, hard boiled eggs, tomatoes, green beans (usually the small haricot verts), Nicoise olives, and boiled potatoes.  It's a perfect salad for summer because it can all be prepped ahead and served cold or at room temp.  And it's a meal unto itself.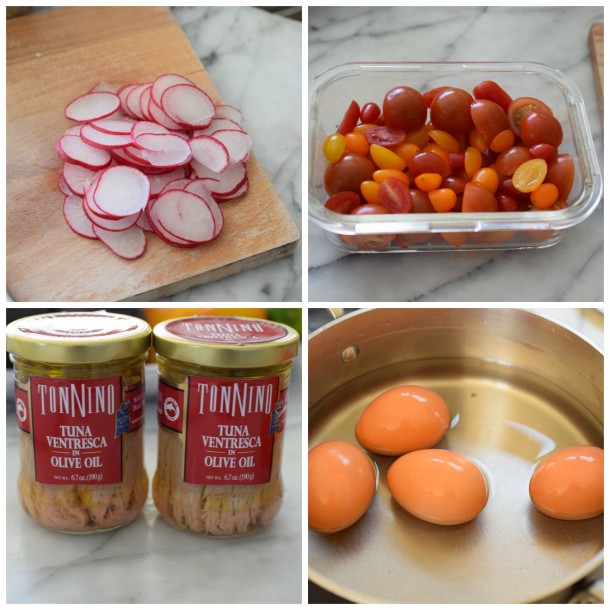 But I have made so many versions of this salad subbing chicken or slow-roasted salmon for the tuna or even white beans for the tuna for a vegetarian version.  Regular string beans for the haricot verts.  Even cucumbers have worked nicely.  But in this version, which I call a "California Nicoise," I sub in the very Cali avocado for the potato, because everyone seems to be watching his or her carbs lately!  Because of the versatility of this salad, it was a hugely popular in my classes last summer with everyone — Paleo-types, vegetarians, vegans, gluten-free peeps and so on.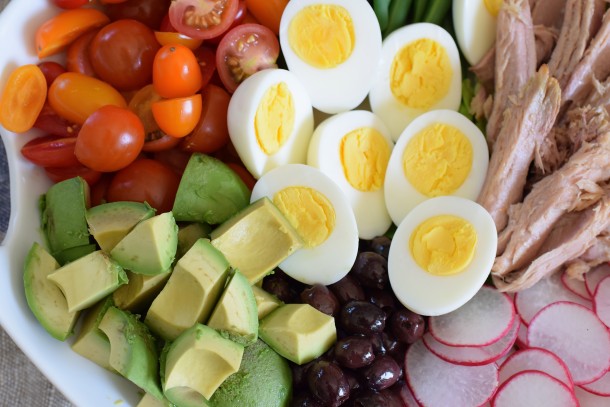 Visually, I think this salad is so beautiful and quite healthful, too.  It is well balanced with high quality protein, fat and lots of veggies.  I love using the very best tuna for this salad.  I featured this Tonnino oil packed wild tuna in a recent Five Friday Favorites and it is perfect here.  If you want to use standard canned tuna, just drizzle a little olive oil on top for added flavor.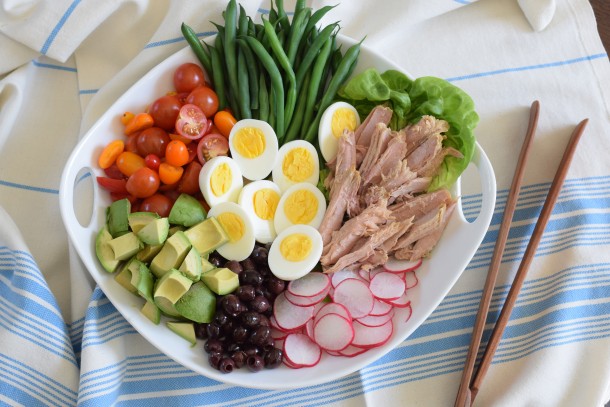 Green beans can be blanched, radishes sliced and eggs boiled the day before and refrigerated.  But again, feel free to sub other ingredients if that would make you happy.  And if you notice more takers than usual for this salad, perhaps employ the composed method for other salads too!

California Nicoise Salad
Ingredients
For the dressing:
½ teaspoon sea salt
Freshly ground black pepper to taste
½ Tablespoon Dijon mustard
2 Tablespoons champagne or white wine vinegar
⅓ cup unrefined, cold-pressed extra-virgin olive oil
8 ounces haricot verts (thin French green beans) or string beans, trimmed
2 Tablespoons kosher salt
4-6 hard-boiled large eggs,**peeled and halved lengthwise
1-2 cans high-quality tuna, preferably packed in olive oil, drained and broken into pieces
1 large avocado, cubed***
½ cup olives, preferably Niçoise
¾ pound cherry tomatoes, halved
4 radishes, trimmed and thinly sliced
Bibb lettuce leaves to line platter, if desired, or shredded as a bed for the lettuce
Instructions
Whisk all the dressing ingredients together in a medium bowl or shake in a screw-top jar.
Prepare a bowl of ice water for the green beans. Bring a large pot of water to a boil and add kosher salt. Add the beans and set a timer for 3 minutes. After beans have cooked for 3 minutes, test for tenderness. They should be crisp-tender, but not taste raw. Drain and immediately submerge in the ice water bath. Drain after 5 minutes or so and pat dry. Can be done the day before and refrigerated.
Assemble the salad by arranging ingredients in separate groups. I like to line the platter with lettuce either just under the tuna or the entire platter. Drizzle everything with dressing or leave on the side for each person to dress his/her own salad.
Notes
*Ingredient amounts can vary based on preferences.
**Place uncooked eggs in a saucepan and cover with water. Place over high heat and bring to a boil. Cover, turn off heat and time for 10 minutes. Rinse with cold water or transfer to a bowl of cold water. Can be done a day ahead and peeled before serving.
***the avocado is in place of the traditional boiled, small new potatoes. But use 1 pound of potatoes if you prefer.