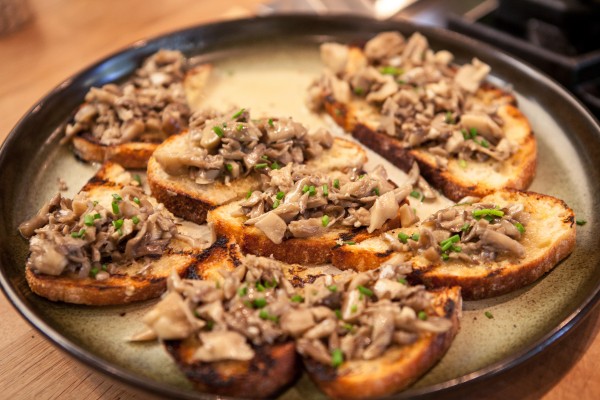 I don't eat out that much, but one of my favorite restaurants in Los Angeles is Gjelina in Venice.  I would probably go there more often, but getting a table at a reasonable hour is impossible!  Before my first visit a few years ago, a friend strongly suggested I order the Mushroom Toast.  Let me just say that when I saw items on the menu like "Crispy Purple Peruvian Potatoes!" and "Moroccan Chickpea and Black Kale Stew!," (I used the exclamation points, Gjelina did not) I wasn't overly excited about "Mushroom Toast."  But I trust my friend and ordered the mushroom toast and it was ONE OF THE BEST THINGS I HAVE EVER EATEN.  Delicate, earthy mushrooms in a light, creamy white wine-infused sauce, all poured over grilled bread and drizzled with truffle oil, the nooks and crannies of the toast catching every bit of mushroom juiciness.  It was so delicious, I actually had dreams about it that night.  True story!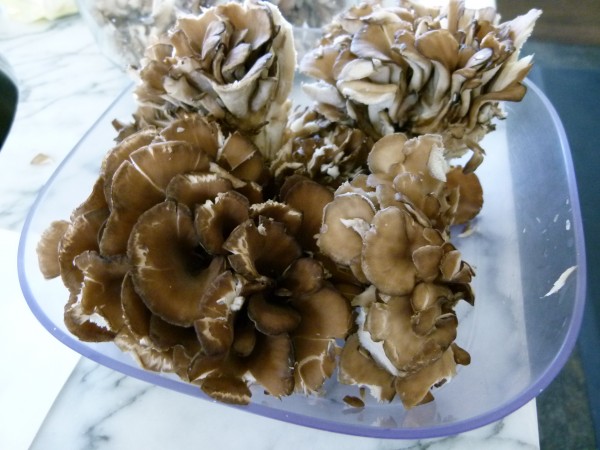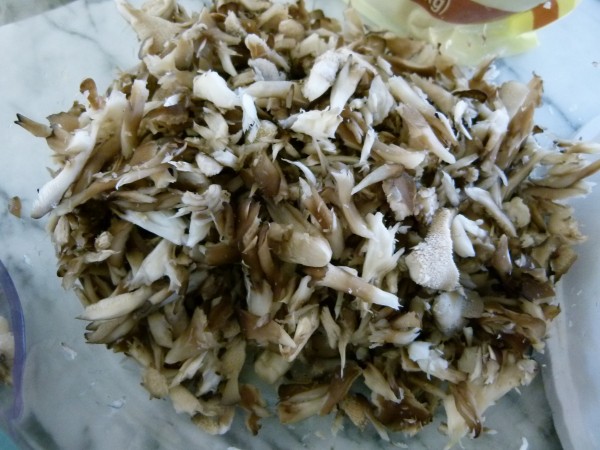 The problem is that Gjelina doesn't share their recipes, at least not with little old me.  So after a game of 20 questions with my waiter, I had a game plan for attempting to recreate this dish at home.  The ingredients are ones I never would have thought to put together on my own: Hen of the Woods mushrooms (what??), creme fraiche and truffle oil.  Now I may not have gotten the recipe exactly right, and in fact I do believe my version is less rich and creamy, but I am so obsessed with the way this turned out, that I don't care how different mine is.  First of all, even though I don't eat too much bread, I think anything on grilled bread is DE-licious!  And grilled bread rubbed with garlic is SUPER DE-licious!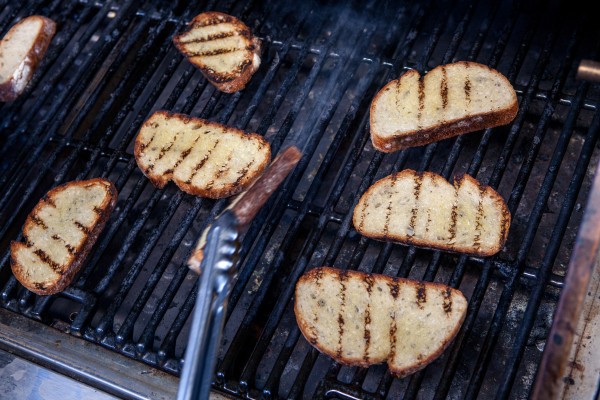 But mushrooms are the star of this show and Hen of the Woods mushrooms are so meaty and earthy with the most delicate texture.  They also go by the name "Maitake" mushrooms.  I found them easily at Whole Foods and I have seen them at several local farmers markets.  I will warn you, they are pricey, so if you can't find them or you don't want to spend the money, you can use oyster or chanterelle mushrooms.  You really can't use button mushrooms or Portobellos in this recipe.  I tried them here, and they're too firm.  You really need something light and delicate.  Japanese mushrooms, including Maitake, are really good for you and contain loads of immune-boosting compounds and have even been shown to have anti-cancer and anti-tumor compounds.  They also have less water than traditional mushrooms, so they actually have a more mushroom-y flavor.  Yum!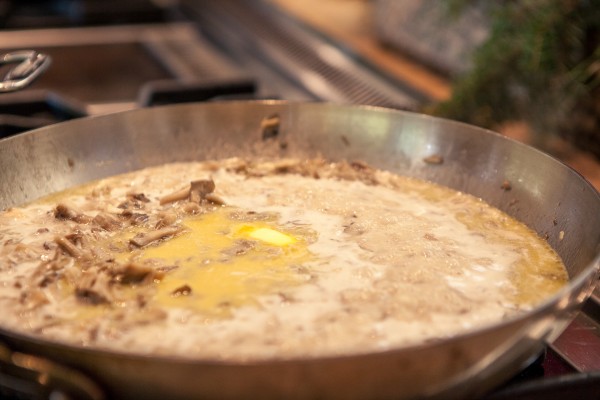 I really went for it and bought truffle oil at Sur La Table to finish off the dish the way they do at Gjelina.  Yes, this mushroom mixture is already rich enough with the creme fraiche and the butter and the olive oil, but good gracious, a drizzle of truffle oil takes this over the top.  Unfortunately, I couldn't find truffle oil locally that was totally pure, without "truffle flavoring."  But a quick search on amazon.com provided a few choices for all-natural truffle oils (like this one from JR Mushrooms & Specialties.)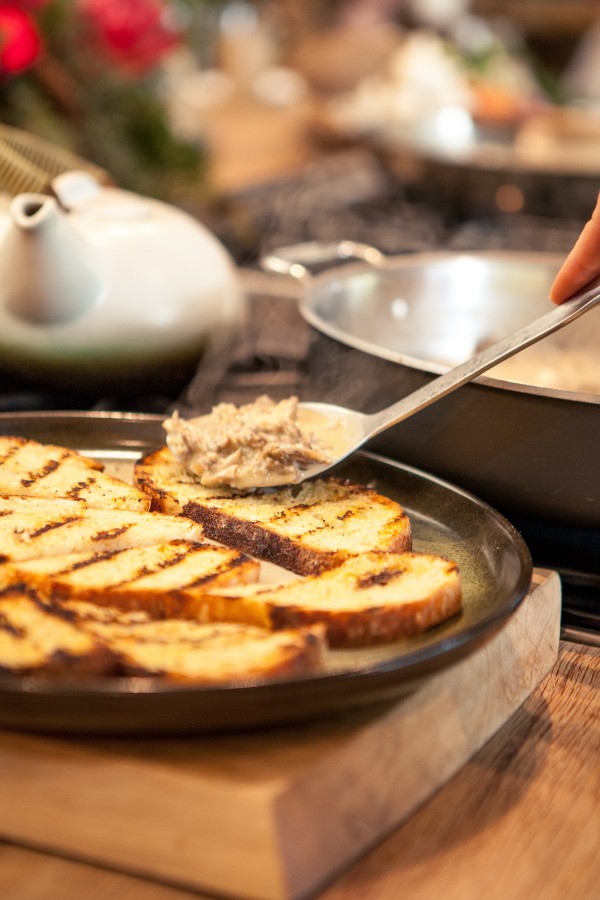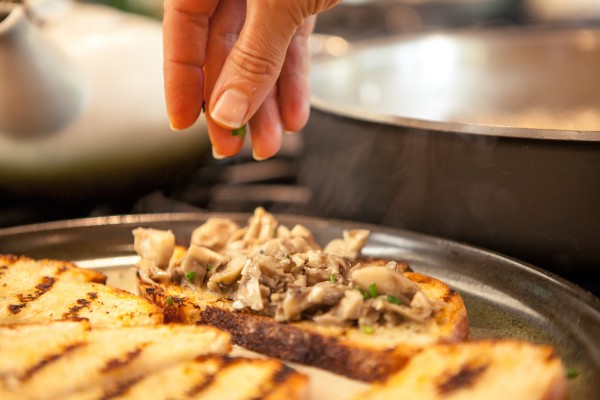 I taught this recipe in my class this month and more than one person asked, "why is this so good?"  It's really everything, and not just one thing.  The grilled bread, the garlic rubbed on the grilled bread, the meaty, delicate mushrooms, the tangy creme fraiche (which is really just French sour cream), and the truffle oil all make this something so special.  The way I made it in these pictures would be amazing as an appetizer on a plate with or without a fresh green salad.  Or you can opt for a smaller piece of toast and serve this as an hors d'oeuvre, although it can be a tad messy.  I think even for brunch with a fried egg on top would be amazing.  Hoping you try this and love it as much as I do!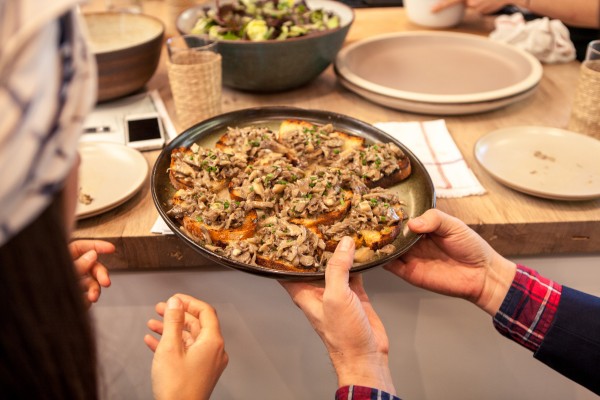 Hen of the Woods Mushroom Toast
Author:
Pamela, inspired by Gjelina Restaurant
Ingredients
3 large slices of crusty peasant bread, about ½-inch thick
2 Tablespoons extra-virgin olive oil + additional for brushing bread
1 whole garlic clove + 2 cloves, minced
10 ounces Hen of the Woods mushrooms, aka Maitake, chopped or broken apart with your hands
½ teaspoon sea salt
½ teaspoon fresh ground pepper or to taste
¼ cup dry white wine
1 cup chicken, vegetable or mushroom stock
6 Tablespoons crème fraiche
2 Tablespoons unsalted butter
Truffle oil to drizzle
Chopped fresh chives for garnish (optional)
Instructions
Preheat a grill over medium heat.
Brush both sides of bread with olive oil.  Grill bread on both sides until toasted and slightly charred.  Thinly slice the end off of the whole garlic clove and rub one side of each piece of bread with the cut side of the garlic.  Cut the bread in half crosswise and arrange on a platter.
In a large sauté pan, warm the olive oil over medium heat.  Add garlic and sauté for 30 seconds or until fragrant.  Add mushrooms, salt and pepper and sauté until softened.
Add wine and cook until liquid is almost completely absorbed.
Stir in chicken stock and cook until reduced by half, about 10 minutes.  Whisk in crème fraiche and butter and cook until slightly thickened, but still saucy.
Spoon mushroom mixture with sauce over toasts.  Drizzle with truffle oil and a sprinkle of chopped fresh chives, if desired, and serve immediately.