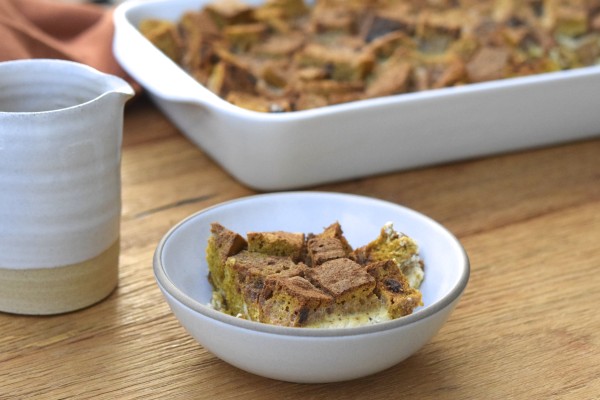 Have you been waiting for that one Thanksgiving recipe that is going to knock your socks off?  The one for which you would change your menu?  That makes you say, "that's it!"  Here it is.  This has been my absolute favorite Thanksgiving dessert of all time.  I don't make it every year because I also make three kinds of pie, but I do dream about it.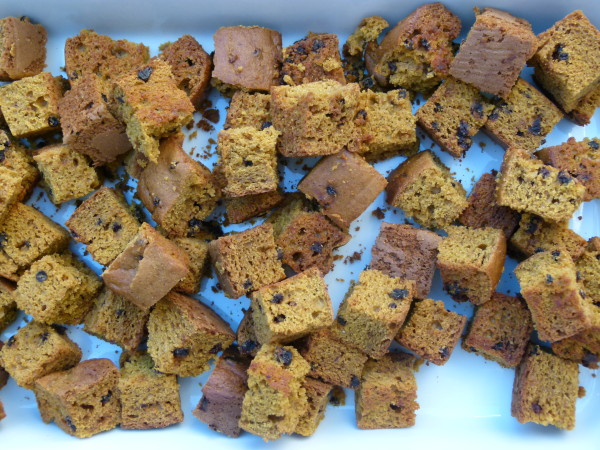 This is not a bread pudding with regular bread and pumpkin puree in the egg mixture.  This bread pudding is made with pumpkin bread, so perhaps it should be called "Pumpkin Bread Bread Pudding?"  What do you think?  I'm not even a huge bread pudding fan, but this is to die for.  I do love pumpkin bread though.  And this is basically cubes of pumpkin bread enveloped in a lightly sweetened custard.  I take my standard pumpkin bread recipe and use currants instead of nuts, cut it up and dry it out slightly, and soak it in a mixture of eggs, half and half, maple syrup, bourbon and vanilla.  Dust it all with cinnamon and bake it.  I mean…..it's so delicious.  Tender pumpkin bread soaking up all that goodness with little pockets of soft custard here and there.  SO. DELICIOUS.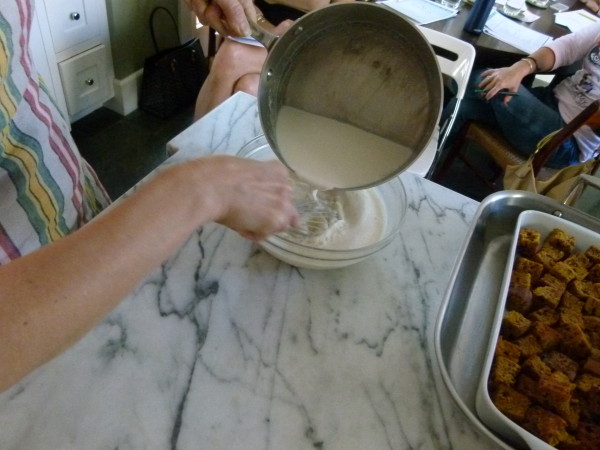 Sound too boring?
Right.  Then serve it with this apple caramel sauce which is probably one of the most delicious things I've ever drizzled on anything.  I am not going to lie and say this is good for you or sugar-free or anything like that.  But it's Thanksgiving, and who wants to eat healthy caramel sauce on Thanksgiving?  Not me!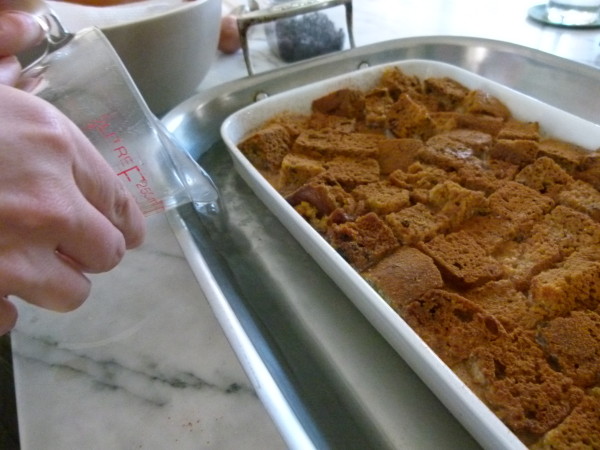 Even if you don't make the bread pudding, which you should, you should make this caramel because a drizzle of this on on anything will make it better, especially ice cream or a simple apple galette or a spoon.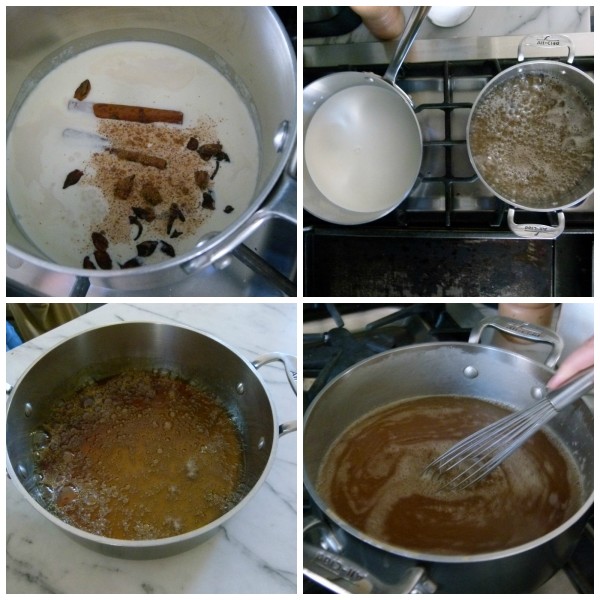 Here's your game plan:
Make the pumpkin bread now and freeze it.  Defrost the day before you want to make the cubes. (Or buy prepared pumpkin bread and skip that step altogether.)
Make the pumpkin bread cubes the day before you make the pudding.  Allow to sit at room temperature.
Make the salted caramel sauce up to 2 days in advance.  Warm before serving.
Make the bread pudding up to the point of baking up to 12 hours in advance and refrigerate.
Bake as early as the morning of Thanksgiving or when the turkey comes out of the oven.  Keep in mind you need to place the baking dish inside of a roasting pan with a water bath.  If you only have one roasting pan, make this in the morning so you're roasting pan will be available for the turkey. If you make it early, it can be rewarmed, if desired.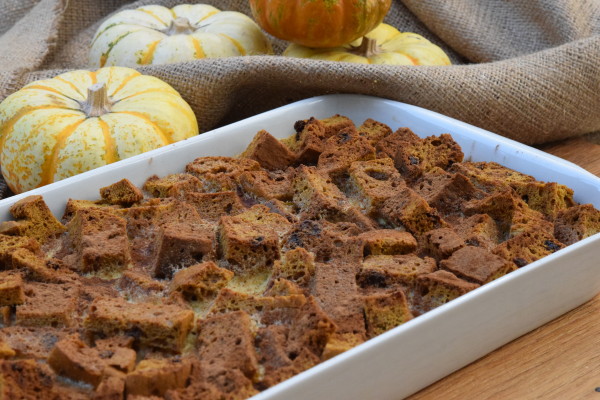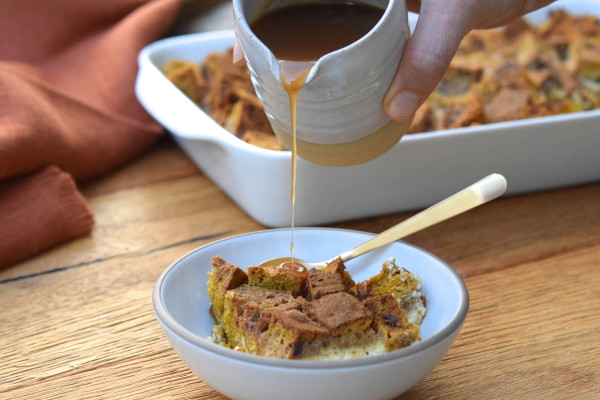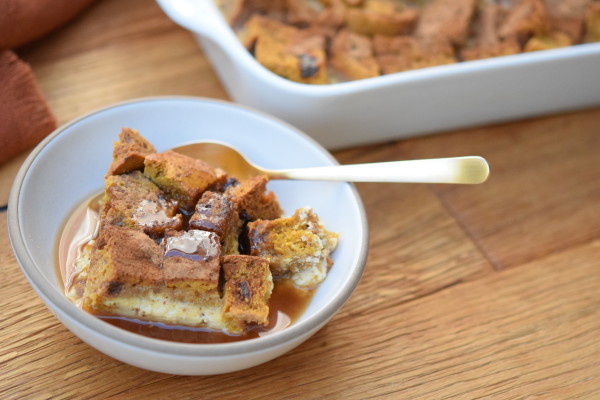 Pumpkin Bread Pudding with Apple Caramel Sauce
Ingredients
For the pumpkin bread*:
1½ cups whole wheat pastry or white whole wheat flour
½ teaspoon sea salt
1 teaspoon baking soda
¾ teaspoon aluminum-free baking powder
½ teaspoon ground cinnamon
½ teaspoon ground nutmeg
¼ teaspoon ground ginger
¼ teaspoon ground cloves
¾ cup pure maple syrup
1 cup pumpkin puree (NOT pumpkin pie filling) or half a 15-ounce can
⅓ cup melted butter or coconut oil
2 large eggs
¼ cup milk or water or almond milk
1 teaspoon pure vanilla extract
½ cup currants (or diced dates or raisins)
For the custard:
3 ½ cups half-and-half
¾ cup pure maple syrup
5 large eggs
1 ½ teaspoons pure vanilla extract
2 Tablespoons bourbon (or dark rum)
1 ½ teaspoons ground cinnamon
For the apple caramel sauce: (adapted from Bobby Flay)
1 cup heavy cream
½ cup unsweetened apple juice
1 star anise
1-inch piece fresh ginger, peeled and chopped
4 whole cloves
2 cinnamon sticks
⅛ teaspoon ground nutmeg
1 ½ cups granulated sugar, preferably organic
½ cup water
1 Tablespoon apple cider vinegar
1 Tablespoon Calvados (apple brandy) or apple schnapps
Instructions
To make the pumpkin bread, preheat oven to 350 degrees and grease a 9X5 loaf pan and line with parchment paper. Whisk all the dry ingredients (except currants) in a large mixing bowl. Blend all of the wet ingredients in a blender. Add the wet ingredients to the dry ingredients and mix until just combined (do not overmix). Stir in currants. Pour into loaf pan and bake until a tester comes out clean, approximately 1 hour. Allow to cool completely.
Cut the bread into 1-inch cubes and dry out a little on a baking sheet overnight or toast in a 325 degree oven, turning once, for 30 minutes. Let cool before proceeding. (You can do this the day before.)
In a medium saucepan, mix the half-and-half and maple syrup and bring to just a boil over medium heat, stirring frequently.
Whisk together the eggs, vanilla and bourbon until foamy. Slowly whisk in half-and-half mixture until thoroughly blended.
To assemble the bread pudding, place the dried out pumpkin bread cubes in the bottom of a 9X13 inch baking dish. Pour the custard mixture into the dish evenly. Allow to sit for 10-15 minutes so that the bread can soak up the custard. Or allow to soak overnight in the refrigerator, covered.
Sprinkle the cinnamon over the top of the bread pudding. Place the baking dish in a large roasting pan and fill the pan with enough water to come halfway up the sides of the dish. Bake in the center of a 350 degree oven for 45 to 50 minutes, until the custard is set around the edges yet still slightly soft toward the center. Remove the baking dish from the water as soon as it's taken from the oven. I usually do this by placing two metal spatulas underneath the baking dish to lift it out of the water bath and ask someone to help me transfer it to a trivet to cool.
To make the apple-caramel sauce:
Combine the cream, apple juice, star anise, ginger, cloves, cinnamon sticks and nutmeg in a small saucepan and bring to a simmer.
Cover and remove from the heat and let steep for at least 20 minutes. Strain the mixture into a clean, small saucepan and place back over low heat while you make the caramel.
Combine the sugar, water and vinegar in a medium saucepan over high heat and cook WITHOUT STIRRING, until it's a deep amber color, about 8 minutes. Slowly whisk in the warm cream mixture a little at a time, and continue whisking until smooth. Add the Calvados and cook for 30 seconds longer. Transfer to a bowl and keep warm. This sauce can be made 2 days in advance and refrigerated. Reheat over low heat before serving.
Serve bread pudding warm or at room temperature with apple-caramel sauce.
Notes
*Or use 1 9 x 5 already prepared pumpkin bread.