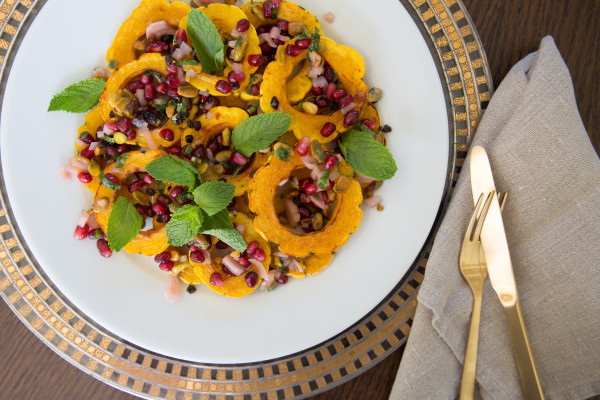 A couple of years ago, delicata squash were nowhere to be found.  Where did they come from and how did I exist on Thanksgivings past without them?  They are now my favorite winter squash.  Delicata squashes seem fancy, but they're a Thanksgiving cook's dream come true:  seasonal, delicious, versatile and NO PEELING!   And you can eat the skin!  My favorite fall salad in the last decade is this Roasted Delicata Squash and Apple Salad.  It's on my menu again this year and I personally fill up most of my dinner plate with it, I love it that much.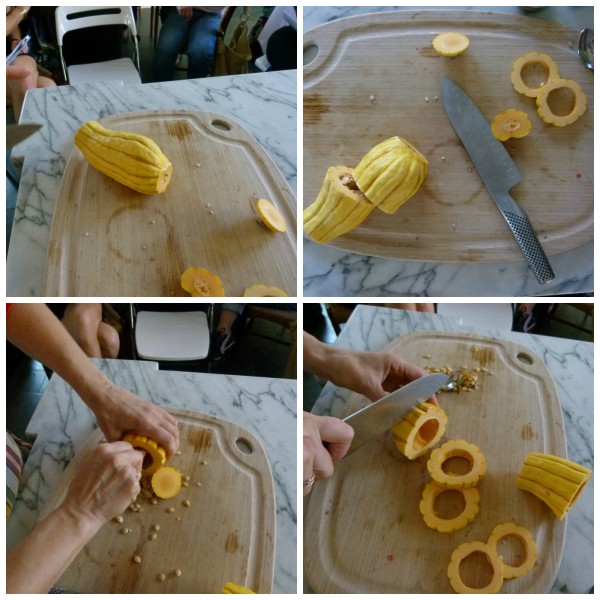 But last year, I taught this delicata squash side dish in my Thanksgiving classes and I had a new crush.  Sweet and tender squash rounds, as pretty as can be, with a sweet-tart-crunchy-juicy relish are the perfect side next to roasted turkey.  And it's such a beautiful presentation.  I could even do without cranberry sauce and just eat this relish.  I don't normally mention nutrition too much when discussing Thanksgiving because it's the one day I let that go.  But this dish is definitely lighter fare and tops in vitamins, fiber and antioxidants.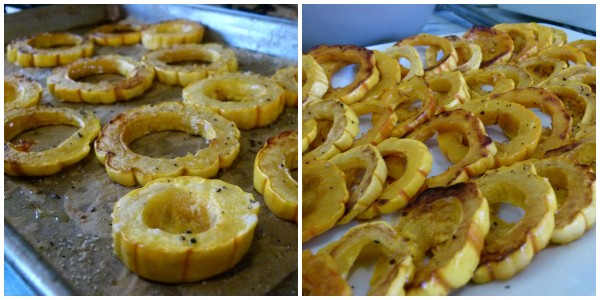 And it makes the best leftovers!  The next day I chop up the squash and toss it with the relish and either put it on top of greens or quinoa.  A little feta is nice, too.  Whereas some Thanksgiving recipes are one-hit wonders, this one I can make all fall for weeknight dinners or dinner parties.
Here's your game plan:
Seed pomegranate 2 days before and refrigerate.
Wash, dry and cut squash the day before and refrigerate.
Make relish day the day before and refrigerate.
Roast squash before the turkey goes in the oven and allow to sit at room temperature until serving.  Then you're just assembling right before dinner.
Tune in on Thursday for another planning post — 2 weeks and counting!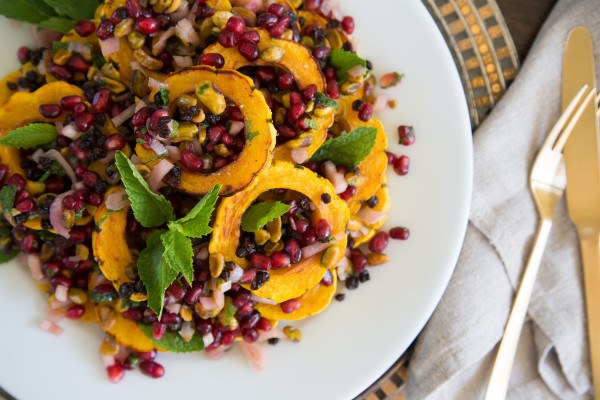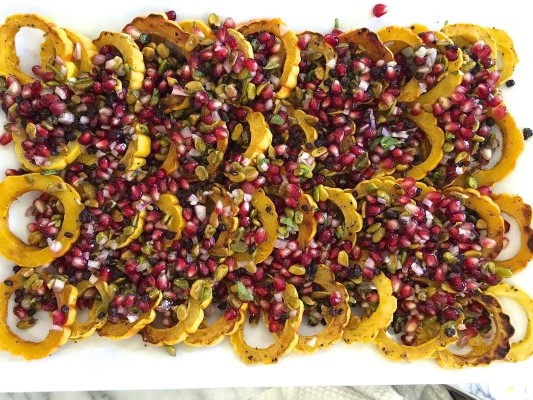 Roasted Delicata Squash with Pomegranate-Pistachio Relish Recipe
Ingredients
2 Delicata squash, washed well and cut into rings*
2 Tablespoons unrefined coconut oil, melted
sea salt
freshly ground black pepper, to taste
Relish: (this makes a lot)
2 Tablespoons unrefined, cold-pressed olive oil
2 Tablespoons unfiltered apple cider vinegar or pomegranate molasses
½ teaspoon sea salt
1 cup pomegranate seeds
½ cup pistachio nuts, toasted
¼ cup dried currants
2 small shallots, chopped
3 Tablespoons fresh mint, chopped
Instructions
Preheat oven to 400 degrees and line 2 baking sheets with parchment paper.
Place the squash rings on the baking sheets and brush with melted coconut oil on both sides. Sprinkle with salt and pepper. Roast until tender, approximately 20-30 minutes.
While squash is roasting, assemble relish. Whisk the oil, vinegar, and salt together in a medium bowl, add remaining ingredients and toss to combine.
Arrange the squash rings on a platter so they are overlapping, and spoon relish mixture on top. Serve immediately or at room temperature.
Notes
*To cut delicata into rings, cut in half crosswise through the middle of the squash. Using a spoon, scoop out the seeds from each half, creating a hollow cavity. Cut crosswise into ¼" rings.