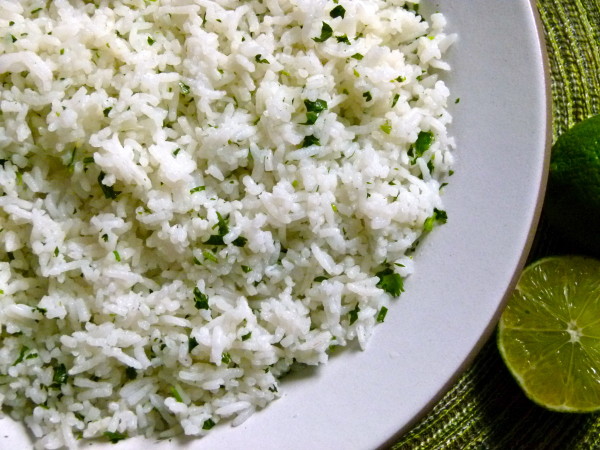 We all love to cook, right?  Ok, maybe some us just like to cook.  And I know that I'm the biggest cheerleader of planning your meals ahead so that dinnertime is stress free and a walk in the park.  Yeah.  Well, gotta tell you that this week did not go as planned.  One day especially was just a doozy.  There was a lot of traffic on the way home from work.  AND I forgot to defrost the chicken I wanted to make for dinner.  AND I had to pick up one daughter who I thought had a ride home.  AND my other daughter wanted "to go study at the library, can I please have dinner right now?" AND I had a headache.  Can you see my grumpy face?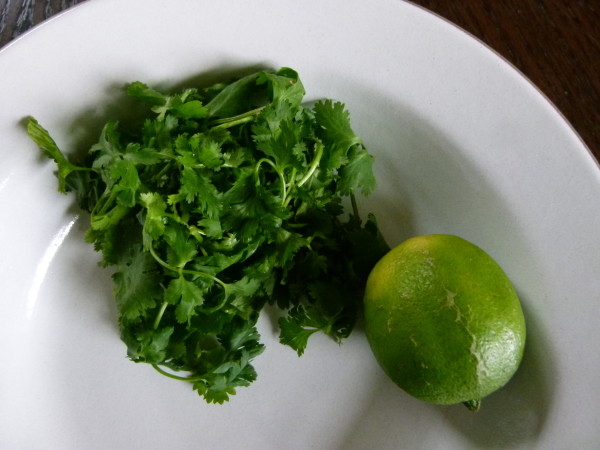 I had this whole orange chicken thing planned with spicy sweet potatoes and sautéed spinach.  Sounds nice, right?  Well, the chicken was frozen solid and I had no time to roast sweet potatoes.  You know what cooks really fast?  White rice.  I know, it has nothing going for it.  A totally devoid food, nutritionally-speaking.  However, white rice is a bit easier to digest than brown and as the well-respected nutritionist Linda Prout claims, you can close the nutritional gap with white rice by eating a few extra forkfuls of spinach.  And did I mention my headache?  Sold!  White rice it is!  And with some doctored up black beans out of a (BPA-free can), I would figure something else out so that I wouldn't need to get take-out.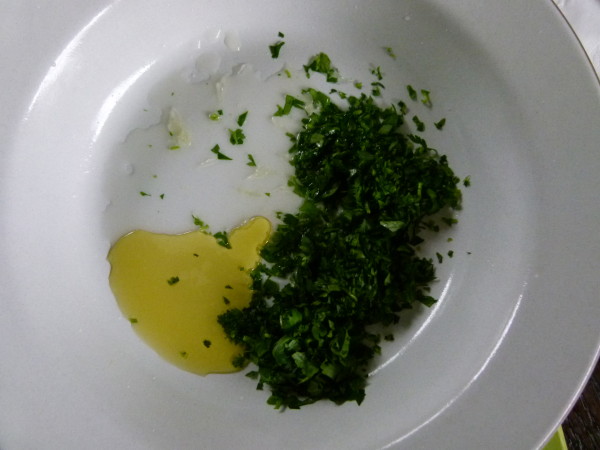 It's not that I am completely opposed to take-out once in a while.  But where I live, there really aren't too many good take-out options and what is decent is so expensive.  Even with a headache, it doesn't make me happy to spend $80 on dinner for the five of us when I know I can make something good for under $20.  And the meal I put together on this particular night probably cost me under $10.  For the five us.  And I didn't have the guilt of throwing away a hundred plastic to-go boxes and bags.
One fast-food restaurant that my family likes is Chipotle, which we never get here at the beach, but I always google when I am traveling for a soccer tournament with Mr. Picky and I'm in the middle of who-knows-where.  We all love rice and beans, especially the kids and Chipotle has a yummy cilantro rice that I thought would be perfect with beans and some quick veggies.  It ended up being a really satisfying, nutritious and easy meal that the kids asked me to make again.  I've noticed that anytime the kids get to "assemble" their own dinner, they are very pleased.  I put out the cilantro-lime rice, black beans, two fresh salsas that I purchased at the farmer's market, my cheater guacamole, leftover grilled asparagus and some quick-roasted carrots.  Everyone except Mr. Picky made deconstructed burrito bowls which were DELICIOUS.  He, of course, can't have have different food groups touch each other, so 4 bowls and 1 plate, please.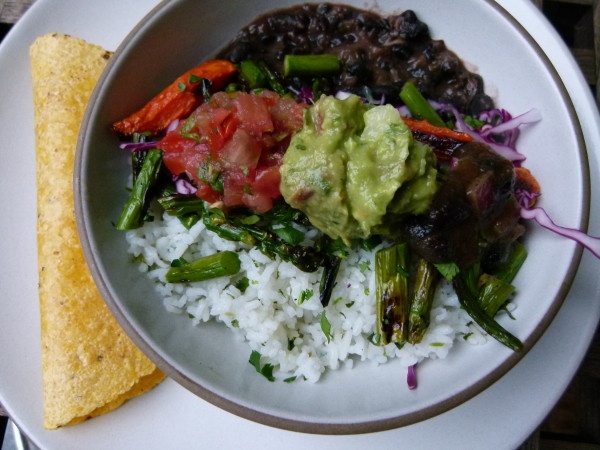 I know a few of you will frown at my white rice, but I also believe in keeping it real.  The internet and social media allow people to show the side of themselves that they want to be shown, which is usually only what is positive and perfect and sometimes unrealistic.  It can be a bit daunting to think that the grass is always greener on the other side or that every food blogger can seamlessly put together a visually perfect, well-balanced, delicious meal every night.  That is certainly not me and I can't say that I aspire to that level of competence.  But rather I hope that whatever curveball life throws me whether it's in the kitchen or out, I will find a way to roll with it and not worry about the fiber content.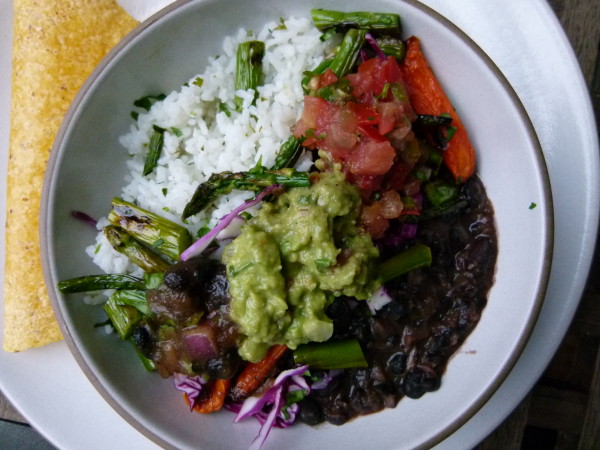 Cilantro-Lime Rice
Author:
Pamela, adapted from Skinnytaste.com
Ingredients
1 cup long-grain rice or basmati rice, brown or white
2 cups water
2 teaspoons unrefined olive oil, coconut oil or unsalted butter
1 clove garlic, crushed
1 teaspoon sea salt
juice of ½ lime
3 Tablespoons chopped fresh cilantro (chop, then measure)
2 teaspoons unrefined olive oil
Instructions
If you have time, soak the rice in a bowl with lots of water to cover. Allow to sit at room temperature for 1-8 hours. Drain. If you're not sure why you should soak your rice, read this post on arsenic and rice.
In a small saucepan, add drained rice, 2 cups water, 2 teaspoons oil or butter, garlic and salt. Bring to a boil, lower to a simmer and cook covered for 15 minutes for white rice or 45 minutes for brown rice. (If you didn't have a chance to soak your rice, cook another few minutes.) Turn off the heat and allow to sit covered for an additional 5 minutes.
In your serving bowl, combine lime juice, cilantro, remaining 2 teaspoons oil and cooked rice. Toss to combine.