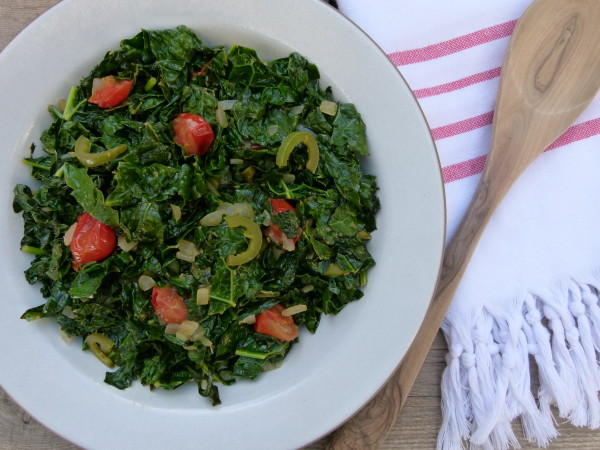 You know what never happens?  I never make at home for dinner something that I am currently teaching in one of my classes.  Why?  Because I normally eat it several times a week and I am not super motivated to eat it any more than that, no matter how good it is!  This is even more true towards the end of the month after I have taught the same recipes a dozen or more times.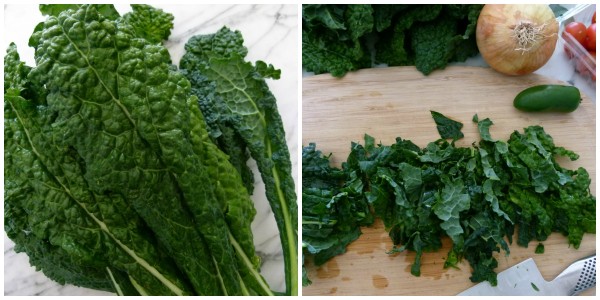 Well, never say never because I have been teaching this Mexican-style sautéed greens recipe all month and I made it for dinner Monday night.  Why?  Because there is never any left after my class!  Everyone has just gone crazy for this recipe and finished every last morsel before I had my chance.  I look forward to these slightly spicy, tart greens and then….none for me.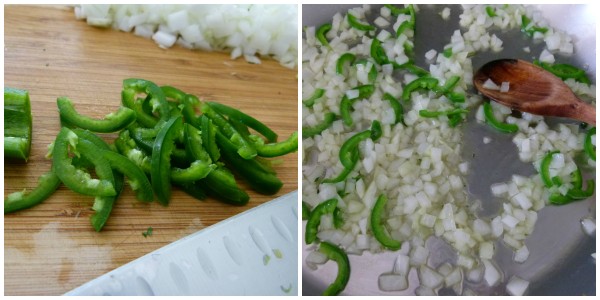 I am really obsessed with Mexican food.  I love the bright, fresh, punchy flavors.  And the ingredients are easy to come by in Southern California.  I do find it hard, though, to come up with a wide variety of vegetable side dishes to complement whatever Mexican main dish I am making.  I have a lot of salads in my repertoire.  If you haven't tried my Mexican Chopped Salad or my Avocado, Jicama and Mango Salad or the Cilantro Lime Slaw, those are just fabulous and deliver a lot of nutrition at the same time.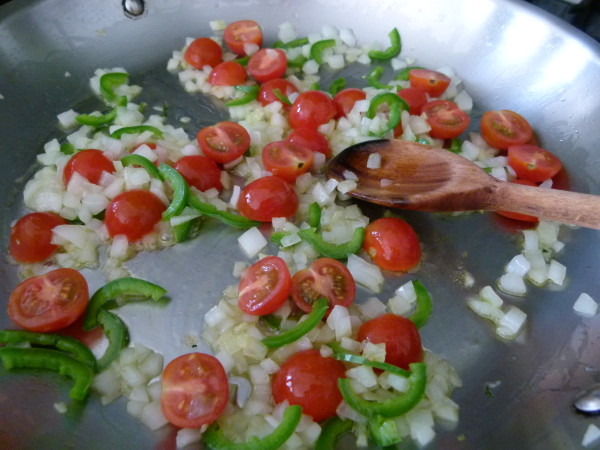 But when I stumbled up this recipe for Quelites, I knew I found a new favorite Mexican side dish.  Quelites actually refer to a type of weed, also known as lamb's quarters, but in the above mentioned recipe, mustard greens are used.  Mustard greens are a tad bitter for my husband and Mr. Picky, so I tried this recipe with lots of combinations of milder greens, like spinach, baby kale and chard, as well as dinosaur kale.  Love, love, love, love, LOVE!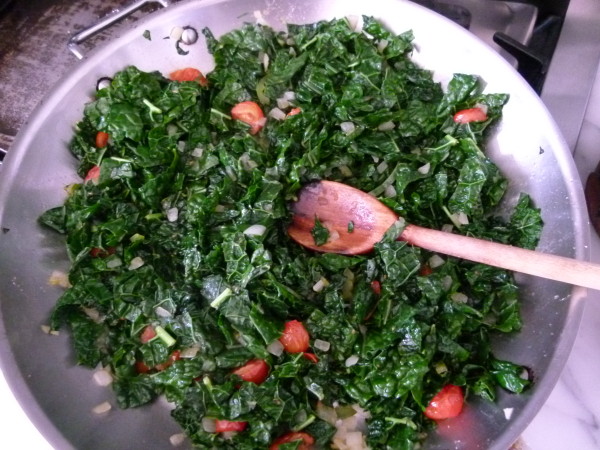 What I like best about this recipe is how the acidity from the lemon juice and the sweetness from the tomatoes tone down any bitterness from the greens (if you're using mature kale, for example.)  I don't think this recipe is very hot, even with an entire jalapeño, although I do remove the seeds, which is where the heat is more concentrated.  But it's hot enough for my heat-averse guys.  I just add a few shakes of hot sauce to my greens and I'm happy.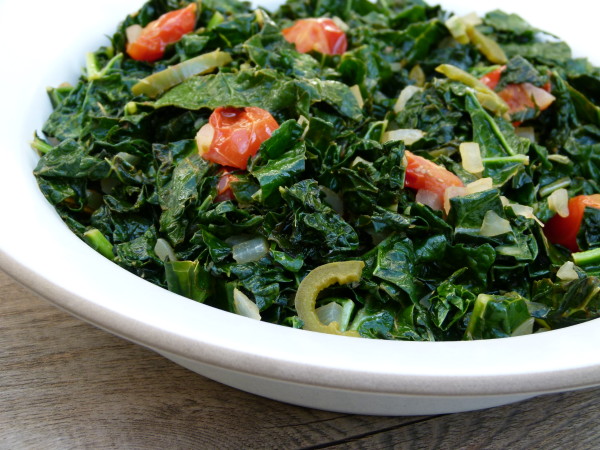 I have eaten these Mexican-style greens with rice and beans (so simple and so good!), as well as chicken enchiladas and tacos.  If you follow me on Instagram or Facebook, you saw that I made them for dinner this week with a veggie paella (Spanish, not Mexican, but so what) and then the next day with scrambled eggs and a corn tortilla.  Whatever you're making for Cinco de Mayo, this will be the perfect, healthful side!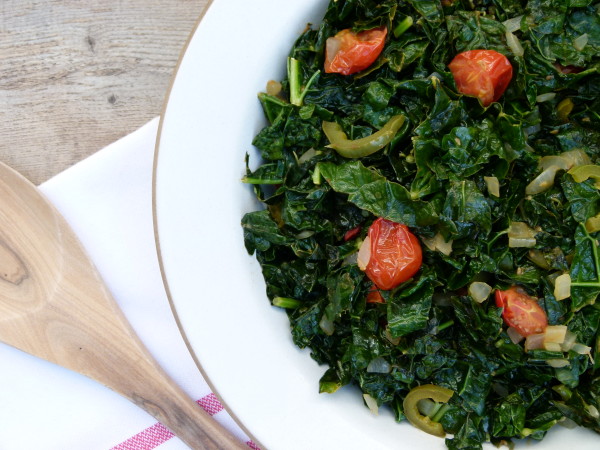 Mexican-style Sauteed Greens
Ingredients
1 Tablespoon unrefined, cold-pressed, extra-virgin olive oil
½ onion, finely diced
1 jalapeno, thinly sliced (remove seeds to make it milder)
1 cup cherry tomatoes, halved
1 pound kale, stems removed and leaves cut into strips or 10 ounces baby greens such as baby kale, Swiss chard and spinach
Sea salt and freshly ground black pepper to taste
1 Tablespoon fresh lemon juice
Instructions
In a large sauté pan, heat the oil over medium heat.  Add the onion and jalapeno and cook until onion is tender and translucent, about 3 minutes.
Add tomatoes and cook for another 2 minutes, or until tomatoes just start to lose their shape.
Add the greens and a sprinkle of sea salt and black pepper.  Cook, stirring frequently, until greens are wilted and just tender.  Sturdier greens will take longer than baby greens.
Pour lemon juice on top and taste for seasoning.  Serve immediately.