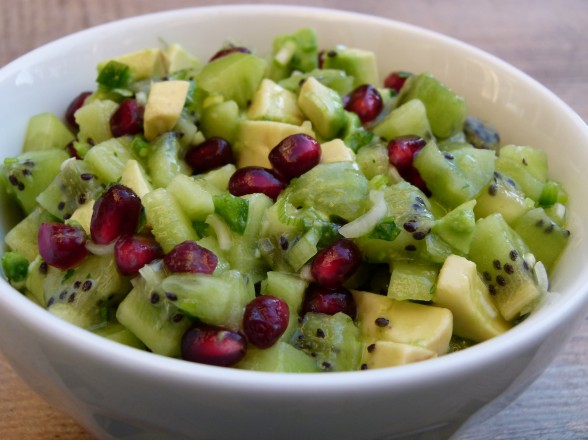 Have you ever looked at recipe and thought there was an ingredient that could be omitted no big deal?  But then afterwards you realize that maybe it was there for a reason.  I swear I don't think I zested a piece of citrus for 20 years because I didn't know any better.  Entire recipes, too.   Sometimes I've passed on recipes that I learned later were really great.  I'm still learning what kinds of recipes work for my family and me and it always helps to get recommendations from friends who eat the way we do.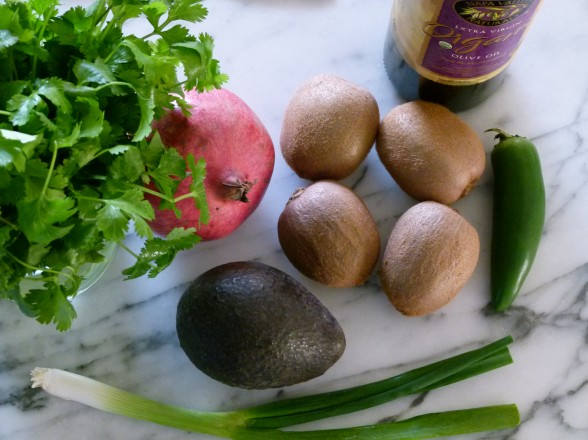 I was at the farmer's market a few weeks ago buying pomegranates and a woman standing next to me asked me what I was going to do with all of them and how one eats pomegranates.  I was very enthusiastic giving her all sorts of suggestions from yogurt parfaits to salads to cocktails, all very standard and common, I'll admit.  Then this other woman out of the blue asked, "have you ever tried pomegranates in guacamole?"  Show-off.  No, I haven't nor had I ever heard  of such a thing.  I thought to myself it sounded a little out there and I planned on NOT trying it any time soon.  So I took my pomegranates home to my granola and greens and that was that.

Then last week I was teaching at my friend Lisa's house and she was telling me about her CSA boxes and how exciting it has been receiving such great produce every week.  Lisa said she had gotten so many kiwis the last few weeks that she was forced to find a few new delicious ways to enjoy them, including an amazing kiwi salsa with pomegranates.  Light bulb.  Oh really?  Tell me more.  She had made a very easy chunky salsa that was more tart than sweet, but had creamy avocados and crunchy pomegranate seeds.  The universe was telling me to make this no matter how crazy it sounded.  I love kiwis as much as the next person and you know I am mad for pomegranates and avocados, so how bad could it be?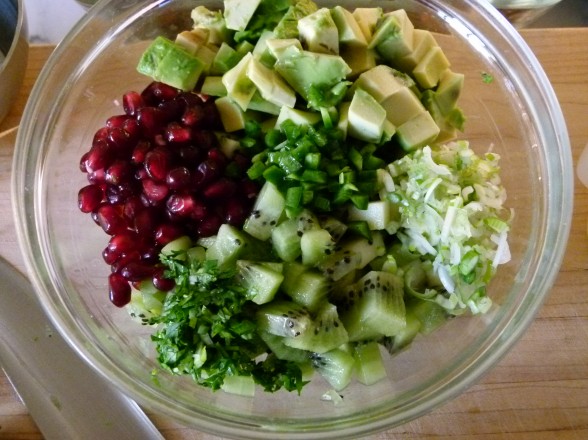 A few nights ago I planned on pan-seared wild halibut with the salsa plus some cilantro rice and cauliflower.  I wouldn't say that fish gets everyone super excited in our house, except me of course.  And Daughter #2 is still on her anti-seafood campaign.  But everyone FREAKED out over this salsa and the fish.  My husband said, "I have to say I am delightfully surprised by how much I like this.  This salsa is fantastic."  He's really not as dorky as he sounds. He and Mr. Picky polished off their fish and salsa and then proceeded to finish the remaining salsa with tortilla chips.  Mr. Picky even suggested making the salsa with fish tacos.  Success!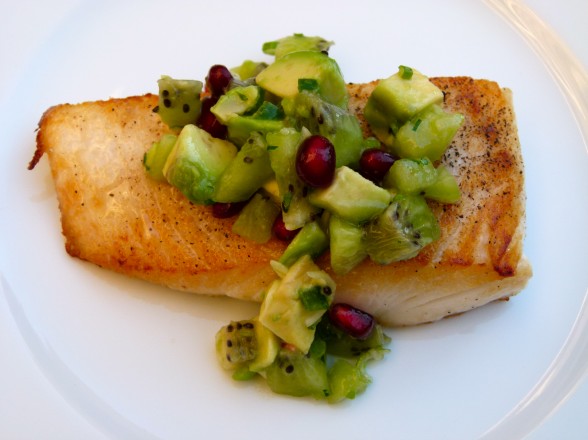 This was not as sweet as a mango or pineapple salsa, which the hubby doesn't care for.  Instead kiwis and pomegranates are both a little tart, probably more tart than a peak-of-summer tomato.  And it's a great option for the winter when all these ingredients are in season.  Plus, it's super nutritious!  Kiwis, pomegranates and jalapenos are loaded with Vitamin C and antioxidants.  And avocados have amazing healthful fats and Vitamin E.  All great beauty foods!  I made this two hours ahead of eating it in the 15 minutes I had between coming back from dropping Mr. Picky off at soccer and picking up Daughter #2 to go to music lessons.   What is better than fast and easy?  I think I'm I'm going change up our standard Super Bowl fare and make a bowl of this.  It's a new year people and I'm going to act like it!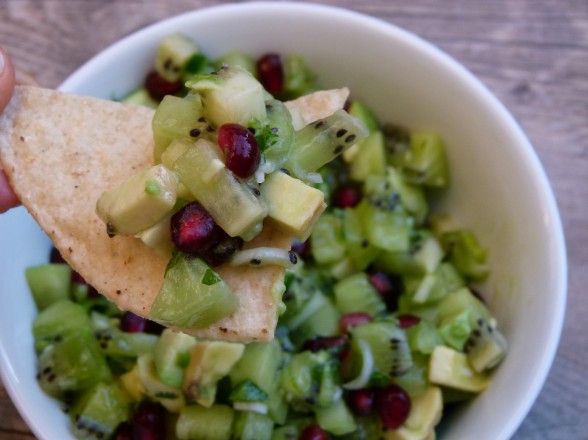 Kiwi Salsa
Author:
Pamela, adapted from simplyrecipes.com
Serves:
makes about 1½ cups
Ingredients
1 cup diced peeled kiwifruit, about 3-4 kiwis (don't choose kiwis that are too soft)
¼ cup pomegranate seeds (see how to seed a pomegranate)
½ an avocado, peeled and chopped
1 Tablespoon thinly sliced green onion (white and light green parts)
½ Tablespoon minced fresh, seeded jalapeno (or more or less according to your desired heat level)
1 teaspoon finely chopped fresh cilantro (about 6 sprigs) -- you can add more, but I was rushing to finish this
1 teaspoon unrefined extra-virgin olive oil
a few pinches of sea salt or to taste
Instructions
In a medium bowl, gently combine all ingredients so you don't mash the avocado and kiwi. Taste for seasonings, specifically jalapeno and salt, and adjust accordingly. I like to let salsas sit for an hour or so to allow the flavors to meld. Keep covered so the avocado doesn't brown.