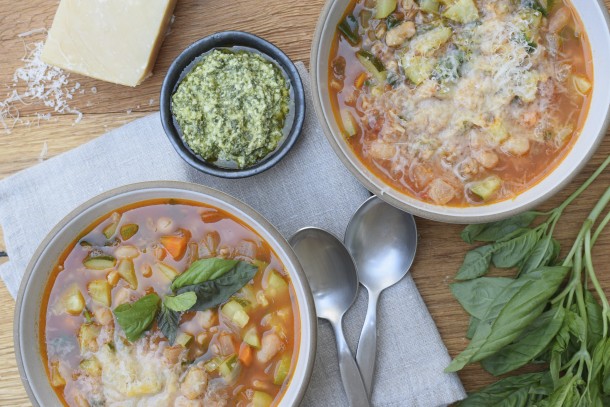 Oh, I am not very good at goodbyes.  And saying farewell to summer is just inevitable now, isn't it?  My minestrone soup is one of those recipes that bridges summer and fall.  Zucchini and tomatoes are still plentiful in the farmer's markets, but the weather is showing signs of cooling down.  We've had a few chilly and foggy beach days in the last week and that was my signal to make this favorite soup of ours.  The word minestrone means "big soup" in Italian.  To me it means, "use what you've got, " especially lots of veggies.  No matter what, it's always hearty enough to be called a meal, but light enough for the season.  My mom used to make it with elbow macaroni or the smallest of pastas, but I adore farro and find that it adds a heartiness that the pasta doesn't.  Plus, it has more to offer in the way of fiber and protein.  Combined with white beans, this is a well-balanced meal that almost always makes its way into thermoses in tomorrow's lunch box.  Have I mentioned lately that making school lunches is not my favorite morning pastime?  I know, I'm such a whiiiiiner.  But Daughter #1 is trying to be an overachiever this year and start school at 7:00 am.  Do you know what this means?  I need to be making lunch around 6:00 am OR I could just reheat minestrone five minutes before we need to leave the house.  Sounds like a plan!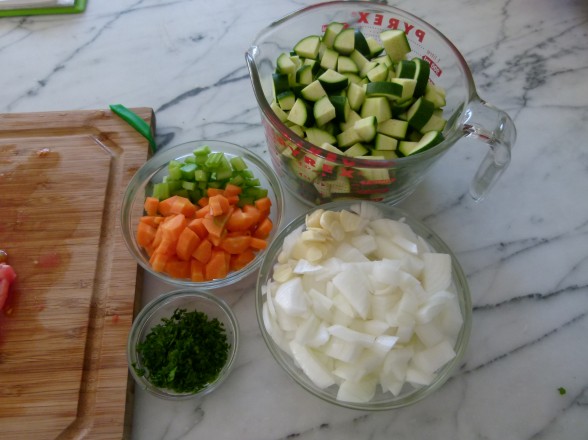 As the seasons change, so does this soup.  I have used jarred tomatoes instead of fresh, and frozen shelled peas and cabbage for the zucchini.  Don't be put off by the piece of rind from a wedge of Parmesan cheese.  It's a little secret ingredient found in so many Italian kitchens.  One you see how delicious it makes this soup, you'll never throw it out again!   My mom would make this soup or pasta e fagioli whenever we would come to the end of a piece of Parmesan.  In my house, my kids and husband love this soup so much that we buy buy the cheese just for the rind!  Mr. Picky even likes this soup.   His favorite thing to do is add a leftover meatball, chopped up into his bowl and he'll have seconds, thank you very much.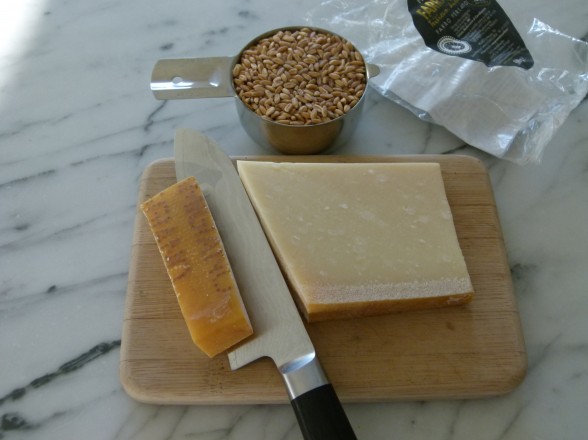 This week I will be harvesting almost all the basil and parsley in the garden and making a mountain of pesto to freeze in small quantities for the upcoming months.  At least I can make summer last a little longer in my own way.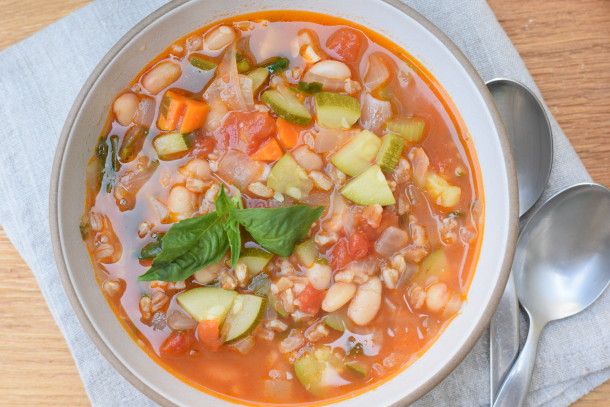 View this post on Instagram

 

 
Late Summer Minestrone
Ingredients
2 Tablespoons unrefined, cold-pressed extra-virgin olive oil + more for drizzling
1 onion, coarsely chopped
1 stalk of celery, coarsely chopped
1 carrot, coarsely chopped
2 garlic cloves, thinly sliced
1 pound of fresh tomatoes, peeled, seeded and coarsely chopped or 1 14.5 ounce can, diced with juice
2 Tablespoons chopped, fresh flat-leaf parsley
Sea salt
Freshly ground black pepper
6 cups chicken or vegetable stock, preferably homemade
¾ cup farro
Piece of rind from a wedge of Parmigiano-Reggiano cheese (if you have it)
4 small zucchini, medium dice, about 4 cups
1 ½ cups cooked white beans (e.g. cannellini, Great Northern), rinsed if canned
Handful of greens, coarsely chopped
Chopped basil leaves or pesto for garnish (optional)
Freshly grated Parmigiano-Reggiano or Pecorino-Romano cheese
Instructions
Heat the olive oil over medium-low heat in a large, heavy-bottomed pot, and add the onions, carrot, celery and garlic. Cook until the vegetables have softened, about 10 minutes. Do not allow the vegetables to brown.
Add the tomatoes with the juice, parsley and ½ teaspoon sea salt. Cook for 5 minutes more, until the tomatoes are fragrant.
Add the stock and 2 teaspoons of sea salt and bring to a boil. Add the farro and the parmesan rind and bring to a boil again. Lower the heat so that the soup simmers. Cook about 15 minutes.
Add the zucchini and cook another 10 to 15 minutes, until the farro is tender but still has a little "toothiness."
Add the cooked beans and heat through. Add more stock, if desired.
Add the chopped greens and stir until wilted. Adjust seasonings and serve with chopped basil leaves and freshly grated parmesan cheese and/or drizzled olive oil on top or a spoonful of pesto.