It's a long weekend for my family, yippee!!  I hope you are getting a little extra time off, too.  I have a few fab items I've been loving lately and sharing with my cooking class students.  Let me know what you think!
Jovial Foods Organic Tomatoes in GLASS Jars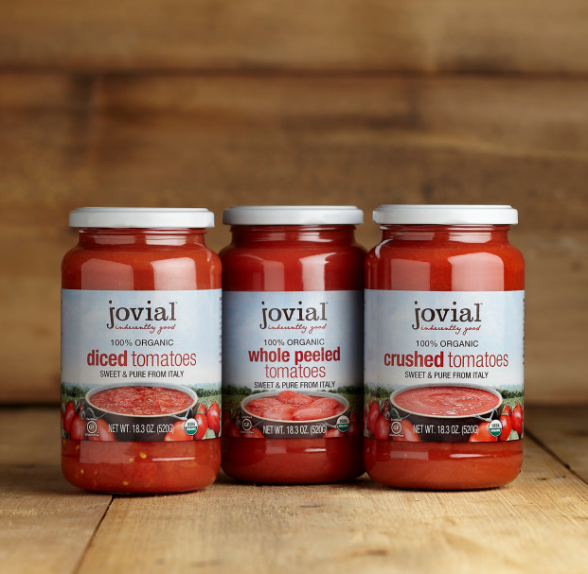 I don't even know where to begin with the issues that I have with aluminum cans.  In my opinion, cans are kind of a disaster no matter if they are lined, unlined, or BPA-free.  And canned tomatoes are the worst—tomatoes are highly acidic, which causes the BPA to leach more quickly into the tomatoes that you are about to turn into sauce.  Not good.  And don't be fooled by claims of a "BPA-free can."  The BPA has likely been swapped with something like BPB, which is just as toxic as BPA, or it's completely unlined.  I always say fresh is best, but in the winter tomatoes are not in season and I rely on jarred.  So what to do??   Jovial Foods jars diced, crushed, and whole tomatoes in glass so no worries about BPA or metals leaching.  I love glass!!!  And..wait for it.. they are organic!   Tomatoes are becoming a GMO food when not grown organically, so this is a major, major plus.   Just note that most canned tomatoes are in 15- or 28-ounce quantities and Jovial jars are 18.5 ounces.  I get mine at my local Whole Foods, and you can also get them on Vitacost.  I usually wait for them to go on sale at Whole Foods and then I buy a couple cases to get an additional 10% off.  (There are only 6 in a case.)  There are other brands of tomatoes in glass jars and tomatoes in tetra-paks, but Jovial is my favorite.
Kenu Airframe Cell Phone Car Mount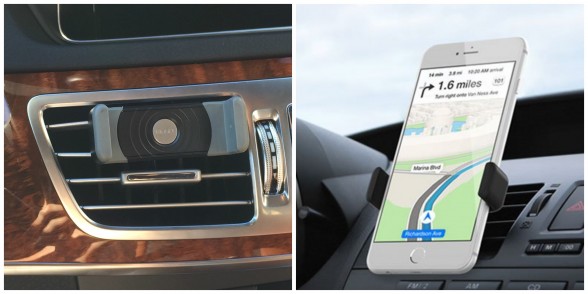 My husband did it again.   He found me another gadget which made me say, where has this been all my life?!  This little device is a true lifesaver for me when I am navigating through the streets of LA and trying to listen to my Waze app tell me where to go.  This handy holder clips onto the air vent in your car leaving my cell phone in perfect view and hands-free, so no more glancing down so check where my next turn is.  It is very slim, light and unobstructive which are even more reasons I love it.  And trust me, it is going to cost you a lot less than a ticket and is available on amazon with free shipping!
Norpro Silicone/Fabric Oven Mitts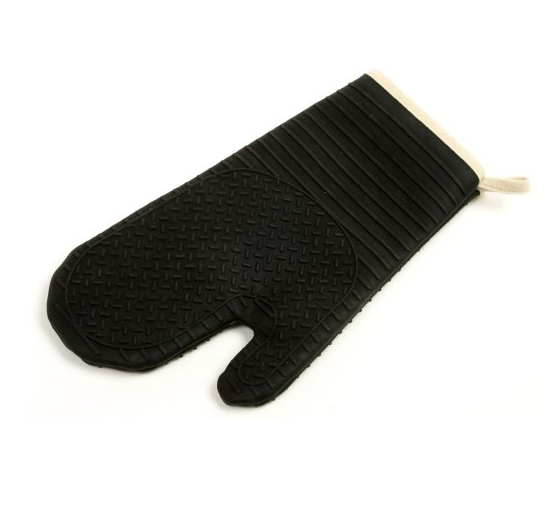 My students are constantly asking me about these oven mitts whenever I use them during class.  I'm not going to lie- when I first saw these mitts, I thought they were probably the most hideous things I have ever seen.  Especially considering how many cute and chic ones there are out there!  However, these have become my absolute favorite, go-to, most functional oven mitts ever.  The outside of the mitt is silicone which is very durable and not only protects your hand brilliantly from high heat but has a great grip and is totally water resistant and easy to clean.  This is my first set of oven mitts that I haven't set on fire or shrunk in the wash!  What sets these apart from other silicone gloves however is that they are lined with fabric, so you still get the comfort of a fabric glove with the functionality of silicone.  Every other silicone mitt I have tried is super stiff, but not these.  The store where I bought mine is no longer in business (buggers), but you're in luck because they have them on Amazon!  And while I have them in black (for under $10 no less), they come in other fun colors such red, blue, and even hot pink!
Superfood Spotlight:  Ginger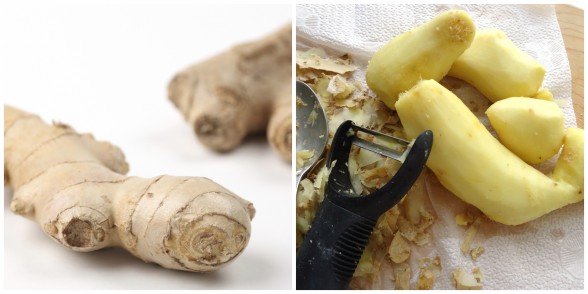 Although we are enjoying a heat wave right now here in Southern California, you would think it was the dead of winter with how many people have been getting sick lately!  And I know a lot of you around the rest of the country are experiencing anything BUT a heat wave, so it sounds like we all need a little ginger in our lives.  Ginger root is extremely beneficial to our health in more ways than one.  It is very warming to the body, which is important for all of you experiencing below zero temps this week.  It is also amazing for boosting our immune system, which is something we all need this time of year.  And to top it all off, ginger is very anti-inflammatory in the body, which can help us combat some of those free radicals we may have been consuming all winter long, when we have more of a tendency to heat our oils and foods rather than consume them raw.  Fresh ginger is definitely the way to go as not only is it much more beneficial to our health but the taste is fresher, stronger, and better than dried!  Fresh ginger is available at most supermarkets year round.  I have tons of recipes on my site that use fresh ginger, including ones for salad dressing, fish, curry, roasted carrots and even a turmeric tonic, my personal fave. And of course, ginger is always a great addition to juices and smoothies for an extra zing of flavor and nutrition.  Just be a little conservative if you're juicing it, since a little goes a long way.  Fresh ginger can be stored in the fridge for a few weeks or I also like to freeze mine, peeled, which makes it much easier for grating and chopping.
Seasonal produce:  Kale Sprouts, aka Kalettes

What do you get when you cross 2 of my absolute favorite winter vegetables into one?  Kalettes/Kale Sprouts!  This brand new hybrid, non-GMO, vegetable hit the market last year and I have been getting mine by the bag at my local Trader Joes.  They have a chewy texture with a slight peppery bite that I think you will love!  And, you are getting the nutritional benefits from both the kale and the brussels sprouts- it's a win win!   My favorite way to eat them is by simply roasting them in oven with coconut oil and salt and pepper at 400 degrees for 10 minutes.  How great is that?  10 minutes!!  Or I love adding them to my Italian Fried Rice recipe or in a frittata.  Kalettes are definitely still a new thing so there aren't a ton of recipes around the web yet for using them (aside from roasting and making "chips).  But don't worry, I am on it and will come up with a delicious recipe for you to use your kale sprouts just in time for them to be as common at the markets as carrots!  In the meantime, check out this link on the Kalettes website for a bunch of recipe and more info.