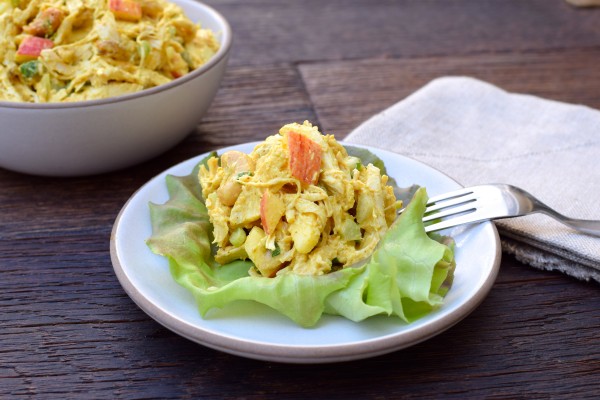 I'm sure you all pushed away your keyboards and ran into the kitchen to poach chicken after Monday's post, right?  Perfect!  Now let's do something healthy and delish with your chicken.  I have a recipe for the BEST curried chicken salad I have ever eaten!   Even my family, which to my chagrin prefers more "simple" flavors, loves this salad.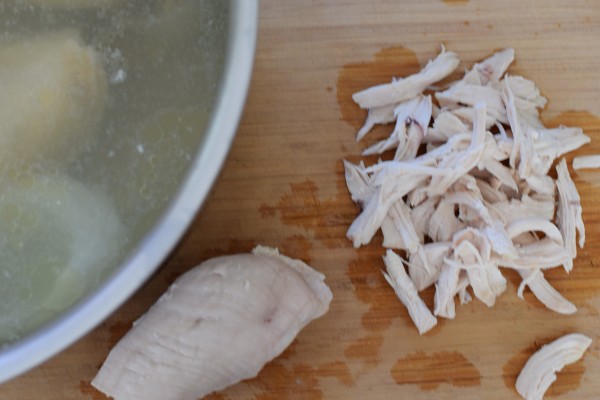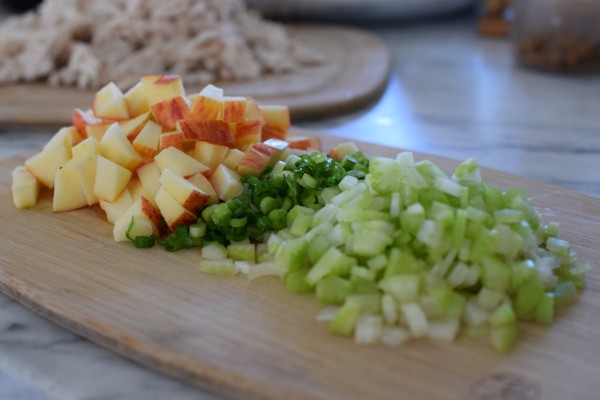 I thought it would be a great time to post this curried chicken salad since you might be looking for some new options for school and/or work lunch.  At it's most basic, curried chicken salad is just what it sounds like — chicken salad with curry mixed in.  I use a yellow curry powder, which is a blend of different anti-inflammatory spices like turmeric, cumin, coriander, fenugreek and many others.  But as opposed to basic, standard chicken salad to which I add celery and onion, I like to add a little something sweet to balance the curry.  My husband and I disagree on whether diced apple or halved grapes is better.  I think they're both good, but since I am a sucker for crunch, I usually add apples.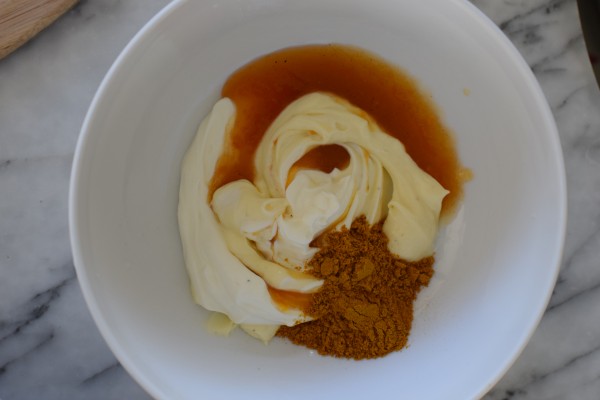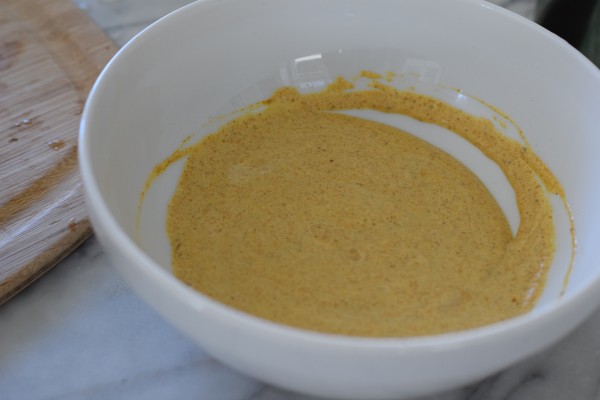 I used to make Ina Garten's version with Major Grey chutney and white wine, but the chutney is not something I usually use and it was taking up space in the fridge.  So I created my own blend of ingredients, including apricot preserves, to mimic the sweet, hot, tart flavor of the chutney.  This is the best part of the dressing.  So, so good and flavorful!  I also like to use shredded, as opposed to cubed or diced chicken, because I think the nooks and crannies of the shredded chicken pick up more of the dressing.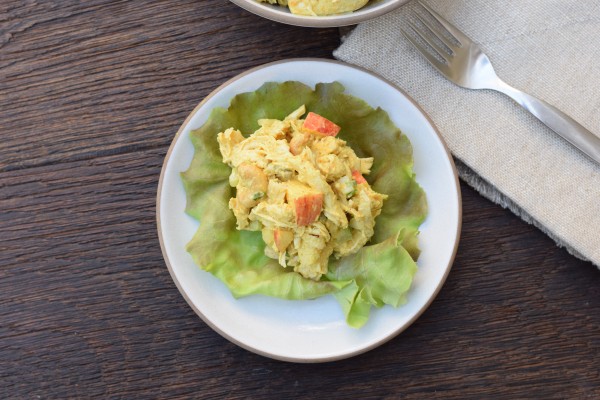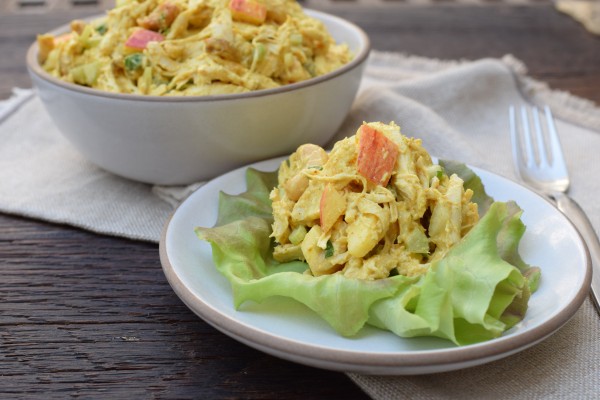 You can make it the day before and tuck it inside of a pita or 2 slices of hearty, whole grain bread.  Or, as I like to do it, eat it in a lettuce cup.  A little avocado would put this over the top!  Feel free to make this spicy or change up the preserves.  I think any variation of orange, apricot, peach or kumquat would be great.  I like the St. Dalfour brand which is sugar-free and without added preservatives.  I think this might become your new favorite chicken salad!  For you vegheads, I may try to do a tofu version of this.  How does that sound?!

Curried Chicken Salad
Serves:
about 2 quarts, serves 6
Ingredients
3 bone-in, skin-on chicken breasts (technically split breasts), about ¾ pound each
½ small onion, peeled
4 large garlic cloves, smashed
1 Tablespoon additive-free kosher salt
2 stalks celery, diced
2 scallions, white and green parts, chopped
1 cup chopped apple (about 1 medium apple) or 1 cup grapes, halved
¼ cup golden raisins (or dark raisins, if you prefer)
½ cup roasted, salted cashews, chopped (slivered almonds are also good)
½ cup plain, whole Greek yogurt
¼ cup mayonnaise (I like soy-free Vegenaise)
3 Tablespoons apricot or peach preserves, preferably no sugar added like St. Dalfour
1 ½ tablespoons curry powder
2 teaspoons white wine vinegar
½ teaspoon sea salt + more to taste
¼ teaspoon ground ginger
pinch cayenne pepper
butter lettuce or sandwich bread, for serving
Instructions
Place the chicken in a saucepan with the onion, garlic, salt and peppercorns and add water to cover.
Bring to a boil over high heat, reduce heat to low, cover and simmer until the chicken is just cooked through, about 25 minutes.
Allow chicken to cool in the poaching liquid.
Remove the skin and bones and shred the meat into large, bite-size pieces. Set aside in a large bowl.
Add the celery, scallions, apple or grapes, raisins and cashews to the chicken.
In a medium bowl, combine yogurt, mayonnaise, preserves, curry powder, vinegar, salt, ginger, and cayenne pepper.
Pour on top of the chicken and salad ingredients and combine to coat well with dressing. Adjust seasonings to taste.
Store leftovers in the refrigerator for up to 3 days.
Notes
Or you can use 6 cups of shredded, already cooked chicken instead of poaching chicken from scratch.