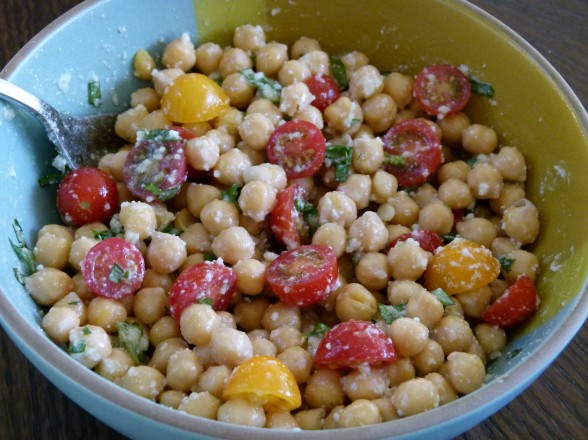 Summer around my house is very loosey-goosey.  We lack a bit of structure when school is not in session.  On any given night, it varies who will be here for dinner and I often find myself cooking for either just two people or for an army.  This can be tricky for me since I make my menu for the week every Sunday night, but over the years I have also learned how to be flexible and not anxious if I have enough fish for 5 and all of a sudden we're down to 2.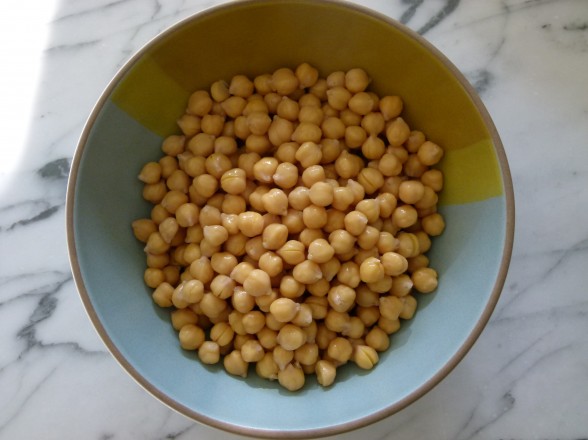 Daughter #1 and I found ourselves solo for dinner last night, but it was late and neither one of us had the motivation to do anything more than open a can of chickpeas.  Of course we're girls and we are just fine eating a meal without meat and still calling it dinner.  We made this chickpea salad and grilled up some zucchini, because who can eat a meal without zucchini in it these days?  It's taking over the world!!  Remind me next spring not to plant so much.  And the two of us stood at the kitchen counter leaning over the salad bowl shoveling in spoonful after spoonful of chickpea salad, exclaiming "this is so good!" after every bite, alternating with dropping ribbons of grilled zucchini in our mouths.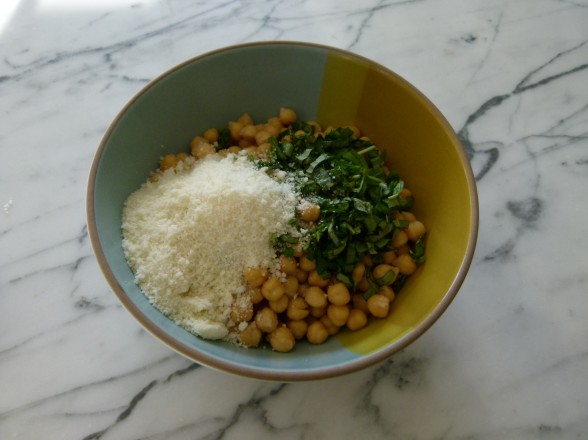 This is hands-down the easiest salad you will ever make and if you are growing your own basil, you likely already have everything you need to put this together in five minutes.  Thank goodness for pantry staples!  This is fabulous to bring to a barbeque or picnic since you can make it ahead and nothing happens to it.  It's even great the next day.  Last night I added halved cherry tomatoes at the last minute and I have also thrown in chopped, blanched green beans to make it more substantial.  Be forewarned, there is a nice punch of raw garlic which I love, but if you don't care to eat garlic, you can just smash it and add it for a subtle undertone.  The idea is to make a salad with all the flavors of pesto without having to make pesto.  Actually, the idea of this salad is to barely do anything at all, but still eat something utterly delish.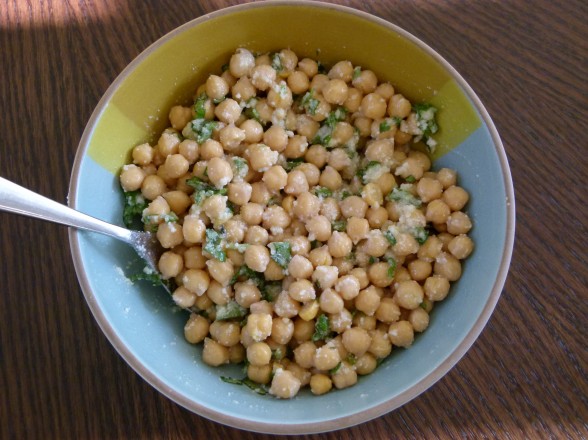 View this post on Instagram

 

 
Chickpea and Deconstructed Pesto Salad
Ingredients
3 cups cooked chickpeas or 2 15-ounce cans, rinsed and drained
¼ cup chopped fresh basil leaves
2 small garlic cloves, minced
3-4 Tablespoons freshly squeezed lemon juice (about 1 lemon)
3 Tablespoons unrefined cold-pressed extra-virgin olive oil
½ teaspoon fine grain sea salt or to taste
freshly ground pepper to taste
⅓ cup grated pecorino-romano (sheep's milk cheese) or parmesan cheese (cow's milk cheese)
Instructions
Combine all salad ingredients in a serving bowl and toss well to combine. That's it!
Notes
Also delicious with halved cherry tomatoes (see lead photo), arugula and/or blanched green beans. I added some thinly sliced radicchio once and that was nice, too.