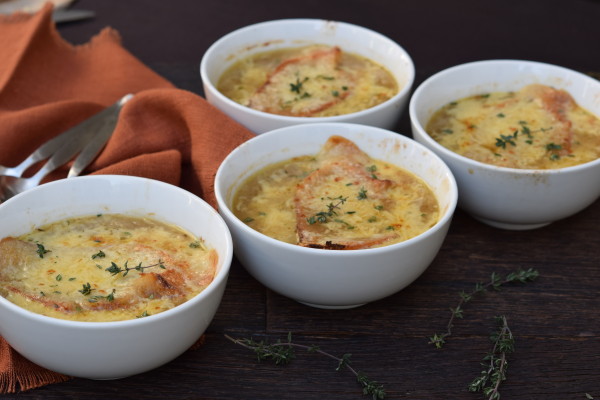 If it wasn't winter before this week, it sure is now. Not in Southern California, of course.  But for the rest of the country.  Although people in LA dress like it's zero degrees when it's 55.  It's totally funny.  I cracked up when I saw this post on Pinterest last week: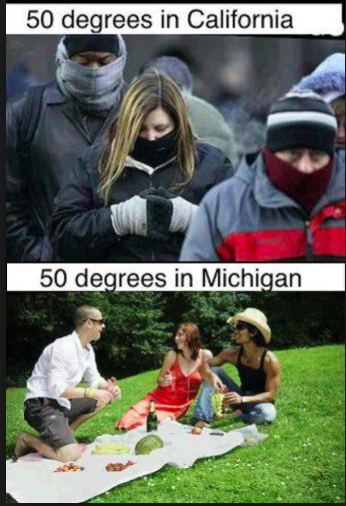 So I figured that everyone would be in the mood for soup this week, no matter where you live!  I had completely forgotten about this delicious French onion soup I taught two years ago, until my husband asked me to make it.  My entire family, Mr. Picky included, are big soup fans and I love making it.  In general, soups are easy, flexible, reheat well and a good way to consume homemade bone broth, which I am convinced is so healing, immune-boosting and good for digestion.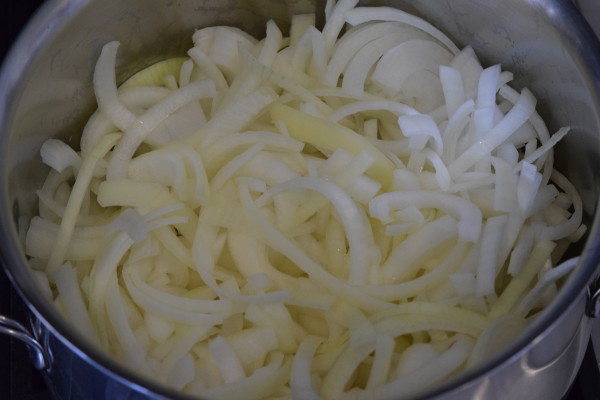 French onion soup is a classic, and I am not necessarily reinventing the wheel here, just sharing the way I like to make it.  And isn't that the beauty of cooking?  Figuring out how to tweak recipes to your liking?  I prefer an onion soup that is loaded with onions and with a rich and flavorful broth.  I've tasted a few very lackluster onion soups and that is not this one!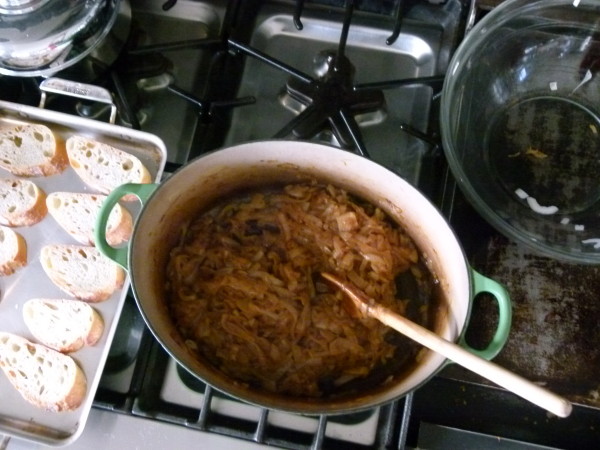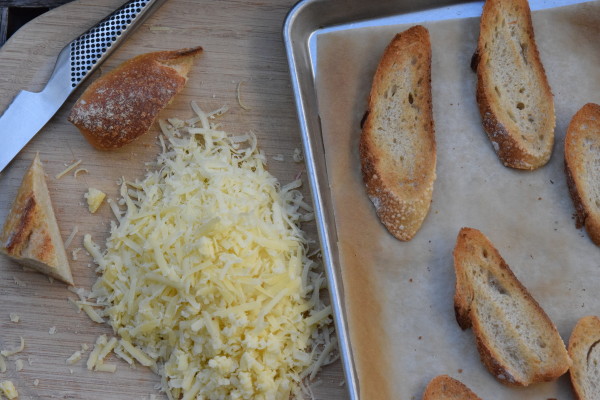 The key to the broth is good stock and the proper alcohol.  Yes, you can serve soup with alcohol to children since the alcohol is burned off in the simmering process.  My kids have had plenty of alcohol in cooked foods and were not affected in the slightest.  Brandy or vermouth plus some white wine are my favorites.  I do not love this soup with red wine, personally.  Another tip I can offer is using the slicing disc in your food processor to slice all the onions.  It will take you all of 1 minute with no tears to do it this way.  If you have no food processor, get out your best knife and get close (not too close) to a big open flame, like a gas burner on your stove, and slice away.  The flame from the stove will burn the gases from the onions and you won't cry.  Promise!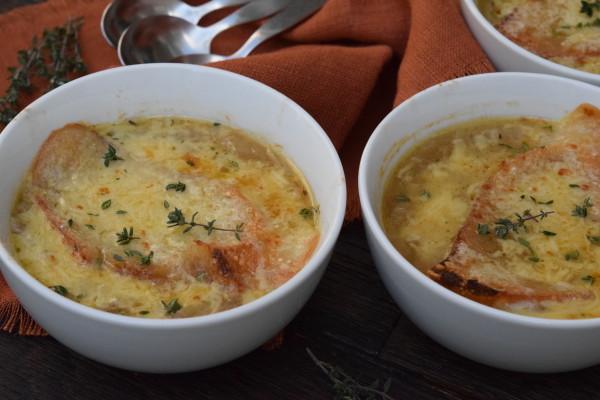 As for the cheesy toast, I personally don't add the traditional Gruyere toast on top to mine because I can't eat too much dairy, but my family loves that part.  My son adds toast only, I add chopped parsley, and my husband and daughters love toast + cheese.   I think it makes more sense to toast the bread and melt the cheese separately in the oven than broil it in the soup bowls.  The soup bowls get so incredibly hot and it's not safe at all to serve such hot bowls to kids (or anyone.)  It's much simpler to add the melted cheese toast to the soup bowl.  But you can broil it in the bowls, too.  I would serve this with a meal of roasted fish and a green vegetable or just a large, hearty salad.  This soup is all about comfort, warmth and total deliciousness.  One bite is like a cozy blanket wrapping itself around you.  What more could you need on a day like today?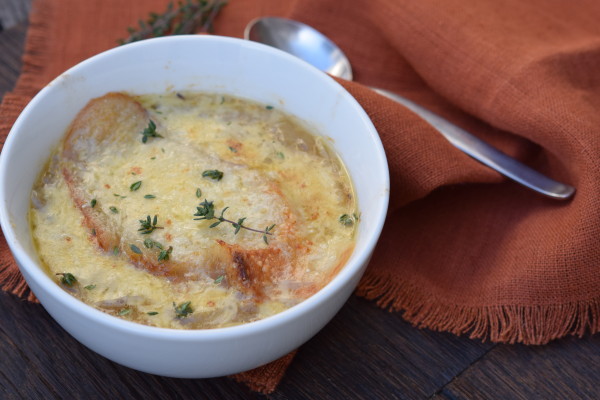 French Onion Soup
Ingredients
4 Tablespoons unsalted butter
4 pounds yellow onions (about 6), halved and cut into ¼-inch slices
2 sprigs fresh thyme
2 bay leaves
1 ½ teaspoons sea salt (double this if your stock is unsalted)
freshly ground black pepper to taste
1 cup dry white wine or dry vermouth
¼ cup Cognac or brandy
4 cups rich chicken stock, preferably homemade
4 cups high quality beef broth (or use mushroom stock or chicken stock)
6 ½-inch slices of baguette or French bread torn by hand
6 ounces Gruyere, shredded (or buy it pre-sliced)
a pinch of Parmesan cheese (optional)
Instructions
In a large, heavy-bottomed soup pot, melt butter over medium heat and add onions. COVER and cook 10 minutes.
UNCOVER, add thyme, bay leaves, salt, black pepper and cook onions until they are very soft and deep golden brown, stirring occasionally, about 45 minutes. I usually start at medium heat and then when I see the onions start to color, I drop to medium-low and then to low heat. This is the key step in this recipe. If the onions don't get golden, the soup won't have as much flavor. But you also don't want to burn the onions because then the soup will taste bitter.
Stir in the wine and Cognac, scraping the bottom of the pot.
Stir in the stock and bring to a boil. Lower heat to a simmer, and cook uncovered, stirring occasionally, about 30 minutes longer. Remove the bay leaves and thyme sprigs. Taste for seasoning. Keep in mind that if you are adding cheese, you will be adding extra saltiness.
In the meantime, preheat the oven to 400 degrees, arrange the baguette slices or bread pieces on a baking sheet in one layer and bake until lightly golden, about 10 minutes.
Preheat the broiler to high and position the oven rack 6 inches from the heat. Either top each piece of toast with a handful of grated gruyere and broil until melted. Divide the soup between 6 bowls and top each soup bowl with a piece of cheese toast. OR place 6 oven-proof soup bowls or crocks on a rimmed baking sheet and fill each with soup. Top with the toasted bread and then the cheese. Broil a few minutes until cheese has melted.
Notes
This soup tastes even better the next day! If you want to double this, caramelize the onions in 2 pots. Otherwise it's too many onions at one time.