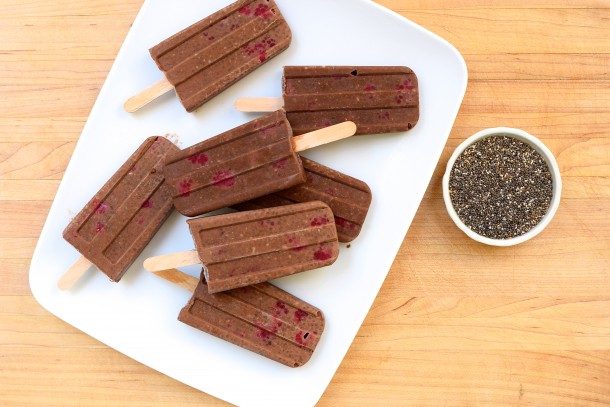 This is the last hurrah before school starts and then the recipes start getting more serious.  Throughout the summer, I've assembling more than cooking, presenting meals at irregular hours, winging it a bit.  But with the first day of school looming, I know I have to get my act together and have a plan for three well-balanced meals a day.  But until then, we'll keep eating these popsicles for breakfast or to cool off in the afternoon.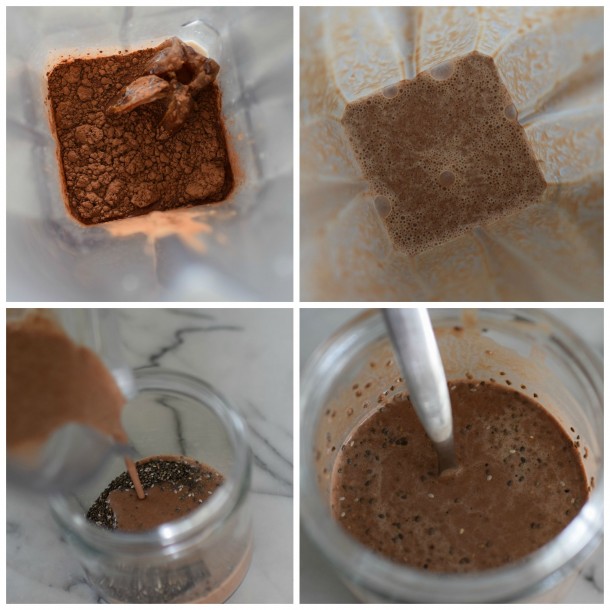 I'll let you in on a little secret:  my weakness (beside guacamole and chips) is ice cream.  I hardly ever eat it anymore, even the clean recipes I have on my site for dairy-free, refined sugar-free cashew ice cream.  Once I start, it's hard for me to stop, so I try to stay away from ice cream altogther.  But I still crave it, especially ice cream with chunks of something tucked inside like chocolate chips, nuggets of banana, a swirl of peanut butter or a salty almond.  Now look what I've done.  I've gotten myself all worked up.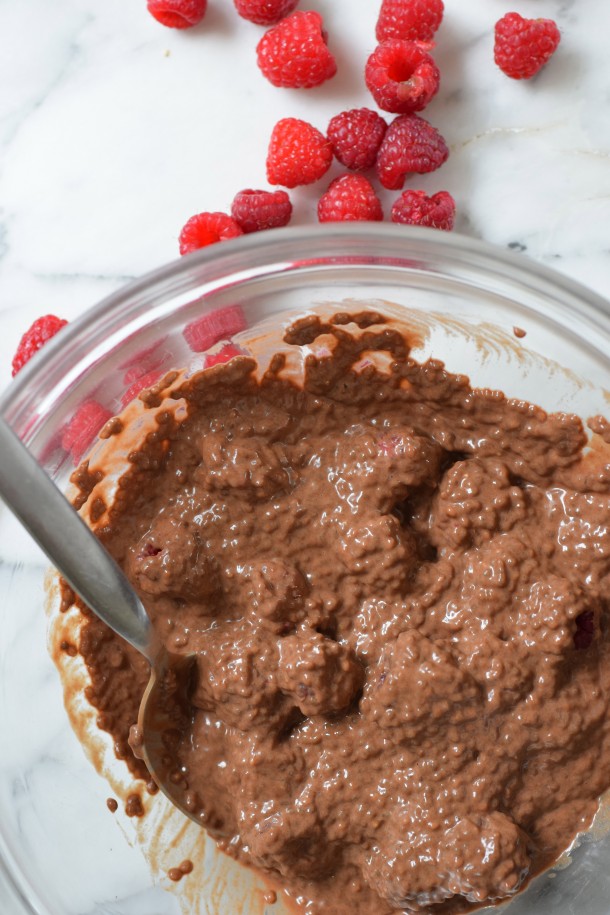 A homemade popsicle is my answer to an ice cream craving.  It's sweet, cold and creamy.  It takes a little longer to eat.  It's a reasonable serving size and therefore an acceptable calorie count.  And I can make it the way I want.  My kids and I have been devouring these chocolate chia pudding popsicles.  I got the idea from seeing Martha Stewart on The Today Show.  She took a small container of plain yogurt and swirled some fruit into it and then stuck a popsicle stick into it and froze it.  I thought that was a clever breakfast to-go for the warmer first days of school.  We eat a lot of chia pudding for breakfast and snacks.  My son prefers the chocolate version which I make with raw cacao powder and the next day we'll add in fresh fruit or shredded coconut and the like.  Chia seeds are really high in protein, fiber and good fats, so they make a great breakfast or substantial snack.  So I took some leftover chocolate chia pudding, stirred some fresh raspberries into it and poured it into popsicle molds.  Voila!  Delicious and a truly healthful treat!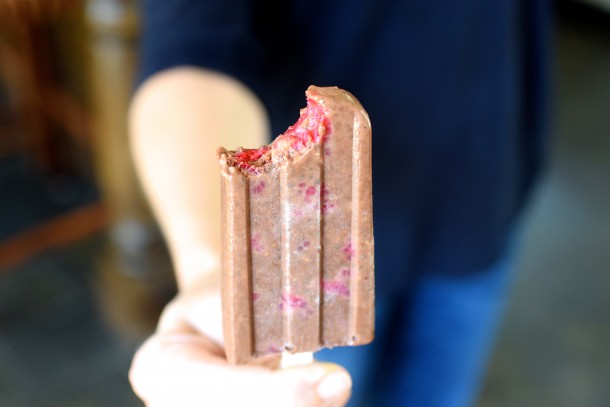 I think these are like a chocolate popsicle with texture.  I kept the sweetness pretty low, but if you want this to feel more like a dessert, it would be super easy to make it sweeter.  Just add a little honey or maple syrup to the pudding before freezing and you've done it.  Or use more dates if that's how you'd like to go.  I love the combo of chocolate and raspberries, but you can keep these straight chocolate or add coconut or chopped cherries or strawberries or even raw cacao nibs if you're a hardcore superfood junkie!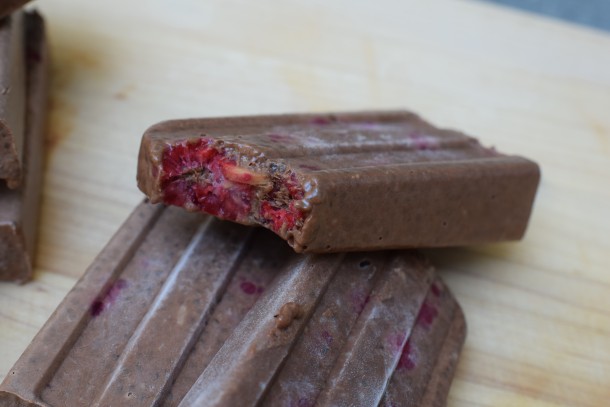 One message I am always trying to get through to my students is that so many recipes are just formulas that you can tweak into dozens of other recipes.  Chia pudding is one of those.  Once you know the basic ratio of chia seeds to liquid to sweetener, you can change it to any number of flavor combinations, like strawberry-basil, blueberry-almond or mango-coconut.  You can blend fruit into the almond milk if you don't want chunks.  Or just stir pieces into the pudding if you want the texture.  Or mini chocolate chips would be nice.  And then there's peaches and raspberries.  Or lemon.  Or banana.  I can do this all day.  Savor these popsicles in case they're you're last ones until next summer!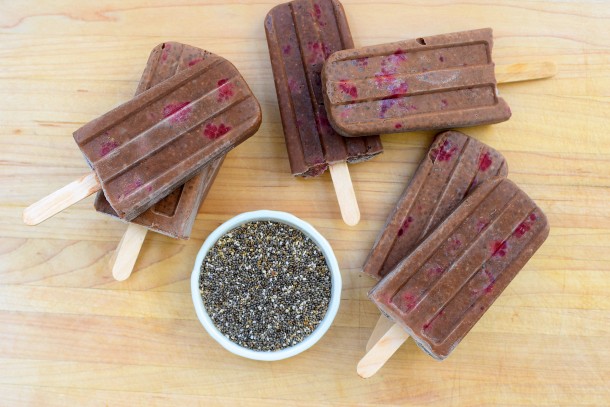 Chocolate-Chia-Raspberry Popsicles
Ingredients
1 ¼ cups unsweetened almond milk or a combination of coconut milk and almond milk
3-6 pitted dates or sweetener of choice, to taste
½ teaspoon pure vanilla extract
2-2 ½ Tablespoons raw cacao or unsweetened cocoa powder, depending on how chocolaty you like it
¼ cup chia seeds
¾ cup fresh or frozen raspberries
4-6 popsicle sticks
Instructions
Place almond milk, dates, vanilla and cacao in blender and process until dates are pulverized. A Vitamix does a great job with this. If your blender leaves the dates too chunky, you can strain the mixture before adding it to the chia seeds.
Pour chia seeds into a medium container and add almond milk mixture. Stir immediately to combine otherwise you may end up with blobs of chia seeds. Allow to sit on countertop and stir every 5 minutes. After 15 minutes, it should have thickened.
Cover and refrigerate for at least an hour.
When the pudding mixture is completely thickened, stir in the raspberries. Divide the pudding into popsicle molds and insert a stick in the center of each. If your molds hold 3 ounces of liquid, you should be able to get 5-6 popsicles out of this recipe.
Notes
The sweetness is to taste, so taste the mixture before refrigerating and adjust accordingly. If you don't want to use dates, try Grade A maple syrup, honey, coconut sugar or whatever you prefer.