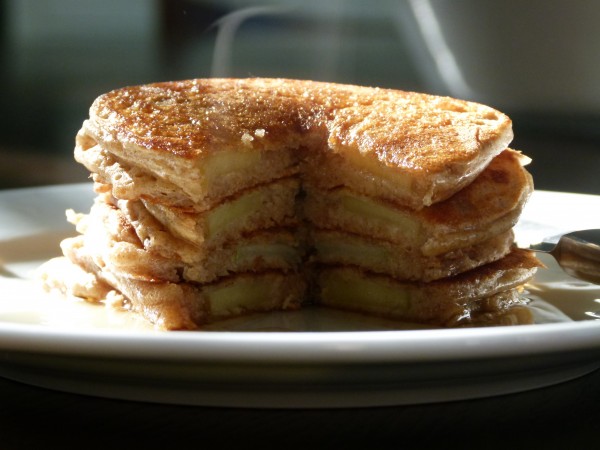 Huh???  What is an apple-dipped pancake?  I know.  It's really the silliest name, but I didn't want to call these beauties "apple pancakes" because that makes me think of something that these are not.  These are better than just dropping a few pieces of diced apple into pancake batter or using apple cider instead of milk. Not that there's anything wrong with that.  These are literally slices of apple dipped in pancake batter and then cooked so there's a tender apple slice nestled inside the pancake.  Beyond delicious!!!  The first time I made these, Mr. Picky asked, "Mom, I can't figure out how you got the apple in there."  And then he ate six.  And then I ate six.  And so did everyone else in the kitchen because they all woke up to the house smelling like apple cinnamon doughnuts.  Deep inhale.  Can you imagine that?  Heaven.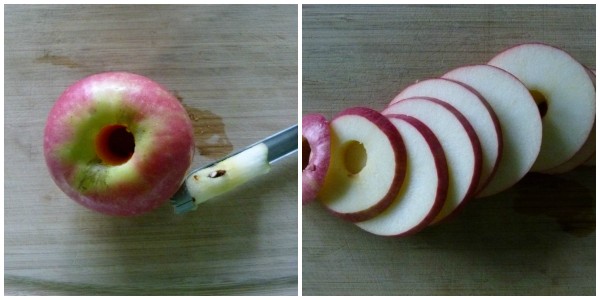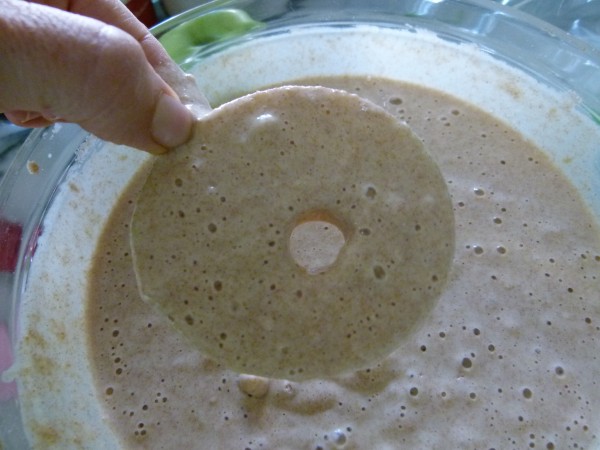 Here's the deal — even though I am sharing a fantastic spelt pancake batter with you that is perfection with apple slices, you can dip apples into whatever pancake batter you like.  Just add a little cinnamon and nutmeg so you get that apple pie thing going on.  The only trick is to slice your apples just so.  Not too thick or they'll stay crunchy in the middle.  But not too thin or you'll have a hard time dipping them into the batter without breaking.  You can use a skewer or a toothpick  to dip them in and out, but I found my fingers to be perfectly fine for the task.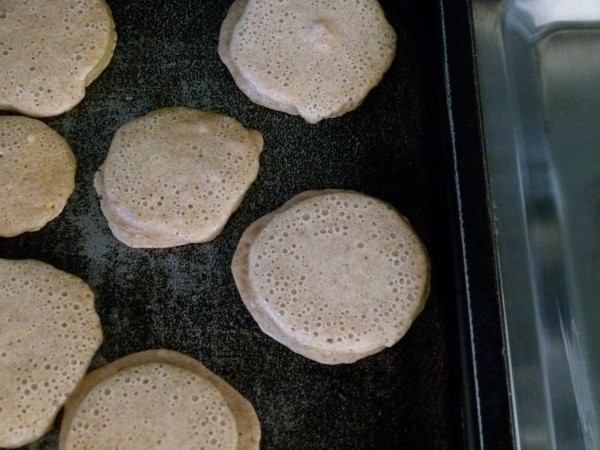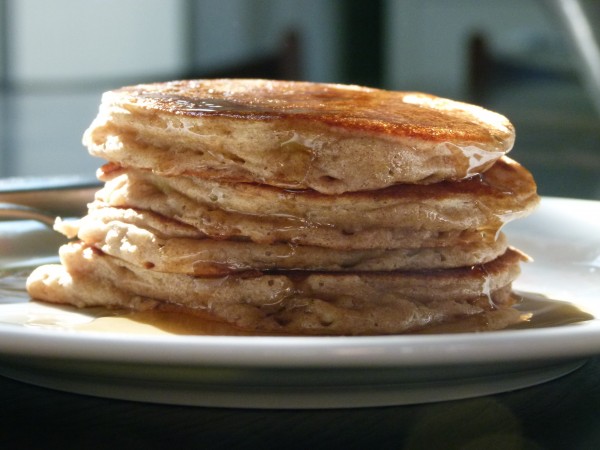 My husband observed that these pancakes hold their heat longer because of the apples.  So you can make a whole bunch at once and have them ready for everyone for breakfast.  I know you may think these are impossible on a weekday, but if you start making your pancake batter the night before , these are a snap in the morning!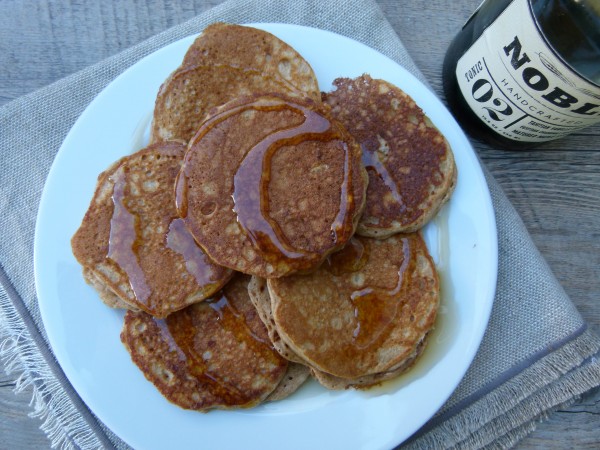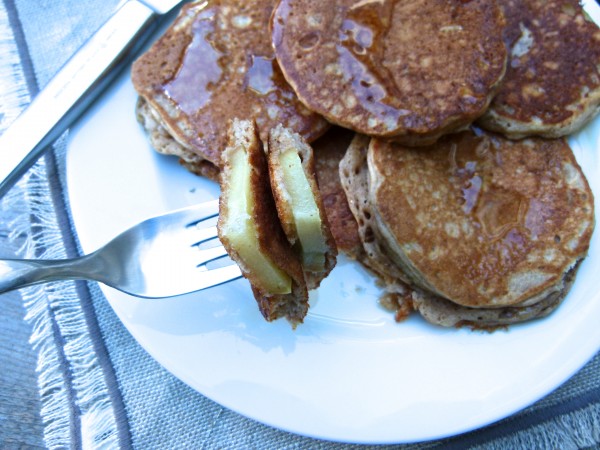 Apple-Dipped Pancakes
Ingredients
2 large or 3 medium apples, cored and sliced crosswise into ¼-inch slices
1⅔ cups whole spelt flour (or 1 ¾ cups whole wheat pastry flour)*
1 teaspoon aluminum-free baking powder
1 teaspoon baking soda
1 teaspoon fine sea salt
½ teaspoon ground cinnamon
pinch of ground nutmeg
2 cups buttermilk or plain, unsweetened kefir**
2 large eggs
1 teaspoon pure vanilla extract
1 Tablespoon 100% pure maple syrup
4 Tablespoons unsalted butter, melted
Melted, unrefined coconut oil for brushing the griddle
Instructions
Preheat a griddle to 400 degrees or medium heat.
Combine the flour, baking powder, baking soda, salt and cinnamon in a large mixing bowl.
In a medium bowl or 4-6 cup measuring cup, whisk together the buttermilk, eggs, vanilla, maple syrup and melted butter until well blended. (A blender can do this easily, too.)
Pour the wet mixture into the dry ingredients and stir until just combined.
Grease the griddle with a little coconut oil.
Dip the apple slices one at a time in the batter and turn to coat. I like to use a toothpick or a wooden skewer to do this.
Cook dipped apple slices like you would regular pancakes, flipping once the bottoms are golden and the edges are dry. Cook until the second side is golden brown and the pancake is cooked through.
Notes
*Gluten-free: substitute half buckwheat flour and half brown rice flour for the spelt flour. Or you can use GF oat flour, too, such as part oat flour, part buckwheat flour and part brown rice flour.

**No buttermilk? Sub half unsweetened yogurt and half whole milk. Or use milk or an alternative milk and add 2 Tablespoons apple cider vinegar or white vinegar.