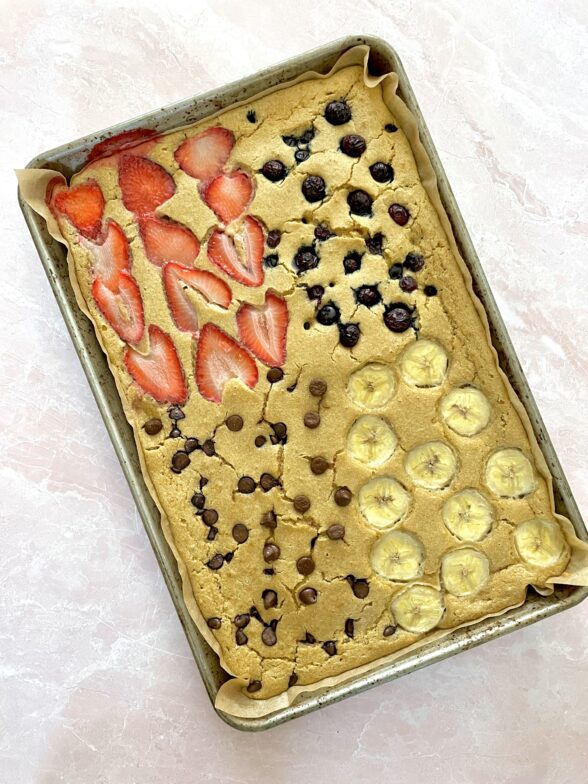 Whether you are cooking for a lot of people or you want an easy breakfast for Christmas morning, I've got you covered.  I no longer make pancakes to order in a skillet when I'm at my mom's house.  The kids devour these sheet pan pancakes and I just take orders before I stick the sheet pan in the oven.  Usually the kids want the chocolate chips and the adults opt for fruit.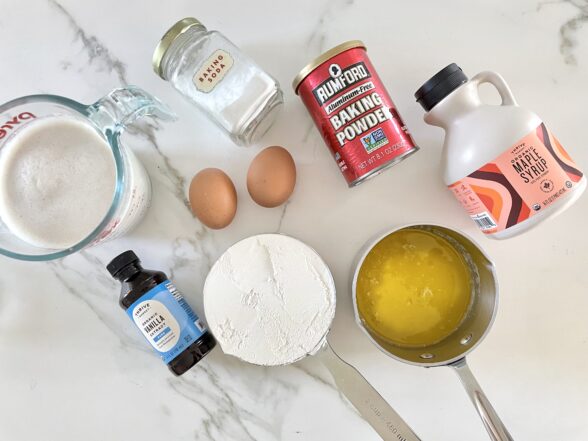 I'm giving you a basic pancake recipe here with a little tip to make them fluffier.  I use this technique in my ricotta pancakes as well.  You separate the eggs and add the egg whites (not beaten) in the last step after the wet ingredients have been added to the dry.  Adding the egg whites last increases the fluffiness for some reason!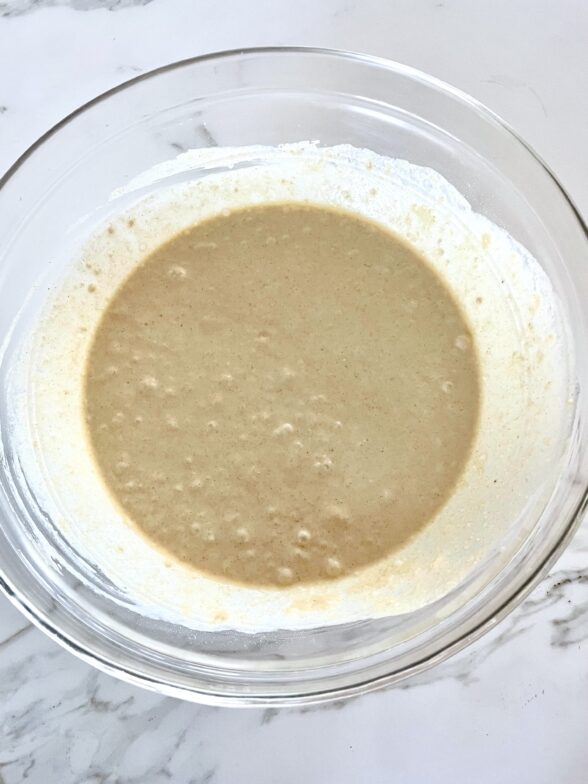 The two key steps in making a sheet pan pancake are baking it at a high temperature and waiting until the batter thickens up a bit before adding toppings. So if you prefer using your favorite recipe or a pancake mix, just bake at 450 and wait to add your toppings.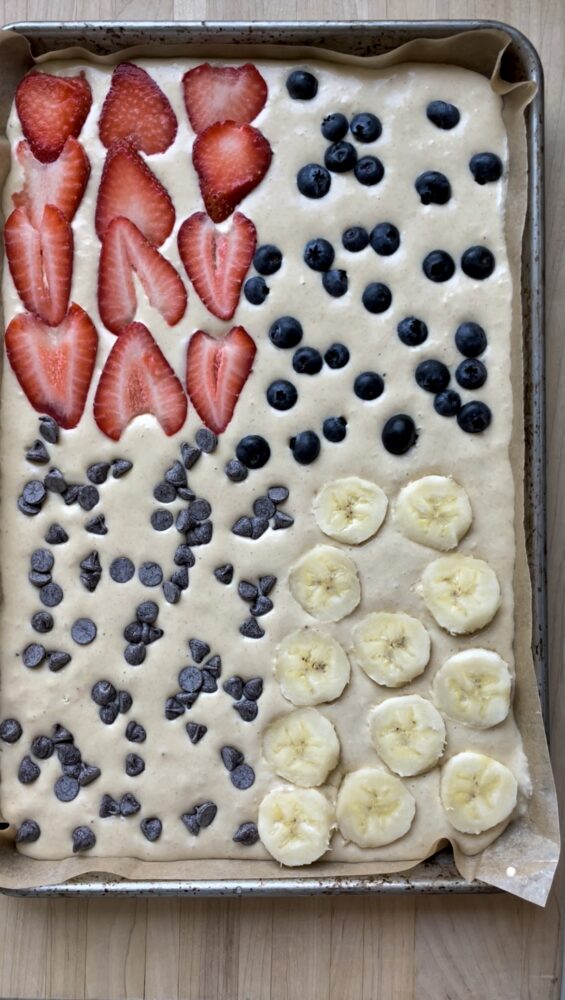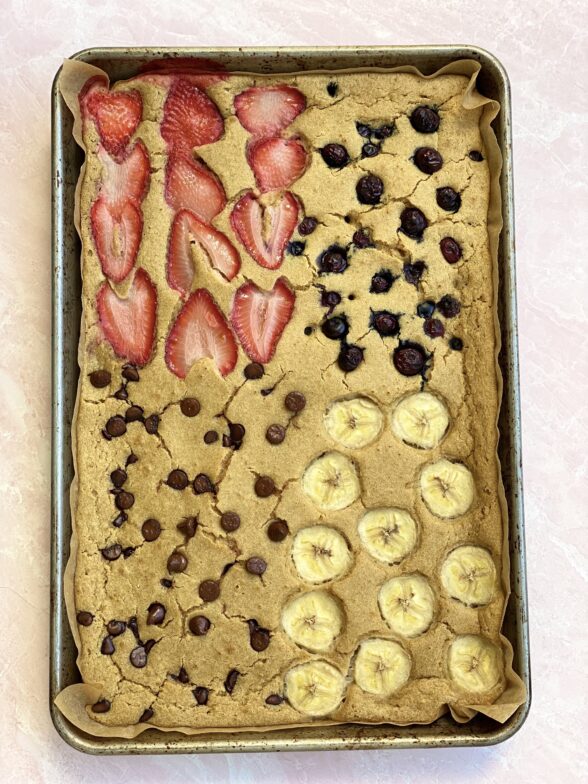 TIPS ABOUT TOPPINGS:  I will caution you that some pancakes batters are thinner than others and toppings like big blueberries or big chocolate chips may sink while the pancake is baking. And vice versa, some batters are thicker and may swallow up tiny toppings like mini chocolate chips.  The way to work around that is to bake the pancake without toppings for 5 minutes and then add the toppings.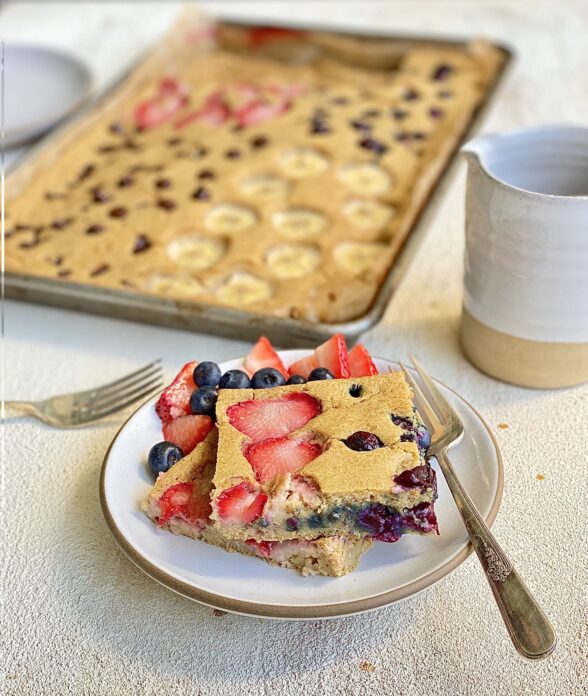 I barely sweeten my pancake batter because I like pancakes barely sweet!  You can serve with fresh or cooked fruit, maple syrup, or powdered sugar on the side.  Just like regular pancakes, you can microwave leftovers the next day.  And just like regular pancakes, you can make the batter the night before, pour into the pan the morning of and bake away for a very relaxing morning!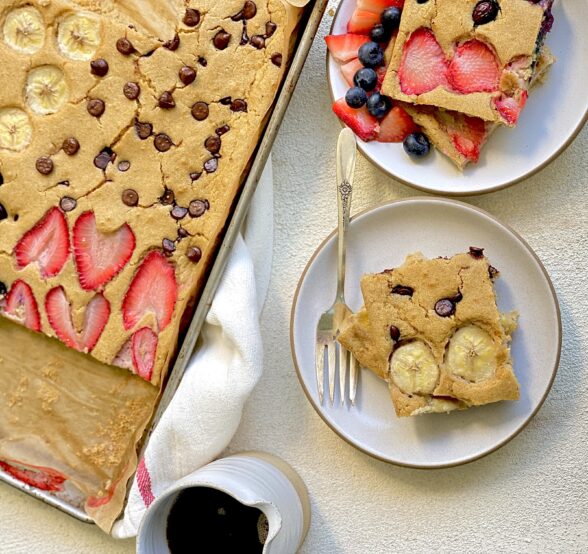 If you make this sheet pan pancake and post on Instagram, please tag me so I can see your creation. @pamelasalzman #pamelasalzman I hope you all have a happy and healthy Christmas!  May the joys of the season be with you and your family! 

Sheet Pan Pancakes
Serves:
1 quarter sheet pan
Ingredients
Unrefined coconut oil for greasing pan
2 cups grain-based flour or a combination*
2 teaspoons aluminum-free baking powder
1 teaspoon baking soda
1 teaspoon sea salt
2 large eggs, separated
2 cups buttermilk or a buttermilk substitution**
1 teaspoon vanilla extract
1 Tablespoon pure maple syrup (optional)
3 Tablespoons melted butter or vegan butter, cooled slightly
Add-in ideas (add to dry mix): ground flax, hemp seeds, collagen peptides
Topping ideas: chocolate chips, blueberries or other berries, sliced bananas, sautéed apple
rings, finely chopped pecans or walnuts (read the tips in the blogpost about toppings)
Instructions
Preheat the oven to 450 degrees. Lightly grease a rimmed quarter sheet pan, approximately 9 1⁄2 x 14 1⁄2 inches. Line with unbleached parchment paper or grease well with butter.
In a large bowl, whisk together the flour(s), baking powder, baking soda, and salt. Feel free to add cinnamon and/or nutmeg.
In a medium bowl, beat the egg yolks (save the egg whites for the next step). Whisk in the buttermilk, vanilla, maple syrup, and melted butter.
Pour the wet mix into the dry and stir until just combined. Stir in the egg whites into the batter.
Pour batter into the prepared pan and allow to sit for 10 minutes.
Arrange toppings on the surface. Transfer the sheet pan to the oven, turn the heat down to 425 degrees and bake until golden and set, approximately 20 minutes.
Notes
*Flour: you can truly use any combination of grain flour or a gluten-free flour blend. I like oat flour, buckwheat and whole wheat einkorn flour blended together, but use what you prefer. You can do 100% all-purpose flour if that's what you have.
**Buttermilk: half yogurt (any kind) and half milk (any kind); all kefir; any kind of milk with 2 Tbs. white vinegar, cider vinegar or lemon juice (I used Malibu Mylk flax mylk with cider vinegar in these photos.)
Notes: dairy helps the pancake brown more, but it's still delicious without.