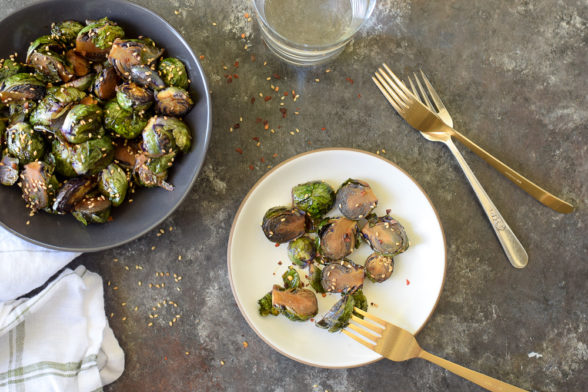 It has been super chilly in LA this week, which means it's dropping below 50 degrees at night and everyone is busting out their UGG boots, mittens and puffy jackets. HA!  And as much as I would like to be, we aren't quite into spring fruits and veggies yet. I can't wait for my strawberries, spinach and asparagus from the farmers market, but for the time being I am hunkering down next to my fireplace and enjoying all that winter has to offer. Brussels sprouts are one of my favorite winter vegetables and I have a ton of recipes on my site which celebrate this fabulous crucifer. They can be oven roasted or pan-roasted (see my cookbook for the best pan roasted brussels sprout recipe), made into a hash, made into latkes, or make a whole salad with them like this one or this one (my personal favorite). They are also chock full of nutrients and antioxidants which we need in the winter to keep our immune systems strong. Brussels sprouts are also one of the few vegetables which contain Omega-3 fatty acids, which are really important if you're on the vegan train like my husband and you aren't getting your fatty acids from fish.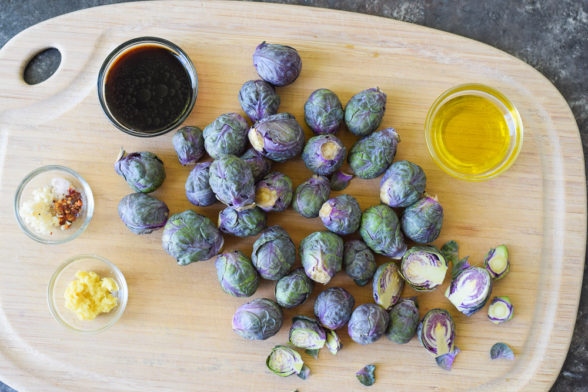 So when I saw that my friend, Shira Lenchewski, had a recipe for these babies in her new book, I couldn't resist.  Shira is a registered dietician and the resident nutritionist for GOOP. She knows her stuff and wrote a beautiful and healing book called, The Food Therapist, that I highly recommend. We all have our issues with our relationship with food. Some of us stress-eat (pointing at myself here), some of us worry too much about what were eating and associate food with negativity, some of us eat (or should I say OVEReat) for comfort when we are sad or lonely or bored. These things are part of being a human being and I don't think anyone has a perfect relationship with food. The important thing is to recognize and be mindful of our issues and try to heal them in the most loving way possible. Shira's book is a warm hug of support and compassion for anyone struggling with bad habits, mindless snacking and constant worry. She not only provides ways to heal yourself but also provides a couple delicious recipes that are healthy and helpful in our journeys.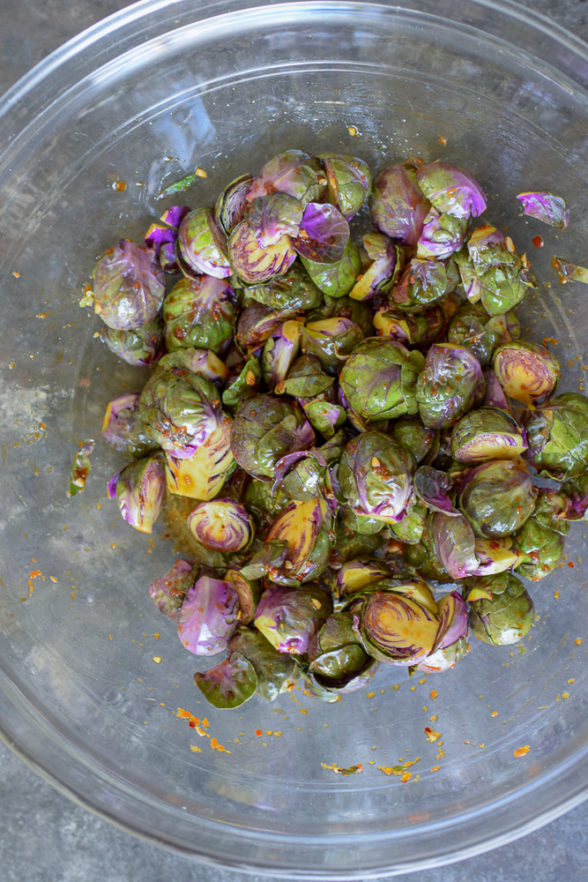 These Brussels sprouts have a lovely asian flavor with a little bit of kick. Shira's recipes tend to favor a Paleo diet, so she uses coconut aminos (a gluten-free, coconut-based condiment with less sodium) instead of soy sauce or tamari (which both contain soy.) But you can use tamari or shoyu instead, just cut out the extra pinch of salt. They would be delicious in an asian grain bowl, or served with a piece of fish. I honestly just ate them straight off the sheet pan as a little afternoon snack, but I promise I was mindful of each delectable bite!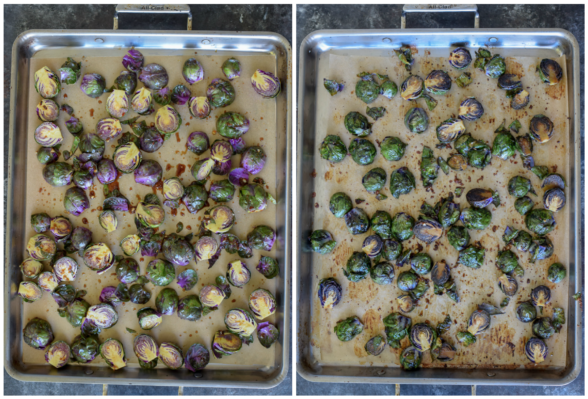 In case you're wondering, I found these gorgeous purple Brussels sprouts at the market and I am totally smitten with them.  You can use standard green Brussels sprouts of course.  I may also try this recipe with cauliflower!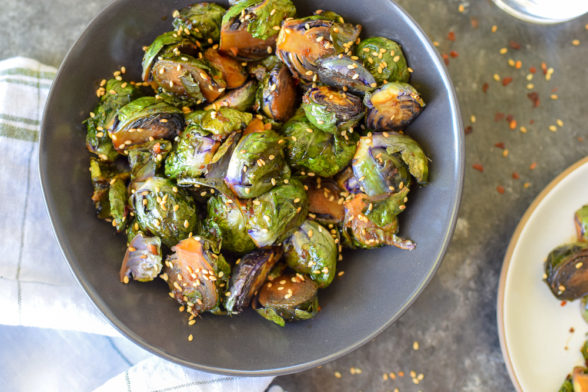 I am off today to New York to the annual IACP conference where I am on a panel to talk about the path to becoming a cooking instructor.  I am looking forward to sitting in on many other workshops which will discuss  all things culinary.  I'll do my best to post often on Instagram stories and I will post a new dinner planner on Friday night.  Have a good rest of your week!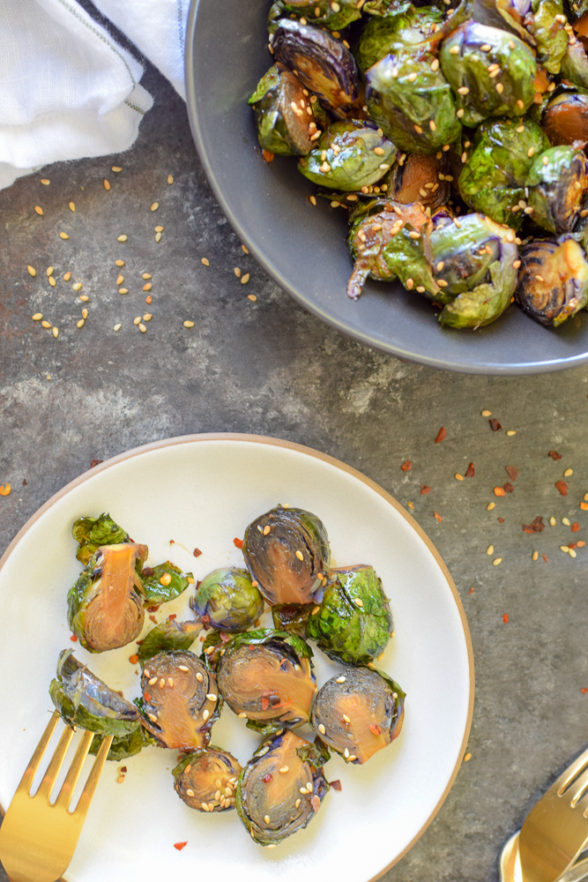 Roasted Sesame-Ginger Brussels Sprouts
Author:
The Food Therapist, Shira Lenchewski, MS, RD
Ingredients
1 pound Brussels sprouts, trimmed and halved
2 Tablespoons unrefined, extra-virgin olive oil
2 Tablespoons coconut aminos*
1 clove garlic, minced
1-inch piece ginger, peeled and grated (about 1 teaspoon) - I use a large Microplane to do this
pinch of sea salt
pinch of red pepper flakes
1 Tablespoon sesame seeds
Drizzle of hot toasted sesame oil, if desired (use regular toasted sesame oil if you don't want the heat)
Instructions
Preheat the oven to 400 degrees and line a baking sheet with unbleached parchment paper.
In a large bowl, toss together the brussels sprouts, olive oil, coconut aminos, garlic, ginger, salt and red pepper flakes. Place the sprouts and oil-coconut aminos mixture on the prepared baking sheet.
Roast for 15 to 20 minutes, flipping once, or until golden. If you are using very large sprouts, you may need more time.
Top with sesame seeds and hot toasted sesame oil.
Notes
*or use tamari or shoyu and omit the extra pinch of salt