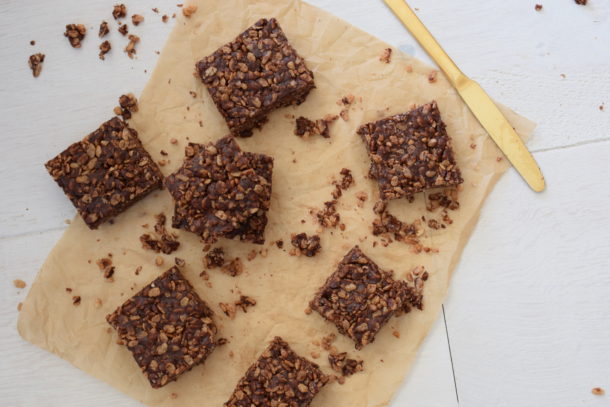 My first ever job was babysitting.  I was 12 years old and I made $1 an hour.  I mean, seriously.  A dollar!  I started off babysitting my younger sister's friend who lived up the block.  It was pretty easy money and I didn't have much of a social life when I was 12, so it wasn't a big sacrifice to babysit on a Friday night.  "Going out" for my friends and me was a bike ride to Burger King where I am pretty certain a couple of bucks could get you a meal back then.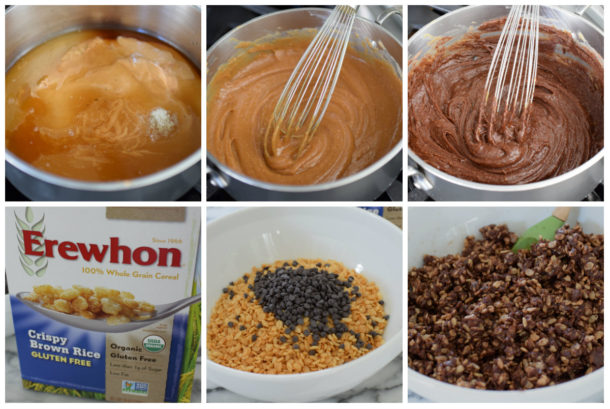 Something I remember making with my "kids" when I babysat was Rice Crispy Treats.  Everyone loved these squares of crispy cereal bound together with melted butter and marshmallows.  And they're an ideal dessert to make without a real adult supervising since all you need is a microwave.  And there are only 3 ingredients.  3 BAD ingredients.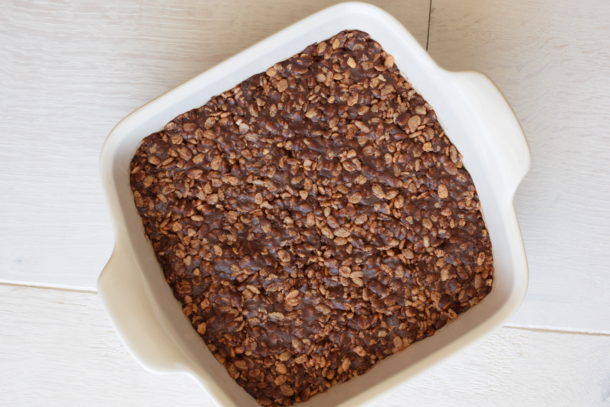 Ok, I take that back.  Butter isn't really bad.  But you must know by now I am no fan of boxed cereal (super processed, converted to sugar really fast and usually loaded with JUNK.)  And everyone knows that marshmallows are not even food. They are essentially high fructose corn syrup, sugar and gelatin.  And lest I forget the tetrasodium pyrophosphate and artificial flavor. Sooooo, basically I fed those poor kids total crap.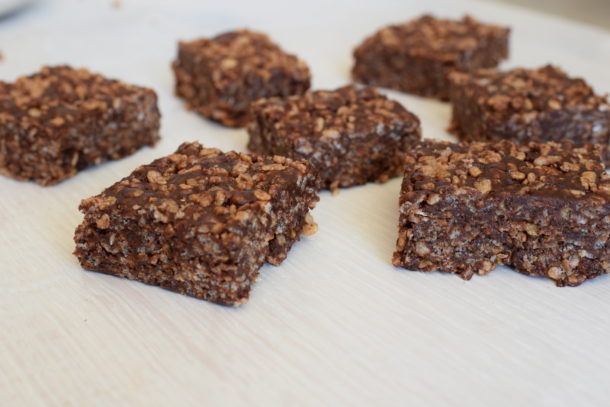 What if I told you that you can make a cleaner version of rice crispy treats without the marshmallows?  You would get really excited, I know.  So what we have here are the same sticky, crispy bars but with peanut butter and brown rice syrup to hold everything together.  Brown rice syrup is my go-to substitute for corn syrup.  It is a much less detrimental sweetener and has the same thick, sticky consistency.  Brown rice syrup, however, does have a little bit of a rice flavor, where as corn syrup just tastes neutral.  That's where the peanut butter comes in to save the day and add a delicious flavor to the bars.  Use sunflower butter if there's a nut allergy in the house or school.  I've tried these with almond butter and they turn out fine, but peanut butter and chocolate is one of my favorite combinations.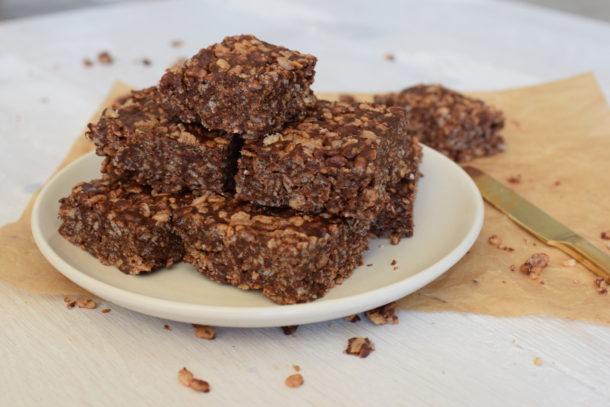 I thought these would be perfect for lunch box snacks, an after school treat, bake sales, and Halloween, which according to Target and CVS, is right around the corner!

Peanut Butter-Chocolate Brown Rice Crispy Treats Recipe
Ingredients
Unrefined coconut oil (for greasing pan)
⅔ cup brown rice syrup
⅔ cup creamy, unsweetened peanut butter or sunflower butter
2 teaspoons pure vanilla extract
½ teaspoon sea salt
¼ cup raw cacao powder or unsweetened cocoa powder
3 ½ cups crispy brown rice cereal
¼ cup mini chocolate chips
Instructions
Grease an 8" or 9" pan with coconut oil and line with unbleached parchment paper.
In a medium saucepan over low heat, whisk the brown rice syrup, peanut butter, vanilla, and salt for about 2 minutes, until loosened and starting to bubble. Do not boil.
Stir in the cacao powder and mix well. The mixture will be thick.
Place the brown rice cereal and the chocolate chips in a large mixing bowl and toss together. Pour in the peanut butter-chocolate mixture and stir with a spatula until well combined.
Pour the mixture into the prepared pan and press down to flatten the top.
Allow mixture to rest for 30 minutes and cut into squares for serving.