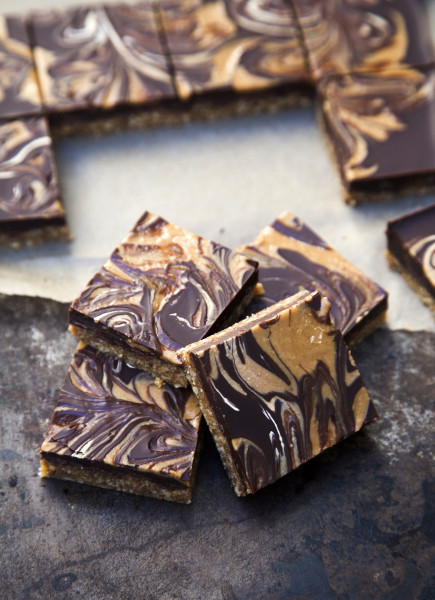 After I posted these chocolate peanut butter bars on instagram a few months ago, I was harassed, yes harassed! into teaching them in my classes pronto.  Of course they look delicious and beautiful and there's no added sugar, so I can see why there would be interest.  But, no one could focus in my cooking classes after that.  "The soup looks great, Pamela.  But when are you teaching "the bars?"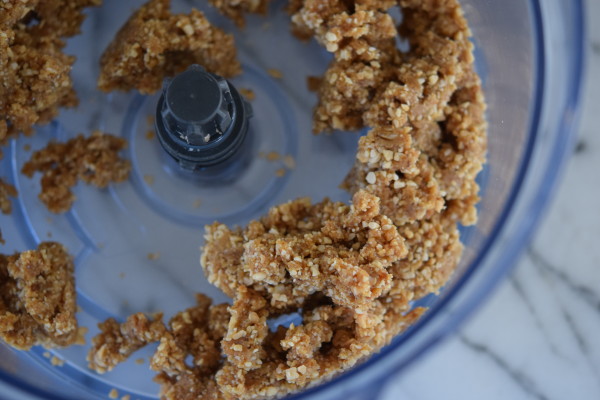 So I pushed this recipe up on the schedule from February to December and I am even doing something very uncharacteristic — I am posting the recipe before I have finished teaching it.  It is the season of giving and I love you all, so here it is.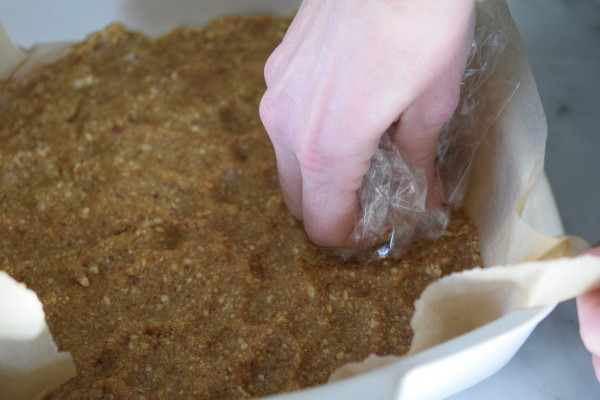 Are these chocolate peanut butter bars all that?  Well, if I do say so myself, they really are.  They are incredibly simple to put together and taste like a Reeses peanut butter cup collided with a larabar.  But, they're not terrible for you.  You don't need an oven, but you do need to make them ahead.  They're hard to beat, if you ask me.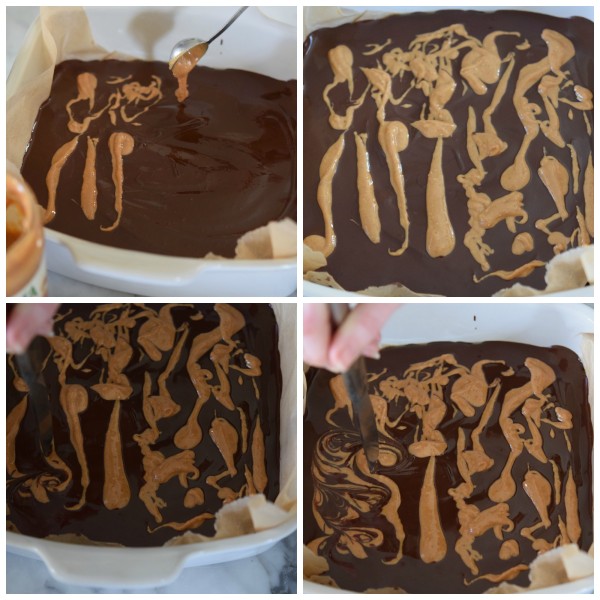 The base is a combo of dates and roasted, salted peanuts — chewy with a little texture.  The chocolate layer is melted chocolate and peanut butter plus an extra drizzle of peanut butter which gets swirled around into a pretty design like you're all of a sudden a pastry chef.  And did I mention easy to do?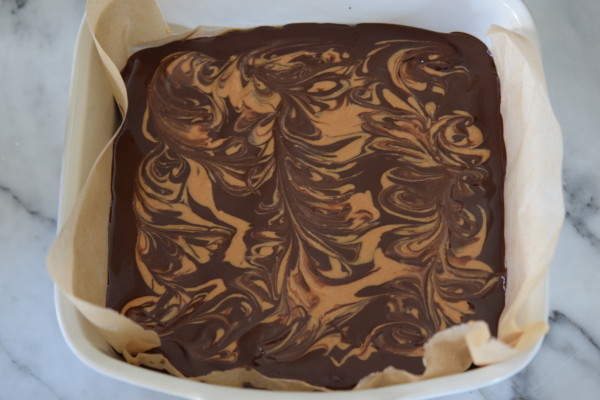 Since there are very few ingredients here, you know what that means.  The better the ingredients with which you start, the better the final product.  Poor quality peanut butter will give you bars that are not as good as these you see here.  I think you've seen in one of my Friday Favorites posts that I am very loyal to Santa Cruz Organic peanut butter.  It is quite honestly the only one I buy because it is the only one that meets my standards for peanut butter which are these:
organic, since peanuts are very heavily sprayed
in glass, since plastics leach when food is stored in them for long periods of time
no added sugar or salt, since I like to control the types of salt and sweeteners I add to my food
no added hydrogenated oils; can you say "inflammation?"  Avoid please.
tastes delicious!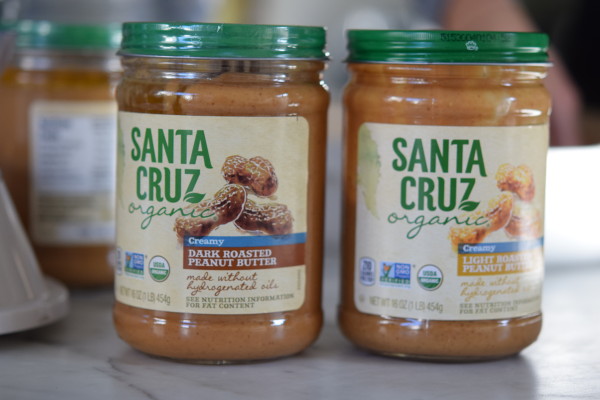 I love Santa Cruz Organic because they have been in the organic business before organic became a buzz word and a trendy marketing strategy.  Their products are also non-GMO and the company supports sustainable resources.  They are the real deal and have been since day 1.  After they saw my post a few months ago, they reached out and offered to provide me product for my next recipe that involved peanut butter.  So sweet!  So even though I am always reluctant to do a sponsored post, I accepted this one with a full heart since you know I have been a fan of Santa Cruz both on the blog, in my cooking classes and in my personal kitchen for many years.  You can find Santa Cruz products, including the peanut butter, at most Whole Foods store and other natural foods stores.  I have been purchasing Santa Cruz peanut butter from thrivemarket.com, which has the best prices.  There are four options:  Light-Creamy, Light-Crunchy, Dark-Creamy and Dark-Crunchy.  For this recipe I prefer the creamy, either light or dark.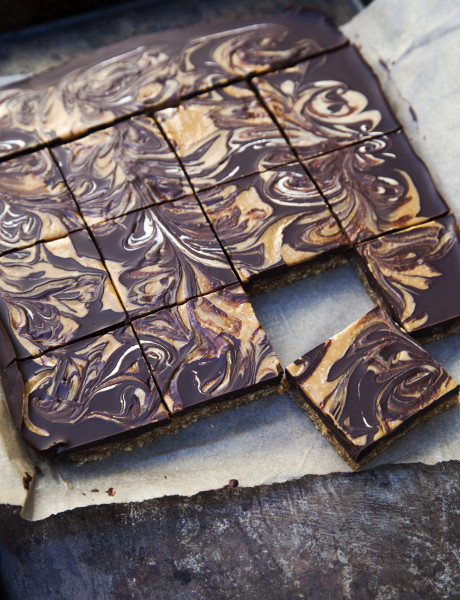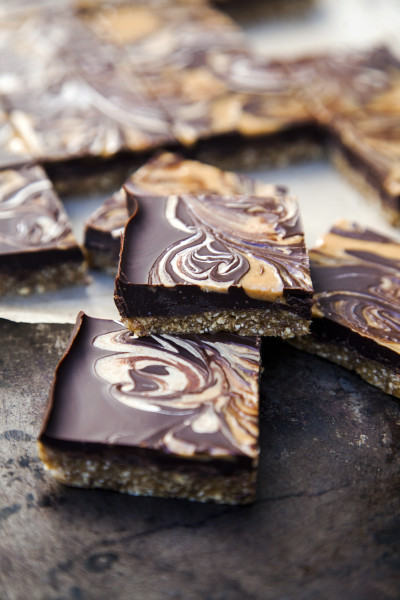 The key with achieving perfect swirls here is to make sure the peanut butter is a loose, drizzly consistency, like when you first stir the jar.  If it is too thick, it won't swirl well.  Read the recipe for what to do if your peanut butter is too firm.  I am going to pan a few pans of these for cookie exchanges and for potlucks this season!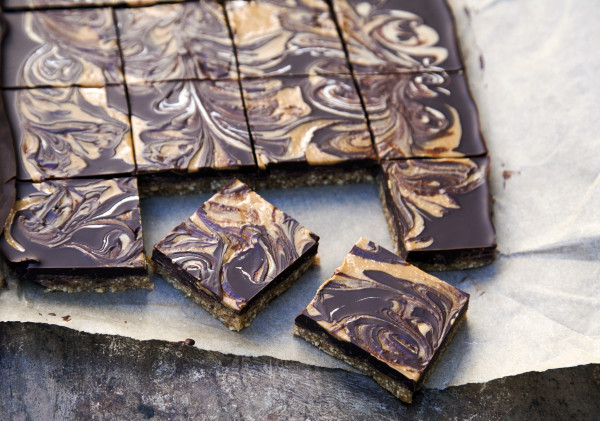 No-bake Chocolate Peanut Butter Bars
Author:
Pamela (inspired by these bars)
Ingredients
oil or butter for greasing dish
1 cup roasted, salted peanuts
1 cup dates, pitted
3 ½ ounces semi-sweet chocolate (approximately a heaping ½ cup)
3 ½ ounces dark chocolate (or use all semi-sweet)
¼ cup creamy or crunchy natural (unsweetened and unsalted) peanut butter, divided
Instructions
Grease an 8x8 or 9x9-inch glass baking dish with oil or butter and line with unbleached parchment paper.
Place peanuts and dates in the bowl of a food processor and process until completely crumb-like and sticky. Press into the bottom of your baking dish evenly, creating a crust. If mixture is too sticky, use plastic wrap to help spread it out.
Using a double boiler or glass bowl over a saucepan of simmering water, melt chocolate with 2 Tablespoons of peanut butter and stir until combined and creamy. Pour on top of the peanut/date crust.
Using a small spoon, drizzle (do NOT dollop) the remaining 2 Tablespoons peanut butter over the chocolate, teaspoon by teaspoon, in lines. If your peanut butter is not loose enough to do this, warm over a double boiler to thin it out.
Using the tip of a knife, gently create swirls along the top of the bars. Refrigerate for 2 hours. Remove from refrigerator 10 minutes before serving. Remove from baking dish and cut into squares. Serve immediately or keep in the fridge.