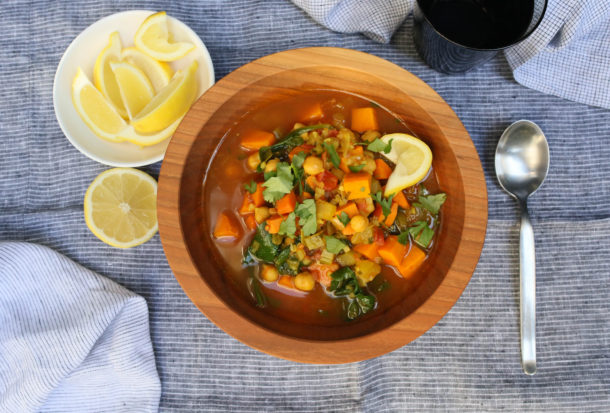 I can't think of anything more comforting than a bowl of soup.  Warm, filling, and nourishing, homemade soup feels like a big hug.  My husband and my kids (especially Mr. Picky) all love soup and I love making it because it's easy, flexible and soup makes great leftovers.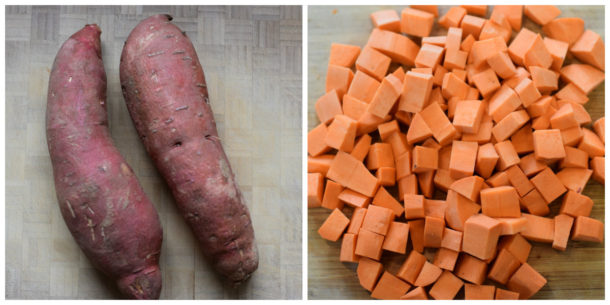 I originally developed a Moroccan chicken and vegetable soup for Clean Eating Magazine's January 2017 issue and I then tweaked it for a vegan version.  The recipe in Clean Eating (which can be found here) is a hearty soup with shredded chicken, loads of vegetables, including sweet potatoes, and fragrant Moroccan spices.  It is topped with crunchy, oven-dried chickpeas for a satisfying crunch.  It's one of the most flavorful and gorgeous soups I ever developed.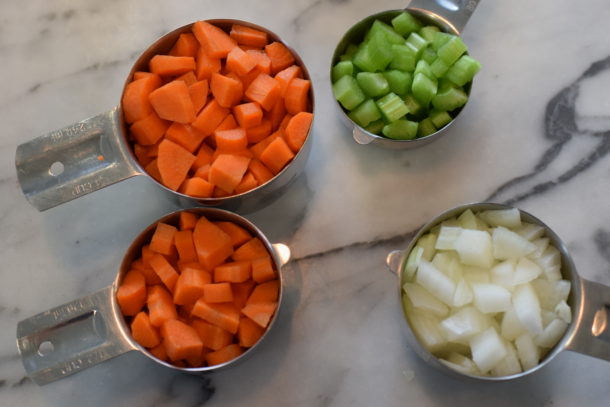 I decided to teach the soup in my classes last fall and I already had a recipe with animal protein on the menu, so I vegan-ized the soup.  I took out the chicken and replaced it with cooked chickpeas, added a little cinnamon and some cauliflower rice for extra body.  Everyone went crazy for it!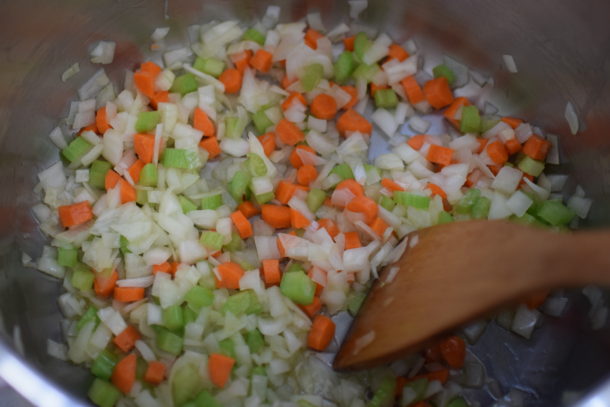 Even though the soup became vegan, it is still substantial enough for a main dish.  The chickpeas and sweet potatoes offer plenty of protein and fiber.  I did mention in my classes that if you want to sub grains (brown rice, millet, freekeh or quinoa would all work) for the cauliflower rice, you absolutely can.  The easiest thing to do would be to cook the grains separately and add them at the end or to each individual bowl, otherwise you will have to adjust the liquid measurement for the soup (grains absorb liquid.)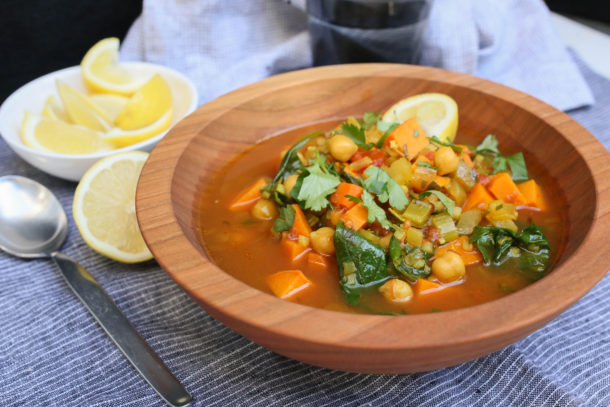 This is a very anti-inflammatory soup from the veggies to the spices, a real bowl of goodness.  I have even eaten it the next day for breakfast — soup is one of my favorite ways to start the day.  Don't skip the lemon and fresh herbs if you have them on hand.  They add an extra special boost of flavor.  If you are in California like I am, and the rain and dampness are getting you down, make yourself and your loved ones a pot of this and all will be well in the world.

Moroccan Vegetable Soup Recipe
Ingredients
2 Tablespoons unrefined coconut or olive oil
1 onion, chopped
2 stalks celery, diced
2 carrots, diced
1 ¼ teaspoons ground turmeric
¾ teaspoon ground cinnamon
¾ teaspoon ground ginger
⅜ teaspoon ground cumin
4 or 5 grinds of black pepper
1 18-ounce jar of diced tomatoes with the juice (I used Jovial)
1 teaspoon sea salt, plus more to taste (double if your stock is unsalted)
2 medium sweet potatoes, peeled if desired and chopped (about 1- 1 ¼ pounds sweet potatoes)
6 cups vegetable stock, preferably homemade (or use chicken stock or bone broth - not vegan)
1 ½ cups cooked chickpeas or 1 15-ounce can, drained and rinsed (click here for how to cook beans from scratch)
1 cup cauli-rice, fresh or frozen (buy riced cauliflower from the market or click here for how to do it at home)
¼ cup chopped fresh cilantro leaves
¼ cup chopped fresh parsley leaves
3 cups lightly packed fresh spinach leaves
1 lemon, cut into 4-6 wedges, depending on how many people you are serving
Instructions
Heat the oil in a medium stockpot and add the onion, celery, and carrot and cook until tender, about 6 minutes. Add the turmeric, cinnamon, ginger, cumin and black pepper and cook for 1 minute, stirring constantly to prevent scorching.
Add the tomatoes with the juice, and sea salt. Cook until fragrant, about 2 minutes.
Add the stock and sweet potato and bring to a boil. Reduce heat to low and simmer, covered for 20-25 minutes, until sweet potato is tender.
Add chickpeas, cauli-rice, cilantro and parsley and cook until cauli-rice is tender, about 5 minutes. Add additional stock if you want it thinner. Stir in spinach leaves. Serve with a wedge of lemon for squeezing over each portion.