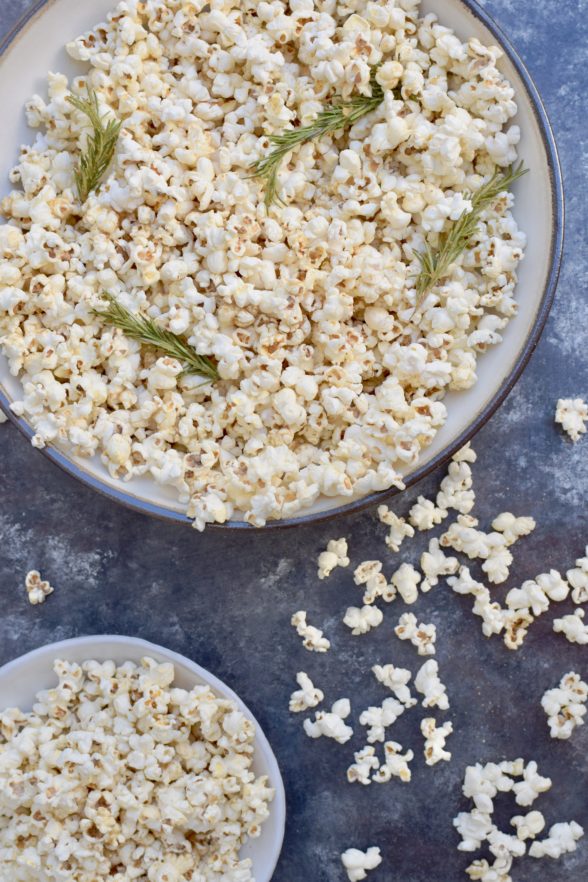 Who isn't stepping foot inside the kitchen again for the rest of their lives???  I used to say that after my first few Thanksgivings.  But let's be real, come 4 o'clock the next day, I am ready to eat a meal that isn't pie pretending to be breakfast.  That said, I thought I would ease you back into the kitchen with popcorn.  Don't act so underwhelmed.  This is the best popcorn ever!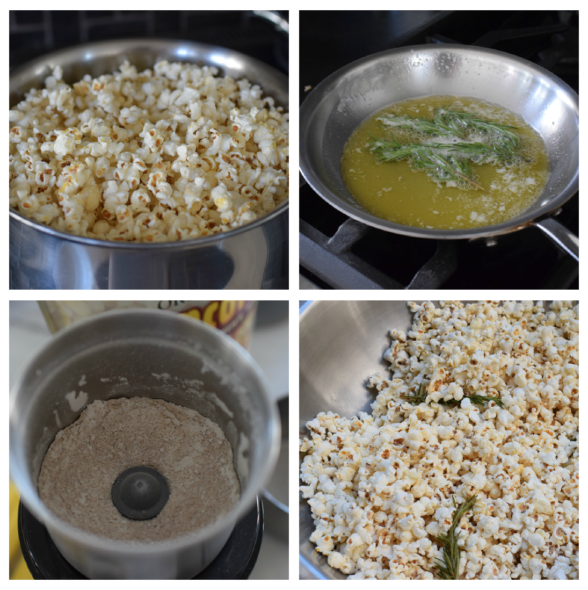 This is another recipe I sampled on the set of Hallmark Home & Family and I would have poured the whole bowl into my bag if that was an appropriate thing to do.  This maple-rosemary popcorn is just about one of the most addictive things I've ever eaten.  The rosemary is piney and marries perfectly with the subtle sweetness from the maple sugar.  And you all know how I love a little salt with my sweet.  It's like a really sophisticated kettle corn and one where you control the ingredients.  We like that.  Buy organic popcorn, and pop it in coconut oil and top it with higher quality ingredients and that's the way I like to cook.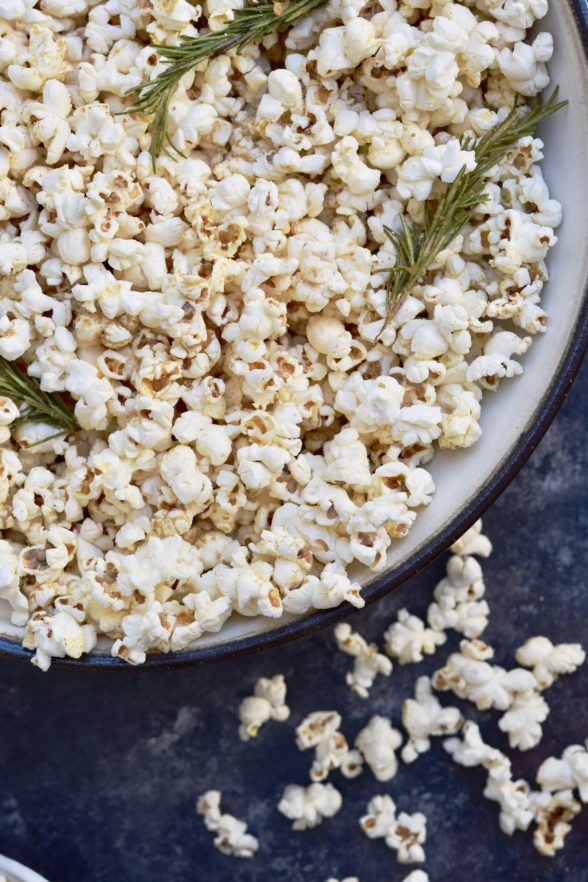 I have been making homemade popcorn for the kids for after school snacks for years, but lately I've been making it when I have friends over to serve with drinks and hors d'oeuvres.  Why not?  Everyone loves it and popcorn is super light and won't fill you up unless you eat the whole pot.  I also love it for watching football and to give as a gift.  See why I am posting this now?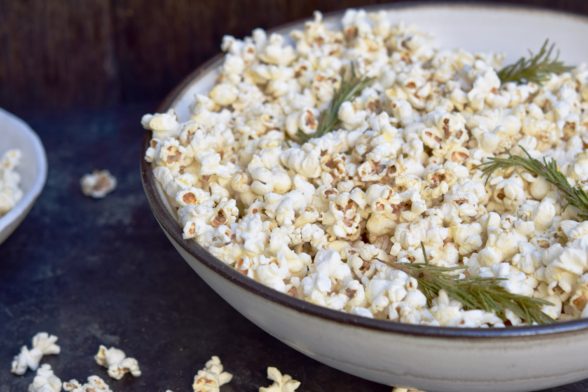 I figured with holiday parties coming up, game days every weekend and gift-giving season upon us, this would be a perfect recipe to make often.  Cheers!

Maple Rosemary Popcorn Recipe
Author:
Hallmark Home and Family
Ingredients
1 cup popcorn kernels, preferably organic
3 tablespoons unrefined virgin coconut oil
5 tablespoon maple sugar or cane sugar
1 tablespoons powdered sugar
1 teaspoon sea salt
¼ teaspoon freshly ground black pepper
4 sprigs fresh rosemary
¼ cup melted unsalted butter or vegan butter
Instructions
Heat the oil in a heavy bottomed extra large pot over medium heat. Add 3 kernels of popcorn to the pot and cover with a lid. When the kernels pop (this usually takes about 2½ – 3 minutes), add the 1 cup of popcorn in an even layer and cover with the lid, but not all the way. Leave it open about ½ inch to allow steam to escape but not wide enough to let the popcorn pop right out.
Shake the pot every now and then. If you can't shake it with the lid ajar, cover the pot, shake and open the lid again when you return the pot to the heat.
Once the popping reduces to several seconds in between each pop, take the pot off the heat and remove the lid. Pour the popped corn into a large mixing bowl.
While the corn is popping, melt your butter in a saute pan and toss in the rosemary sprigs. Cook the rosemary until it crisps up, but shut off the heat before the butter browns.
Add maple sugar, powdered sugar, salt, and pepper to a spice grinder and pulse until evenly combined.
Pour spice mixture over the popped corn. Toss with your hands a few times to combine.
Drizzle the melted butter on top and continue stirring with your hands (or tongs) until the popcorn is uniformly coated.