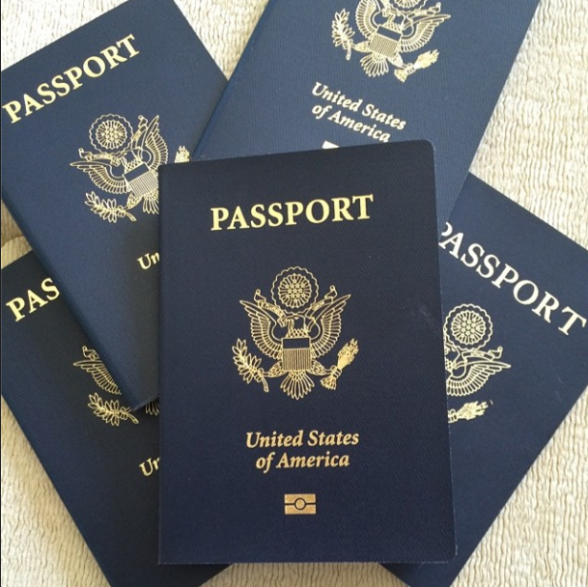 We're back!  We had a great trip to Europe, and, despite missing our connection in London on Sunday and being stuck there for 24 hours without our luggage (!), we made it back safe and sound.   I had every intention of posting something last week, but somehow life and nagging jet lag got in my way!  A few of you asked me to post my itinerary upon my return, so look for that later in the week.
Whereas by no means am I an expert on international travel, I have learned (sometimes the hard way) some things to make our trips go more smoothly.  In fact, I had the idea to create this international travel to-do list for me so I don't forget anything obvious the next time we travel!  That said, this list is not an exhaustive one, and I would love my readers to share whatever suggestions or clever tips they have.
Passports:  I posted this on Instagram and Facebook before I left, but it bears repeating.  Your passport expiration date is not actually the date listed in the booklet.  Most countries require that your passport expire no less than 3 months or even 6 months after your return to the US.  For example, if you are traveling to France and you return on August 16, your passport expiration date must be AFTER November 16.  Check this link to see what the requirements are for each country.  If you forget to verify this in advance you could be prohibited from boarding the plane or denied entry back.
Photocopy your passports and keep the photocopies with you when touring, with the original passports in the safe at the hotel.  Many sites in Europe offer a discount for kids under the age of 18, but proof of age is often required if they look close to 18.  Acceptable proof is a copy of the passport.
Using your cell phone: if you don't need to make telephone calls while you're away and can survive on texting, email and the internet, turn your phone to airplane mode and use your hotel's free wi-fi, and wi-fi when you can get it in restaurants and cafes.  But I also think it's a good idea before you depart to purchase extra data from your cell phone company to use when wi-fi is not available.  You might need this to look up an address on the web, use Google Maps to help you find a location, or text other people you are traveling with if you get separated.  You can receive texts from friends back home for free, but you will be charged if you text a reply if you are not using wi-fi, so the international data plan will come in handy for that as well.
Call your credit card companies and the bank connected with your ATM card to inform them you'll be abroad so when you start charging items, they don't decline your card.  If you have the Platinum American Express card, they don't charge international transaction fees.  But, Amex does charge vendors more than Visa and Mastercard, so many smaller vendors do not take Amex.  Have both cards with you.
Getting local currency:  if you want to get a little before you leave so you can pay your driver or taxi from the airport, go to your local bank in advance and exchange some cash.  But the best exchange rates will be realized from a foreign ATM that accepts your banking network.  Your bank will likely charge a fee, but the European banks usually don't.
Don't check it all in: If you are checking in all of your luggage, it's always a good idea, whether you are traveling internationally or not, to carry on a few essentials in case your bags get lost.  An unfortunate scenario happened to us on the way home, when our first flight was delayed and we missed our connection, and then couldn't get booked onto a flight until the next day.  Our bags stayed checked in.  Make sure you have any medications, essential toiletries, and a change of undergarments with you.
Fast Track tickets and All-in-One passes:  The lines at popular tourist sites can be miserable if you don't buy tickets in advance.  Any good private tour guide will do this for you ahead so you can bypass the lines, but if you're on your own, go online and do this in advance.  Also, look to see if a particular city offers multiple sites on a combo ticket.
Dress code for holy places:  If you are going to visit any churches, women's shoulders should be covered and sometimes dresses need to go below the knee.  In Muslim countries, like Turkey for example, head and hair need to be covered with a scarf (a hat is not acceptable,) in addition to shoulders and legs covered.
Footwear:  the shoes you wear are really important to staying comfortable and protecting your feet.  If you are walking around a city all day, pick something comfortable and practical.  If you are roaming around dusty ruins, cobblestone streets, and smooth marble steps, you need to choose your footwear carefully so you don't wipe out the first day of your trip.  You don't always have to choose function over fashion, though.  I'm not a huge fan of looking like a total tourist!  In the summertime, it's nice to have an open shoe which doesn't keep the heat in.  I wore Birkenstocks more than anything on my trip, and I saw a lot of European women wearing the same.  You should check out all of the great colors Birks come in now.  My daughters both favored super comfortable sandals from Gentle Souls.  I had these on my last European trip, too.  My older daughter wore these in gold, and my younger daughter had these in black.  Even though I saw lots of ladies loading up on Greek sandals when we stopped in Greece, you can order the same exact ones from the same merchants on Etsy, which I did before we left.  Besides looking adorable, these sandals also had good soles for traction.  Sneakers are comfortable and can look cute too, especially with good-looking options like slip-ons from Vans and Vince.  My older daughter wore a pair of navy Supergas even with dresses.
Bandaids:  bring them in case of blisters from new shoes or skinned knees.  Someone always needs a Band-Aid when we travel!
Reusable water bottles:  I think everyone should have his/her own water bottle to carry around so you don't have to stop to buy plastic water bottles all the time.  Fill the bottles up at the hotel during breakfast and again when you stop for lunch.  Word of advice, choose bottles with tops that screw on as opposed to flip-tops which can easily leak in a backpack and get everything wet.
Travel chargers and an extra USB cable:  If you plan on bringing any devices from home with a cord (e.g. computer, phone charger, hair straightener,) you need the proper converter.  I've noticed in many hotels there can be one American outlet, but when you have two teenage daughters, you need waaaaay more than that!   We also brought with us the Apple World Travel Adapter Kit for charger computers and the like.
Bags and backpacks:  Before this trip, I bought my husband two backpacks from Steven Alan.  This one from Filson was very durable and handsome and nice to bring on the plane.  The other was this one from Jansport's Heritage Series and it was unlined, super thin and lightweight and was rolled up and packed.  That's the one he used most often for going out for the day.  Many cities are known for pickpocketers, so whatever you use, it needs to have a zipper.  I used this small Clare Vivier crossbody bag, which was just big enough to hold my phone, sunscreen, hair ties, a small map, lip gloss, credit cards and cash.  My girls used small crossbody bags, as well.
Hats, sunscreen and sunglasses:  I didn't make a move without all three of these!  I know a little sun is good for you, but too much causes sun damage and wrinkles!  My favorite hat is foldable and wide-brimmed and I used Suntegrity sunscreen the whole trip.
Please see my recent post on Snacks and Essentials for Healthy Travel!